Welcome to our second edition of
Ask Mod Circus
! See our first segment covering overalls, lipstick, and more
here
. We're so excited our lovely readers are reaching out with questions and we're ready to solve any style challenges you want to throw at us. Please let us know in the comments what your style questions are, and we'll do our best to tackle them in our next Ask MC feature!
How can I accomplish business casual but be comfortable for my #momlife. I want to look put together - even though you would realize this isn't the case after spending 5 minutes with me and my kids!
Though we both only hold the title of dog mom, we have plenty of moms in our lives and know how stinking hard they work and how active they are, especially when they have little ones! Luckily, the trend of business casual has shifted in recent years from boxy button downs and trousers to a whole array of options. There has also recently been a shift toward comfy chic outfits as well. A simple way to look put together while being casual is to pair a stretchy blazer with skinny jeans/trousers and a tee. Look for blazers or jackets that have a little stretch to them while still maintaining a structure. J.Crew and J.Crew Factory has a ton of great blazer and jacket options, plus they run sales all the time. The same thing goes for skinny jeans (or any jean style you prefer). A little stretch goes a long way in staying comfy while chasing after your kiddos and chasing after your career goals! We've popped a few items below to choose from.
There are also tons of great mom bloggers out there that are able to speak more on this topic like One Little Momma, Cupcakes and Cashmere, The Mother Chic, and others. Check them out for even more inspiration!
I am in need of a great pair of jeans! I love a bootcut, for work I need to wear a polo and jeans with sneakers. But I typically lean towards skinny. Thoughts?
Why are jeans the hardest thing for a woman to shop for? They're the most basic wardrobe staple, but they are the trickiest thing in your closet to buy. In all honesty, we love H&M stretch jeans for a quick fix jean
that's typically pretty comfortable and flattering. They're sold as low as $9.99, so you can truly try a mix of styles with very little investment.
That said, we think it's important to have some high quality jeans in your life, especially if you're on-the-go and looking for durability.
Baldwin jeans
are amazing. They're thick denim with a slight stretch and the
black jeans seem to defy logic and don't fade after many washes.
They mostly have skinny jeans, but in all sorts of cuts and colors, many of which can be rolled up to pair well with sneakers.
Express jeans are also a great option for a middle of the road price (they run sales a lot too!) with a ton of flattering rises, styles and washes. They also hold up really well after numerous wears and washes and don't lose their shape!
If you're open to trying new styles and cuts, we are also loving cropped flares right now, like the ones Molly is wearing below, or a staggered hem jean, like the pair Jodi is wearing below (tutorial here)!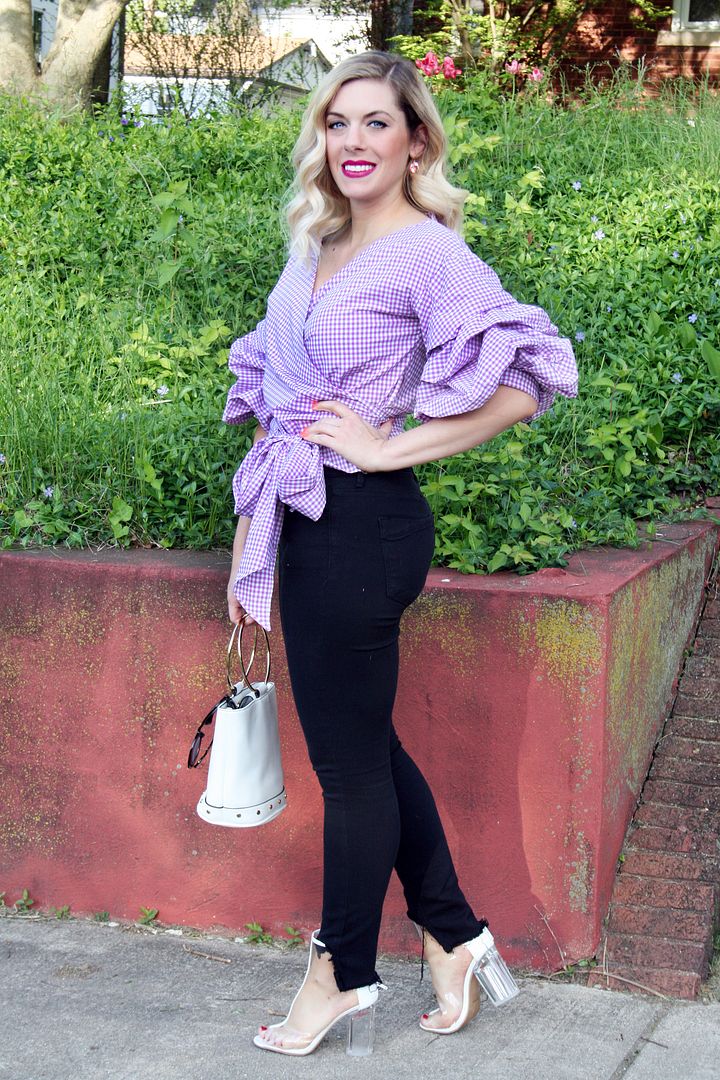 See some of our favorite jean picks below!
I have a few weddings to attend in August and September this year. I've searched and searched for dresses I want to wear to the weddings, and I'm not finding anything! I love your style, and I'm wondering if you have a few suggestions for stores/online shops that you think might have some nice, unique dresses I could check out?
Molly: Lately my go-to for weddings and nice events is ASOS
. They have a huge selection of styles at all different price ranges and they have free returns, so I usually try a few sizes and styles and can send what doesn't work back. Other places I can usually find unique dresses are Miss Selfridge
and Dorothy Perkins
. From loud florals and flowy ruffles to fitted formal numbers, these places cover about any type of wedding dress code and style you can think of. Just check out this stunner from ASOS below!
Jodi: Another great place to try is Rent the Runway. They have a ton of great dresses for just about any occasion, plus you get a discount code when you sign up for the first time! They also let you pick a second size to try for free and even let you pick a back up style for a small additional price. Below is a dress that Jodi rented from Rent the Runway to wear to a wedding back in May.
Check out our unique picks from some of our favorite places below!
I'm a busty girl and I want to get in on this ruffle trend but I'm concerned about it adding too much mass to my already generous bosom. What are some ruffled tops that won't make me look too top-heavy?
Great question! Some trends just don't work as well on certain body types (this is based on our own personal experience; we like to feel confident in how our outfits fit). Fortunately, the ruffle trend is SO versatile that there really is a ruffled style for every body. If you're concerned with ruffles adding too much volume to your top, try a blouse with a small ruffle detail or with ruffles in other places, other than right across the middle (like on the arms or around the bottom hem). Some ruffled tops look good no matter your physique, so we say give them a try and see what you like best and what makes you feel like a million bucks! Below are a few options for ruffled tops that would work great for bustier gals, or really just anyone!
That's it for this edition of Ask Mod Circus! If you have a fashion or style question, or any question at all, shoot us an email at modcircusblog@gmail.com, send us a DM on social media or ask us in person!
Happy styling!