Tropical prints are hot, hot, hot right now! This surely isn't the first time you've seen us styling tropical prints, and we can guarantee it won't be the last, but we thought it would be great for Wear it Two Ways to show you just how versatile it is! From cute preppy vibes, to a full vintage look, to a flirty feminine look, it pretty much covers the whole style spectrum. See how we styled our looks below!
MOLLY
The second I saw
this tropical jumpsuit
, I fell in love! From the delicate lavender color with the bold jewel tone colors, to the cut of the sleeves, to the fact that it's a fancy jumpsuit, I knew I had to have it. Lucky for me, I have a mother-in-law who is the best at asking for birthday wish lists and the next week this arrived at my doorstep. (Thanks, Kim!)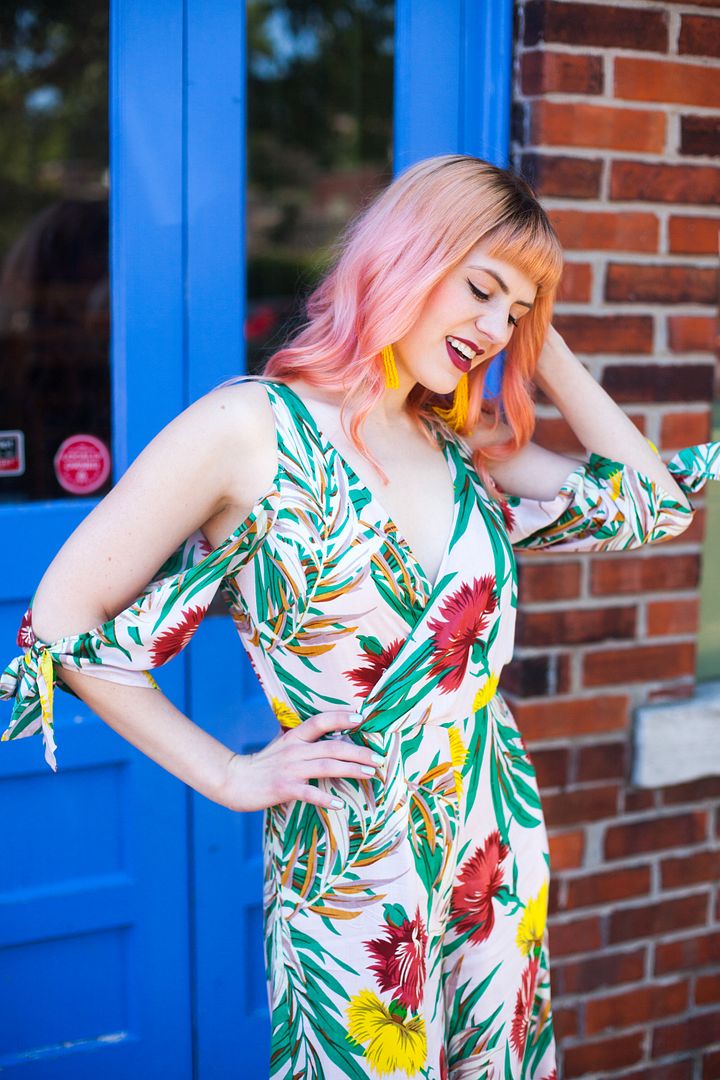 This jumpsuit could easily be styled super simply for a beachside look with a pair of slides and a beach topknot, but I went for a polished urban feminine look perfect for an urban brunch. (And I did brunch hard after these photos!)
Pastel slides, and yellow earrings, and a mauve lip really solidified the bold color/pastel combo I love about this look. I may or may not be taking this on vacation with me this week, so I can't wait to see how different it feels styled for the beach!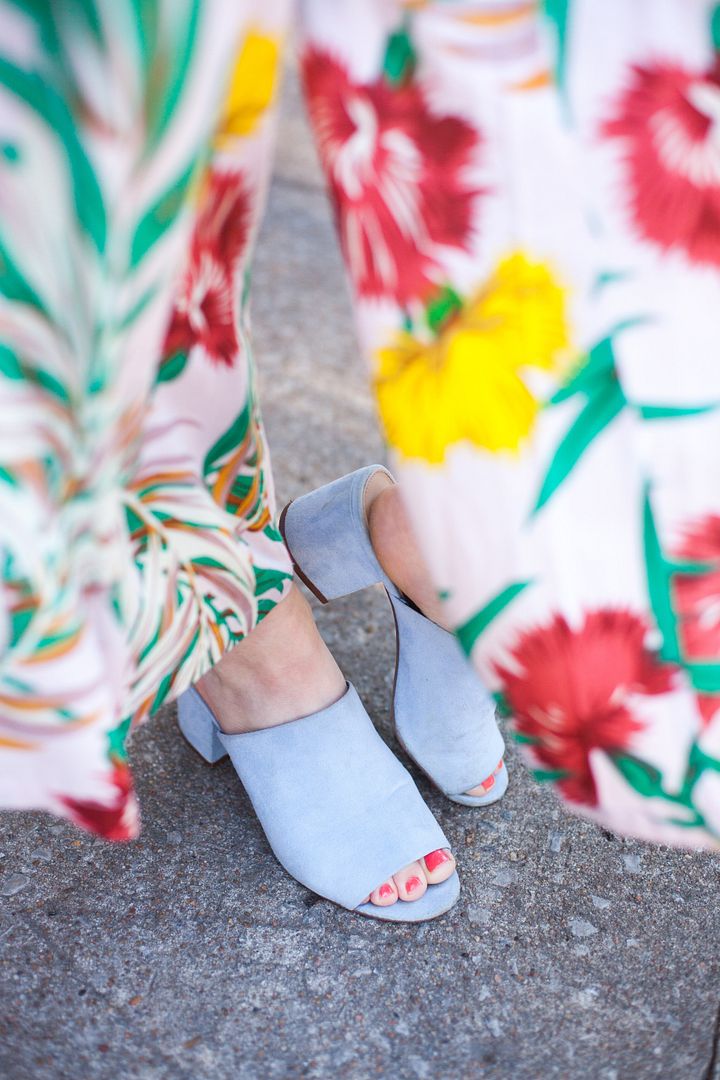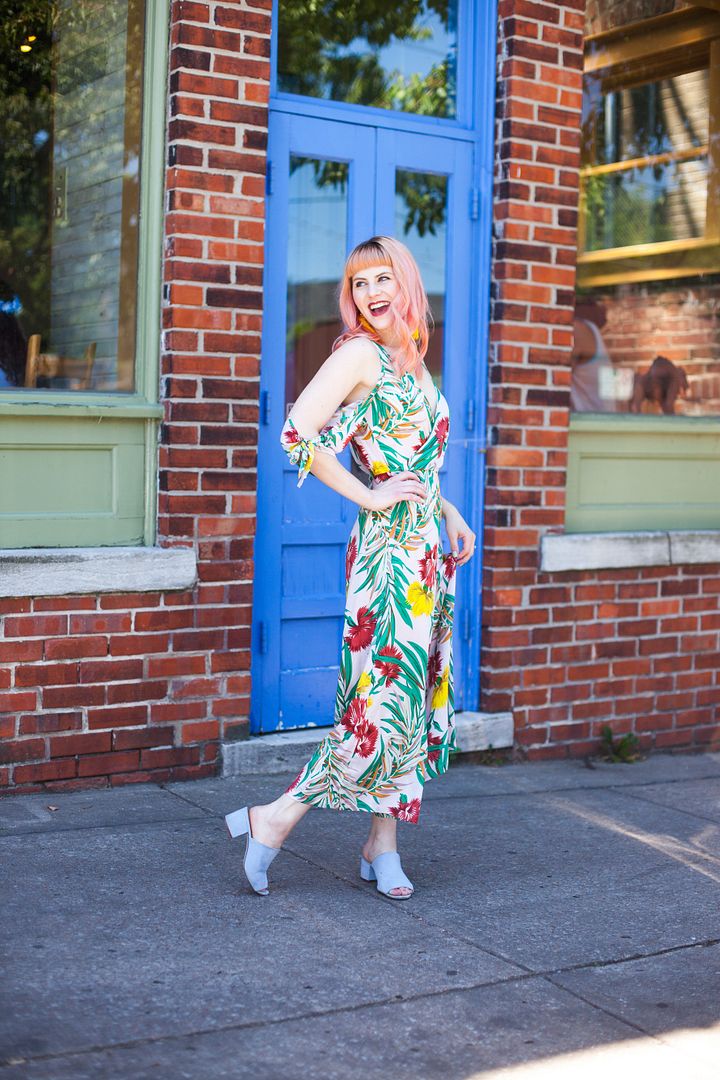 Jumpsuit
JODI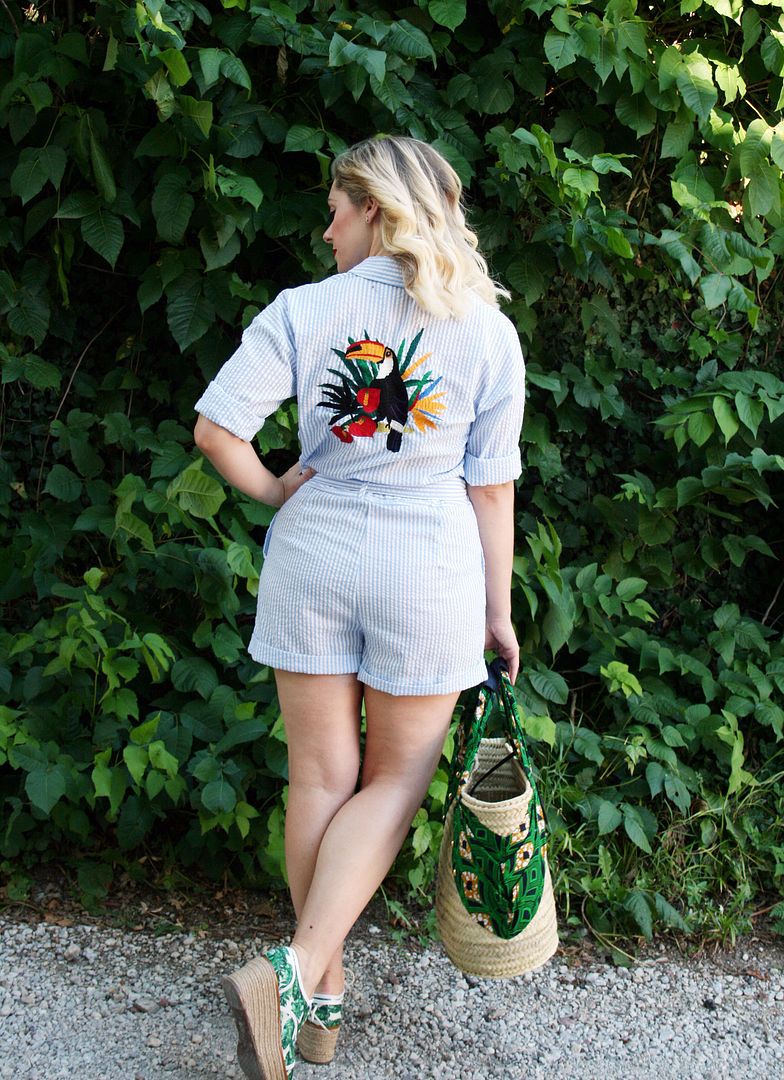 You guys. Can we talk about how amazing this playsuit is? It has an embroidered toucan on the back! I didn't realize I needed an embroidered toucan playsuit until I laid my eyes on this gem.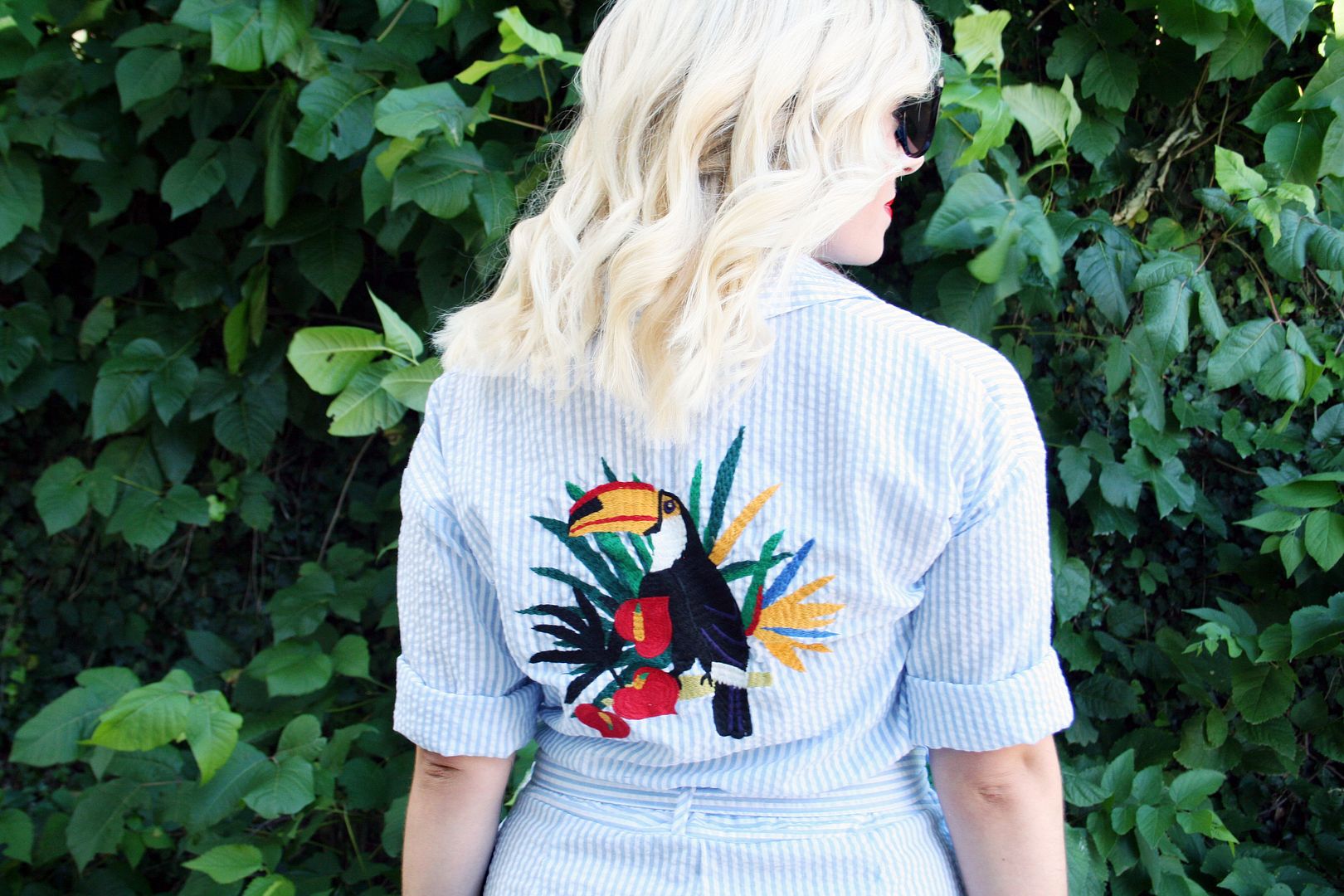 As we've mentioned, we're all about tropical prints this season and I decided to just really embrace the trend and dress tropical head to toe. I've also been embracing the palm print trend fully and using it as a neutral (that's totally acceptable, right?). So, it made perfect sense to pair my palm print platforms with my playsuit and straw tote for an easy, yet pulled together look.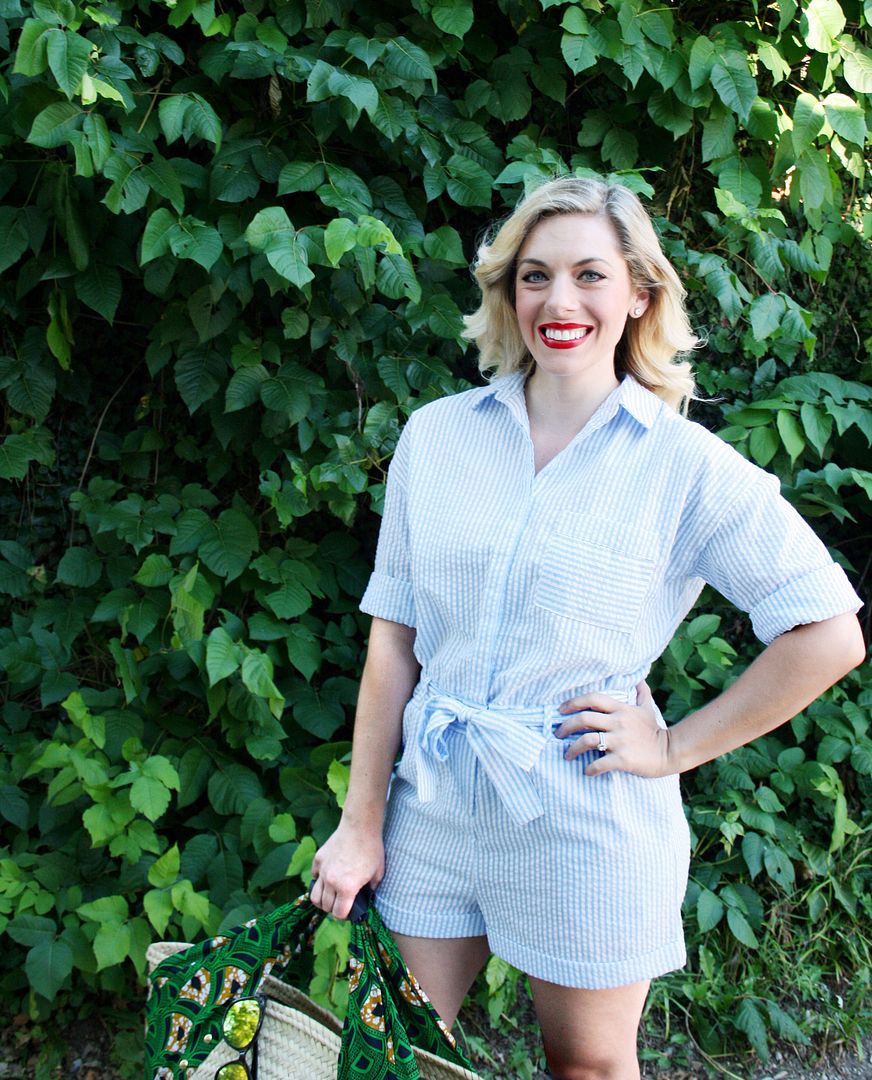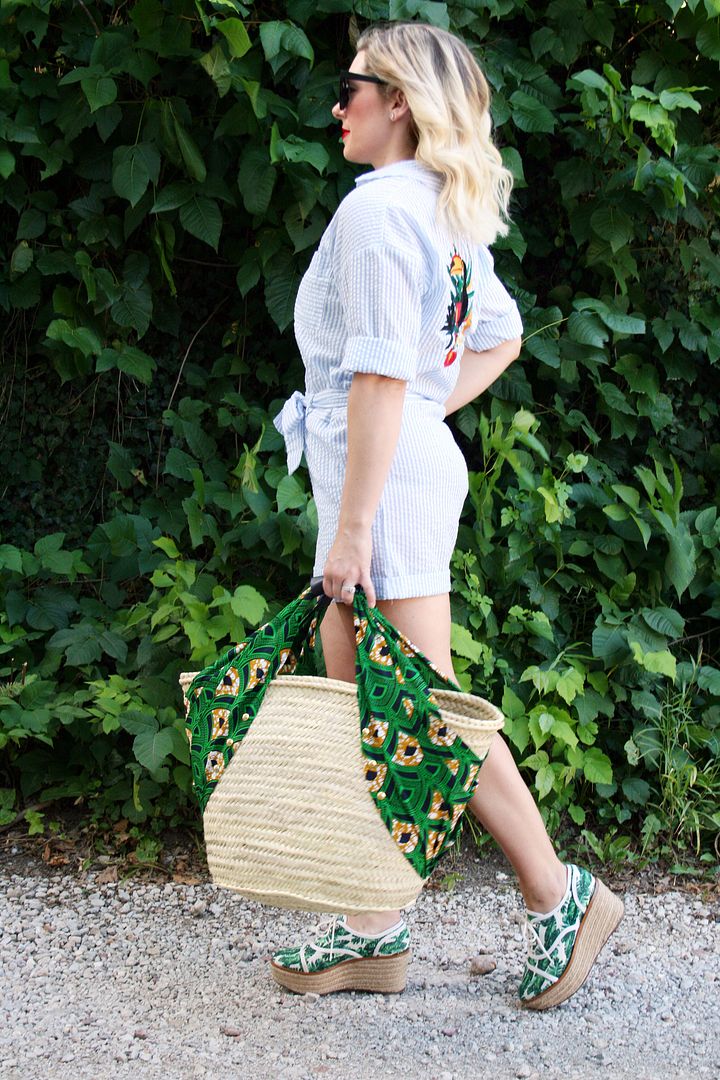 Also, it doesn't hurt that this playsuit is quite literally the most comfortable thing ever. It's loose and airy, which makes it perfect for romping around this summer. The best part? It's super cheap! So, is the tropical print trend something you're ready to try or are you still hesitant? We think you should go for it. Toucan do it! ;)