Though fishnets might conjure a lot of images—from sultry Cabarets in the 1930s, to showgirls dancing a kickline, to 90s punk culture—one thing is certain: they've been in and out of style throughout much of recent history. Well, guess what? They're baaaa-aaaack! From large knit patterns, to delicate pastel and nude versions, you're sure to find a style that suits you this season! You can even find
fishnet socks
if you literally just want to dip your toe in and try them out.
We've created totally opposite looks, to show examples of how you can make fishnets a loud, wild statement pieces or a classy, subtle detail. Check out the rundown of how we each styled them below!
MOLLY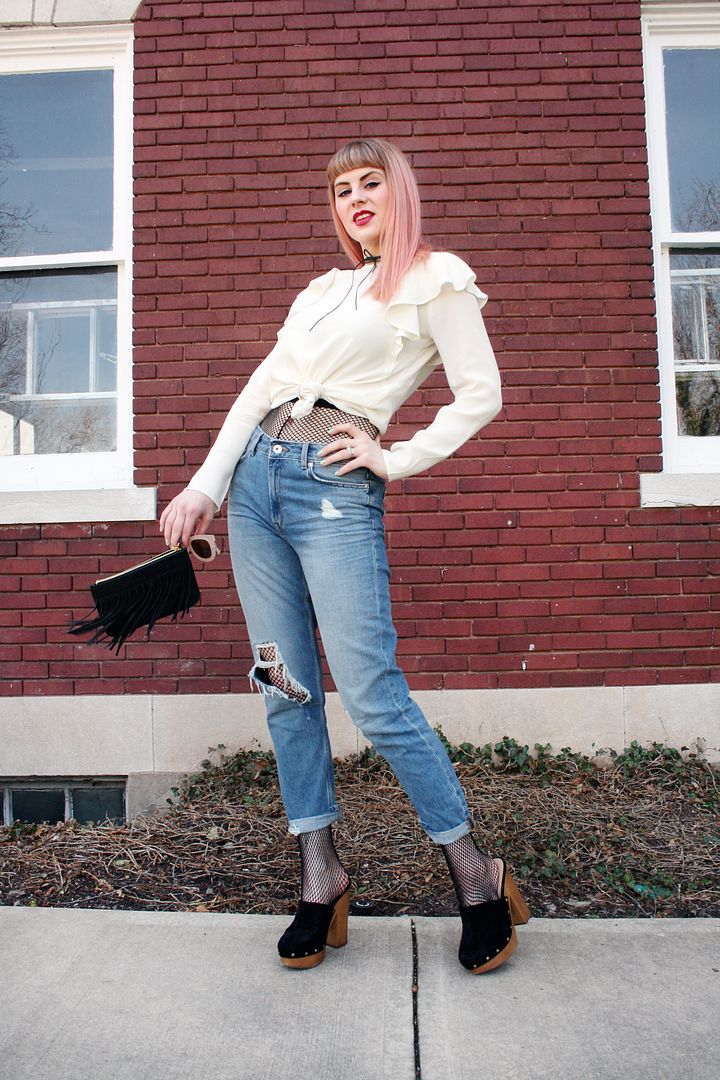 Since I've been in a lot of theatre productions, black fishnets have been a staple in my dresser since I was about 14. I'm so happy they'll be making appearances on me off-stage now that they're trending IRL! They can add an edgy, textured look to just about any ensemble.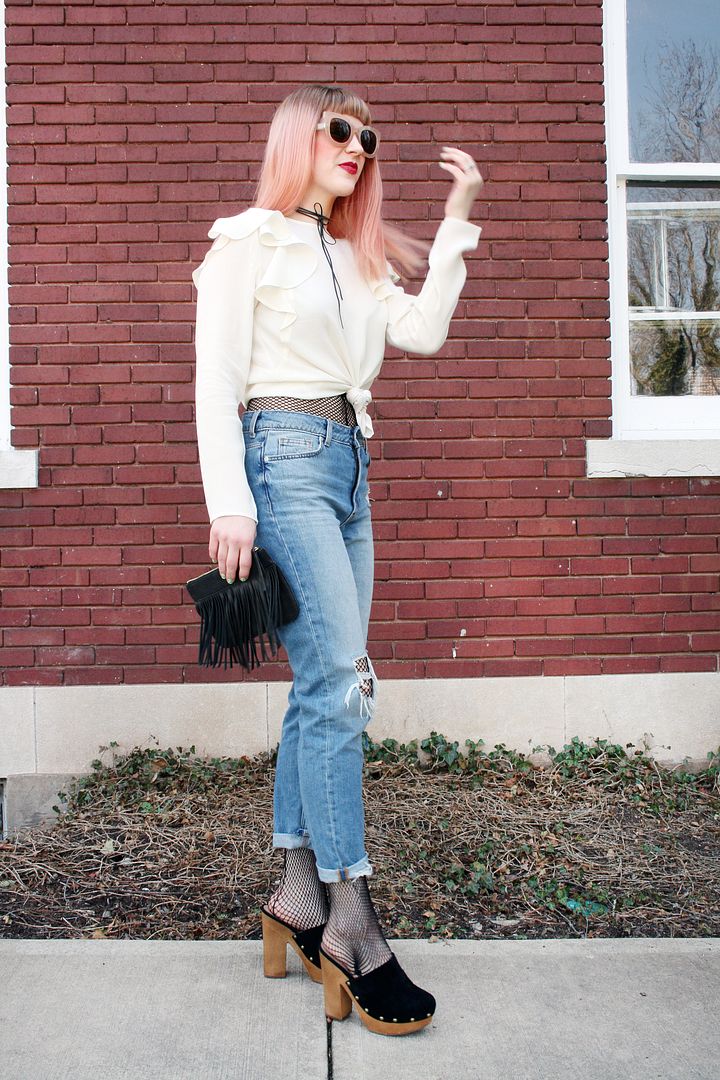 Even pairing them with a white top and jeans makes for a super snazzy outfit with tons of character. I'm especially loving them with ripped jeans, so they show through the rips. I've seen them styled a lot peeking up through the top of a waistline for a super '90s grunge look here, so I tried it out and I'm kind of loving it. You could style them so they barely peek out, or higher at your natural waistline like I did to ensure the least amount of muffin-top possibility ;)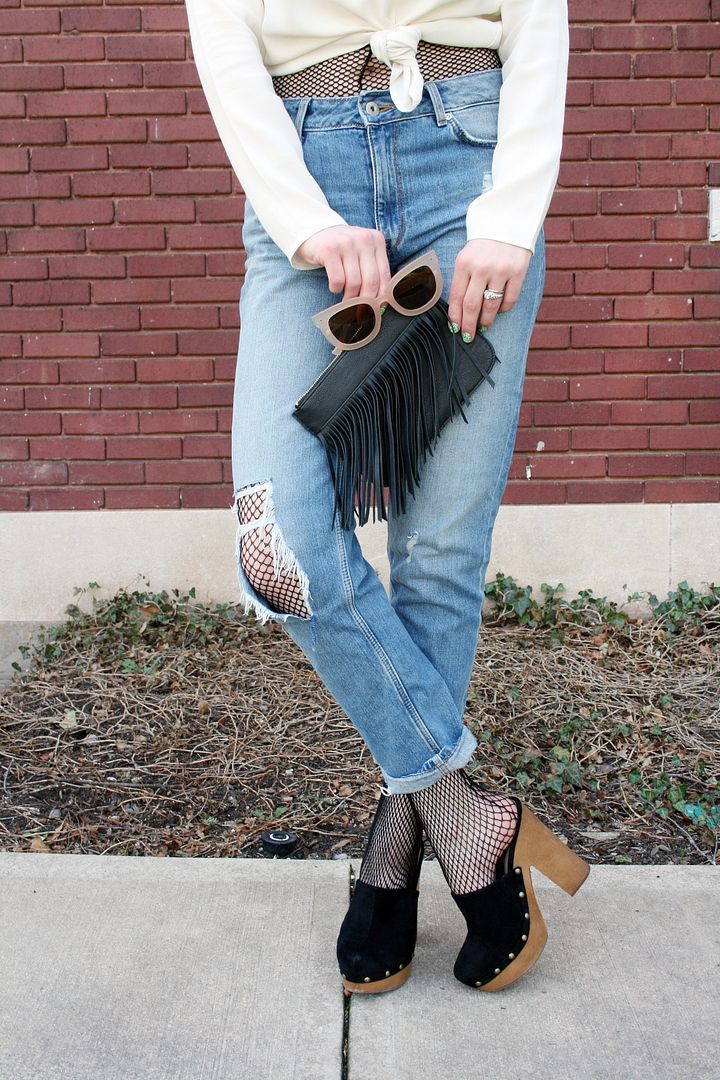 Since these fishnets are the statement piece, I went with super simple details otherwise. A delicate white, ruffled top balances out the tough look of the tights and jeans, and clogs and a choker add to the '90s theme I kind of have going.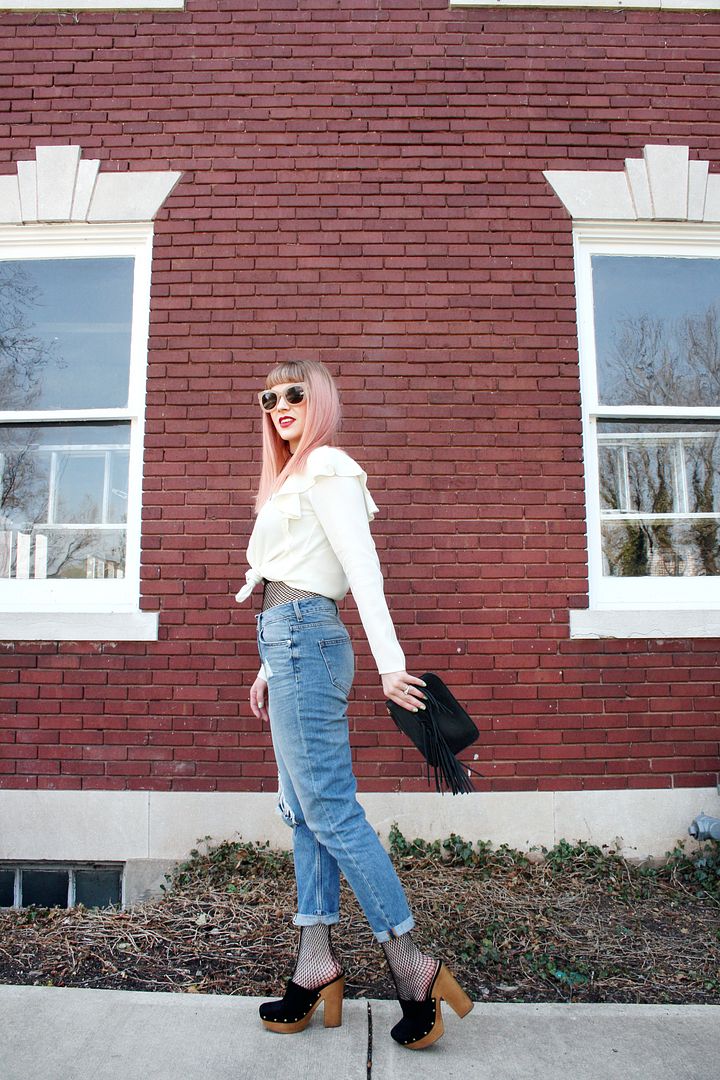 Blush pink sunnies and a hot pink lip add a warm, sunny vibe to the look. A black fringe clutch is the perfect balance of understated and fun that tops off the whole thing perfectly.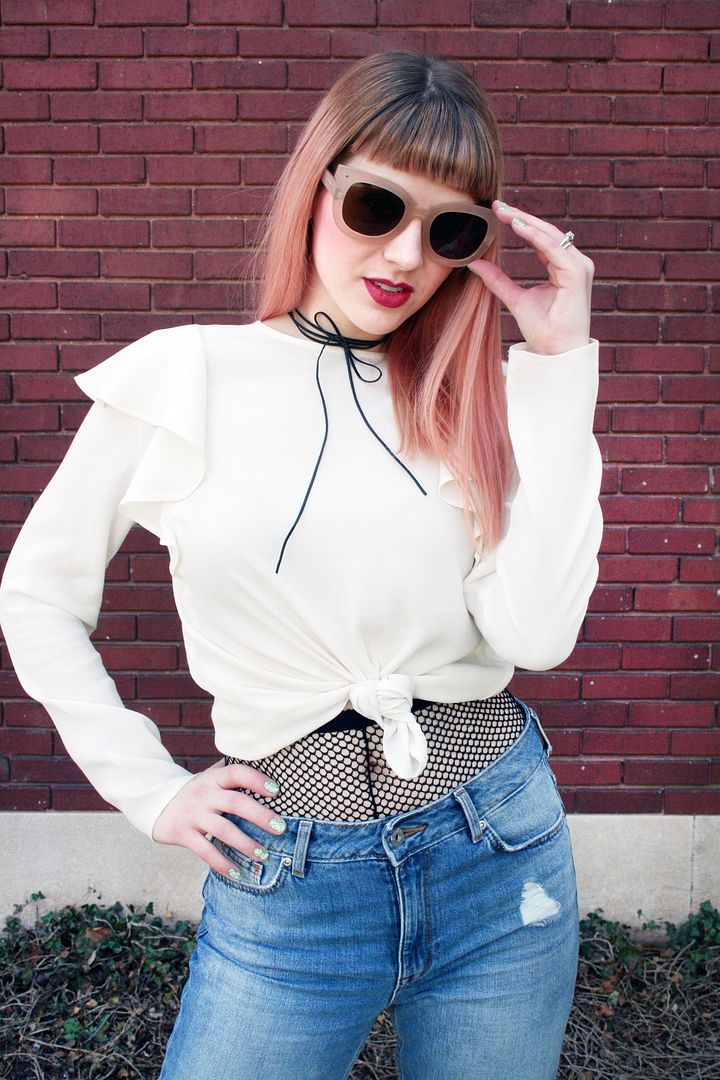 I'm just loving fishnets, but if you're not quiiiiite sure about jumping in headfirst into nothing but nets, keep reading to see how you can ease into the trend or make it more work appropriate with Jodi's tips below!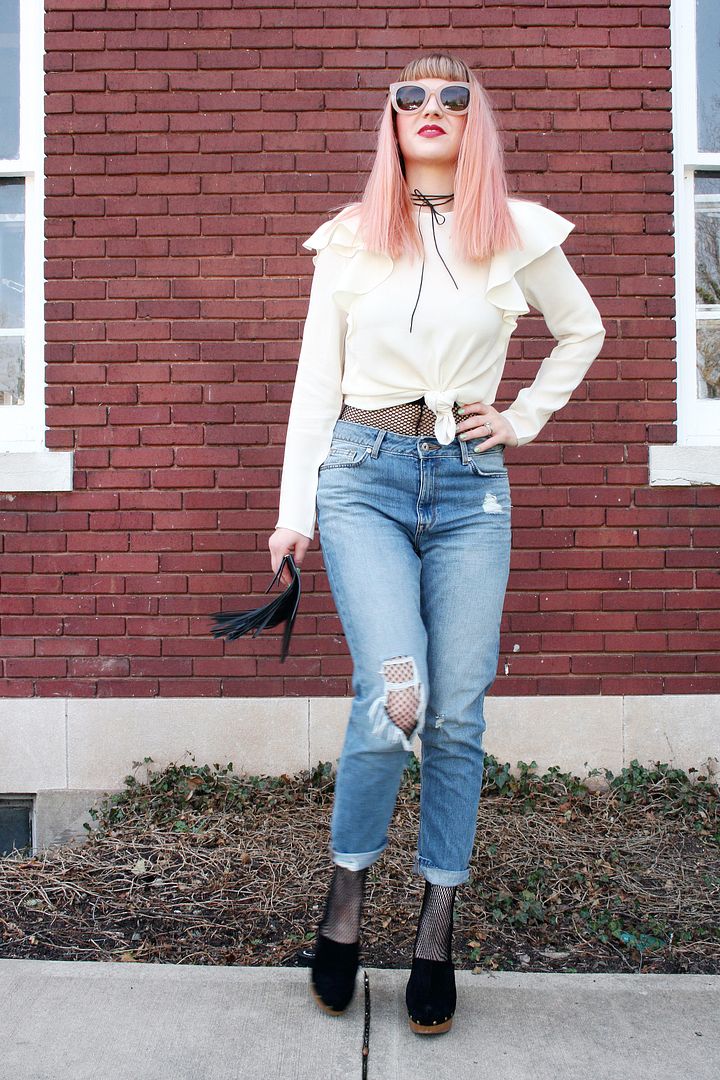 Molly's Outfit Details:
Black Fishnets
, Top: H&M (similar
here
and
here
), Jeans: H&M (
similar
), Necklace: DIY, Clogs: Target (similar
here
and
here
), Clutch: H&M (
similar
), Sunglasses: Donna's Dress Shop (
similar
)
JODI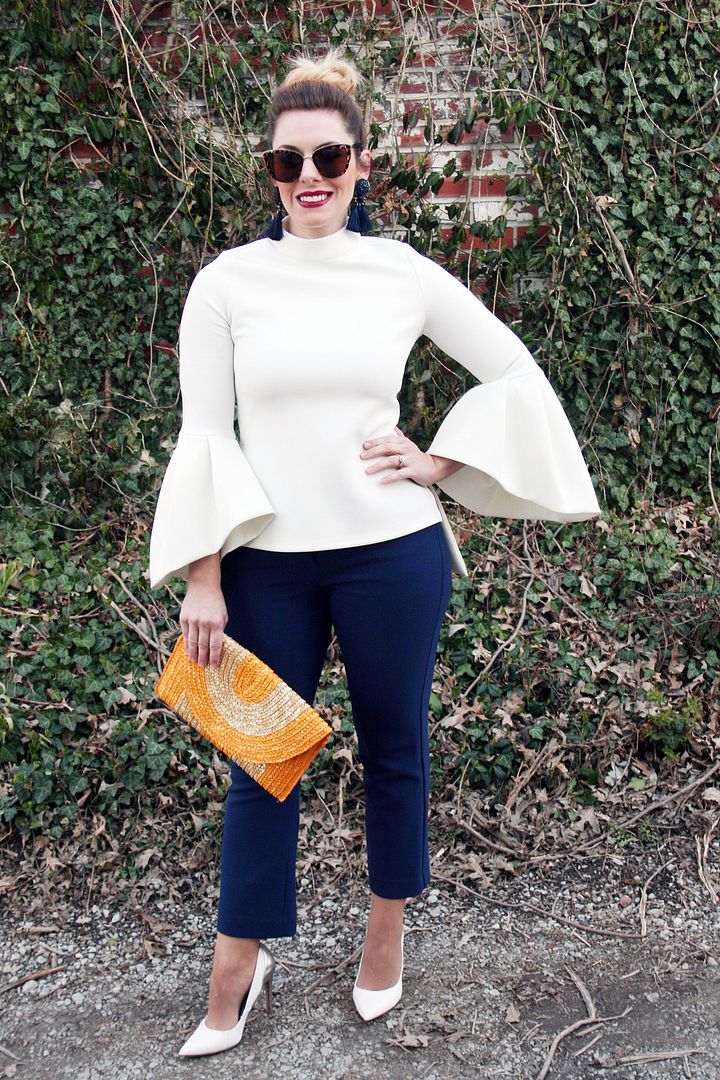 I know what you're thinking. "Where the heck are her fishnets? I thought this was a post about fishnets! Gimme all the fishnets!"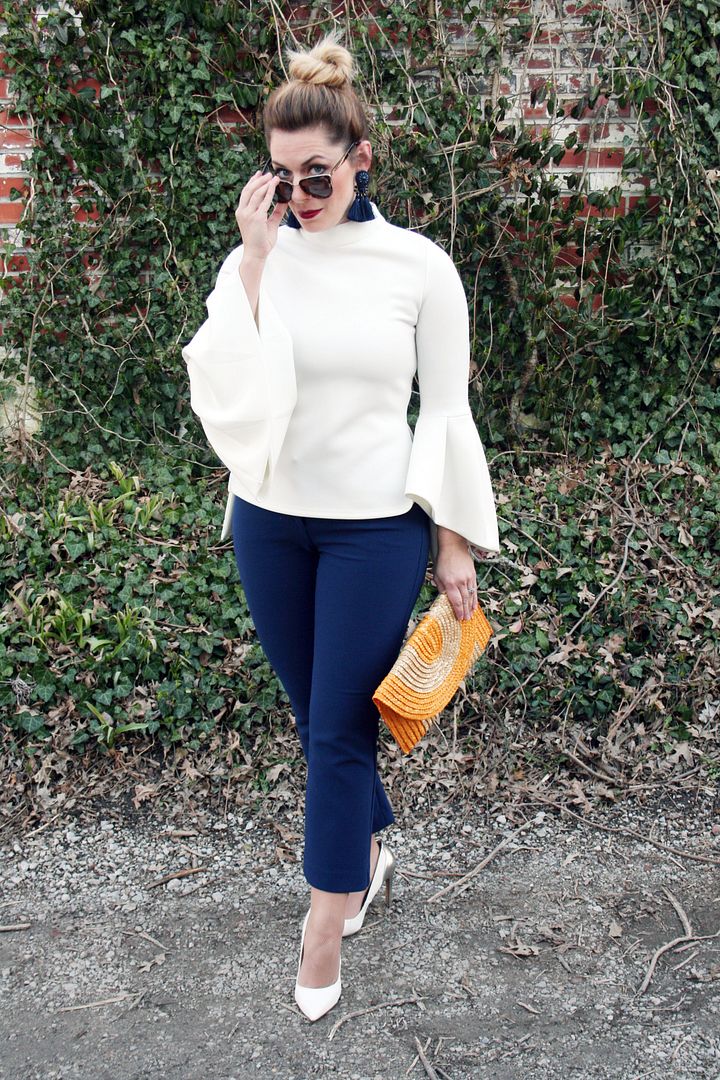 Don't worry babies, I got your fishnets.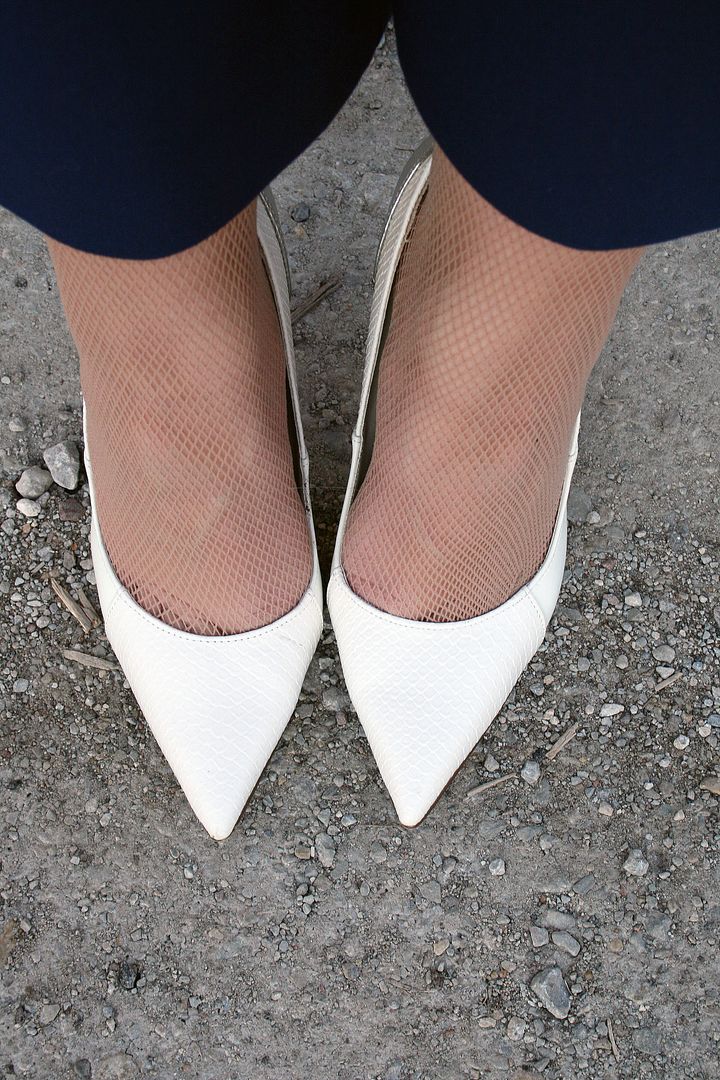 Here they are! As Molly mentioned, I styled my fishnets in a way that allows you to try this trend out in a more subtle way. Nude fishnets are a great way to sneak a little bit of edge into your outfit while not alarming anyone in HR.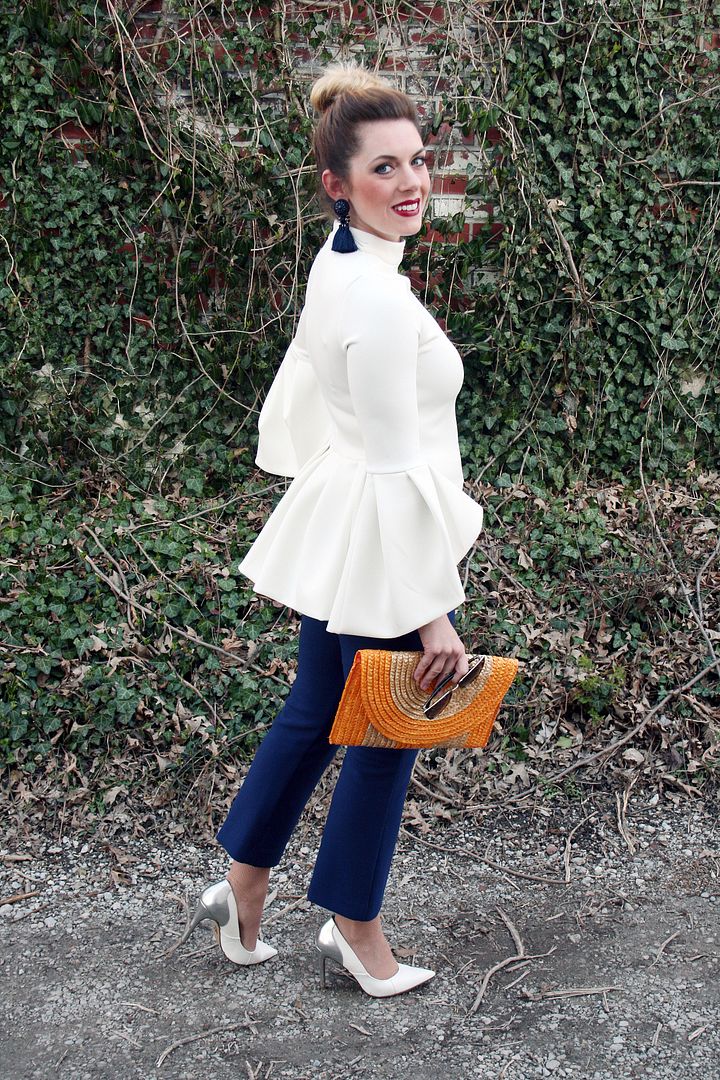 Since nude fishnets go with literally everything, I focused on a retro-inspired work outfit. This top is going down in wardrobe history as one of my all time favorite tops ever. It features wonderfully big bell sleeves AND and fun peplum back! Plus, it's nearly identical to a much, much pricier top. What more could you ask for?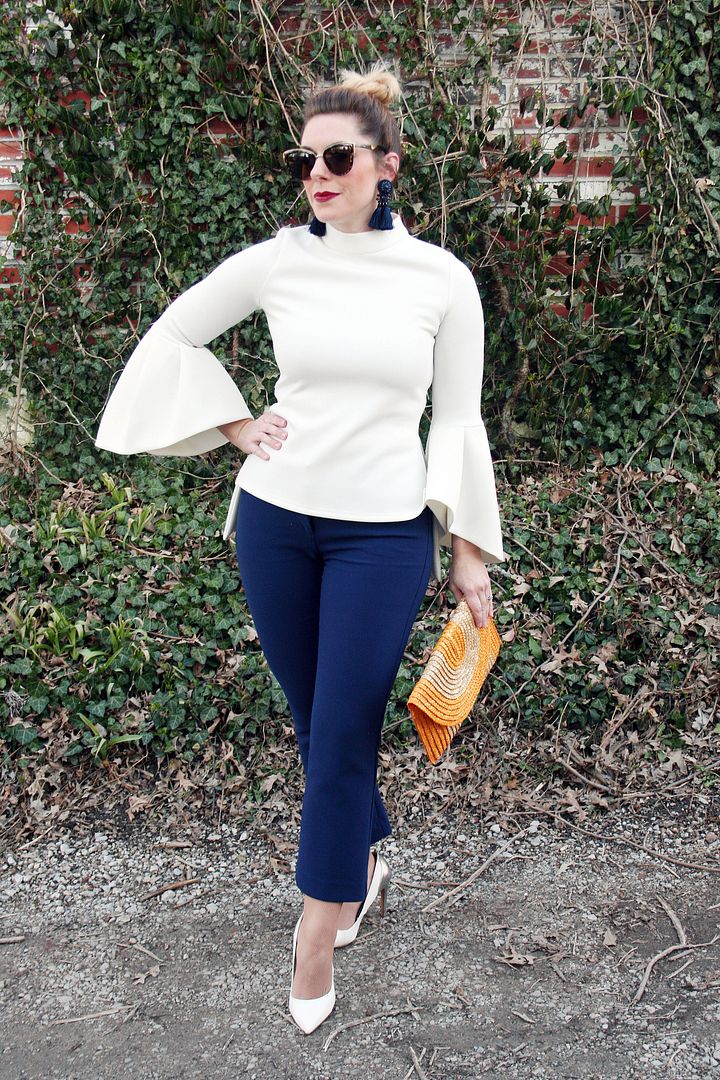 Blue cropped flares and white heels make perfect partners to showcase the nude fishnets, and a bright orange straw clutch and huge navy earrings add an extra vintage touch. What do you think? Will you try this trend in a bold way, or tiptoe into it with barely-there neutrals?