This year has got us itching for Spring a little extra because we've had previews of warm spring-like weather much earlier than usual. We may or may not have already been stocking up on pieces recently that we're ready to bust out at a moment's notice. So, we've rounded up a few of the trends that we are extremely excited about this season. The best part is that there's tons of overlap between all of these trends, so you'll notice that some of our favorite finds had trouble fitting into just one category!
Trend #1: Topheavy
Giant ruffles, strong shoulders and humongous sleeves are all the rage this season. You will be hard pressed to find a top that doesn't offer some sort of embellishment or fancy structure right now and we can't wait to wear them all!
1.
Loeil
2.
Zara
3.
Loeil
4.
ASOS
5.
Zara
6.
H&M
7.
Storets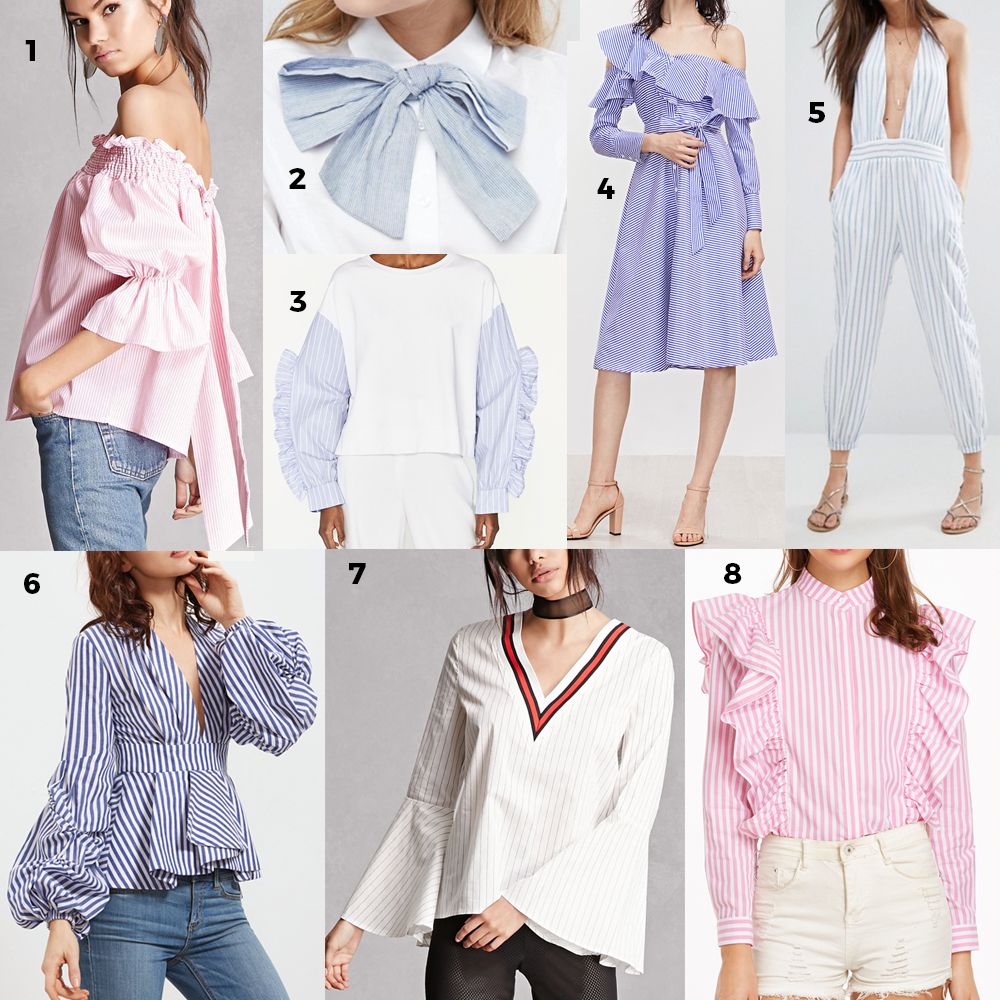 Trend #2: Pinstripes
This trend is literally everywhere at the moment. Pinstripes are always a classic look, but you will also see them being mixed in with the topheavy trend we mentioned above. Whether in blue or white or other colors, this is sure to be a huge hit all spring and summer long!
1.
Forever 21
2.
ASOS
3.
SheIn
4.
SheIn
5.
ASOS
6.
SheIn
7.
Forever 21
8.
SheIn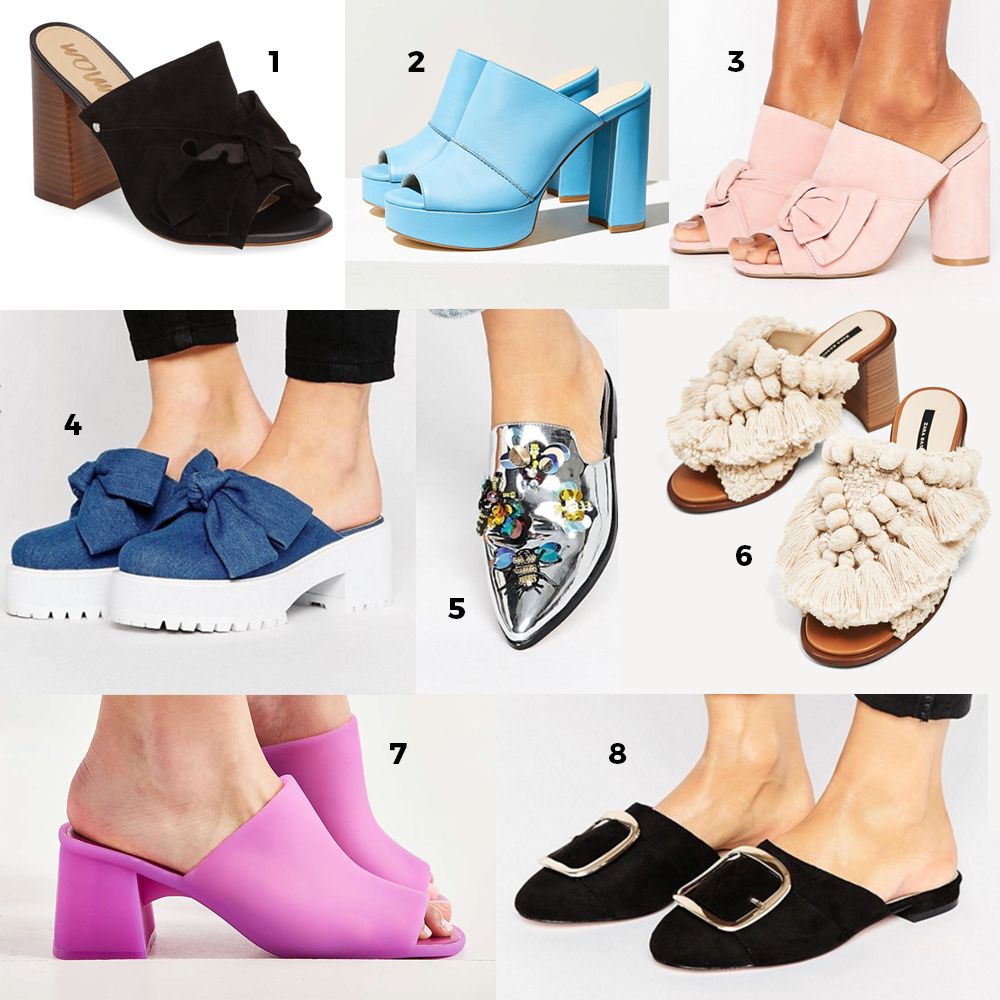 Trend #3: Mules
Mules have been popping up slowly the last few months, but spring is the perfect time to really get into this trend! We're seeing mules in every way imaginable, with bows, open toes, high heels, flats, metallics...you name it, there is a mule to fit your taste.
1.
Sam Edelman
2.
Urban Outfitters
3.
ASOS
4.
ASOS
5.
ASOS
6.
Zara
7.
Urban Outfitters
8.
ASOS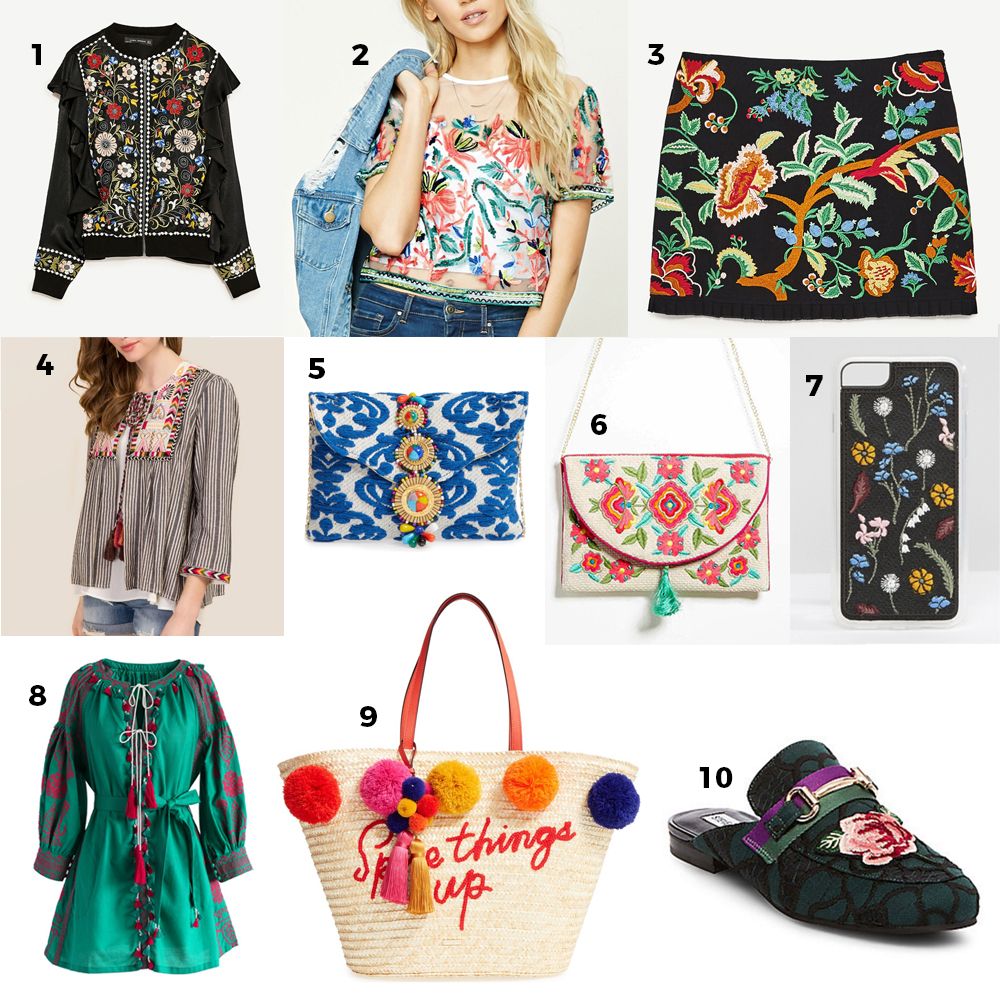 Trend #4: Embroidery
Embroidery is another classic that is making a resurgence this season. You'll find it on everything from dresses and tops, to shoes, bag and even phone cases! It can be styled to be whimsical, boho, quirky, or super elegant; it crosses all genres of style.
1.
Zara
2.
Forever 21
3.
Zara
4.
Francesca's Boutique
5.
Steve Madden
6.
Forever 21
7.
ASOS
8.
Chicwish
9.
Kate Spade
10.
Steve Madden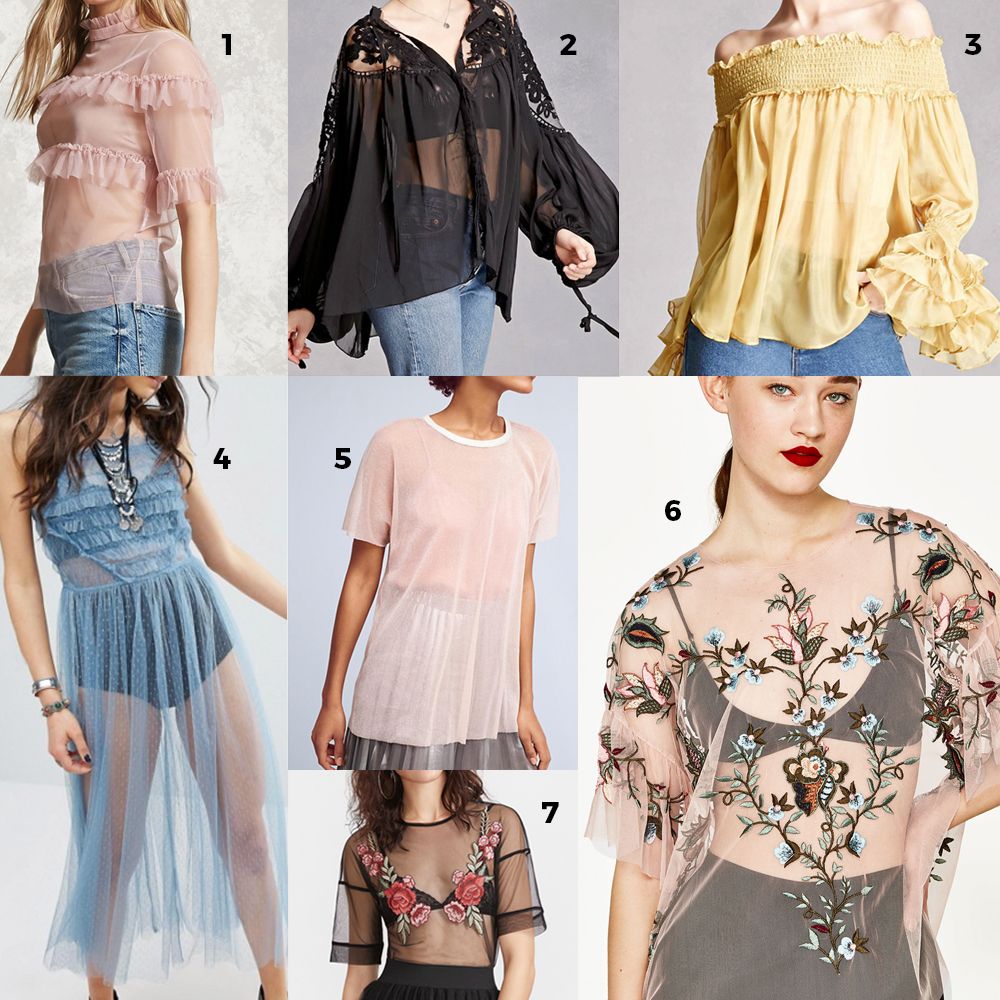 Trend #5: Sheer Material
Sheer pieces are perfect for the warmer months, because you can layer them (another trend for spring) and not feel weighed down. Another thing you'll be sure to see is the combination of embroidery and sheer material.
1.
Forever 21
2.
Forever 21
3.
Forever 21
4.
ASOS
5.
Anthropologie
6.
Zara
7.
SheIn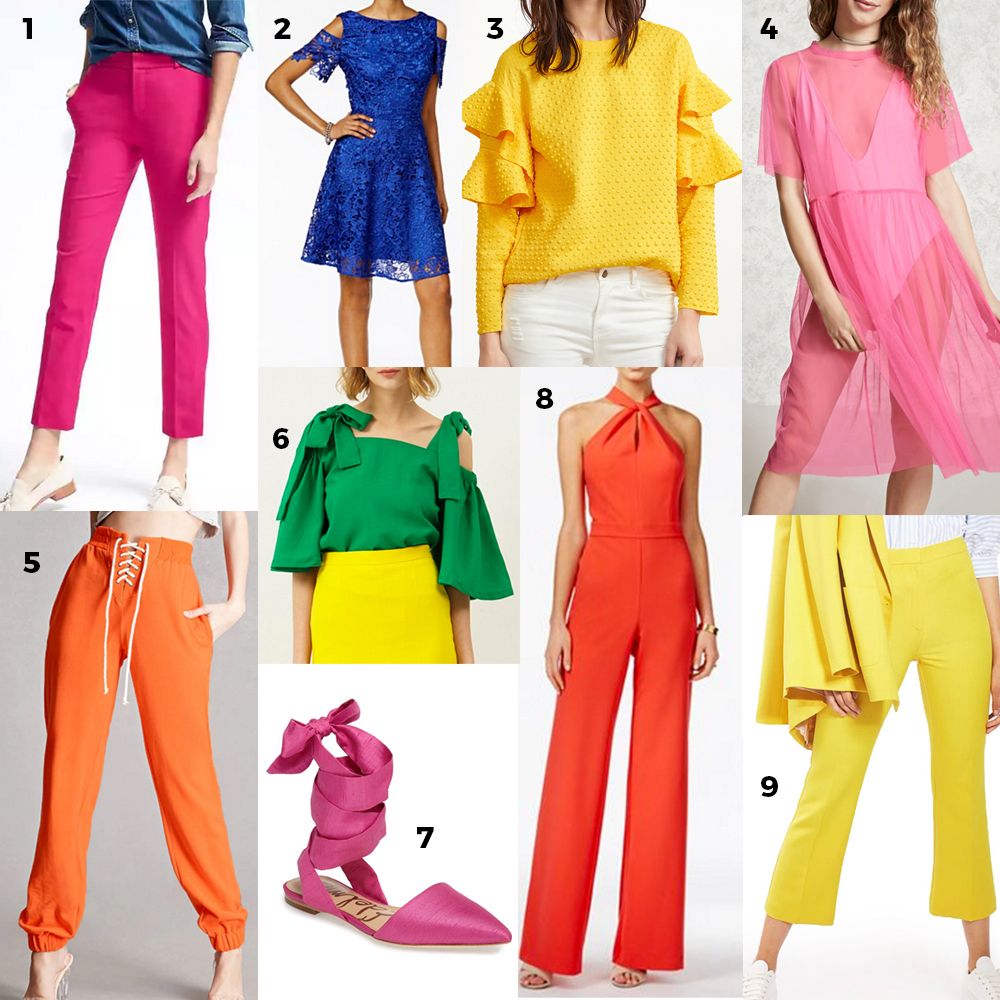 Trend #6: Bright Colors
It seems like common sense that bright colors would be in for spring, but these pop art colors are taking it to a whole new level. You can mix and match your bright colors, or keep it minimal with accessories. Either way, things will be looking really bright!
1.
Banana Republic
2.
Macy's
3.
SheIn
4.
Forever 21
5.
Forever 21
6.
Storets
7.
Sam Edelman
8.
Macy's
9.
Topshop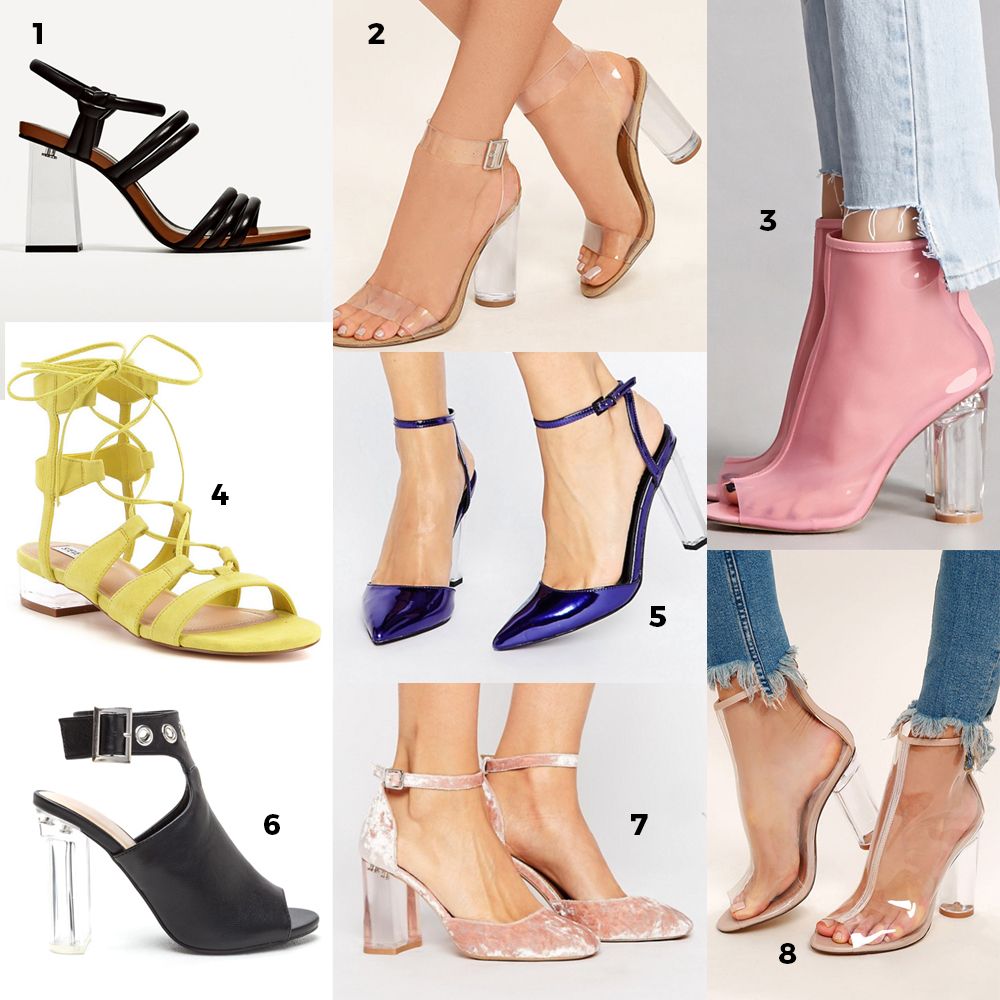 Trend #7: Lucite Heels
The lucite heel trend is something that is a little unexpected, but super fun! Transparent details are going to be on everything from purses, to backpacks, to rain jackets this season, but we especially love it on shoes! It will run the whole gamut: sandals, heels and boots, and even mixed with clear material to give the illusion that you aren't wearing any shoes at all!
1.
Zara
2.
Steve Madden
3.
Forever 21
4.
Steve Madden
5.
ASOS
6.
Go Jane
7.
ASOS
8.
Lulu's
What are you most looking forward to this spring? Let us know in the comments!