Happy Wednesday! Jodi here to bring you a very special recipe just in time for St. Patrick's Day! My family has strong Irish roots, so St. Paddy's Day is like Christmas to us, you know, aside from Christmas being like Christmas to us. I digress. My aunt is a supreme baker, so I invited her to share her very special boozy Irish Car Bomb cupcake recipe so you can make some for your St. Patrick's Day celebration this Friday! I'll turn it over to Megan now. Bombs away!
Being Irish and always trying to find creative ways to consume alcohol, my family has been drinking the Irish Car Bomb since before it was cool. Like we had to tell the bartender how to make it, before it was cool. When I found this recipe on the
Brown Eyed Baker blog
I had to try them. I've been making them by special request every year since then. If you have a fairly well stocked kitchen, you may only need to pick up the booze for these. There's always some left over so it's a perfect excuse for an Irish coffee with your cupcake...
Guinness cupcakes with a Jameson whiskey ganache center and topped with an Irish Cream frosting.
INGREDIENTS:
For the Cupcakes:
1 cup Guinness stout
1 cup unsalted butter, at room temperature
3/4 cup Dutch-process cocoa powder
2 cups all-purpose flour
2 cups granulated sugar
1 1/2 teaspoons baking soda
3/4 teaspoons salt
2 eggs
2/3 cup sour cream
For the Whiskey Ganache Filling:
8 ounces bittersweet chocolate, finely chopped or whatever you have on hand
2/3 cup heavy cream
2 tablespoons butter, at room temperature
2 teaspoons Irish whiskey
For the Baileys Frosting:
2 cups unsalted butter, at room temperature
5 cups powdered sugar
6 tablespoons Irish Cream, I use Sean's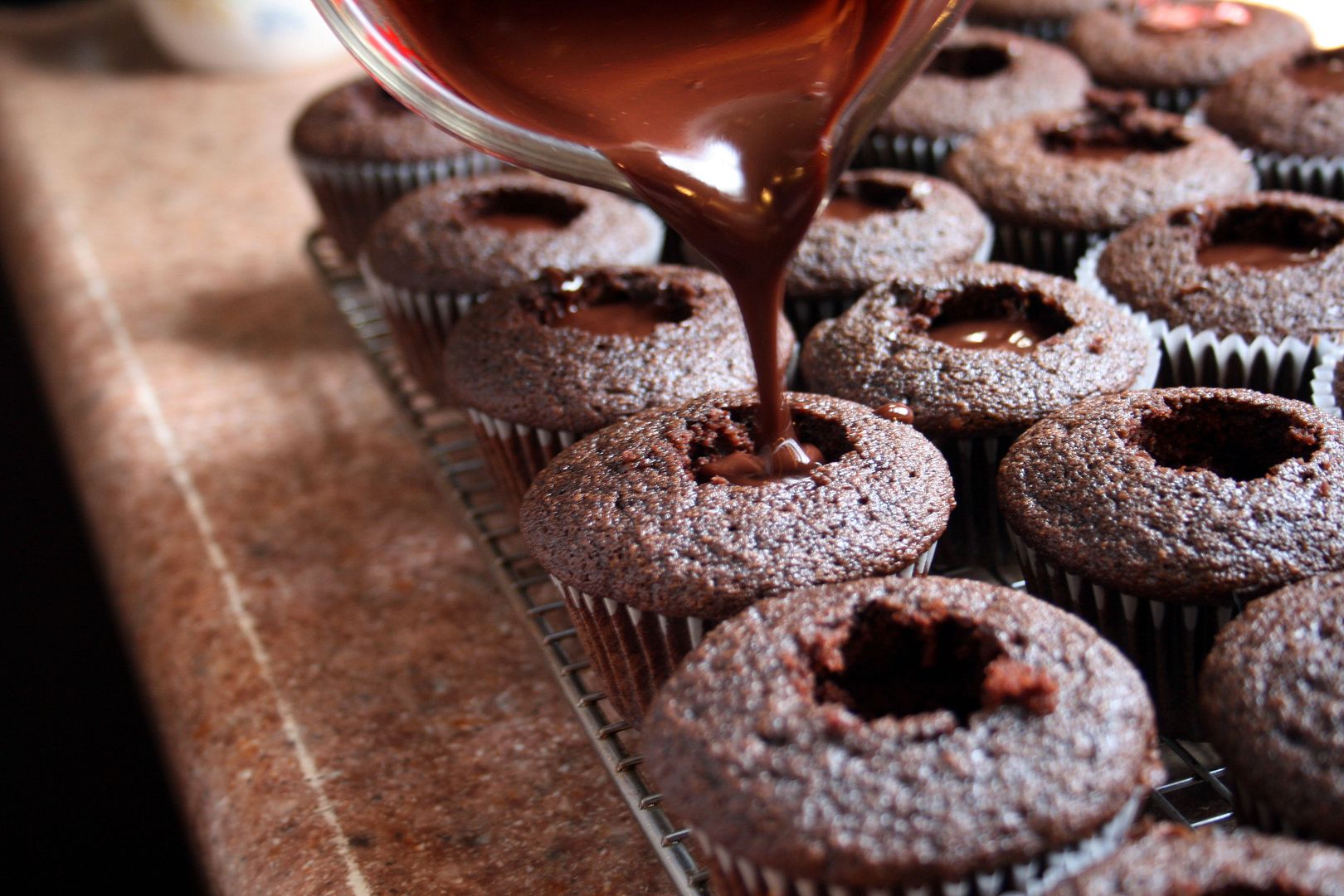 DIRECTIONS:
Make the Cupcakes: Preheat oven to 350 degrees F. Line two standard muffin tins with liners.
Place the Guinness and butter in a medium saucepan and bring to a simmer over medium heat. Add the cocoa powder and whisk until the mixture is smooth. Remove from the heat and cool slightly.
In a medium bowl, whisk together the flour, sugar, baking soda, and salt; set aside.
Using an electric mixer, beat the eggs and sour cream on medium speed until combined. Add the Guinness-chocolate mixture to the egg mixture and beat just to combine. Reduce the speed to low, add the flour mixture and beat just until it starts to come together, about 30 seconds. Using a rubber spatula, fold the batter until completely combined. Divide the batter among the cupcake liners. Bake until a thin knife inserted into the center comes out clean, about 17 minutes. Cool for 5 minutes in the pan, then remove the cupcakes to a wire rack to cool completely.
Make the Whiskey Ganache Filling: Place the chocolate in a heatproof bowl. Place the heavy cream in a small saucepan and bring to simmer over medium heat. Immediately pour it over the chocolate, then let it sit for two minutes. Using a rubber spatula, gently stir the mixture from the center outward until smooth. Add the butter and whiskey and stir until combined. Let the ganache cool until a little thicker but still soft enough to be poured, about 10 minutes. (If it becomes too stiff, simply give it a good whisk and it will loosen up.)
Fill the Cupcakes: Using a decorator tip, cut the centers out of the cooled cupcakes, going about two-thirds of the way down. Divide the prepared ganache between the centers of the cupcakes.
Make the Baileys Frosting: Using the whisk attachment of a stand mixer, whip the butter on medium-high speed for 5 minutes, scraping the sides of the bowl occasionally. Reduce the speed to medium-low and gradually add the powdered sugar until all of it is incorporated. Add the Baileys, increase the speed to medium-high and whip for another 2 to 3 minutes, until it is light and fluffy.
Using your favorite decorating tip, or an offset spatula, frost the cupcakes and decorate with sprinkles, if desired. Store the cupcakes in an airtight container at room temperature for up to 4 days.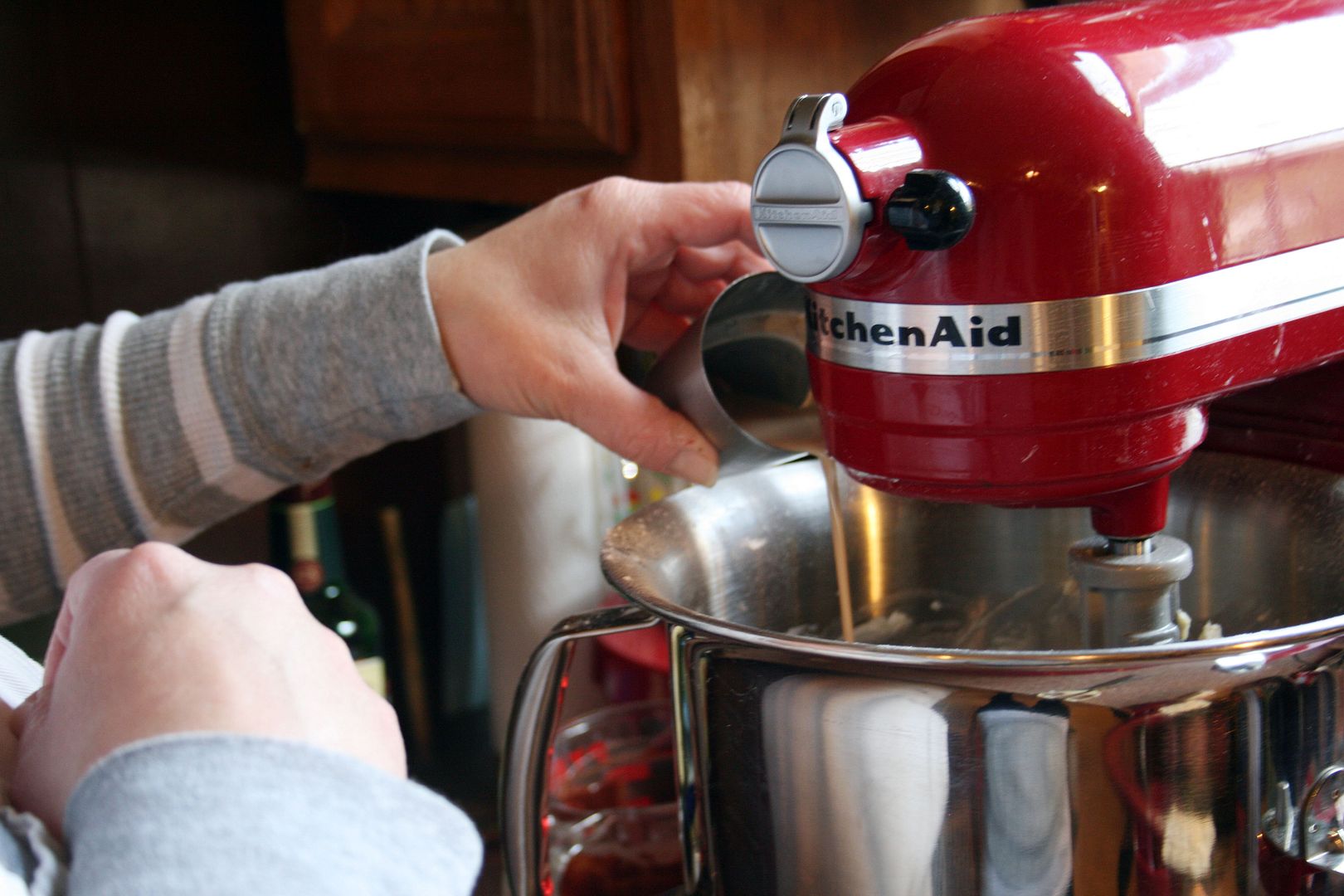 As I'm eating them I always try to figure out what I love best. The dark chocolate Guiness cake, the Jameson truffle, or the creamy, buttery icing. I usually take a drink of my coffee, and eat one more just to be sure that it is the Jameson truffle that gets me. Everytime. Try these out this St. Patrick's Day and see what your favorite part is! - Megan