After two years (yes, two whole years now!) of posting three times a week, we decided to do something fun for our anniversary and give ourselves a little break. Instead of taking time to style outfits ourselves, we called upon Our Beautiful Husbands (or OBH as they named themselves and as we refer to them in this context) to step out from behind the camera, and put on stylists' hats as well.
We gave them full creative control from not only choosing our outfits, but the shoes, accessories, hairstyle, and lip color. (This resulted in many questions and discussion like what different lip colors even mean and the pros and cons of flat sandals vs. wedge sandals, but those are stories for another day.) We did our best to stay out of their way, providing them only with the parameters that this look was for a date night (when asked for context, we thought it was only fair to provide that) and not to use a look we've styled on the blog before. That's just cheating off our homework.
See the looks they styled for us below AND we have a special giveaway for you at the very bottom of the post!
MOLLY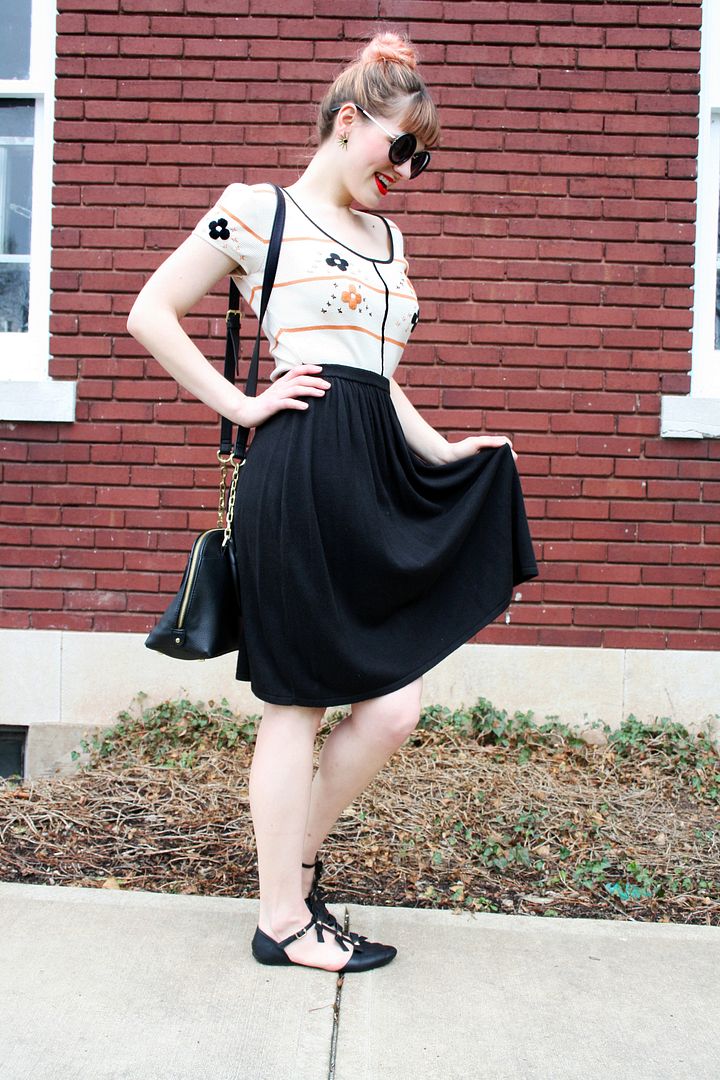 My husband, Andy, enjoys putting together outfits for himself, sometimes with my input, but I don't think he ever imagined he'd style a look for me! He rated himself "1 out of 100" of how pumped he was to style a look for me beforehand, but quickly warmed up to becoming a stylist once he started sorting through dresses. After having me try on a couple, he decided on this super retro floral sweater dress that's one of my favs.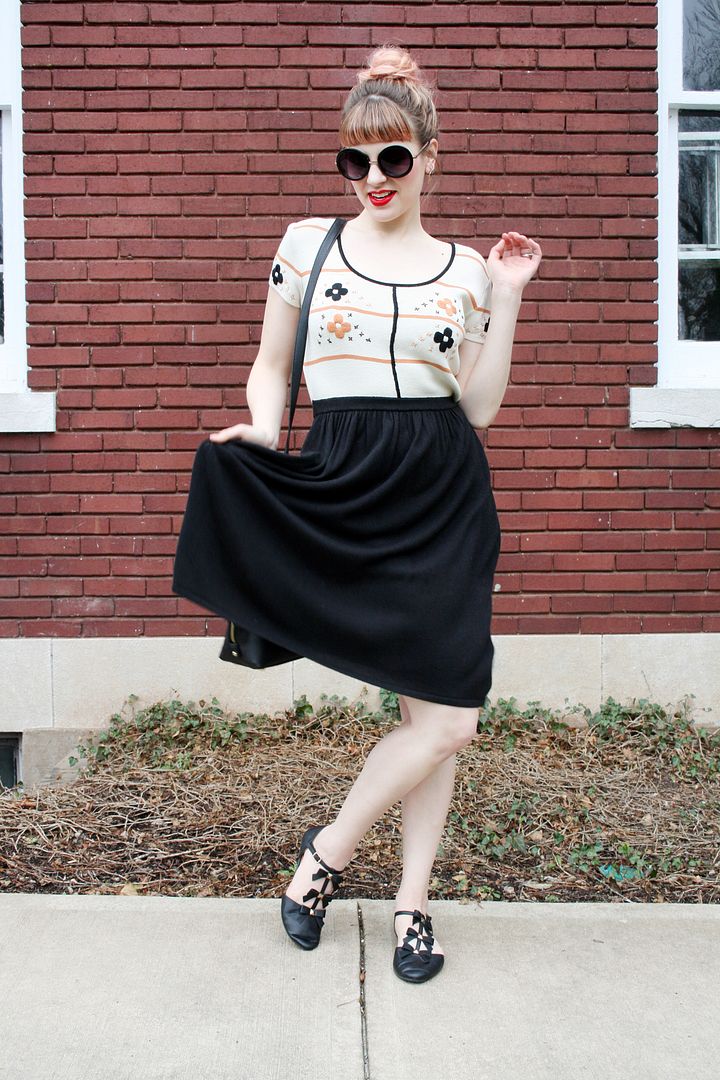 He moved on to shoes next and chose some black bow flats. Next: hair. After scrolling through our
Instagram photos
, he decided that since I usually had my hair down, I should switch it up and put it up in a bun. By the time my hair was up, he had an array of earrings picked out for me to try on. He settled on black starburst earrings and finished the accessories off with a black purse and black, round sunnies, both perfect for the retro vibe.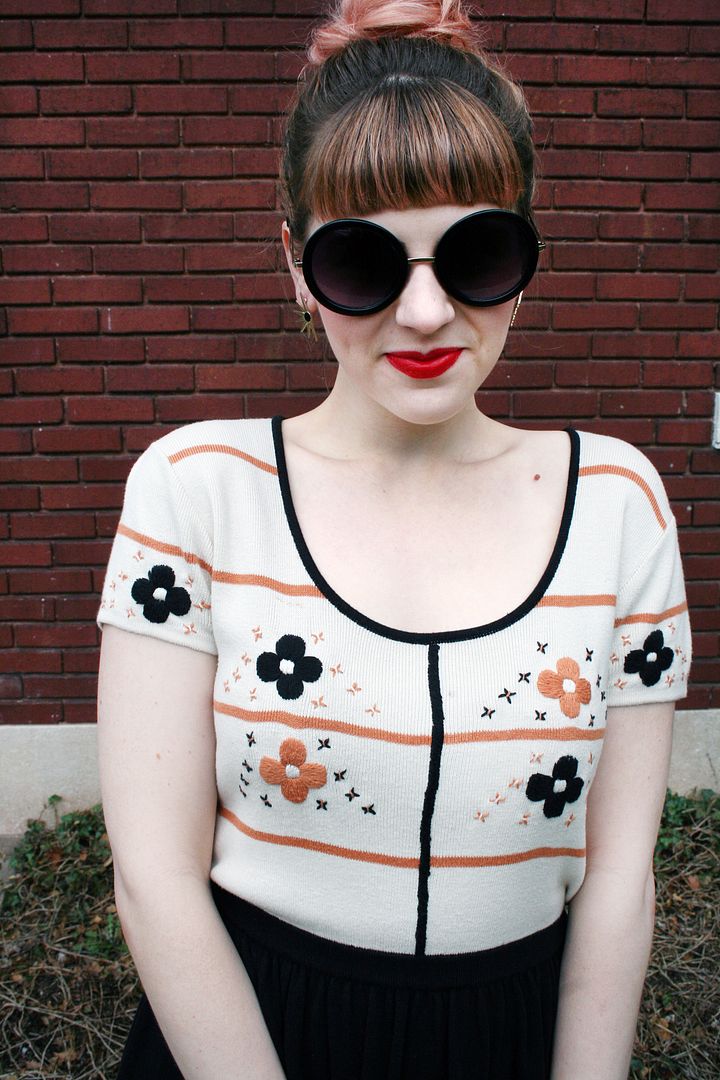 He also chose a bright red lip color, which I realized I haven't worn much lately, and it's gotten me back into wearing bright red lips again. Who knew my husband would inspire my makeup routine! In the end, it was a lot of fun and I was really happy with the end product. Maybe I could even talk him into doing it again in two years!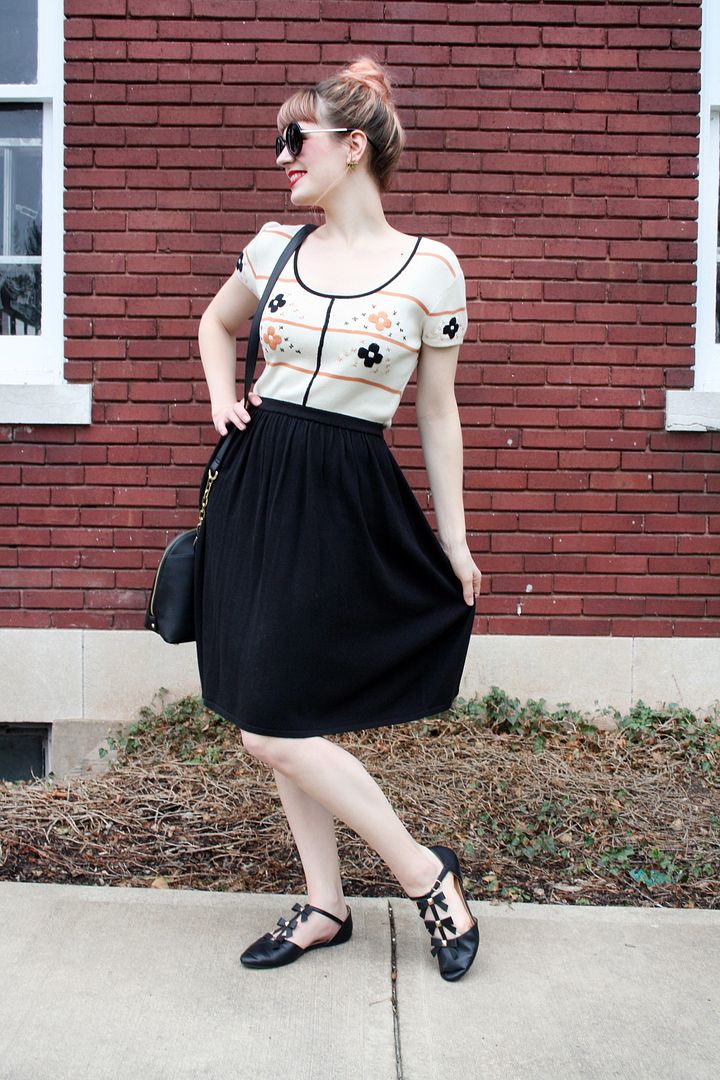 Molly's Outfit Details: Dress: Modcloth, Shoes: Modcloth (
similar
), Earrings: Modcloth (
similar
), Purse: Target (
similar
), Sunglasses: Modcloth (
similar
)
JODI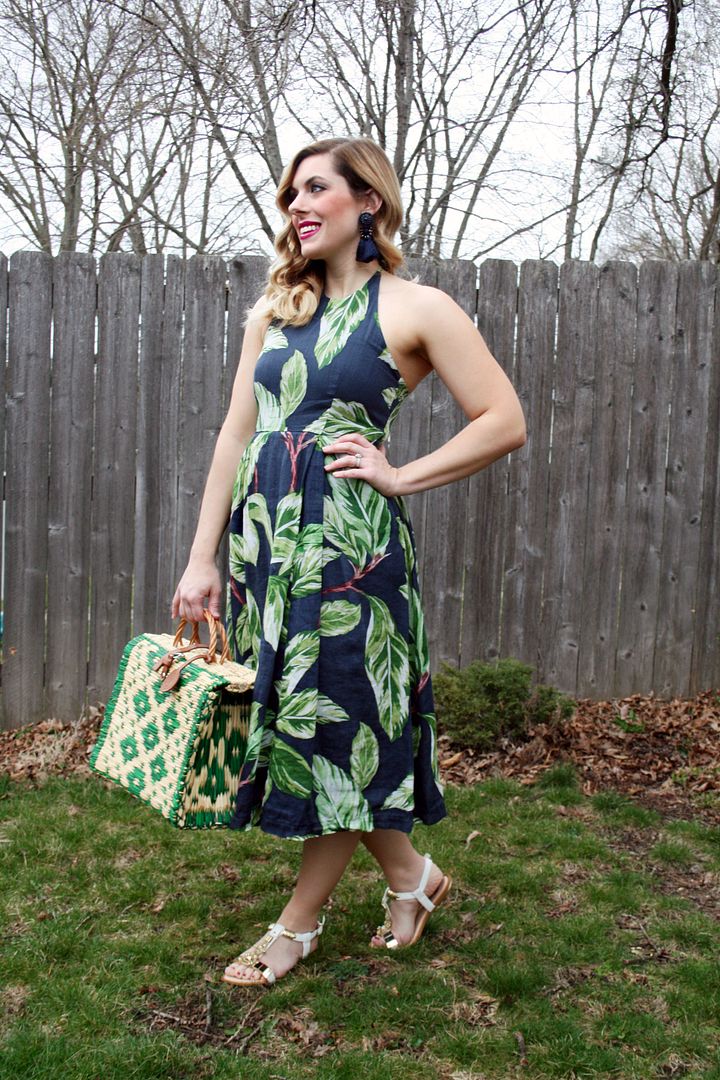 My husband, Graham, is a pretty snappy dresser himself. He knows the ins and outs of how to tie a bowtie and how to properly wear a suit. However, when I asked him if he would style an outfit for me that I would wear on the blog, the color drained from his face and he got very fidgety. How was he supposed to go through all of my clothes and pick an outfit?! Nevertheless, pick an outfit he did!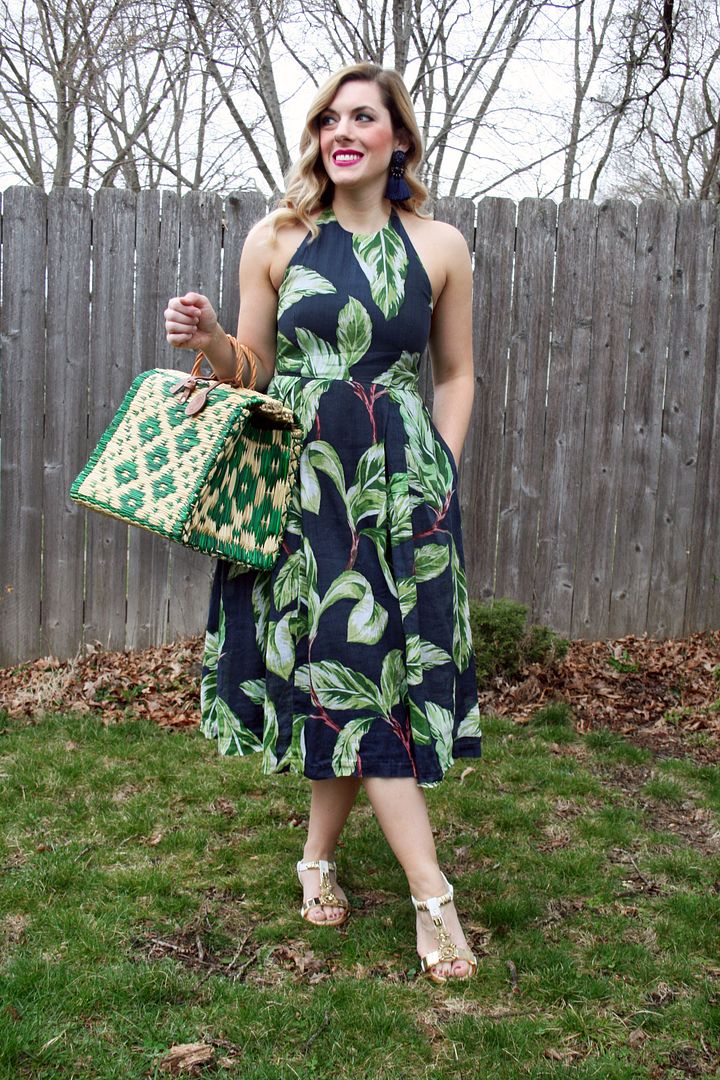 After much browsing and thinking, he decided to plan an outfit around a new straw bag I recently purchased from Etsy. He liked that it was summery and decided to find a dress that would go with it. He ended up picking a dress that I wore a ton last summer because I like it so much, so I was super happy with his choice!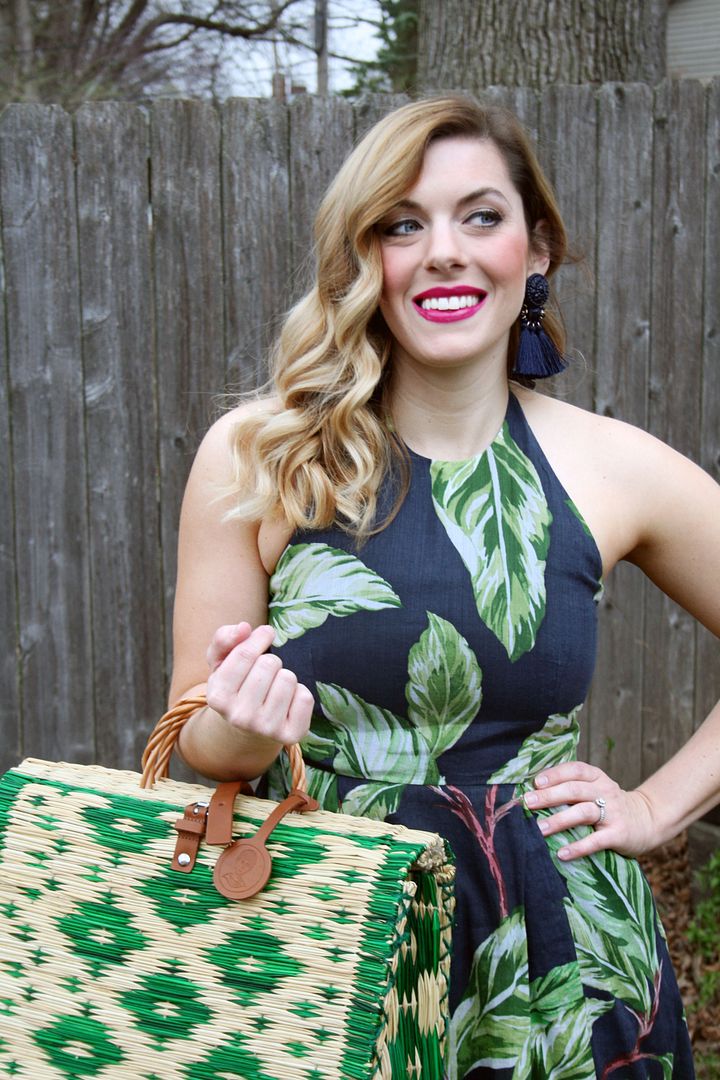 One thing we differed on was the shoes. He picked these white flat sandals and I realized that I normally wear heels or wedges on the blog. I went with his choice though and think they look great with the dress! He also really liked that these navy blue earrings matched my dress perfectly, so he choose those for me as well. When it came time for lip color (I spared him the whole process of picking out eyeshadow and liner because I didn't want to overwhelm him), he was adamant that it should be a bright pink color. So, pink it is! I think he did a great job on my outfit and I would totally wear this again! I don't think he wants to go through that process again though, so he said he will leave the fashion up to me in the future. ;)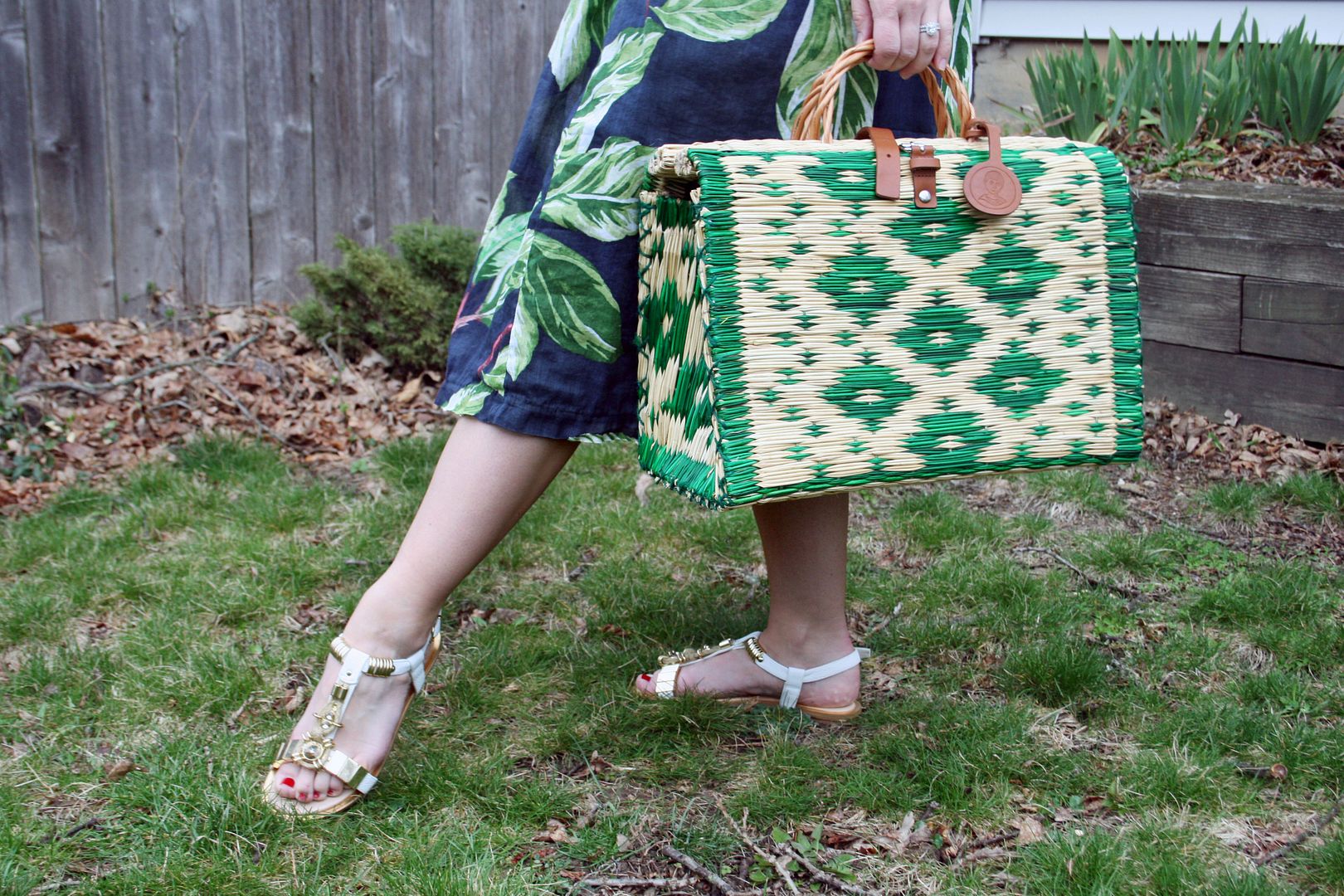 Jodi's Outfit Details: Dress: Ann Taylor, Bag:
Toino Abel on Etsy
, Sandals: River Island, Earrings: H&M
We're so thankful for OBHs that support us in this endeavor that is Mod Circus and we're so thankful for you, our readers! To show our appreciation, we're giving away a $25 Modcloth gift card to a lucky winner. Enter below for your chance to win!
a Rafflecopter giveaway