here
and Jodi's
here
), and holidays can be trickier for avoiding not-good-for you foods.
Not to fear! Eating healthy doesn't mean your life has to be a kale-filled sadness devoid of indulgences (though well-prepared kale is anything but sad, don't get me wrong!). Kale aside, this dark chocolate bark is a great way to get that dessert fix while not going too over-the-top and finding yourself miserable. It's also ridiculously easy. It takes all of 10 minutes to prepare.
Dark chocolate contains antioxidants, is lower in sugar than milk chocolate, and is considered heart-healthy, since it can lower blood pressure (unfortunately, this is in moderation, but we'll take what we can get). So, basically, this recipe is not only not bad for you, it's good for you! I personally love it because it's richer, and more concentrated than other chocolate desserts, and you feel like you get your sweets fix after just a bite or two.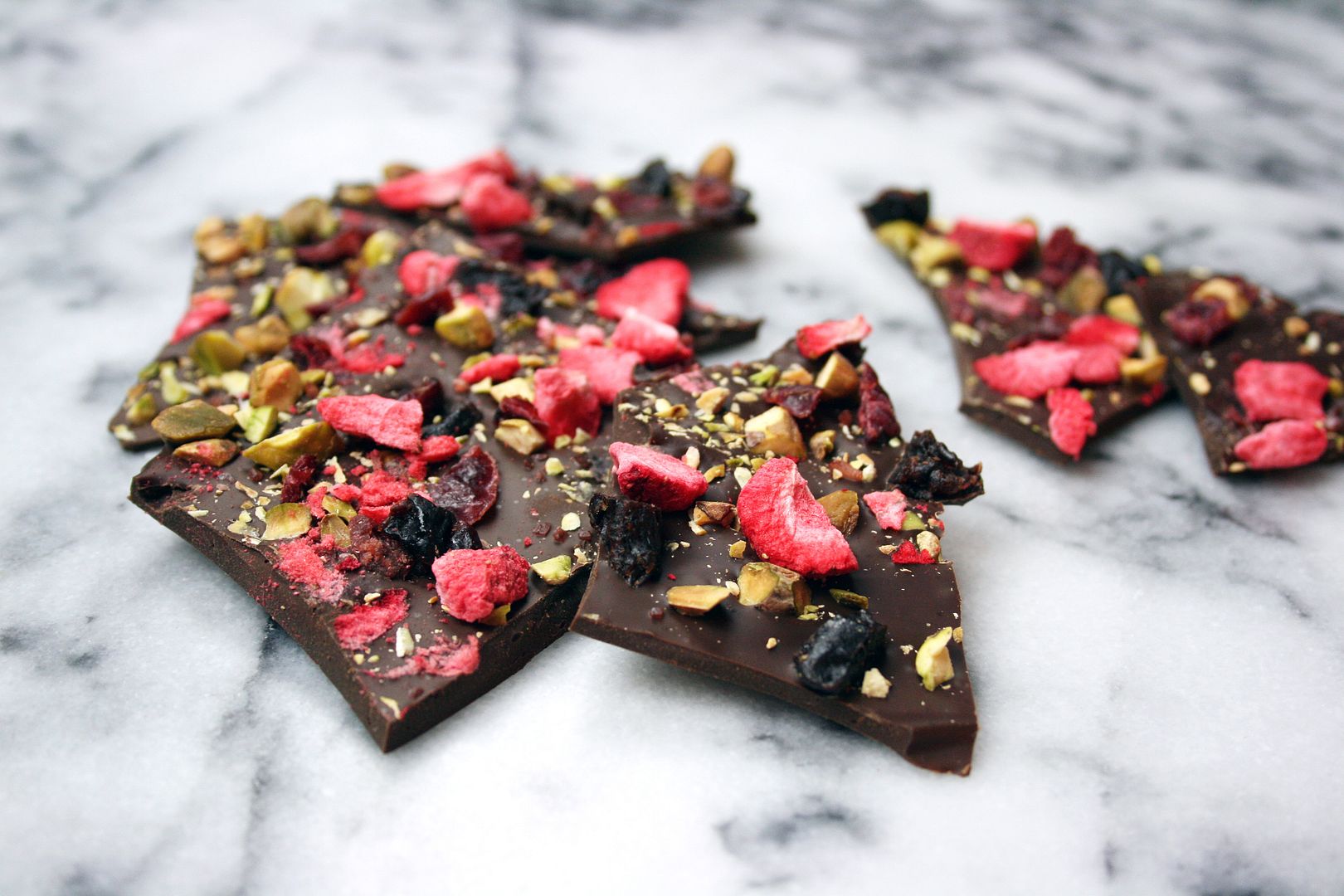 I've also added dried and freeze-dried fruit to bring in lovely red tones, so it's not only full of more healthy stuff, but it's nice and festive-looking for the holiday. Pistachios add another great texture and richness. I based this recipe off of
one from Bon Appetit
and the the great thing is how versatile it is. You could basically use anything you have in your pantry from candied ginger or any type of nut to sunflower seeds, pepitas, or flaxseeds.
Now, let's get to it!
You'll Need:
12 oz dark bittersweet or semisweet chocolate
1/4 cup chopped pistachios
1/4 cup chopped dried cherries and craisins
1/4 cup freeze-dried strawberries
pinch of flaky sea salt (I used Alaea Hawaiian for the pink tint)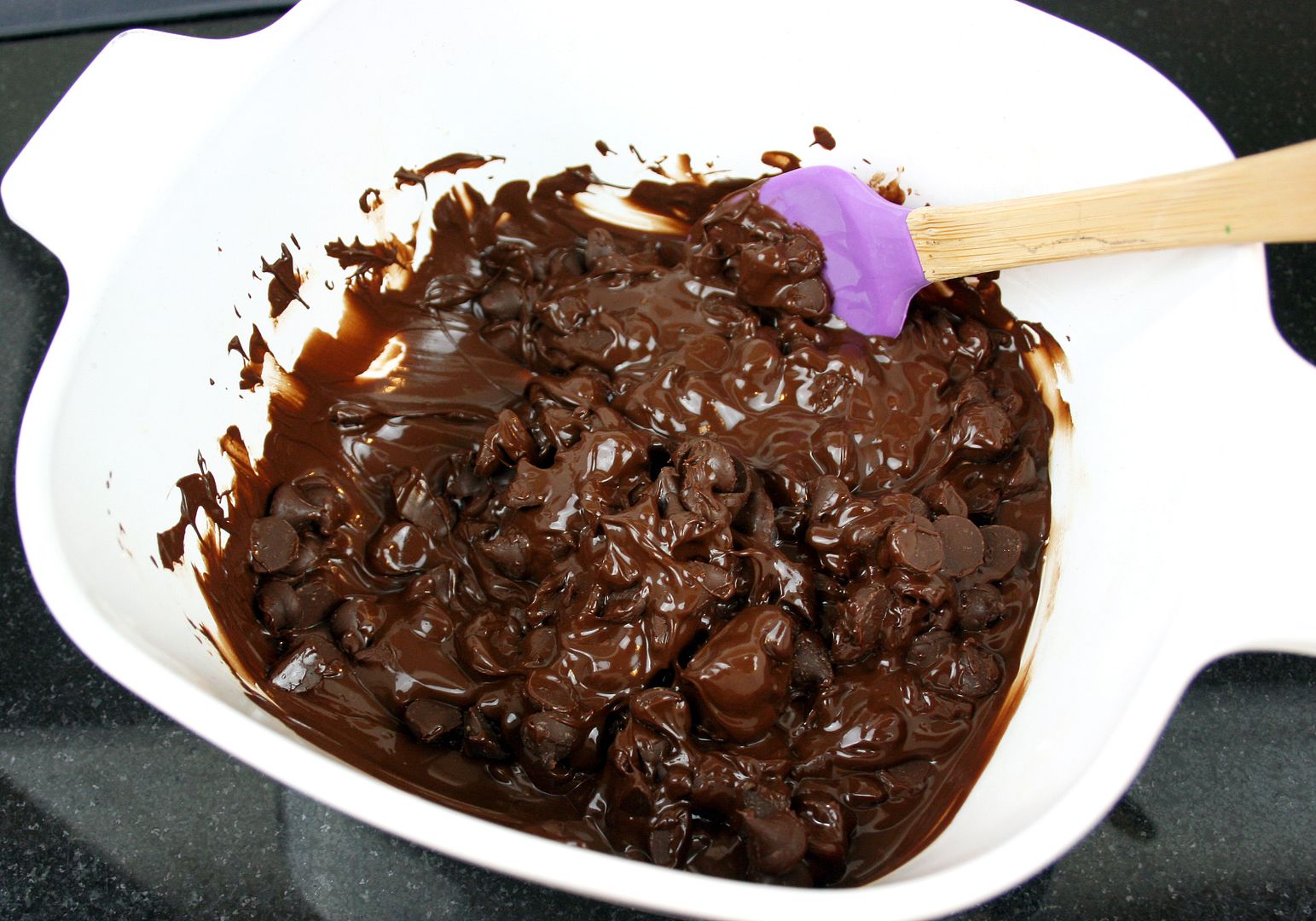 Lay out a silicone baking mat and have all your measured ingredients standing by. Melt chocolate in the microwave for 45 sec. increments, stirring in between, until fully melted. Once melted, pour onto baking mat and smooth into a thin layer (about 1/8 in) with a spatula. Sprinkle all remaining ingredients over the chocolate, being sure to space evenly. Lightly press down toppings into chocolate before it begins to set. Once set, break into pieces. You can place in the freezer if you'd like it to set faster. It will store in an airtight container for up to 2 weeks.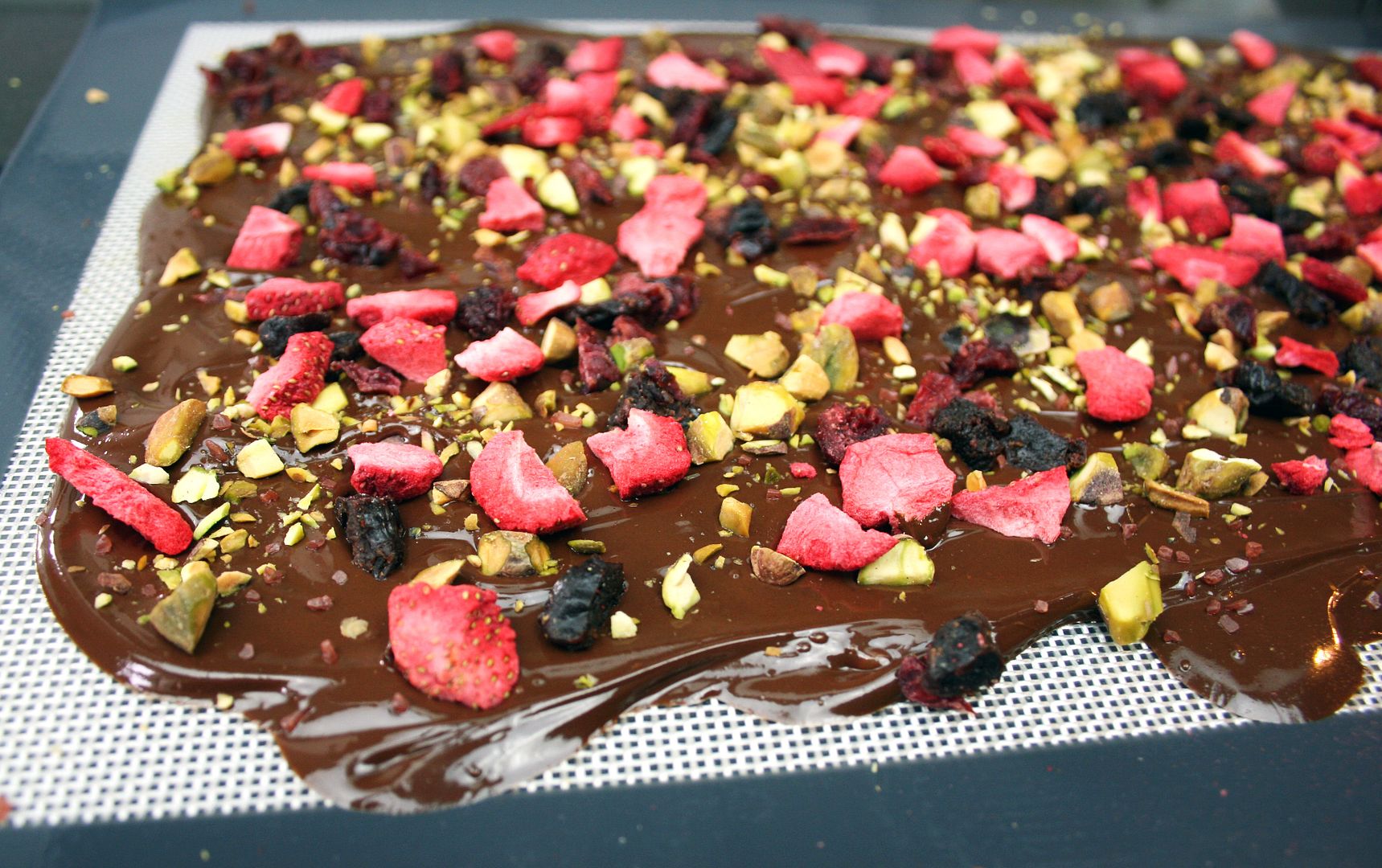 If you make other variations, be sure to let us know what ingredients you use! Enjoy!
-Molly
Marble Slab:
Crate & Barrel
, Silicone Baking Mat: Crate & Barrel (
similar
), Appetizer Plate:
Crate & Barrel