Happy New Year friends! Jodi here, bringing you a very special recipe, which is a favorite of mine. If you know me, you know that cooking isn't really my thing. I excel more at baking (excel is a strong word, let's say I make real good cookies), making (tasting) cocktails and buying shoes. Luckily for me, my darling husband has a certain knack for throwing spices together and making superb dishes. Now, understand me when I say, he literally just throws things together and they end up tasting wonderful. There really is no science to it or even a set recipe, which made it really difficult to actually write down, in units of measurement, what he was throwing into this Curry Chicken with Peanut Sauce dish he makes. He was also adamant that I let you all know that this is very much a process of adding spices and ingredients until you have the right consistency and taste. He said, "it's like golf, you start with a big drive to get close, then you take smaller strokes to get the hole in one." He also just told me not to use the golf quote because it makes him seem like a golf person, and he's not.
Right, so now that I've completely scared you off, let's get down to the business of making this dish. This is one of my absolute favorite meals. It's a great comfort dish to make this winter when you want to settle in with something warm and spicy. And, despite everything I just said, it's fairly easy to make!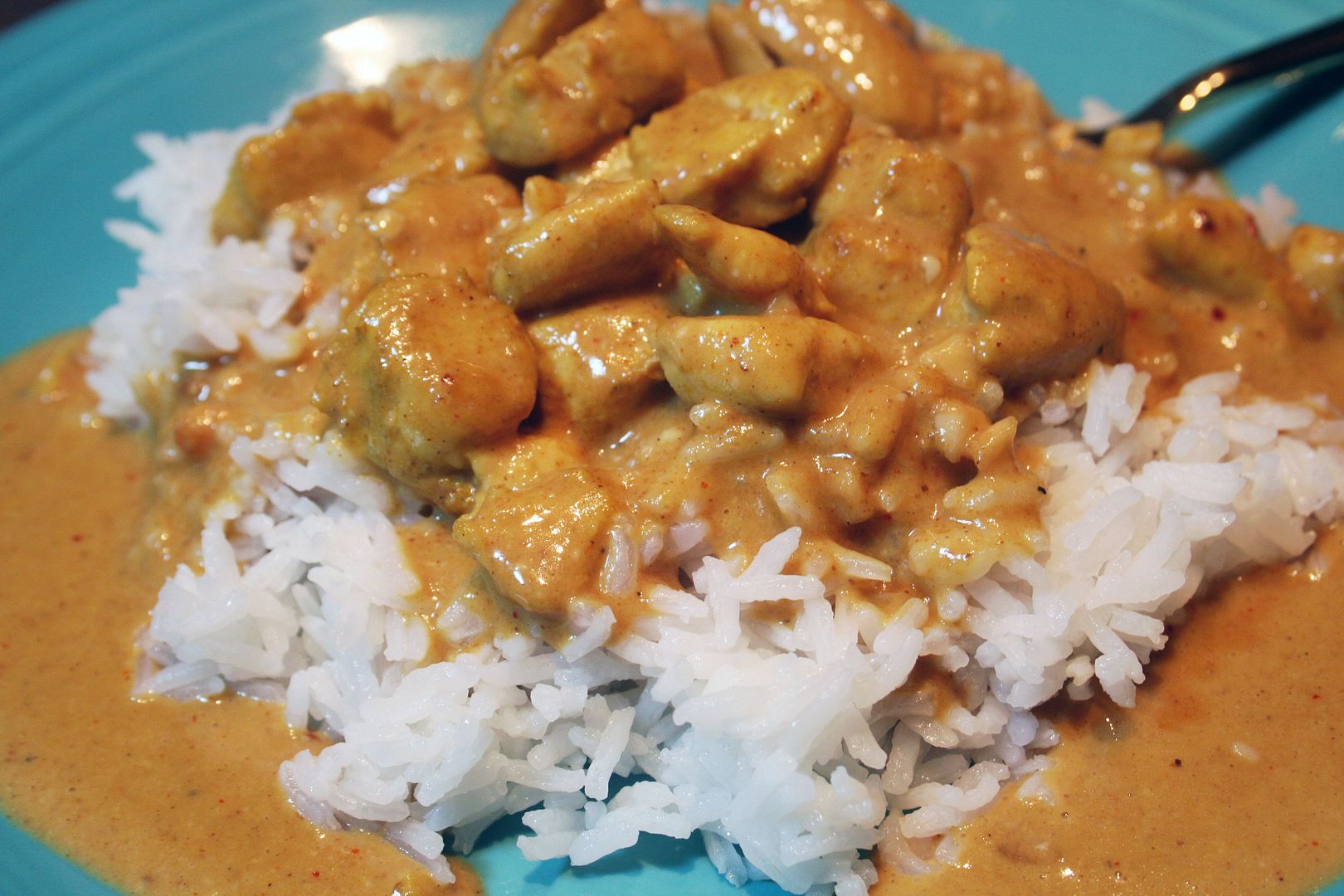 To start, you will need:
1 lb. chicken breast, cubed
1/2 cup - Peanut butter (1/2 cup smooth and 1/2 cup crunchy)
1 can - Coconut milk
1 TB - Whole milk
1 TB - Curry powder
1/2 tsp - Cayenne
1 tsp - Chili powder
2 tsp - Garlic
2 tsp - Hoison sauce
1 1/2 tsp - Soy sauce
1 tsp - Siracha (to start, add more depending on how spicy you want it)
Salt and pepper to taste
1 tsp - Cinnamon
1 tsp - Garam Masala
Splash of jalapeno juice
Bay leaf
Basmati rice
To begin, prep chicken. Pat dry with paper towel and cut into cubes. Coat cubes with 1/2 tbs. of curry powder and season with salt and pepper. After you have prepped chicken, start your rice.
In a separate bowl, add your peanut butter, coconut milk and milk. If the consistency is a bit runny, add another spoonful of peanut butter. Also, depending on how peanuty you want the taste, you can add more to the sauce after you've added your spices. Add in the rest of your spices and jalapeno juice. Again, feel free to add more of any spice to get your desired flavor and spice level. Add bay leaf last.
Once sauce is mixed, add curry chicken to skillet and cook on medium-high until mostly cooked through. Next, add your sauce to the skillet. Turn heat down and let simmer for 5-10 minutes, stirring frequently. Once your sauce is bubbling, turn off heat and let sit for 1-2 minutes. Plate your rice, add your sauce (don't forget to remove the bay leaf!) and serve!
How do you like to experiment in the kitchen? My husband and I are definitely getting better at cooking, so we'd love to hear your tips and tricks! Let us know how this recipe turned out for you too. Happy cooking!
-Jodi