We hope you had a wonderful Christmas yesterday if you celebrate it! Now, onto the next holiday: let's talk New Year's Eve! Last year, we styled
formal black and gold NYE looks
, so this year, we took a slightly different approach. New Year's Eve doesn't always have to be rung in dressed to the nines. We're also fans of casual, laid back New Year's celebrations where you can still be comfy while drinking bubbly and eating apps.
MOLLY

For my comfy New Years Eve look, this jumpsuit was a perfect fit. It feels like straight up pajamas, but the silver velvet piece looks more elevated than everyday attire. I love outfits that are like that, when people think you're dressed up but deep down you know you're way more comfortable than you'd be in any pair of jeans.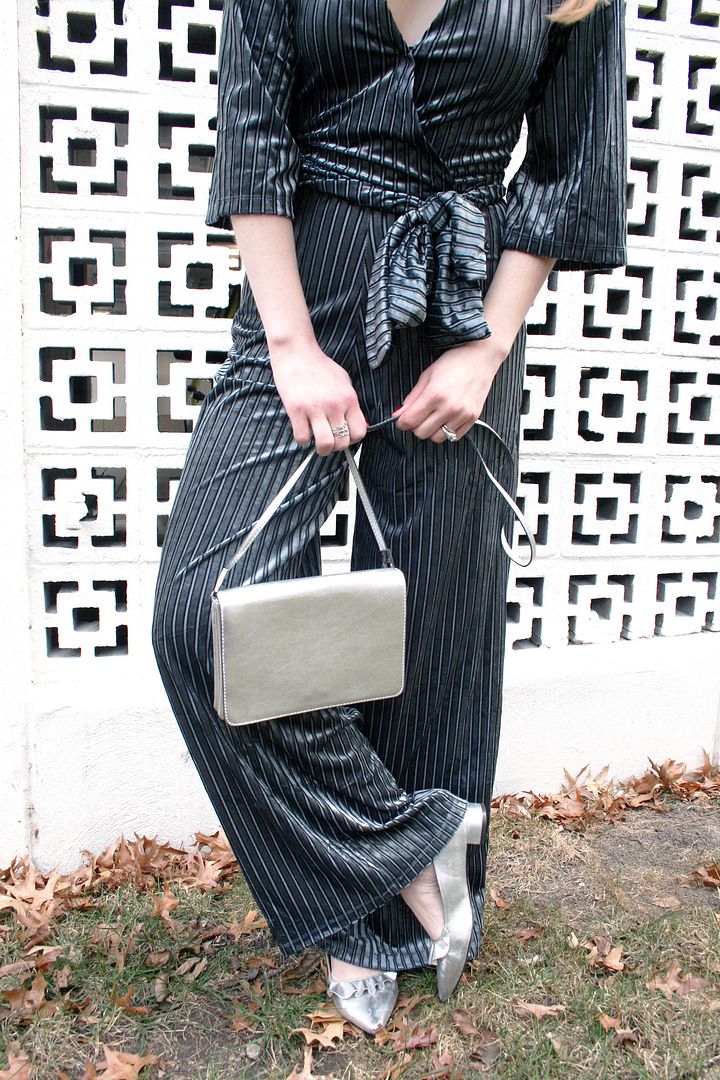 To match the silver sheen on the gray velvet, I accessorized with silver, silver and more silver.
Ruffle silver shoes
and a
silver purse
would be perfect for just about any NYE ensemble and this one is no exception.
I also added a silver choker necklace and vintage ring, because I'm really hitting this silver theme hard. Don't know if I've mentioned that. A dark maroon lip and
shimmery silver eyeshadow
add a dramatic party vibe to the look perfect for ringing in the new year.
This year, we're looking for something low-key to do in Kansas City with a few friends, but we're really behind on making a decision. Let us know if you're in the area and have any recommendations!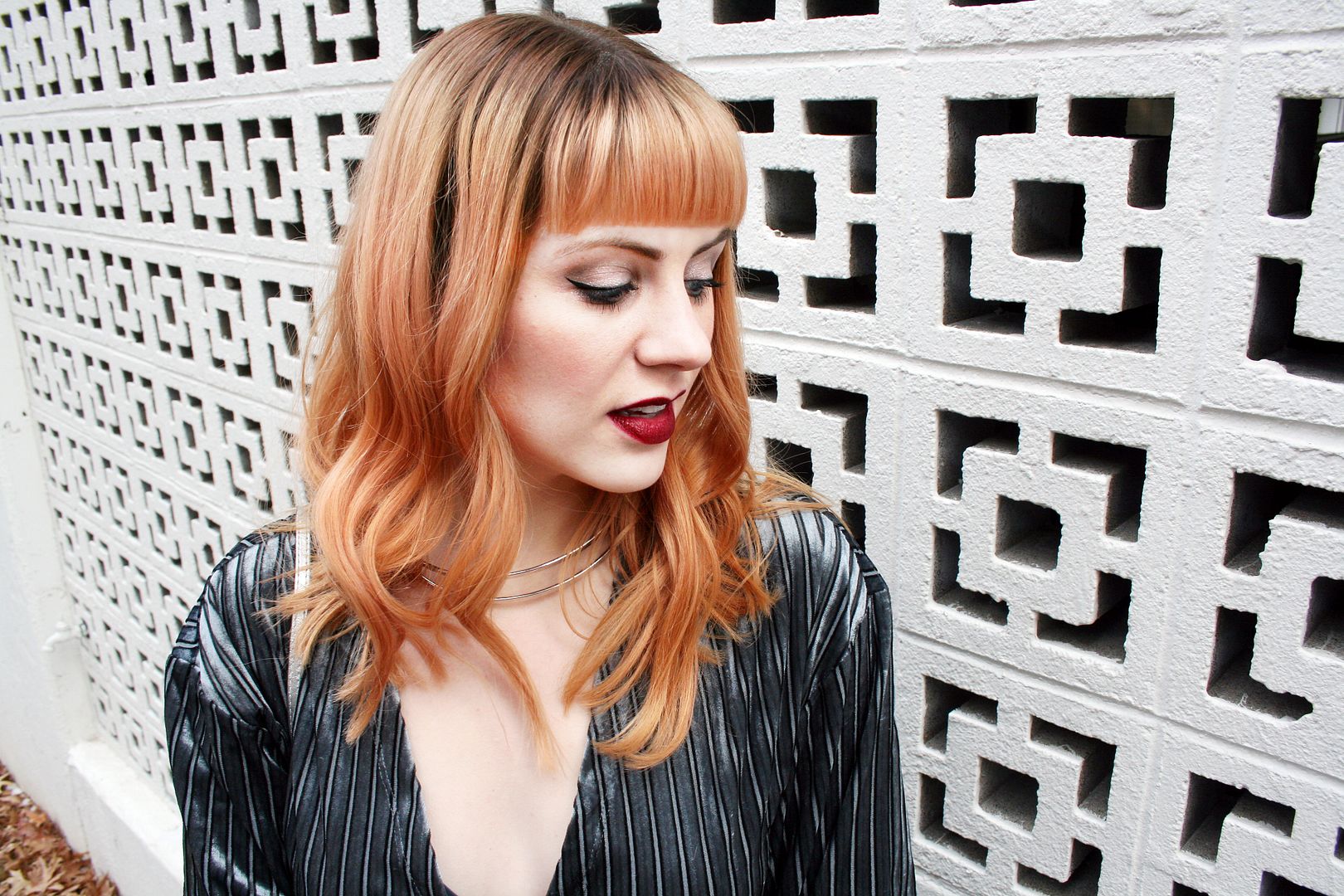 JODI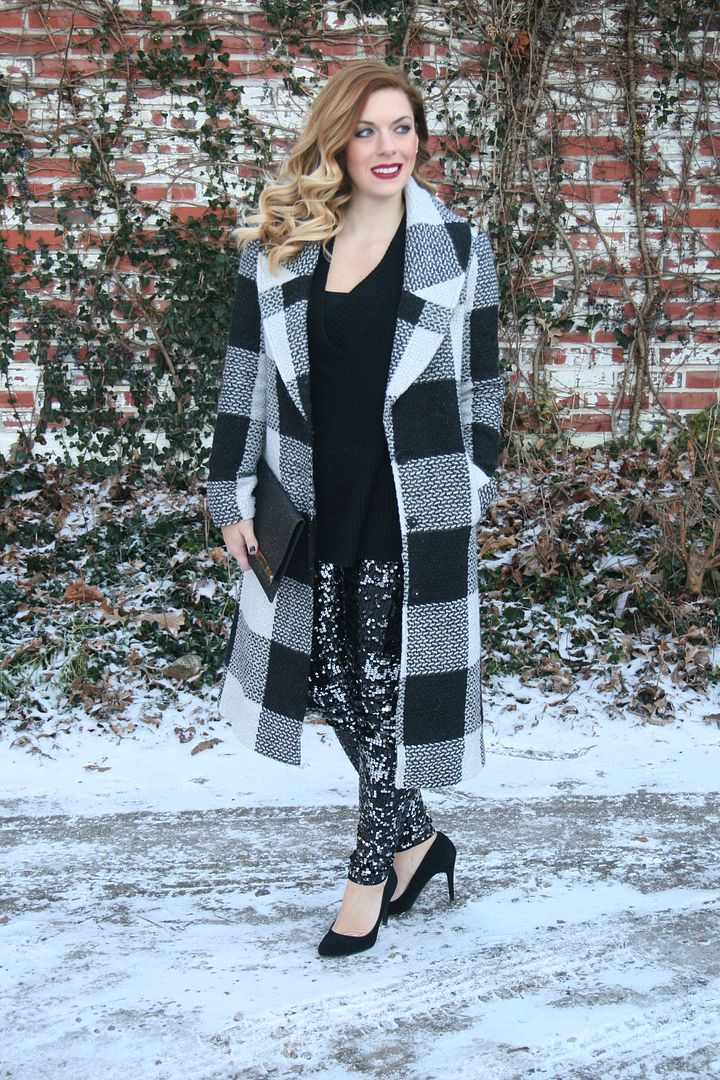 I've basically been living in leggings recently. Something about their stretchy nature has really been speaking to me. I think it's the non-stop baking and eating that comes along with the holidays and the uncomfortable feeling I get trying to button my jeans. Anyone else just been gorging themselves with sugar and cocktails? Well, if you're like me and not quite ready to slither back into your skinniest pair of jeans, then you might want to think about a pair of
sequin leggings
for NYE.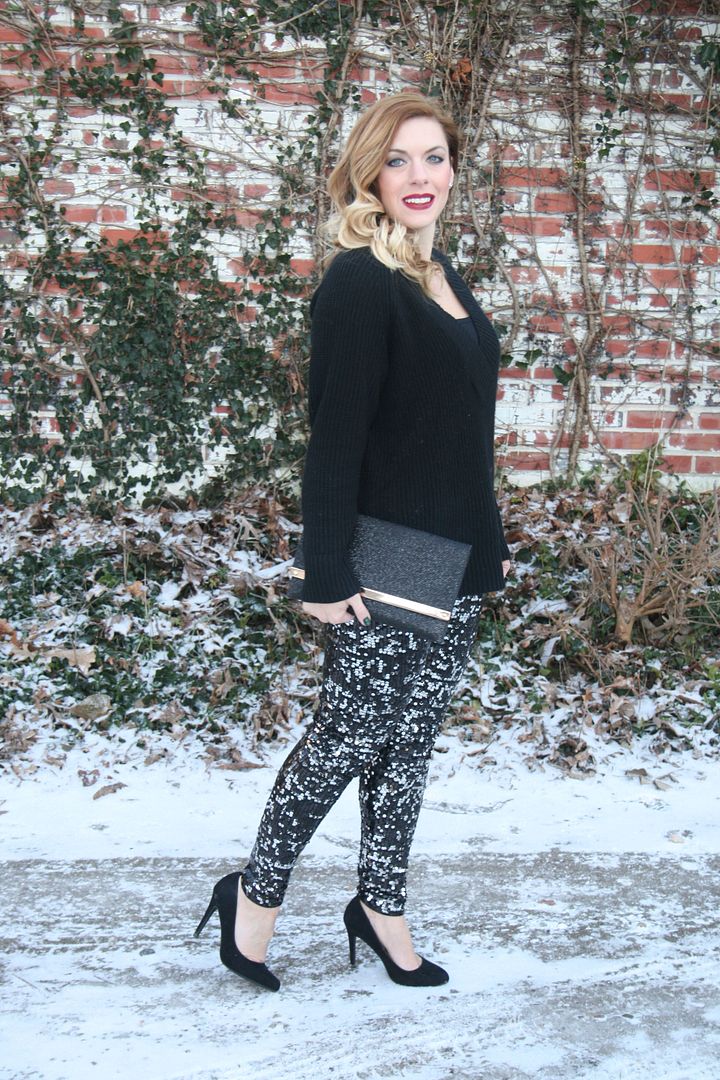 These
sparkly babies
are perfect because they are equal parts comfy and dazzling and if you've been reading here for any amount of time, you know those two things speak to my soul. They can either be dressed way up or kept casual chic, depending on what you pair them with. In this case, I went with a sleek black sweater and simple black heels. You could just as easily pair them with a blazer or snazzy blouse too.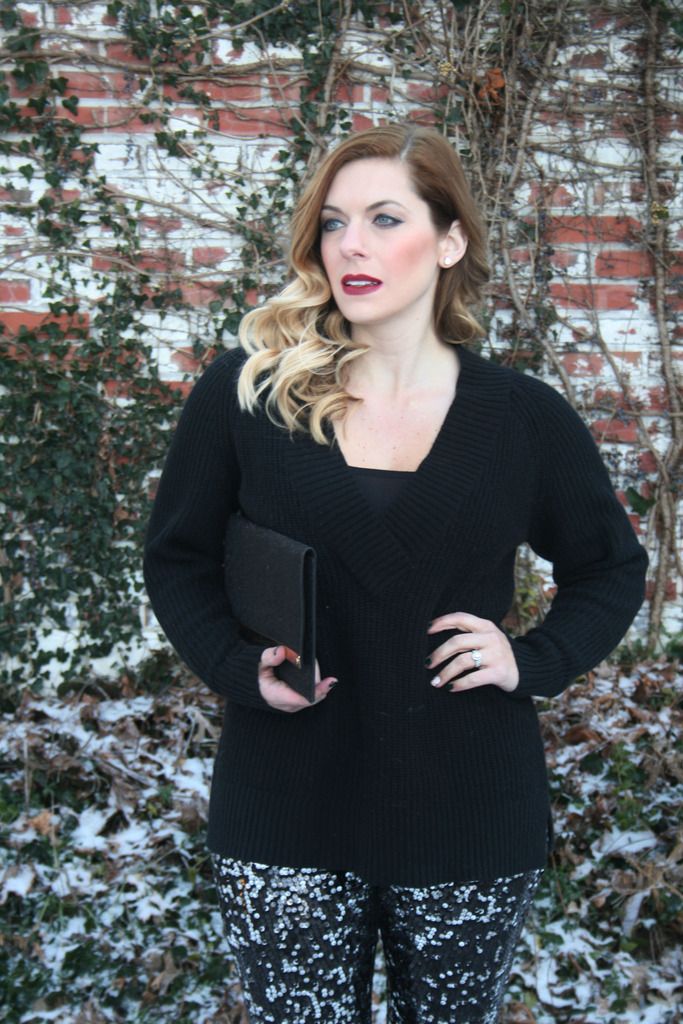 I went with a smoky/vampy makeup look and loose waves for a sleek winter look and a sparkly black clutch, because honestly, you really can never have too many sparkles on New Year's Eve, amiright?
I'm actually attending a wedding on New Year's Eve and I have something slightly different planned for that, but I may or may not be changing into this after the festivities wrap up. :) What are you doing for New Year's Eve?