We are excited to welcome back Eva of The Makeup Ferry to the blog today after all of the positive feedback we received on her Step-by-Step Foundation Tutorial. She's got great makeup tricks up her sleeve and we especially love that she's able to get amazing results by mixing high-end and drugstore brands. Be sure to follow her on Facebook and check out her awesome live streams for tons of helpful makeup info! Without further ado, we'll turn it over to the pro.
Hi there, it's The Makeup Ferry! I am so excited to be here on Mod Circus with all of you again. Today I have a simple yet stunning Holiday look that incorporates one of todays hottest makeup trends.
I decided to do something a little different this time around and opted to not be the face in front of the camera and enlist the help of a professional photographer. I am so excited to take a moment and introduce all of you to Lydia Stuemke.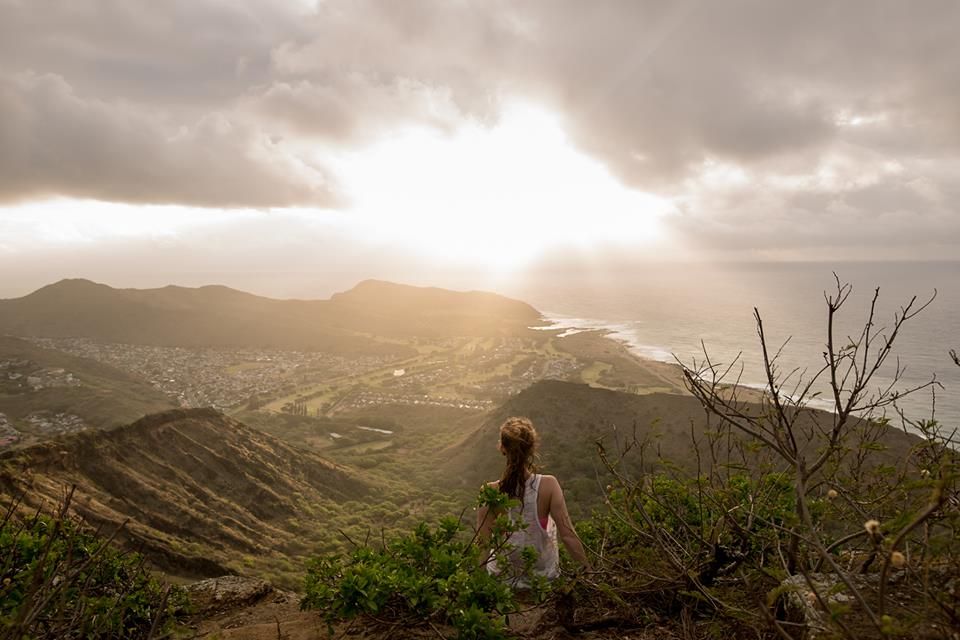 I met Lydia just a few short months ago when she made the move from Hawaii all the way back to the Midwest. I have admired her work as a birth and family photographer since the moment I saw her work
on facebook
so you can imagine how over the moon I was when she agreed to lend her lens and talents for this blog post.
Now on to that Holiday makeup I promised! When I stop and think about Holiday makeup I immediately think of 2 things: a lot of gold glitter and a striking red lip. While I'm a firm believer in glitter on everything, I know its just not everyone's cup of tea so against my inner will to glitter the world I designed a simple look that is wearable for everyone, not just Mariah Carey want to be's like myself. I thought this would be a great time to also introduce a good way to wear pink, orange and deep red shadows. Colors like this are super on trend right now but they can be difficult to navigate without ending up looking like you have pink eye. I paired this with a custom red lip.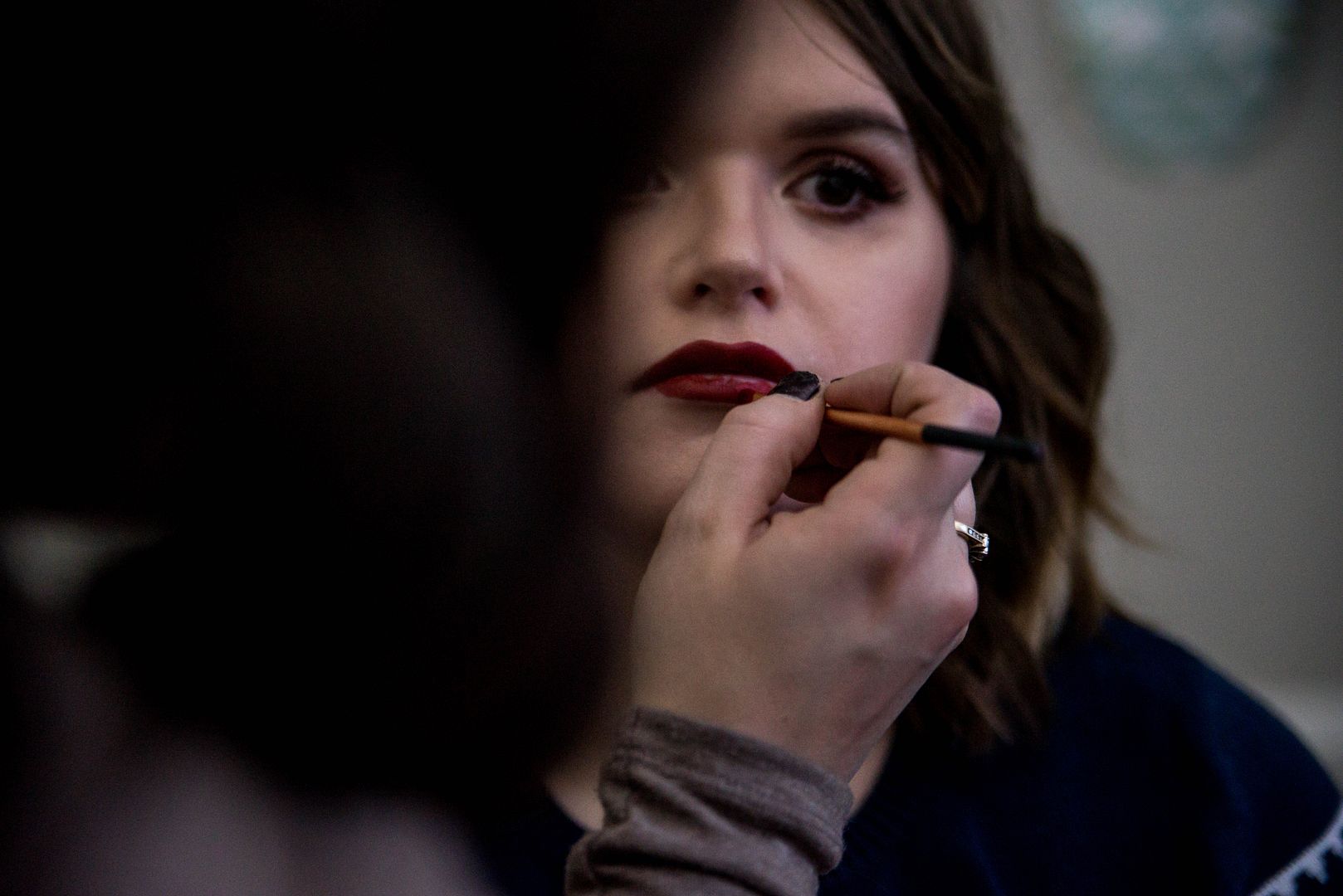 I started my client, Laura, off with a bit hydrating primer. Winter is hard on our skin and even after moisturizing you made need a little more hydration to keep your makeup from sitting on top of your skin and looking heavy. I used
NYX hydra touch primer
because I love that it hydrates without feeling heavy.
Next I moved to brows. Laura has beautiful brows naturally so there wasn't much shaping that needed to be done one my end. I simply added some
Anastasia Beverly Hills Dipbrow Pomade
for a little more definition.
Next up was foundation (for a full foundation tutorial
click here
). I have been using
Clinique Beyond Perfecting foundation + concealer
and loving it. I then added come cream contour to her cheeks, temples, forehead and along the sides of her nose followed by my current favorite highlighter. I chose
Makeuprevolution baked highlight
in the shade Golden Lights. I can't say enough about my love for this highlight and it was just golden and glowing enough to fulfill my love of all things that shine and sparkle and NOT have to cover Laura in glitter. I really wanted to add a little extra shimmer and shine since this is a holiday look so I really packed the product onto the tops of her cheekbones, bridge of her nose, cupids bow, brow bone and tons on the inside corner of her eyes. I topped her off with a little blush from Nars in the color Goulue. Unfortunately it an exclusive shade but the shade
Outlaw
would also pair beautifully with the golden highlight I used.
Now to the really fun part; the eyes! All of the colors I used for this look can be found in the
Anastasia Beverly Hills Modern Renaissance Palette
. Let my start off by saying, yes the hype is real!! This palette has been flying off the selves and for good reason. The colors are gorgeous on all tones, they blend like butter and talk about pigment!!
I started off by using a tapered blending brush and adding the shade Buon Fresco lightly to her orbital bone. I then took a smaller, more dense brush and started packing Antique Bronze onto her lid.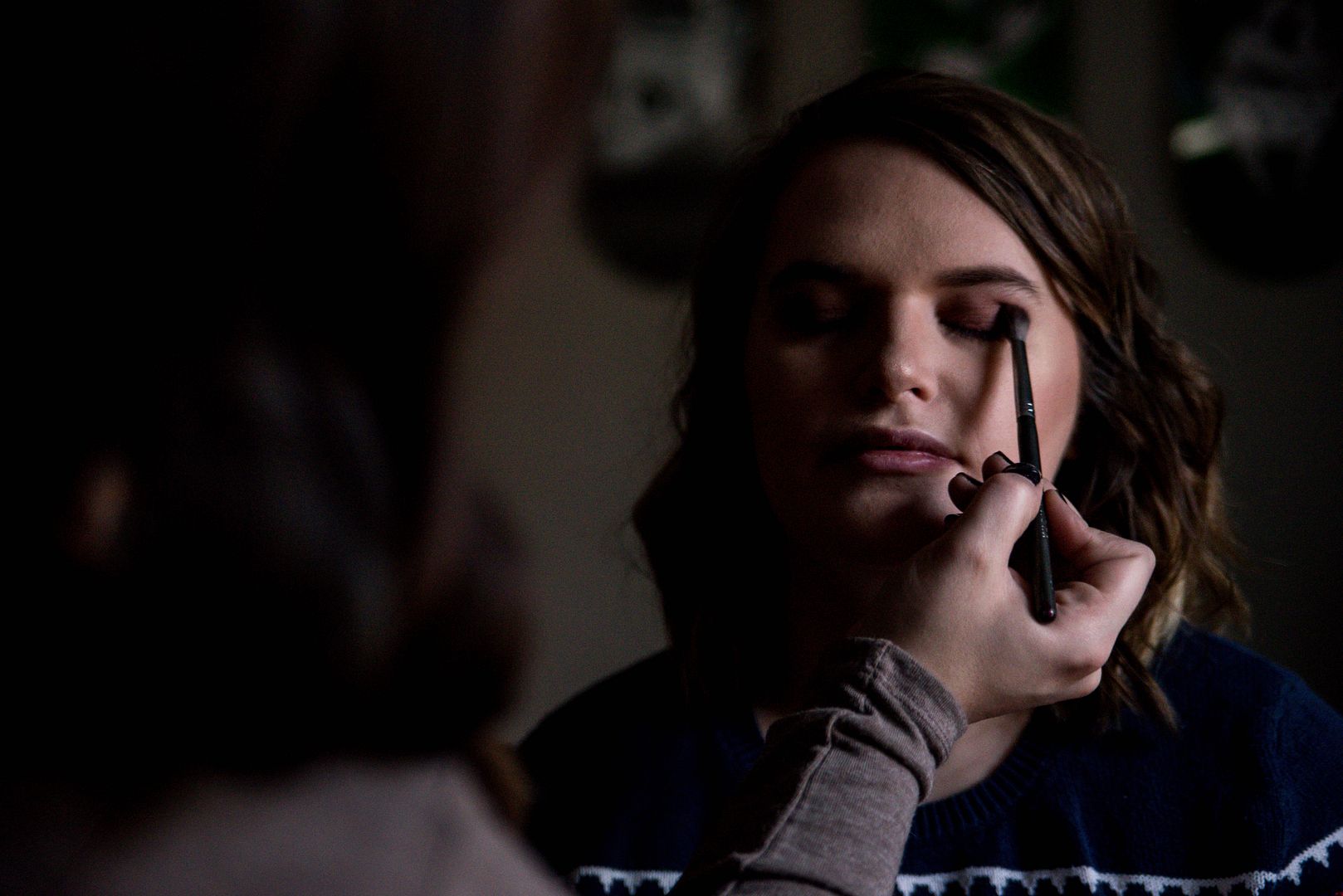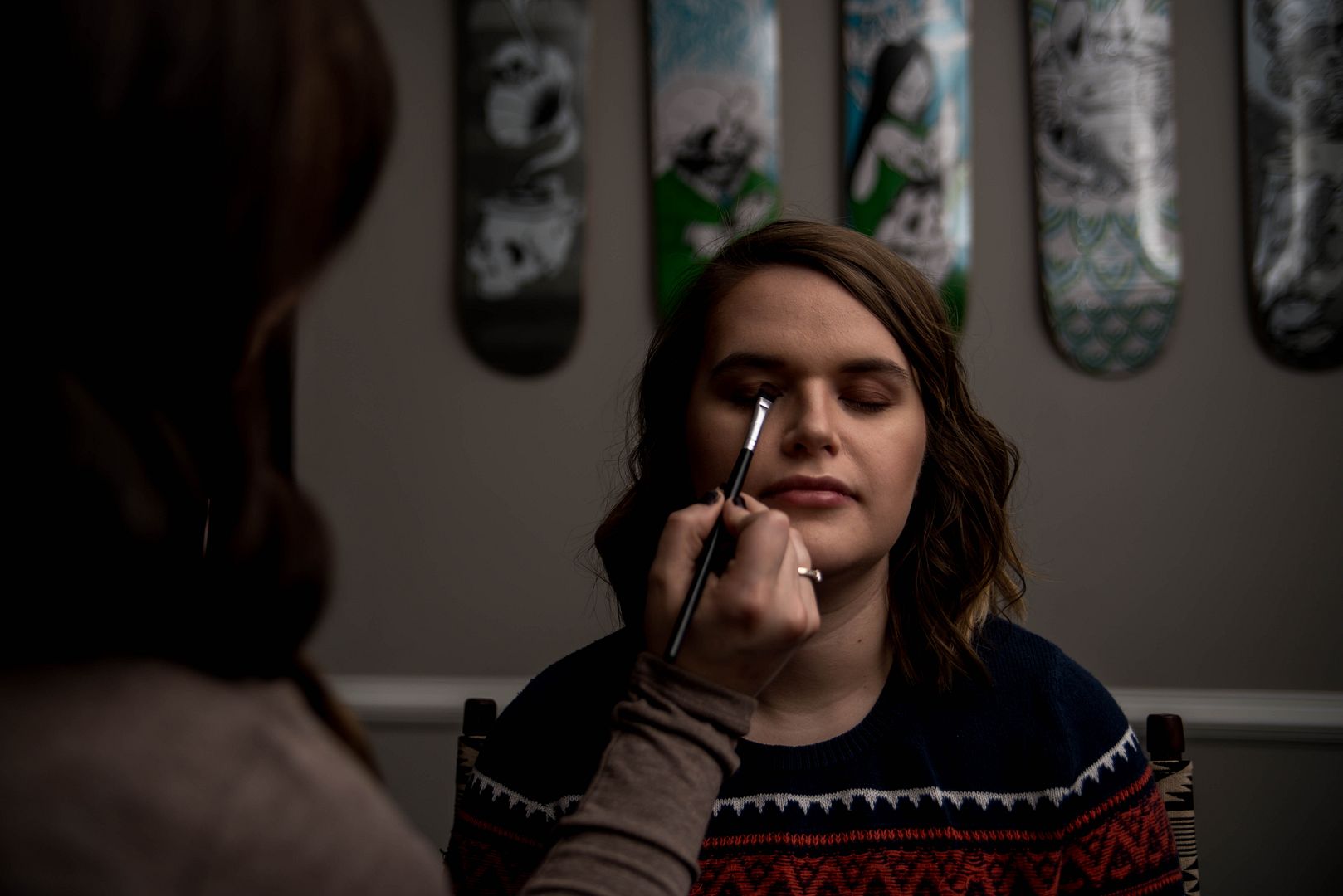 Using the same tapered blending brush as I did on the Buon Fresco I started building Red Ochre in the hallow of her eye and packing Cyprus Umber on the outside corner. I chose to add a tiny bit more sparkle when it came to liner instead of just black. I picked Sephora Collection 24 hour liquid liner in the shade
Glitter Kaki
. For a little more flare I added a pair of false lashes which are 100% optional.
I then buffed a small amount of Red Ochre mixed with Venetian Red under her lower lash line followed by a small amount of Cyprus Umber on the outside corner of the lower lash line.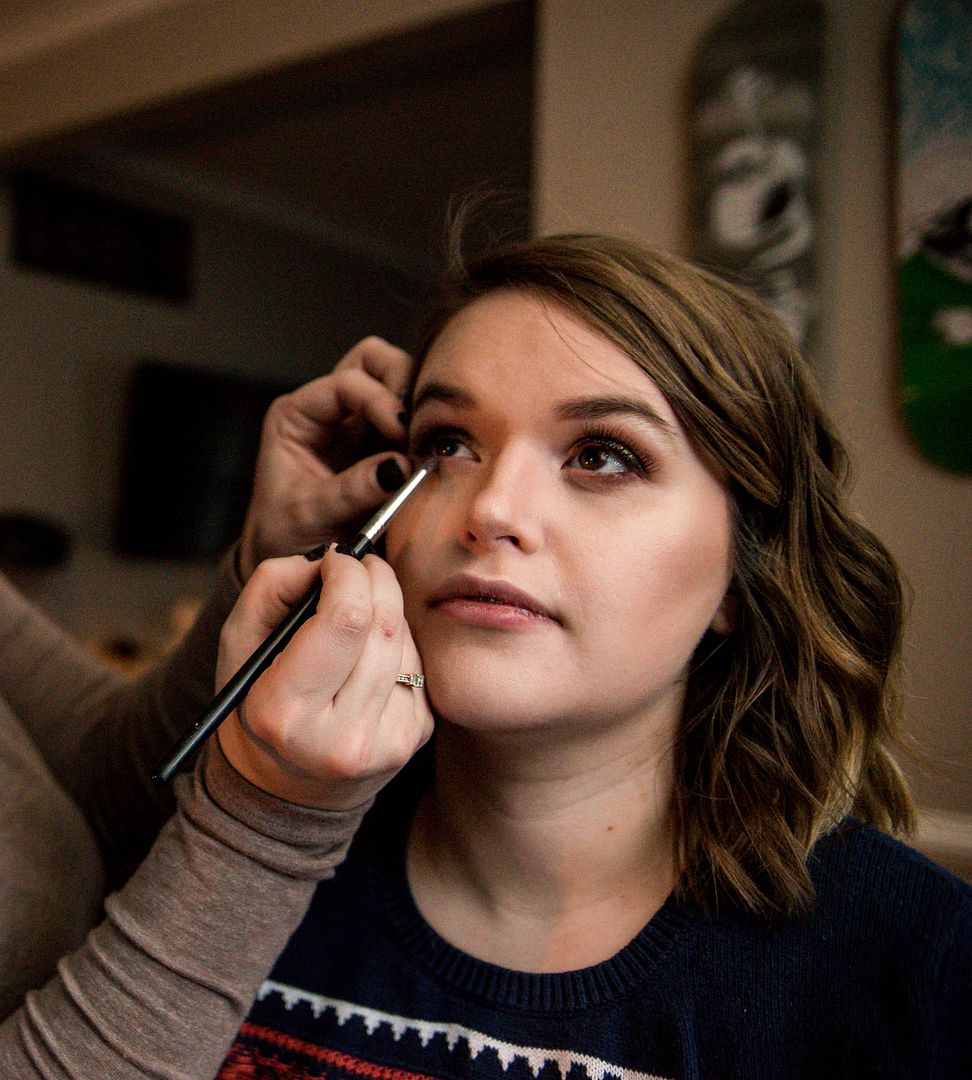 Laura wore one of her favorite holiday sweaters and I loved that it had some orangey red detail so I decided to bring that into her lip color. I mixed a small amount of Lime Crime in the color
Pumpkin
with NYX liquid suede in the color
Kitten Heels
to create a custom color that paired wonderfully with her eyes and sweater.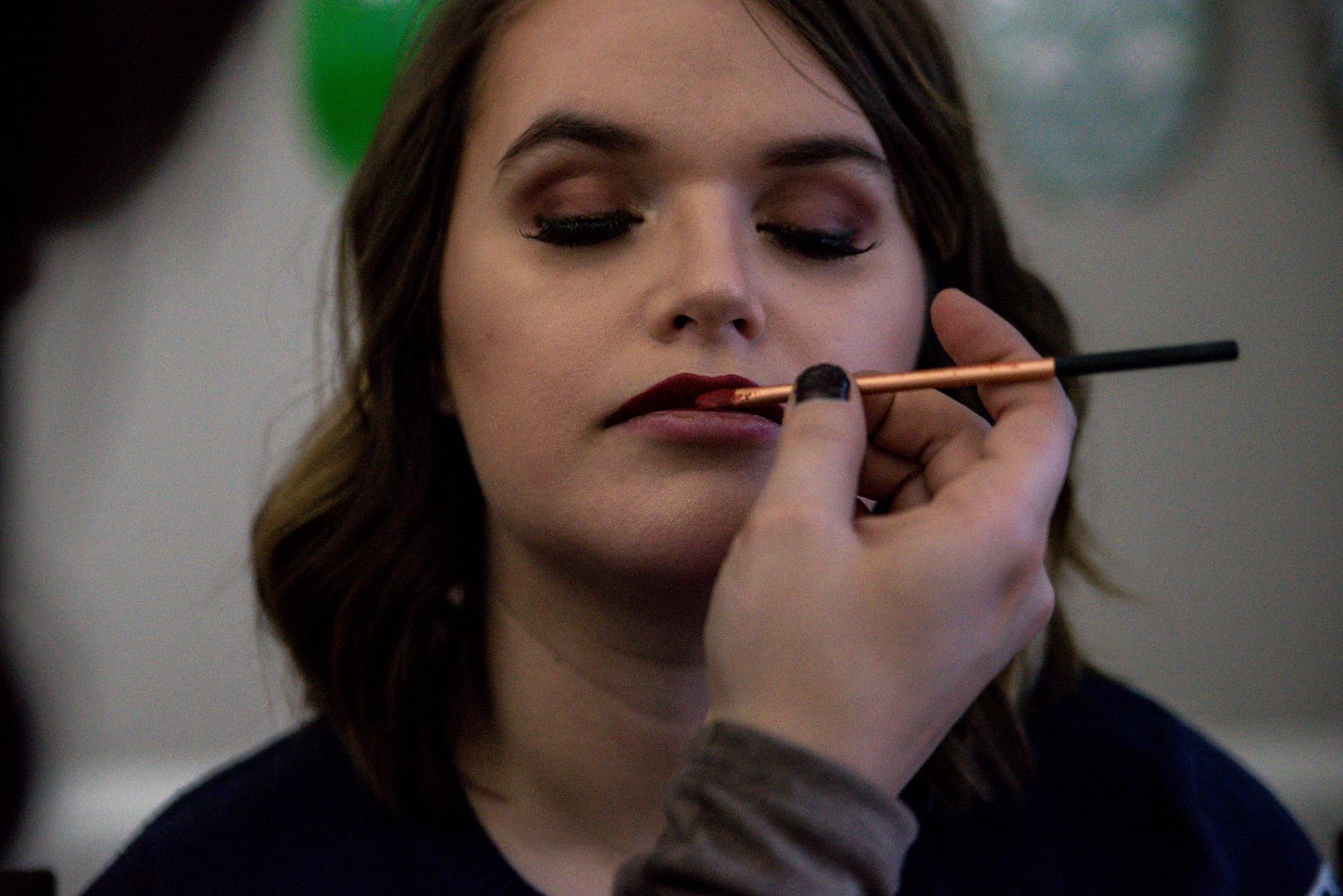 There you have it!!! I hope you enjoyed this fun and wearable holiday makeup look!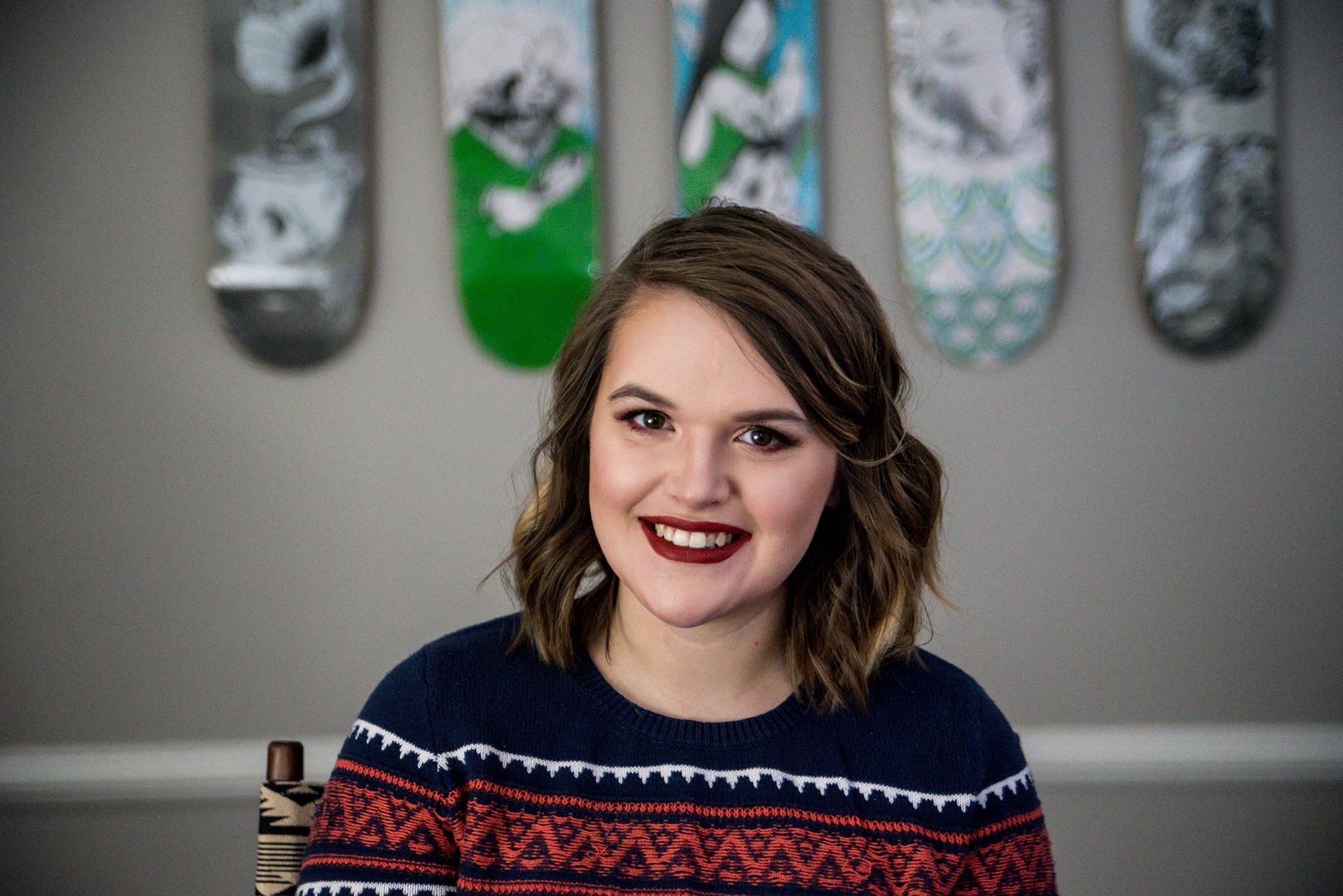 Special thanks to Lydia Stuemke and Laura Kuhl for their help. Until next time!
XOXO