Now that Thanksgiving has passed, we can officially, without judgement, be totally, 100% into Christmas, right? Good, because we're kicking off this holiday season with a super fun Wear it Two Ways post featuring holiday vintage outfits. The holidays are a super nostalgic and classic time of year anyway with family traditions and Bing Crosby wafting out of every store you walk by. That, combined with the fact that December is loaded with holiday parties that may be a bit fancier than usual, makes it a perfect time to show off your vintage pieces! For more vintage-styling ideas, check out our
Bold Vintage W2W
from earlier this year.
JODI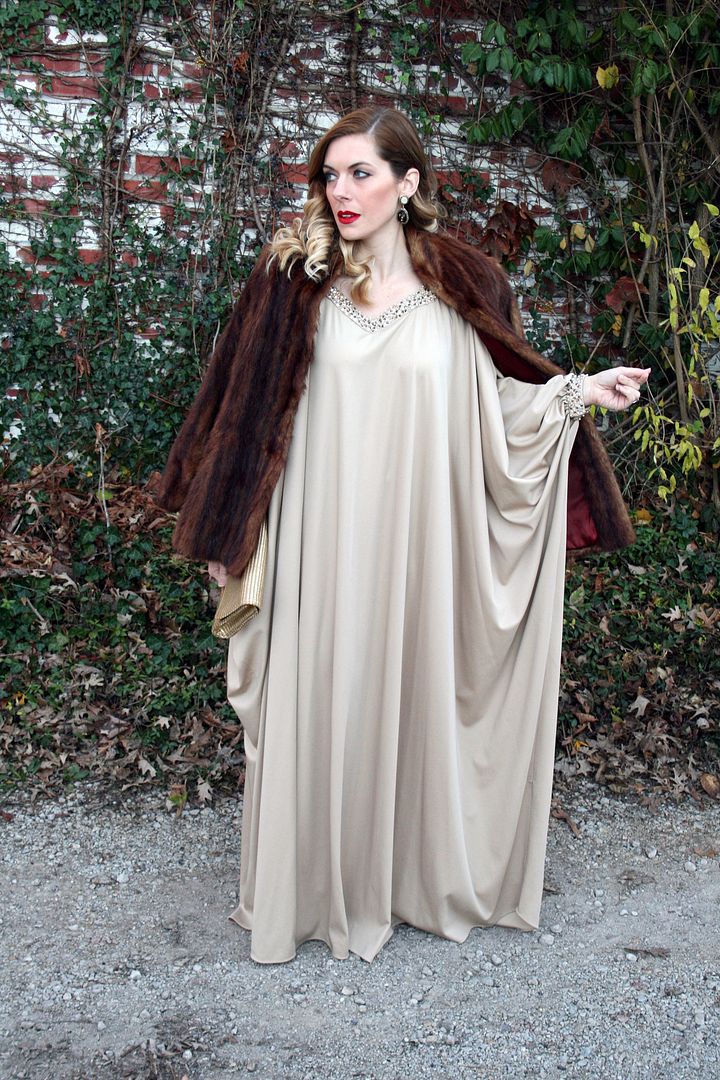 When I visited Molly a few months ago and we went to
Donna's Dress Shop
in Kansas City, I spied this caftan and knew I had to try it on. Luckily, it was just my size because it was going to come home with me one way or the other. It's a gorgeous champagne color with rhinestone details along the neckline and sleeves which makes it perfect for the holiday season.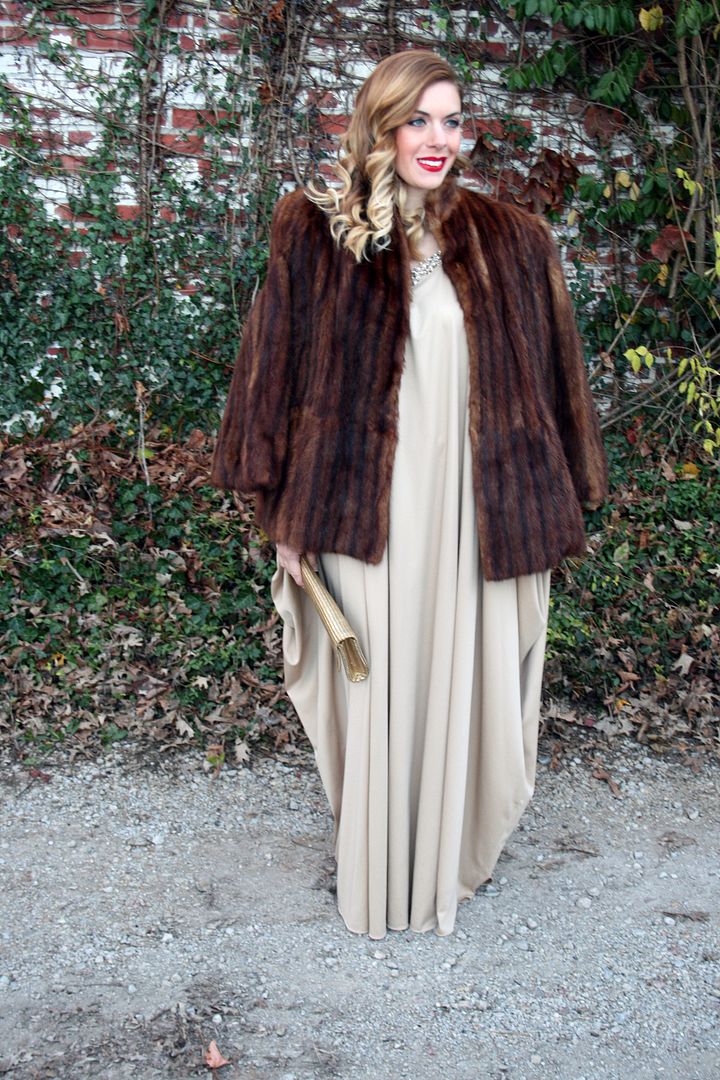 I've gotten really lucky in the vintage department this year, because on another trip to Nashville a few weeks ago, I scored this pristine condition 1940's fur coat from a vintage pop up at Third Man Records. It even has "Davis" embroidered on the inside lining of it. Bette Davis perhaps?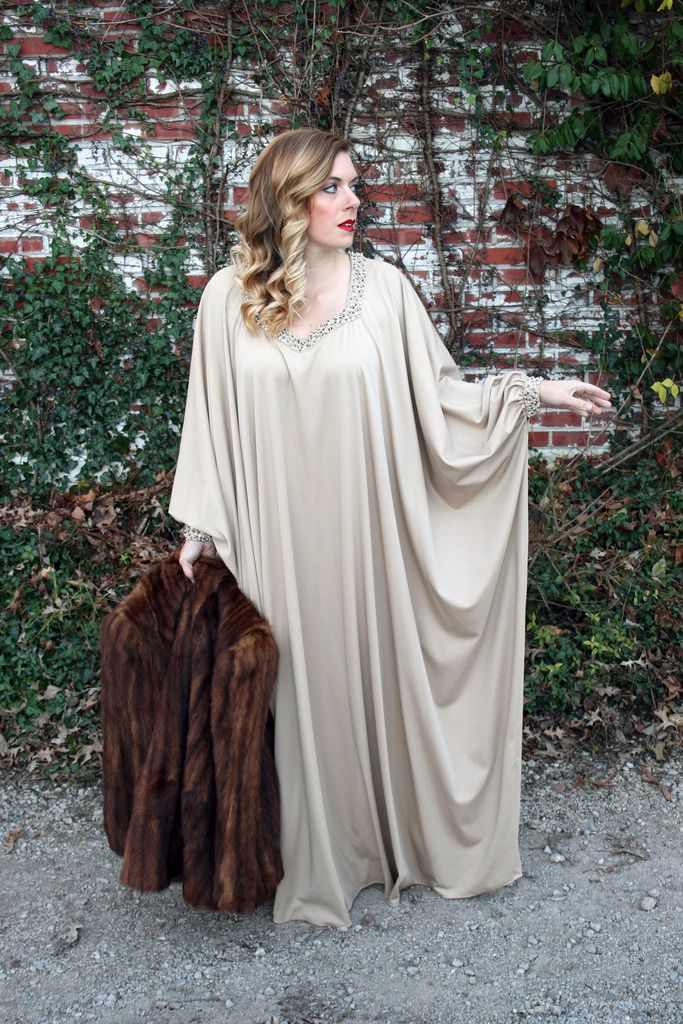 Now, since both of these items really speak for themselves, I kept the accessories to a minimum. Vintage earrings and a bold red lip help to play up the old Hollywood glamour vibe while still being current.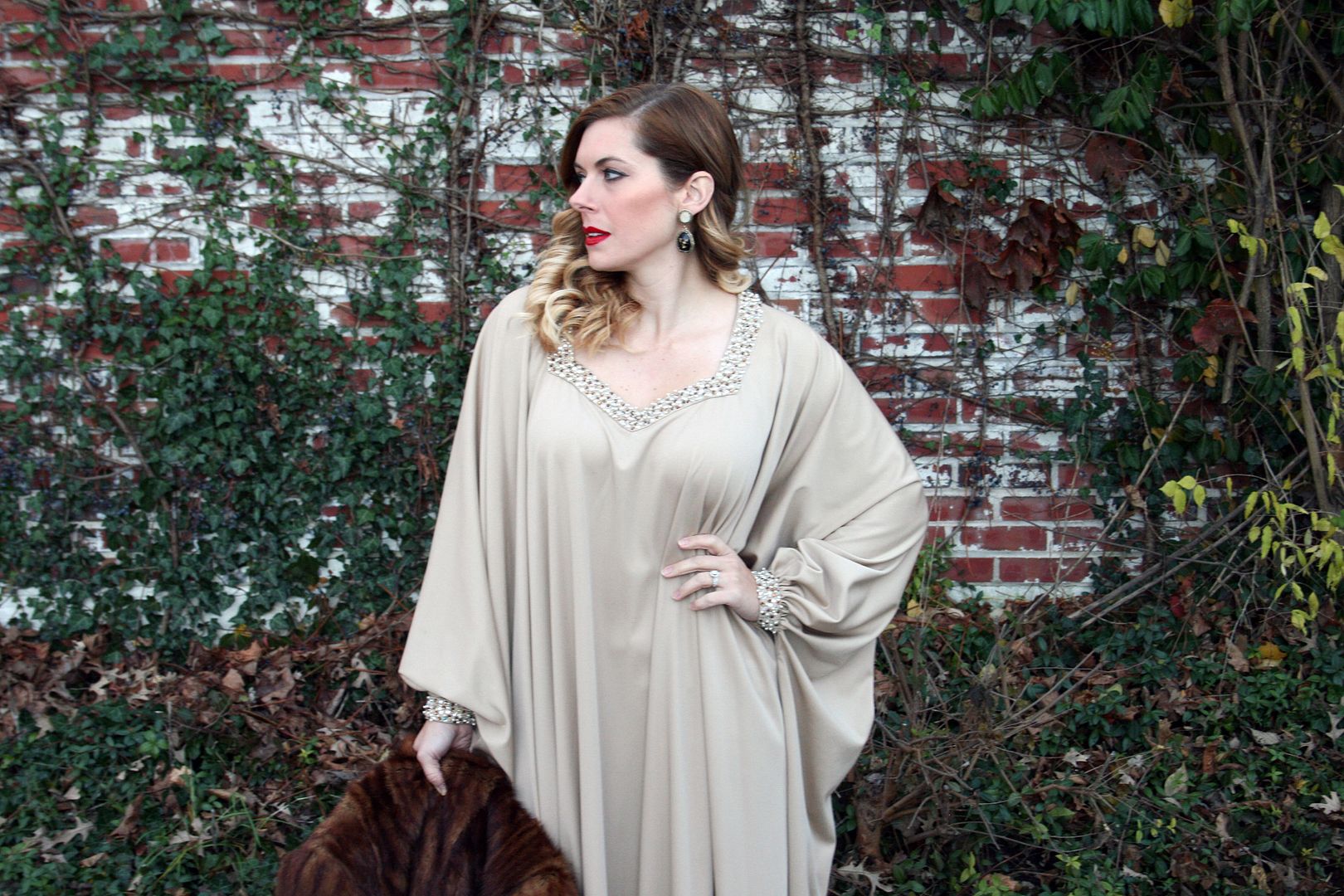 The absolute best thing about this caftan is that it feels like pajamas while being super elegant and classy. If you've been reading here for a while, you know that those two things are very high on my list of priorities. Plus, I feel a little like Batman with the huge sleeves and that is never, ever a bad thing.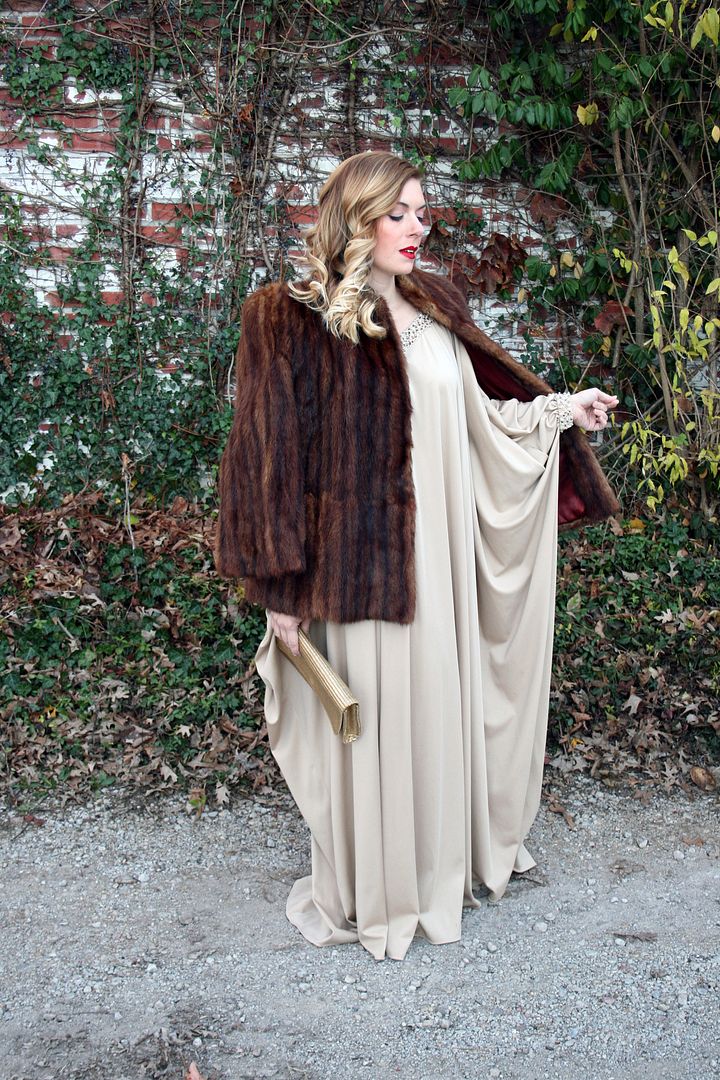 MOLLY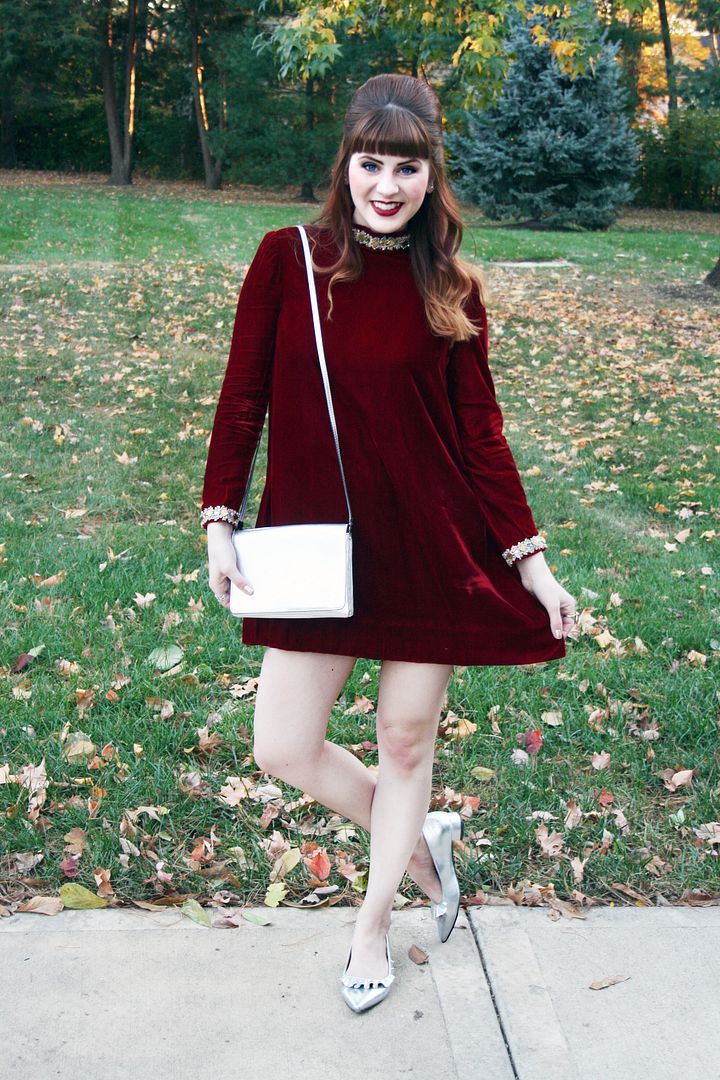 For my holiday look, I hit up Donna's Dress Shop's Holiday preview party a few weeks ago. I was walking around with
this gorgeous green dress
when Donna herself stopped and asked if I wanted to try on the dress in the velvet maroon dress on the mannequin in the front window. It was decked out in
dramatic gold necklaces
, but unfortunately I couldn't justify springing for all of those. Anyway, needless to say, that dress is the one that made it home with me.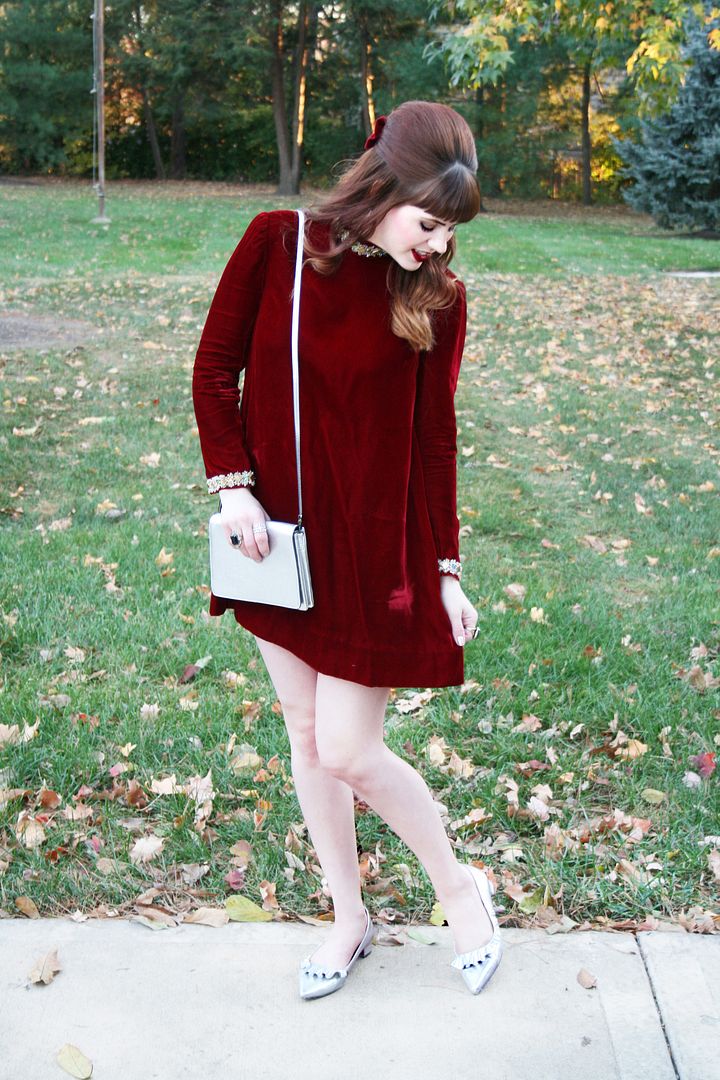 The velvet material is dreamy enough in itself, but I also love the trapeze silhouette of this dress. It's nice and comfy, but not too stuffy because you're still showing some leg. Since the dress is trimmed with both silver and gold, you could accessorize either way! I went with silver accents this time around. Silver ruffle shoes and a silver purse add a delightfully festive vibe. Since the trim is pretty bold, I opted for no necklace or earrings.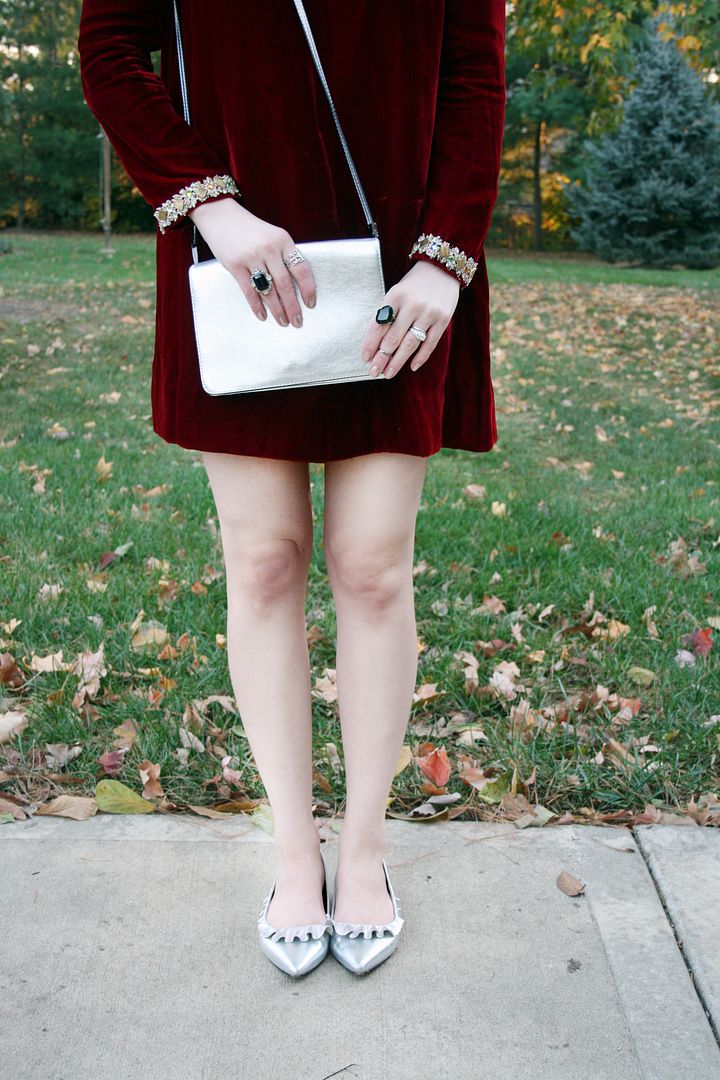 I did, however, go all out with statement cocktail rings from Chloe + Isabel and a silver filagree vintage ring. Maroon lips matching the dress are a fun modern addition to the look, and matchy-matchy is perfect for vintage looks. A
baby beehive hair
style was an obvious hair choice here. I secured it with a maroon velvet bow to match, but unfortunately didn't get a great shot of that.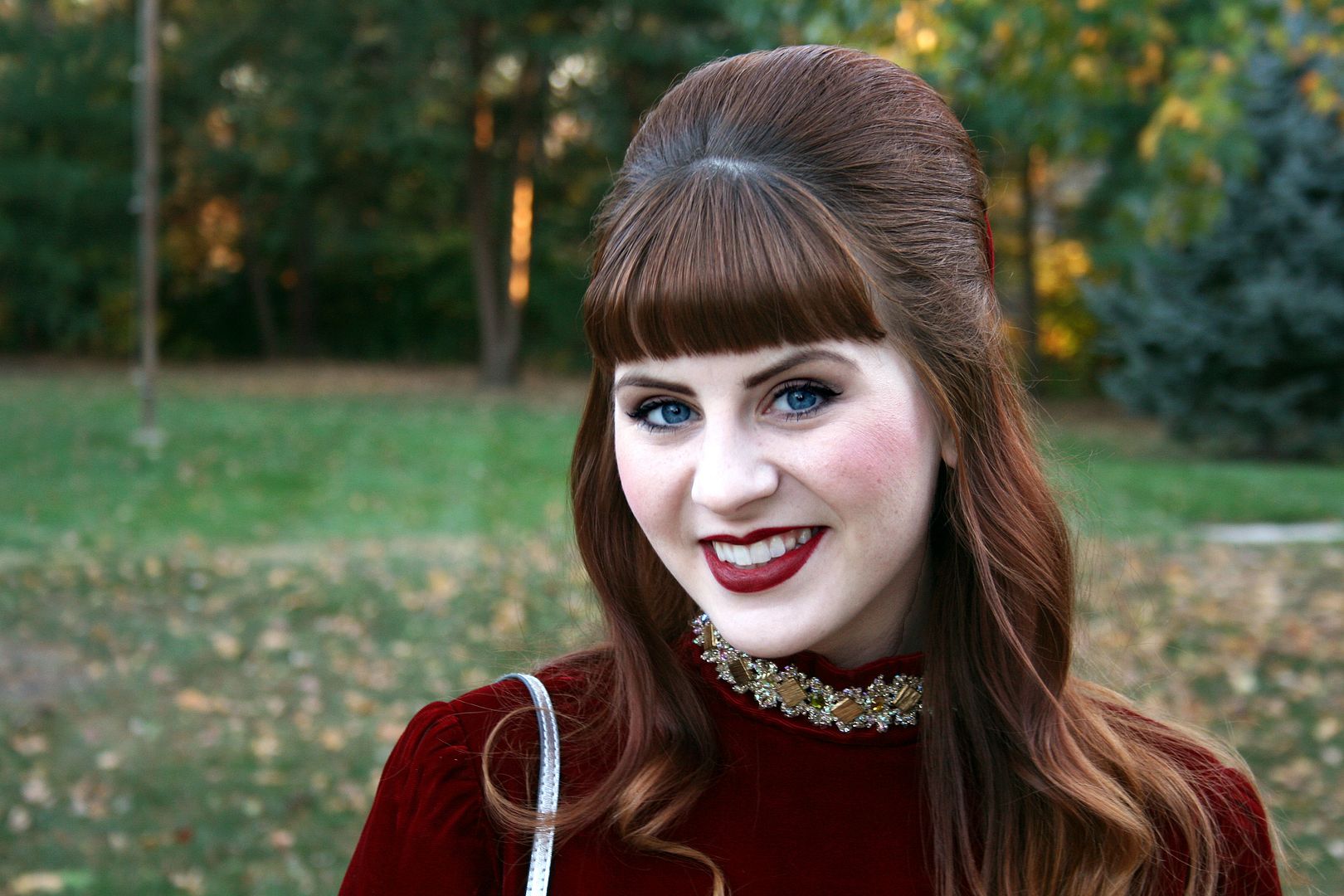 The best part is that you can eat lots and drink some bubbly and the dress won't get tight, but you still look fancy. I can confirm this because I already took it on a test run at my office Thanksgiving party, where I ate entirely too much. You can bet that won't be the last time it makes an appearance this season!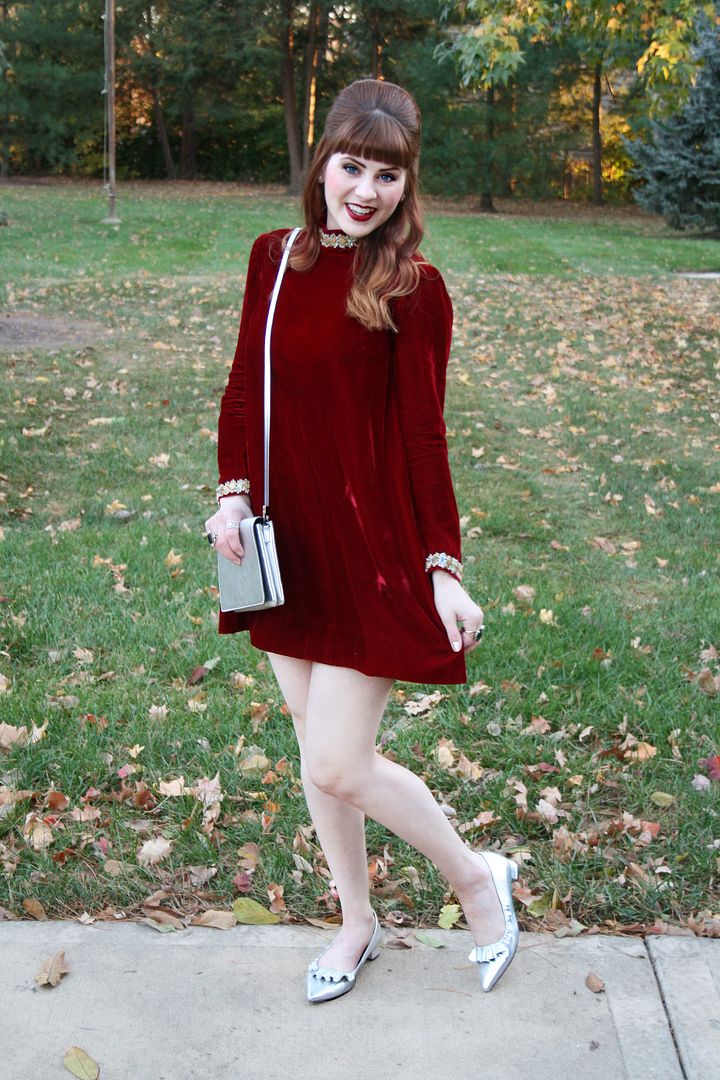 Molly's Outfit Details: Dress:
Donna's Dress Shop
, Shoes: H&M (
similar
), Purse: H&M (
similar
), Rings: Chloe + Isabel (
here
and
here
)