Last year for Halloween we styled looks that were perfect to wear to work on Halloween (see Molly's look
here
and Jodi's
here
), so this year we're taking a bit of a different approach. We looked to the runway and high fashion for inspiration, and have come up with some strikingly spooky looks for this month's Wear it Two Ways!
MOLLY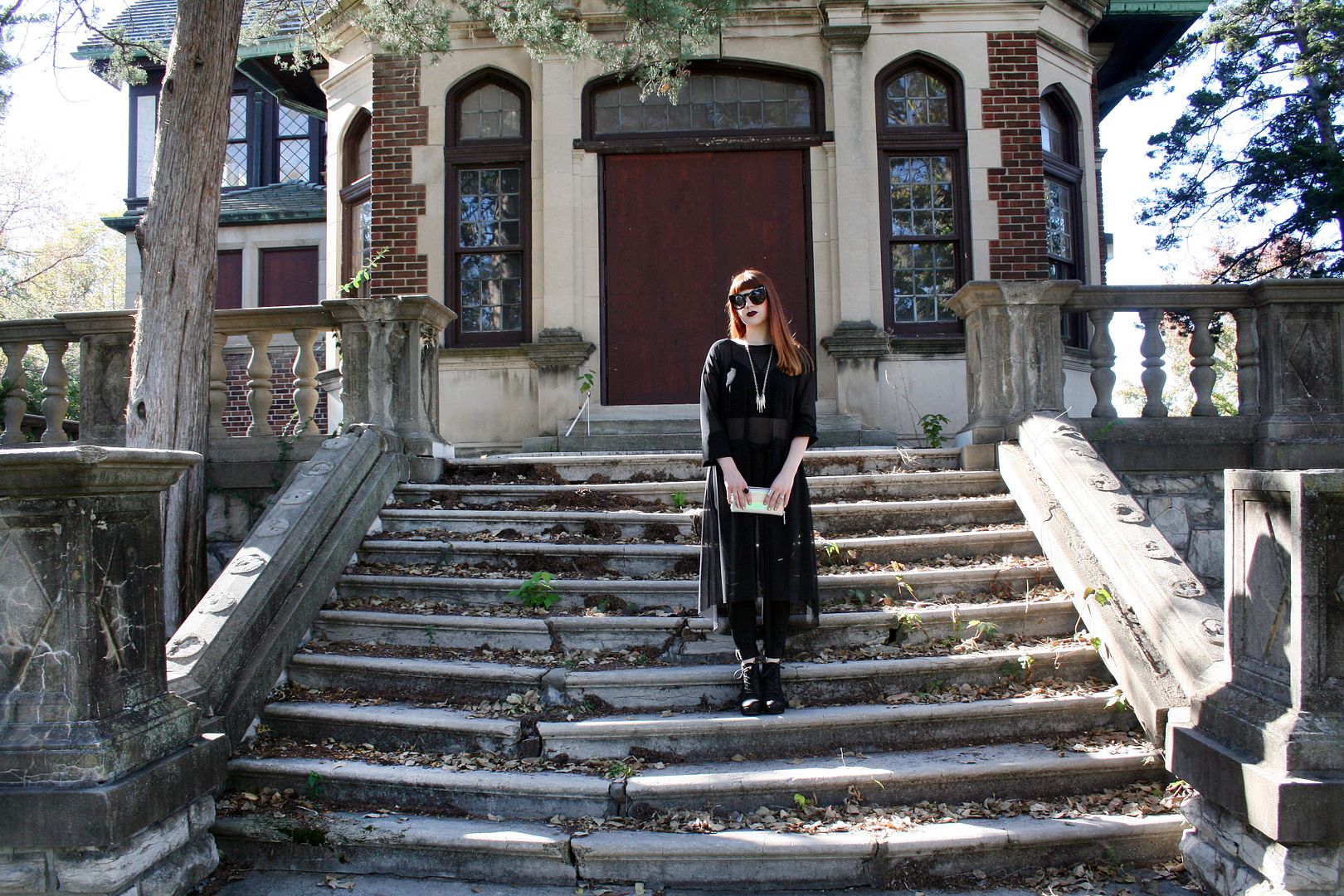 I was all about setting the scene for Halloween, so I snapped photos at
The Epperson House
, a reportedly haunted mansion near where we live. I was half expecting to see ghosts in the photos when I got home, but I dodged a bullet there! Whew.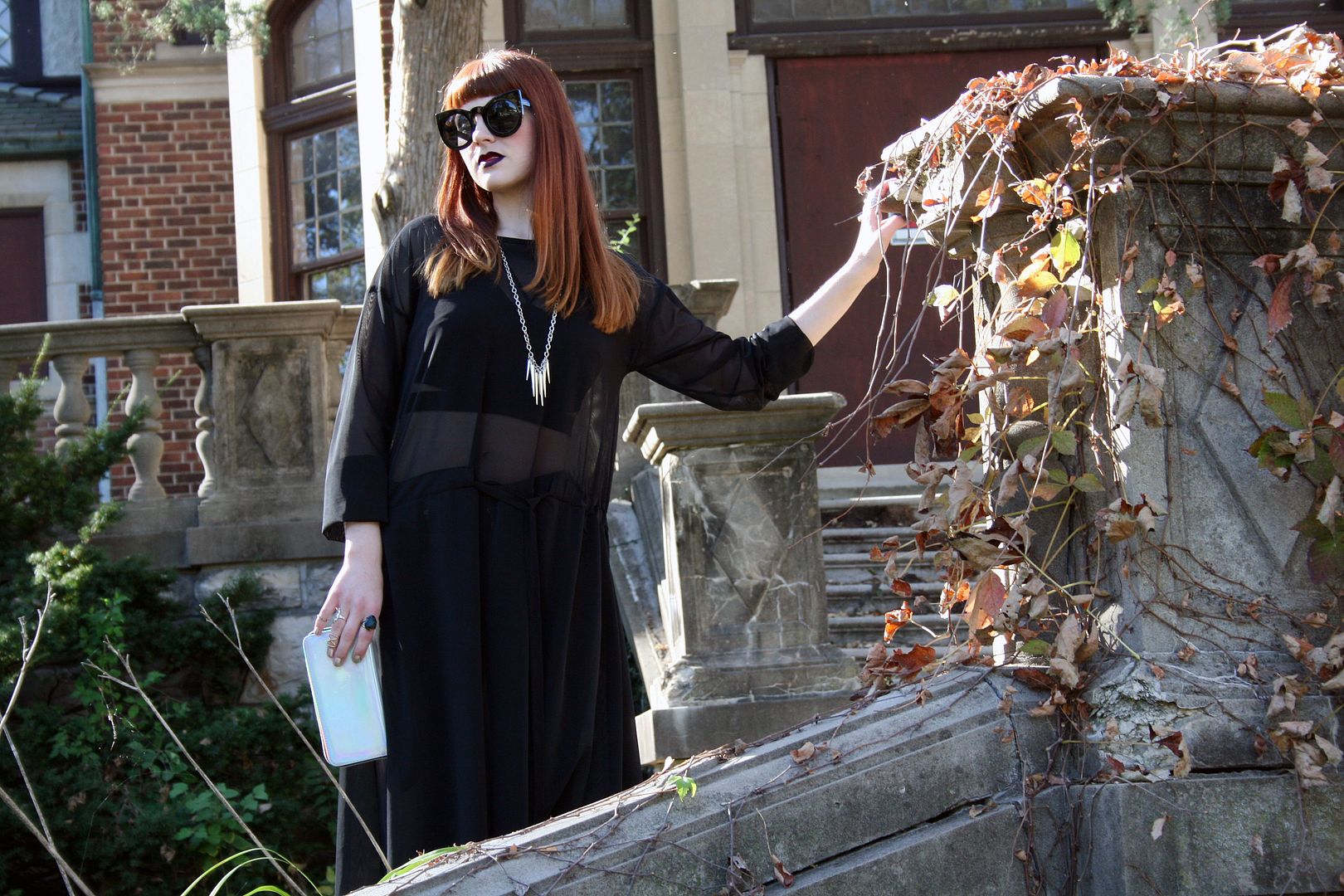 For my haute Halloween look, I knew I wanted to create the look around a sheer black dress. Not only does it have a spooky otherworldly quality about it, but sheer dresses are everywhere on the runway! You can see how versatile they can be in my Kansas City Fashion Week recap
here
.
We've also seen pants under dresses a lot in up-and-coming fashion, and this sheer dress is a great way to ease into that trend. A spike necklace I made with pieces from Hobby Lobby was a perfect spooky element to add to the look. Chunky black booties may have a Frankenstein feel to them, but they're also super trendy right now. These and go-go booties are going to be everywhere this season.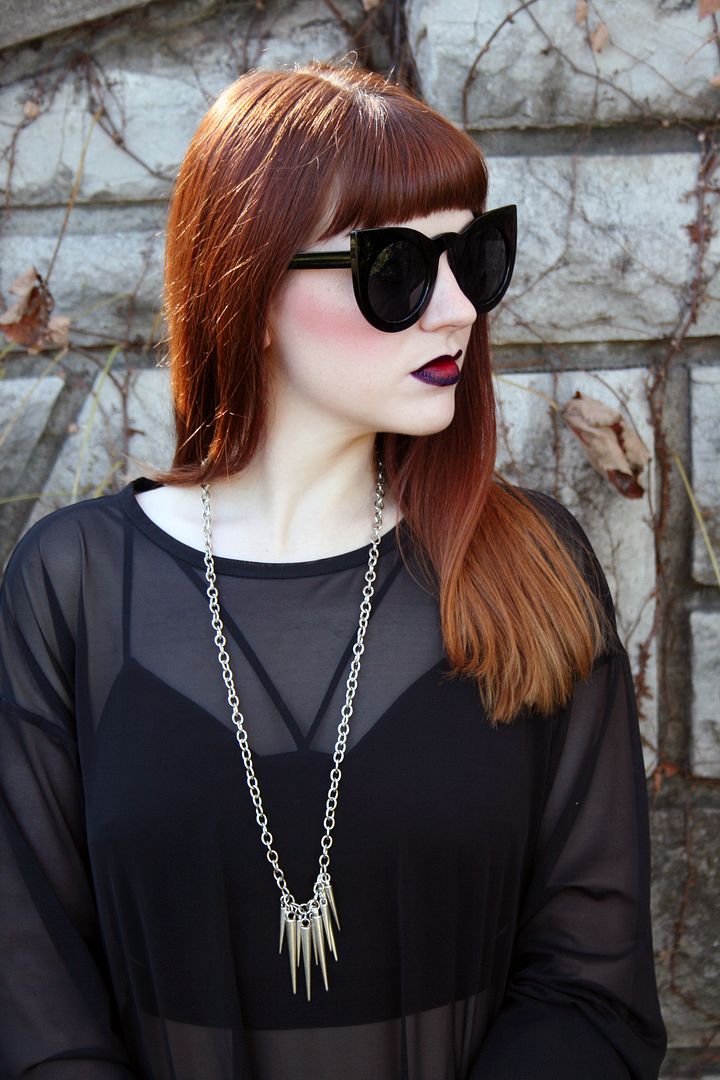 For the final touches, I used a super shimmery eyeshadow from
H&M
for a night-inspired look because, yes, all the glitter I used to pile on in grade school when playing with makeup is back in a big way. Dark blue and bright red ombre lips add a fun and freaky vibe to the look as well. Maybelline currently has a great midnight blue lip color for pretty cheap if you want to try out this fun new trend! It's the blue that both Jodi and I own, because, believe it or not, dark blue lip colors in drugstore brands aren't that easy to come by!
Molly's Outfit Details: Sheer Dress:
Zara
, Cami: Forever 21, Skinny jeans:
H&M
, Booties: Target (
similar
), Necklace: DIY from Hobby Lobby, Sunglasses: ZooShoo (
similar
), Lips:
Maybelline
and
Revlon
, Eyes:
H&M
JODI
My haute Halloween look takes inspiration from a few different sources. First and foremost, feather epaulettes are something I've been dying to try for a couple of years now. I mean, can you really get more high fashion than feather shoulder decorations? They seemed easy enough to recreate, so I made some of my very own this past weekend. I documented the process too, so look for the tutorial on the blog this week! These turned out really great and make a great addition to my
blazer cape
(aka blape).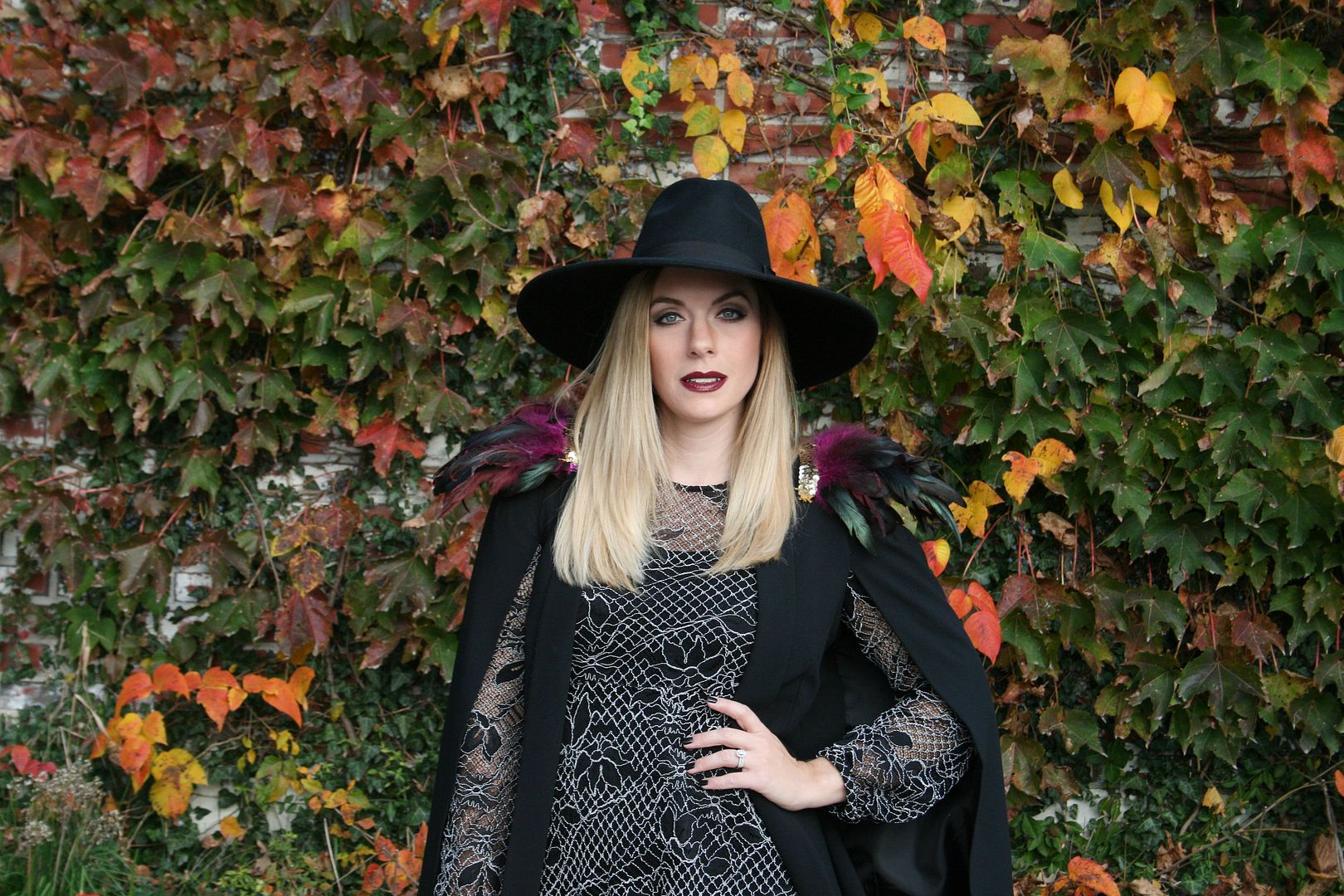 I've been on the hunt for a wide brim black felt hat ever since I saw American Horror Story: Coven. I hastened my search when I saw Beyonce's Formation video and finally found the perfect one on Amazon! I think it's the perfect modern day witch hat that is perfect for a high fashion Halloween look. It says, I'm a witch, but I also care about the latest runway trends.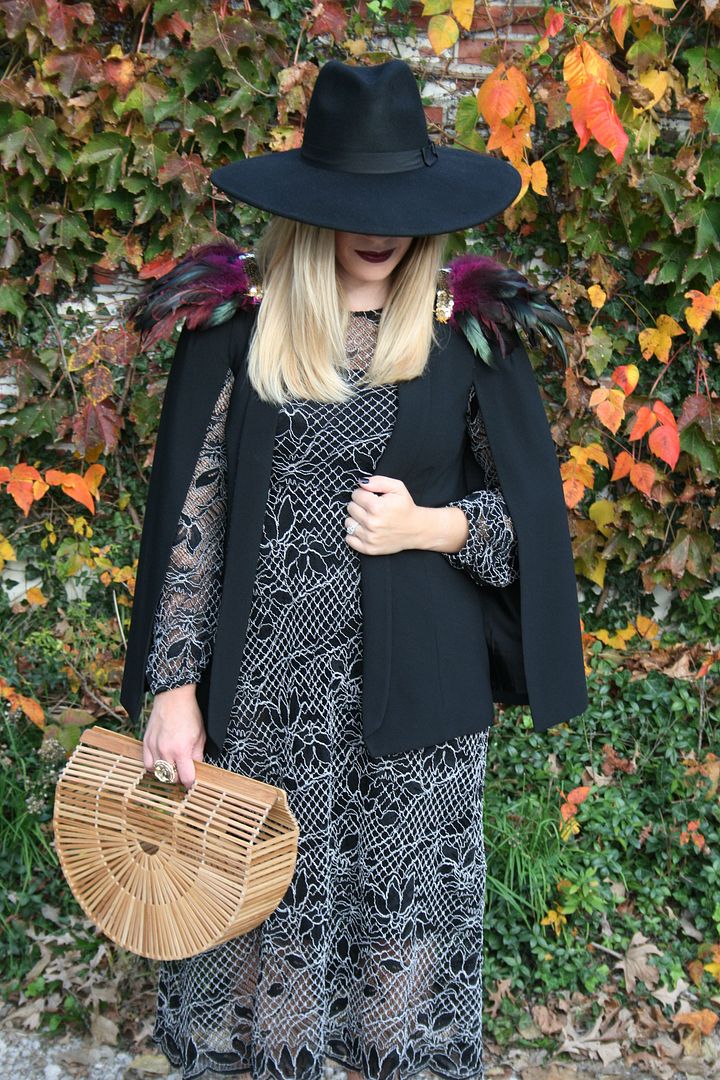 My accessories are so loud and proud, that you almost don't even notice the rest of my outfit! Lace is everywhere now because gothic glam is huge for fall. I absolutely love this lace dress from Zara. It's the perfect mix of edgy and classic. Plus, it also makes a great neutral if you want your accessories to do the talking for the evening.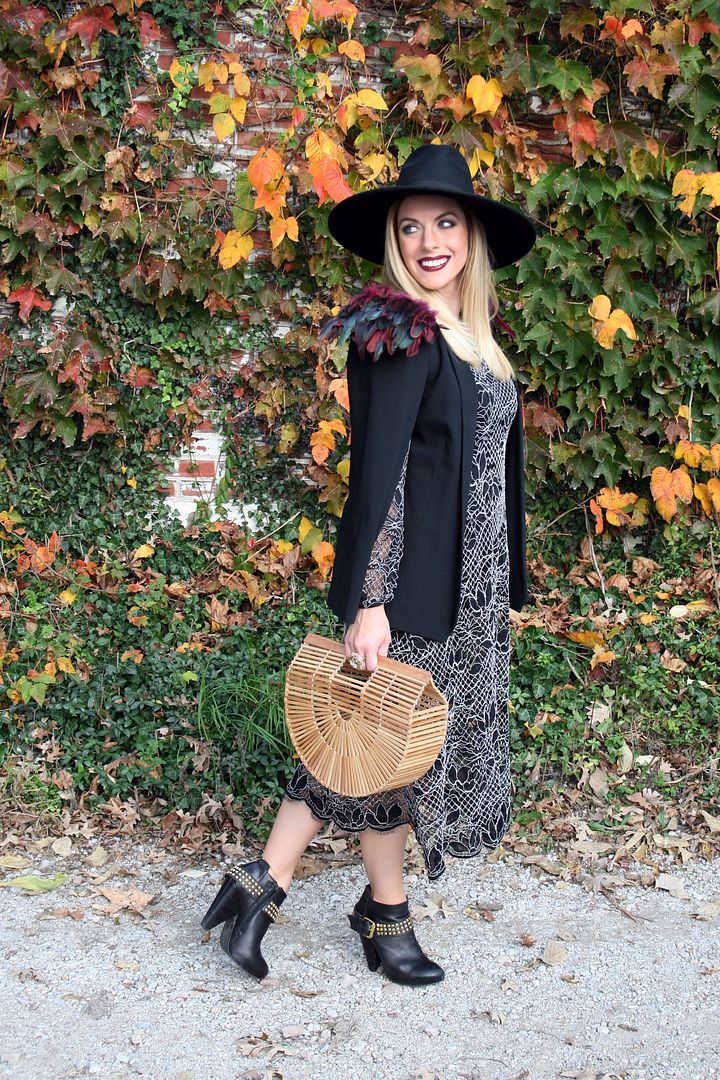 Of course, I kept my makeup dark and brooding to really play up the theme. I kinda dig it though, so I think I will have it on repeat through the rest of the fall and winter. Now, if only I could wear these epaulettes everyday, I'd be set!