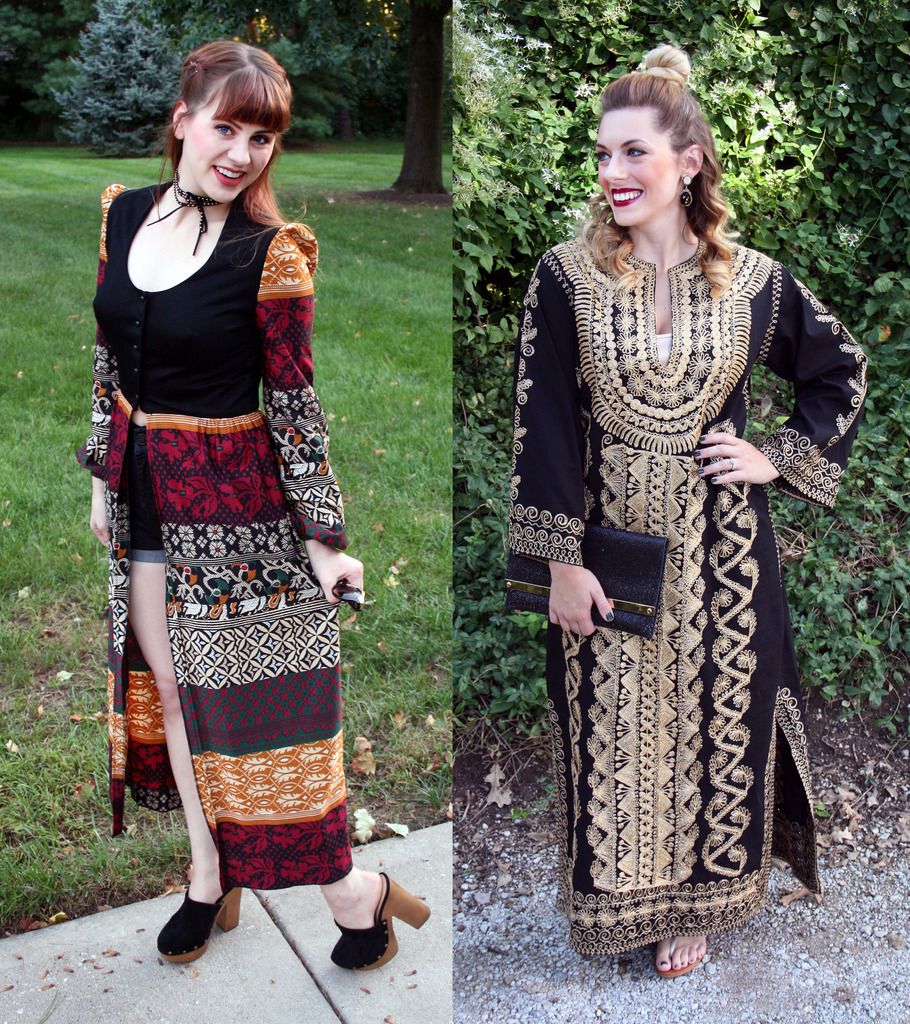 It's no surprise that we love vintage here at Mod Circus. It's right there in our name, incorporating '60s mod style and the "classic modern" looks we love. A few weeks ago when we reunited in Kansas City for a weekend, one of the first stops we made was
Donna's Dress Shop
, a vintage wonderland that's impeccably curated and fabulously over-the-top. We snagged both of our pieces (and then some) from there. It can be tricky to mix vintage pieces into your modern wardrobe, but it is definitely worth it, or at least we think so. Below, we share with you our tips and tricks on pairing your awesome vintage finds with newer modern pieces to make one-of-a-kind looks.
MOLLY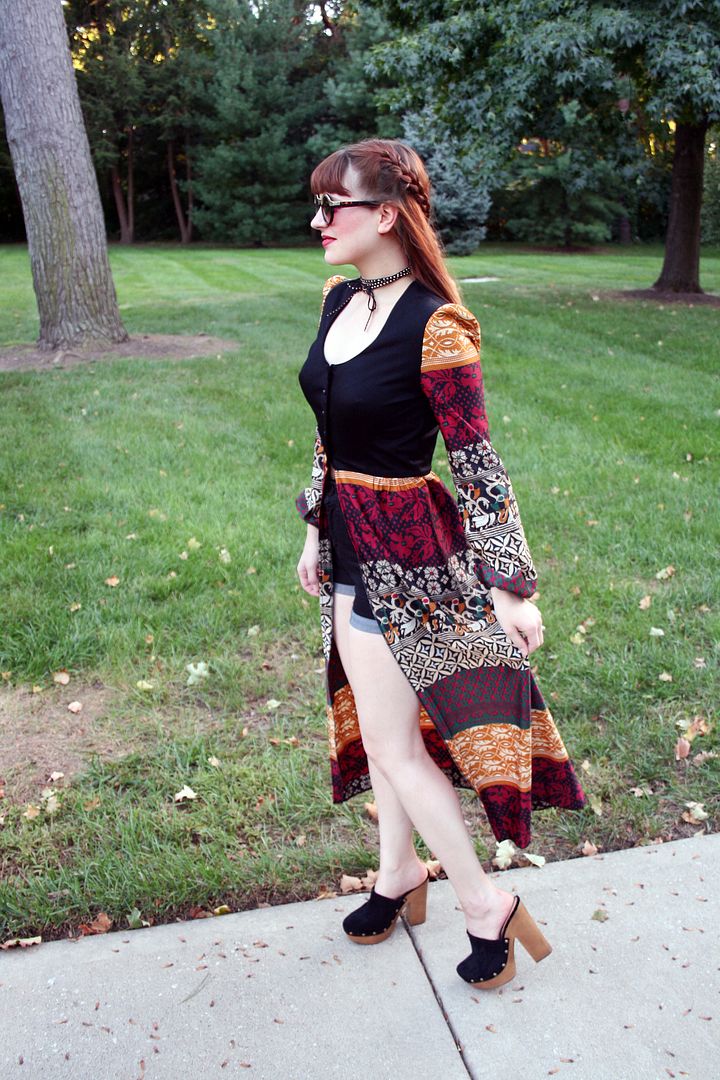 My new favorite vintage find is a statement-maker right out of the '70s. I have no idea if it's a dress or a shirt, but I think we can all be in agreement that it needs a bottom half to be styled with it. I went with high-waist black denim shorts that wouldn't compete with the ensemble, but still looked stylish.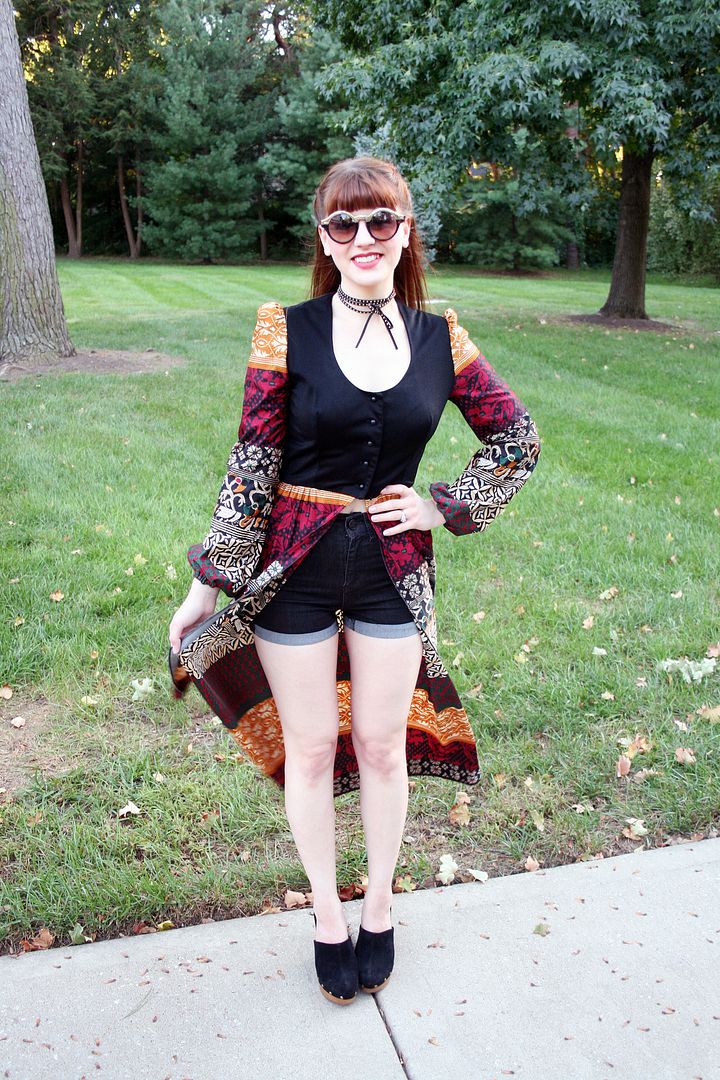 I just love the dramatic Renaissance feel of the style (after all, Renaissance Woman is one of our
favorite trends this season
!), with the edgier fabric combo. One way to modernize vintage pieces is to mix and match decades. So, while I paired this number with tall '70s-inspired clogs, I also brought in influences from the '90s that are back in style today.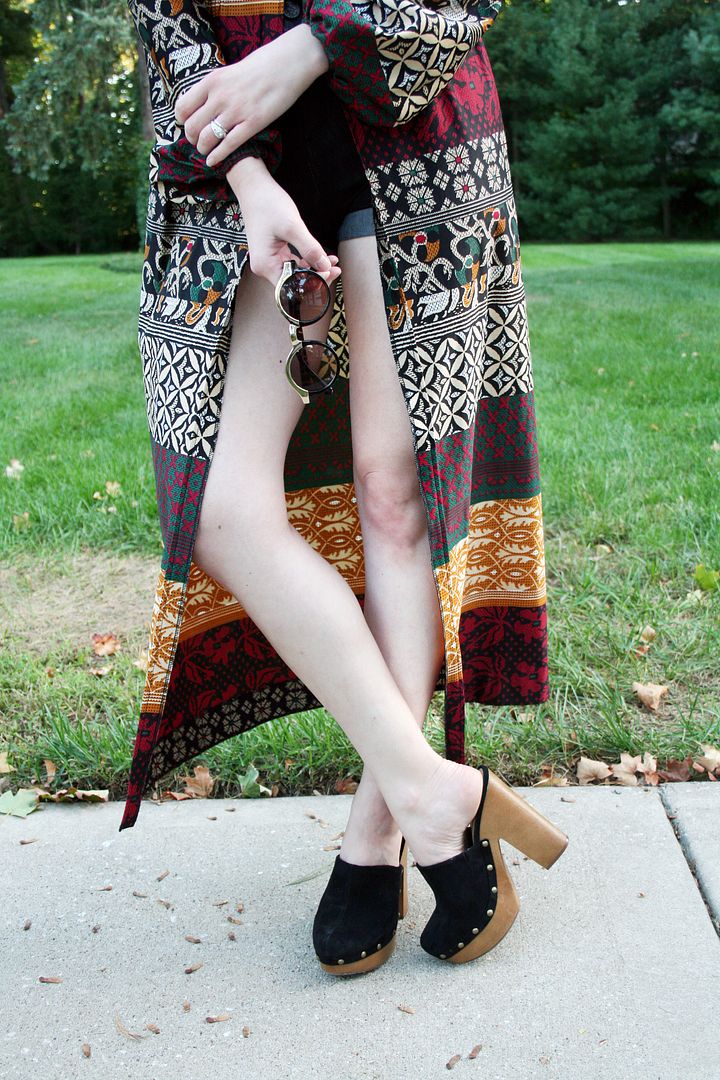 A studded choker and braided hairstyle are equal parts Fall 2016 and style from my childhood. Also, does this or does this photo below not look like a Renaissance Faire portrait? I don't think I'm mad about it.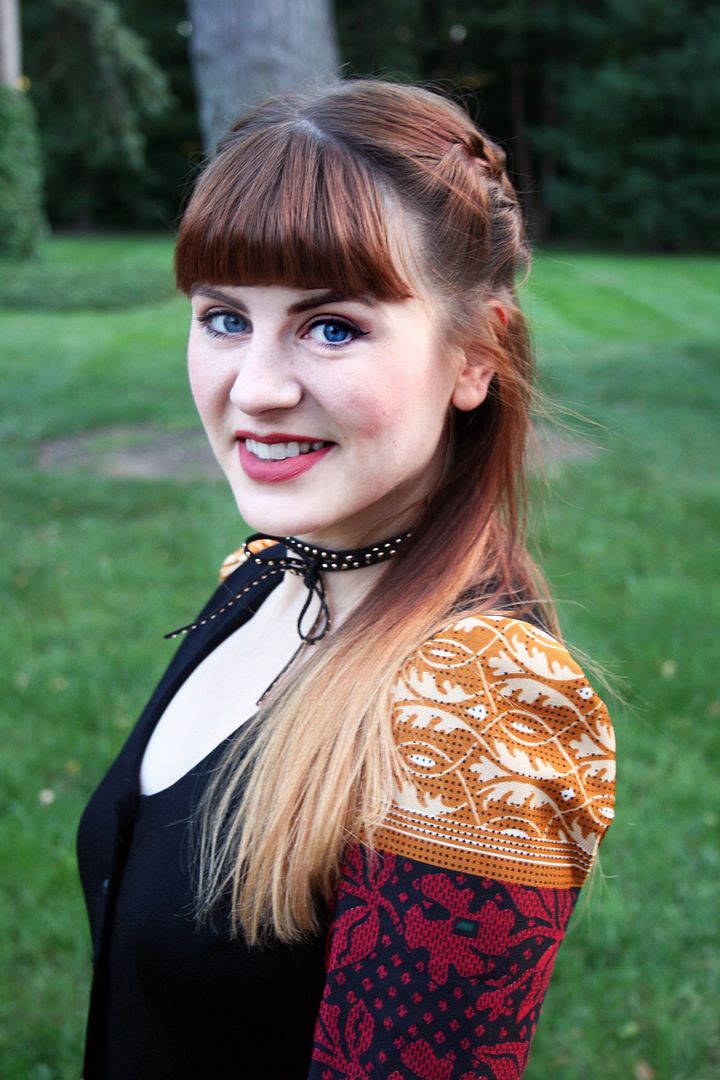 This is a perfect transitional look for Fall that I can finally start wearing, since the cooler temperatures have finally arrived. It would be perfect for late night cocktails or and edgy brunch look that's just different enough to turn some heads, without being to costume-y. The delicate balance of my life right there, folks.
-Molly
Molly's Outfit Details: Dress/Top:
Donna's Dress Shop
, Shorts: TJ Maxx (
similar
), Choker:
Etiquette Boutique
, Platform Clogs:
Target
JODI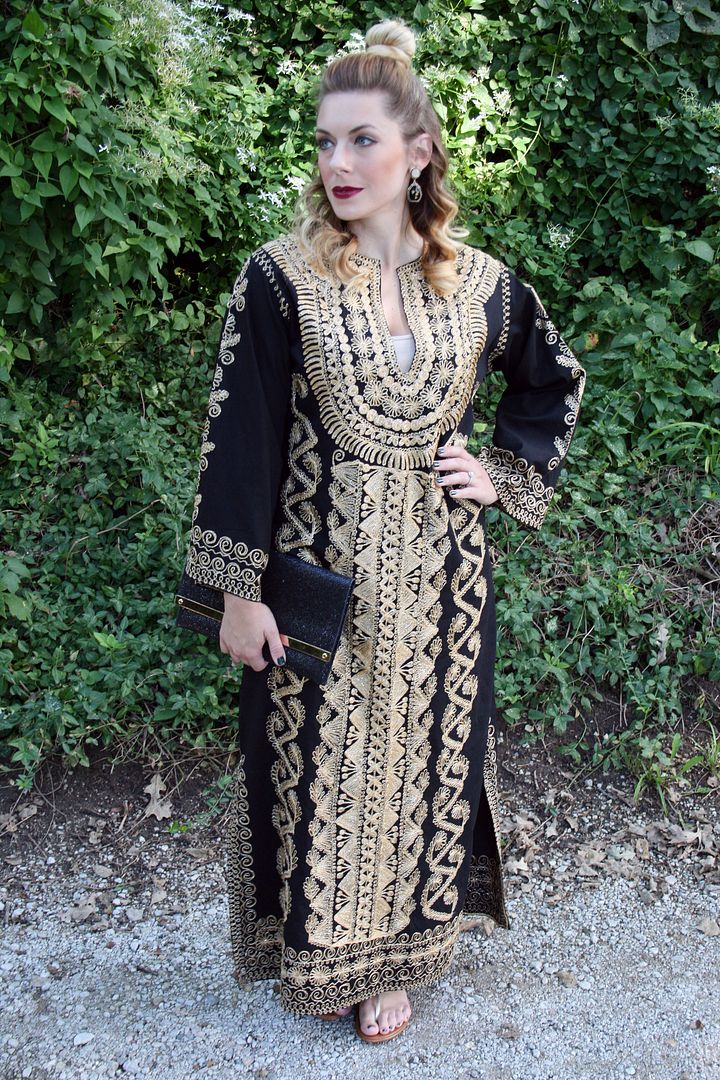 I don't know if you have noticed yet, but I kind of get obsessed with certain things from time to time. Last winter it was capes and last fall it was plaid. Right now, it's caftans (and a few other things, but we'll save those for another post). There is something so classic and chic about a well structured caftan. It just screams 60's yacht party to me and who doesn't want to be at a 60's yacht party? Hello Don Draper!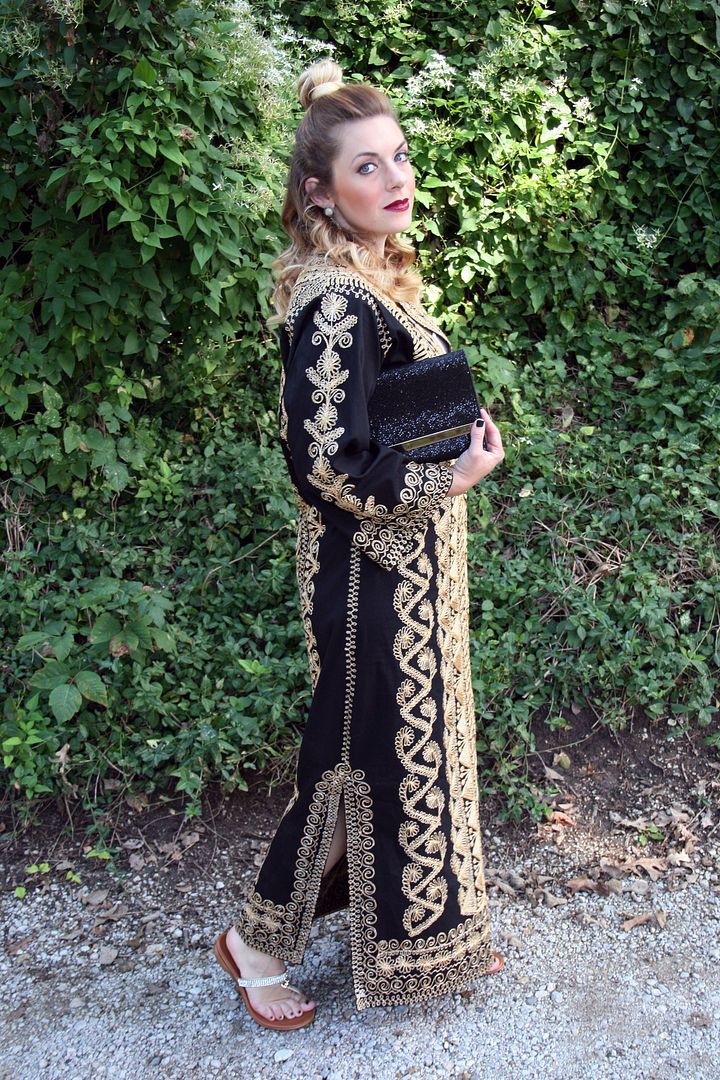 So, when I saw this ah-maz-ing caftan at Donna's Dress Shop, I just had to try it on. As luck would have it, it fit perfectly and was right in my price range!
Since the embroidery on this piece is out of this world, I kept my accessories to a minimum, while also keeping them sleek and chic. Simple jeweled sandals are a must for this desert inspired beauty. Black and gold earrings from The Jeweled Gypsy and a sparkly black clutch perfectly rounded out the whole look. A half up top knot and dark lip gave me the genie in a bottle look that perfectly complements this caftan.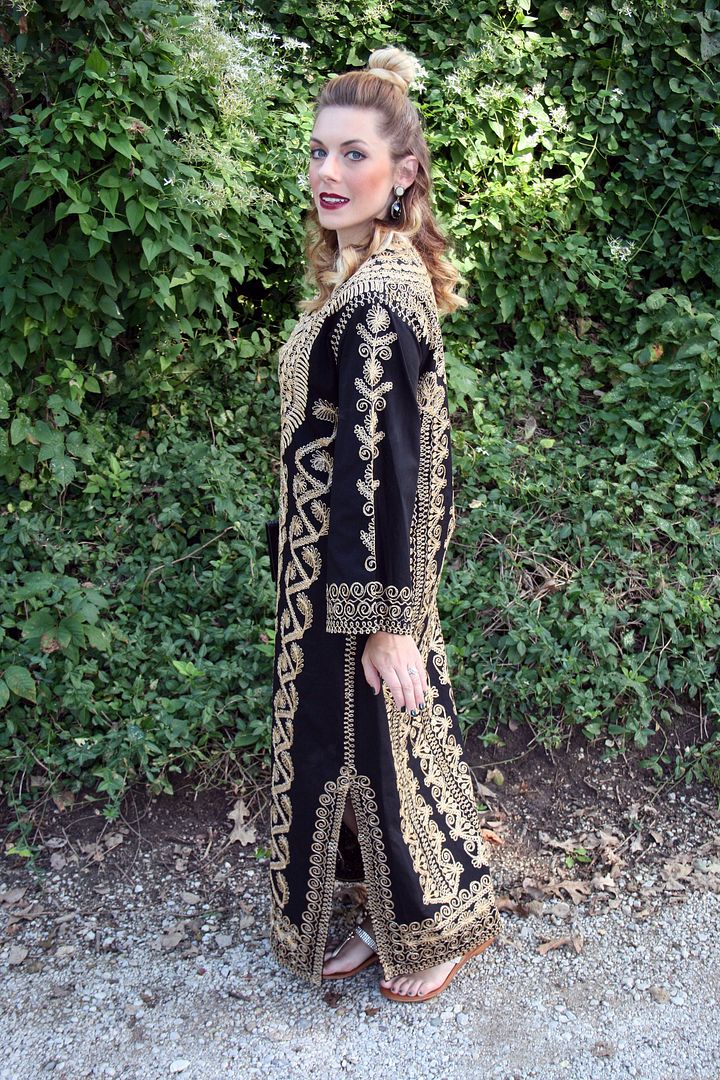 I wore this on a fancy celebratory date night with my husband a few weeks ago and it was perfect for the occasion. It would also be great for a fancy pool party or even a holiday party! The sky's the limit. Just make sure to invite me to your next yacht party, ok?