Welcome to our second edition of Take My Money Monday! It's basically a round up of all the items we're excited about adding to our wardrobes, so we're telling our favorite retailers to just take our money already! See our first edition of drool-worthy items
here
. We're a little bit freaking out over all the fun fall fashions about to hit us, but it's still blazing hot outside. Given that, we've rounded up items that will be perfect for the transition from summer to fall that we can't wait to get our hands on.
JODI'S LIST
I think fall is my absolute favorite time of year. Don't get me wrong, I really love summer, but something about fall just gets me right in the feels. Maybe it's because my birthday falls right smack dab in the middle of the season? The rich colors and the cozy fabrics already have me thinking of bonfires and pumpkin patches. However, I am still holding on to summer as tight as I can! I think these pieces will definitely help me transition from one season to another. I am really loving easy clothing items that I can throw on and layer as the temps start to drop (they will drop eventually, right? We're in the middle of a heatwave right now). I am also really feeling bold and funky statement pieces. Hmm, maybe some of these items will make it onto my birthday wishlist!
7.
Nordstrom
(these are seriously the best leggings in the world. I am getting two pairs!)
MOLLY'S LIST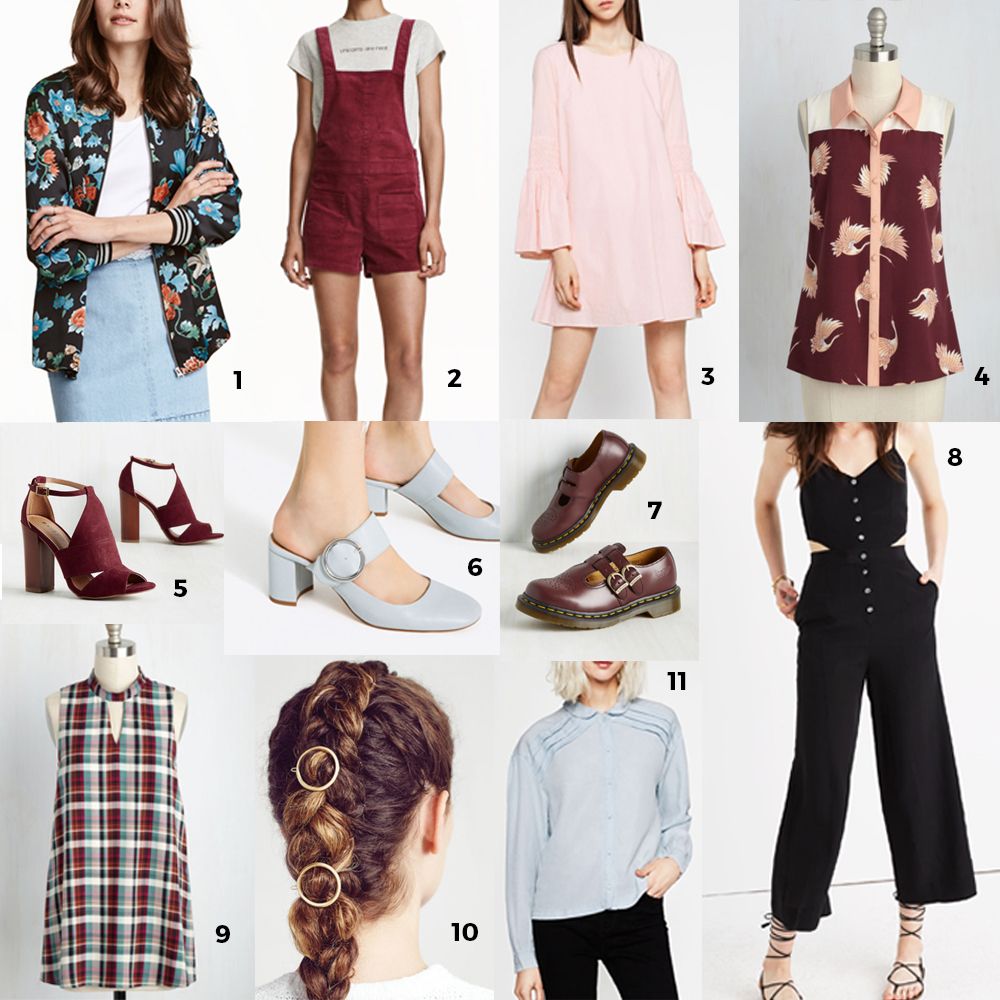 Pastel hues are all over fall items this year, which I think helps ease the transition from fall to summer nicely (especially when we may still be having hot days in mid-September!). I'm also seeing a pretty clear color theme of what I'll be wearing this season: burgundy, baby blue, and pastel pink mixed with black. I honestly wouldn't have thought to group these colors together, but seeing them all laid out, I'm seriously loving this dreamy palette. I'm also loving the variety of textures I'm seeing everywhere from suede, to patent leather and shiny metal, to corduroy. Last but not least, clearly my favorite type of item for this seasonal transition is the ever-versatile jumpsuit, pictured in numbers 2, 3, and 8 above. They're effortlessly cool and equally suitable for hot days and cool evenings.
3.
Zara
(yes, that's a jumpsuit!)
What items are you most excited about for your transition from summer to fall?
Save
Save