The aperitivo is a favorite Italian tradition of a drink and snacks before dinner. It includes an aperitif— a dry sparkling drink— and some snacks, such as cheeses meats, olives,
pâté
, or nuts to get your appetite going before dinner. The word aperitif comes from the French language, derived from Latin, meaning "to open." So, basically you're opening up your palate before the actual meal.
In Italy, many restaurants simply bring you snacks when you order a drink during pre-meal hours, or even have a buffet to choose from. However, seeing as I'm currently not in Italy, we'll have to make do with a DIY aperitivo. This would be a great way to start a party instead of typical appetizers since it's so low maintenance, and you can wow your guests with all your fancy knowledge on Italian eating ;)
A classic aperitif, and one that my husband and I have been loving this summer is the Aperol Spritz. It's slightly sweet, with a bitter citrusy flavor, and is perfect for sipping before dinner, especially in super hot weather. And, isn't it beautiful?
The Spritz (pronounced "spreetz") differs from the American spritzer, which consists of white wine, club soda, and bitters. Though both are light and sparkling and perfect for summertime, we prefer the Italian version. Maybe it's just that it reminds us of our travels there, but I honestly like the bitter kick it provides.
Now that you're all filled up with knowledge, let's get to making it!
You'll need:
1 cup Prosecco (or any sparkling white wine)
2/3 cup Aperol
1/3 cup Club Soda
2 Orange Slices
This makes two pretty generous servings.


Simply measure out your prosecco, Aperol, and club soda in a large measuring cup, divide between glasses, and garnish with an orange slice. So simple! If you let the orange soak in the liquid, it makes for a very tasty end to the drink when you're done!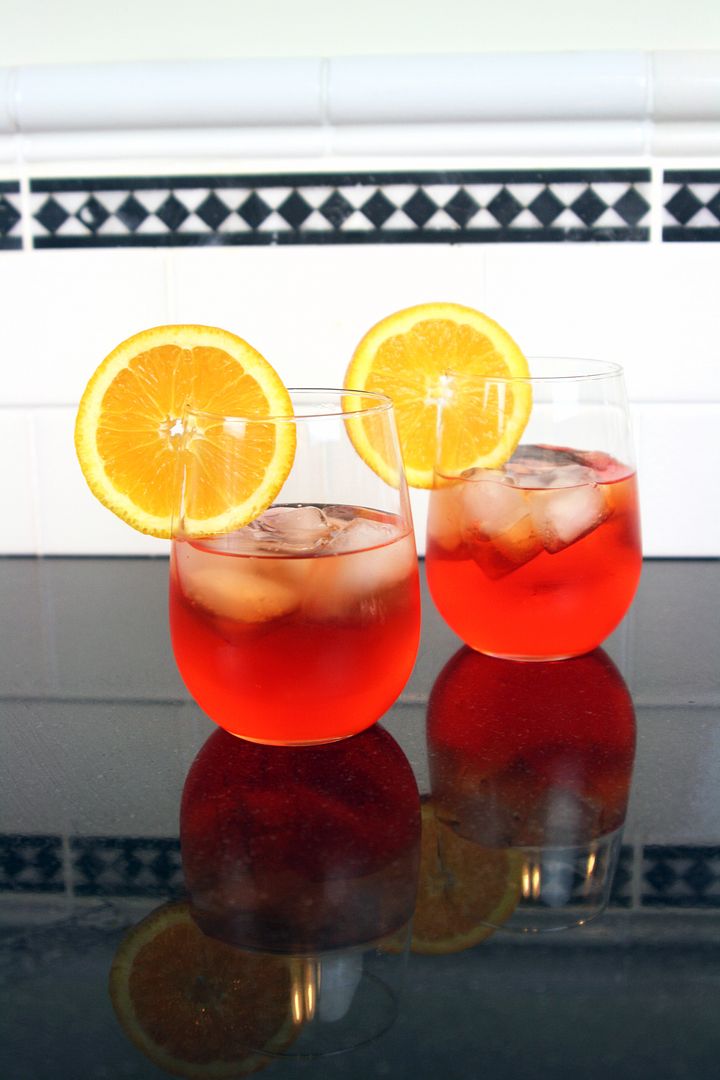 We paired our Spritz with a lovely spread of meats, cheeses, and olives from
Pezzettino Italian Deli & Market. When they asked what we were doing with our little assortment of deli goods, we mentioned making an aperitivo only to look up and see this sign hanging over their deli. It was meant to be!
Speck
and prosciutto were two great meat accompaniments, and asiago and provolone were perfect for munching on while sipping our Spritz. We also got an olive assortment, which added a great salty and acidic pop. Like I said, nuts,
pâté, or other European snacks would also be great.
Now go sit back and relax with a own spritz on your porch. If you eat enough of the aperitivo, you may not even need to worry about dinner!