These bacon and cheese pastries will change your life, and I want you to know I wouldn't exaggerate about something so serious. They're like a little croque monsieur all folded up into one delicious loaf oozing with bacon, cheese, and a gooey béchamel sauce. They would be a perfect breakfast, side for brunch, or simply eaten in place of a sandwich for lunch. The slightly sweet dough is made with milk instead of water and gives a whole different flavor profile to this loaf.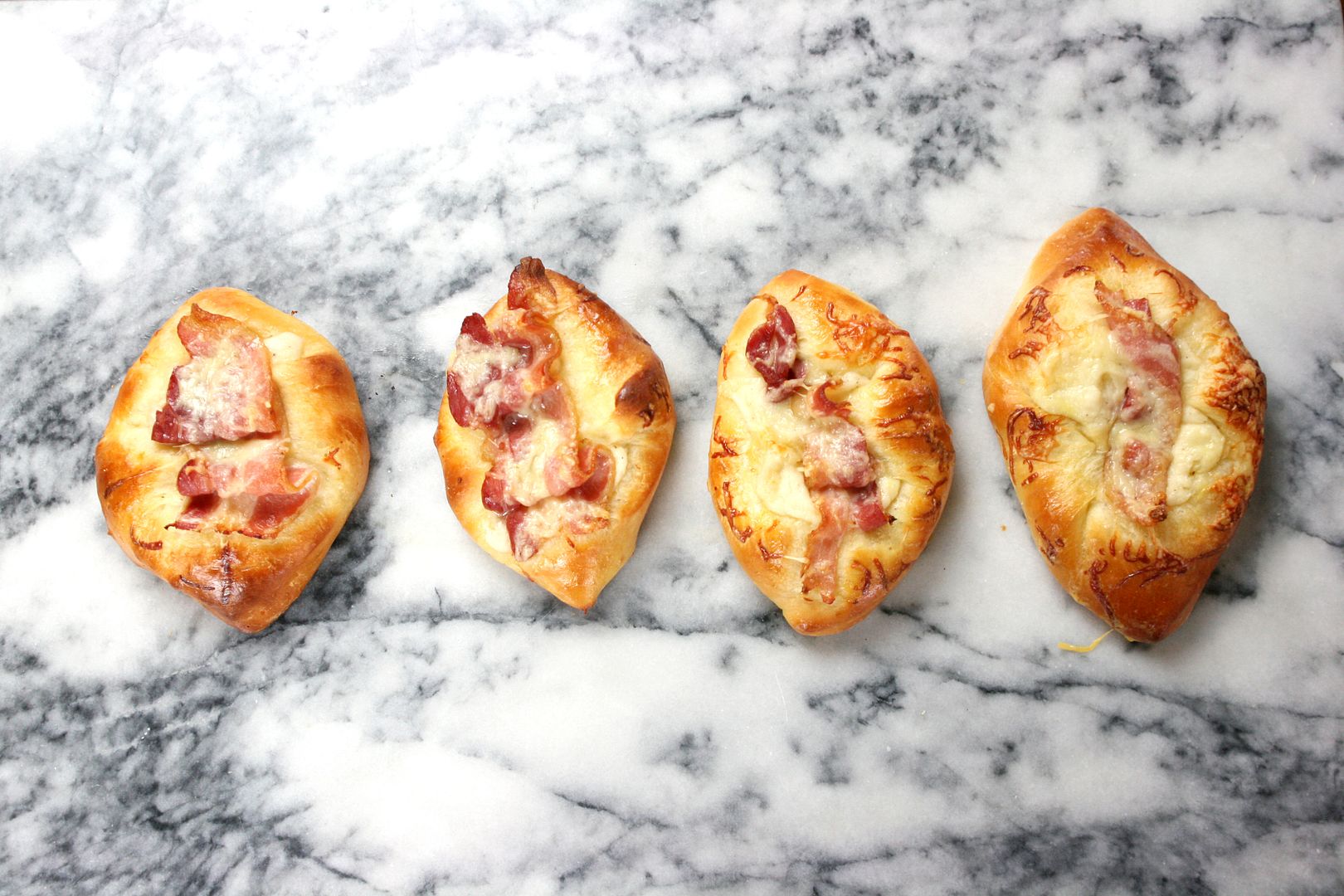 I really can't take any credit for these other than encouraging my husband, who has quite a knack for baking, to make them. Every time he does we rediscover how amazing they are all over again. He let me document the process and I'm so excited to share the breakdown. The recipe is based on one by
Richard Bertinet
, a French bread master and author of the book "
Dough
." It's amazing and comes complete with step by step photos and a DVD on his methods. It's a must-have for anyone interested in baking. Ok, without further ado, let's get to it!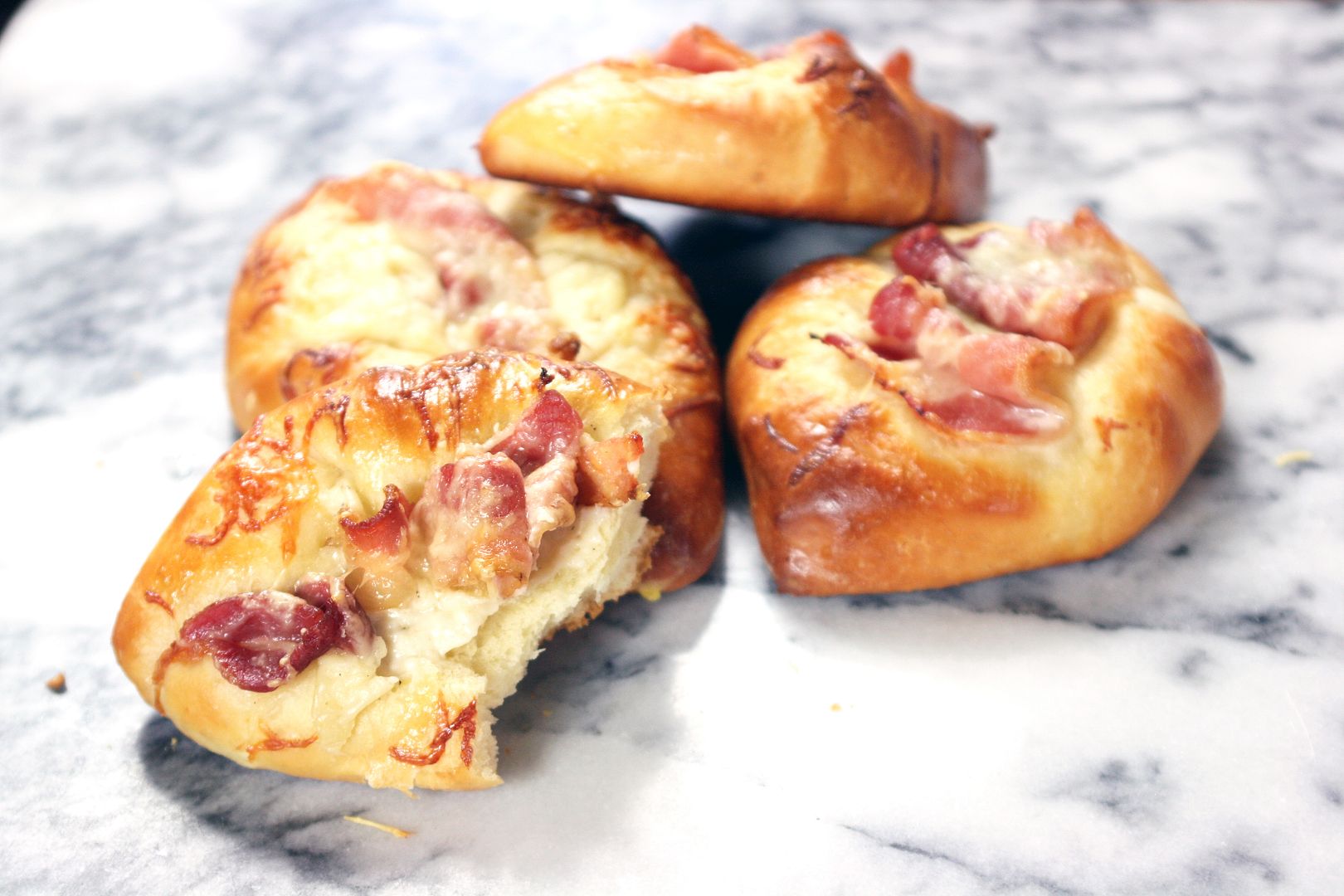 For the dough:
1 cup whole milk
1 package active dry yeast
3 3/4 c flour
1/2 stick unsalted butter
3 T sugar
2 tsp. salt
2 large eggs
For the béchamel:
2 T unsalted butter
2 1/2 T flour
2/3 c whole milk
salt
pepper
nutmeg
a bit of cheese (optional)
For the toppings:
1 lb bacon
1 cup grated Gruyère cheese
1 egg beaten for egg wash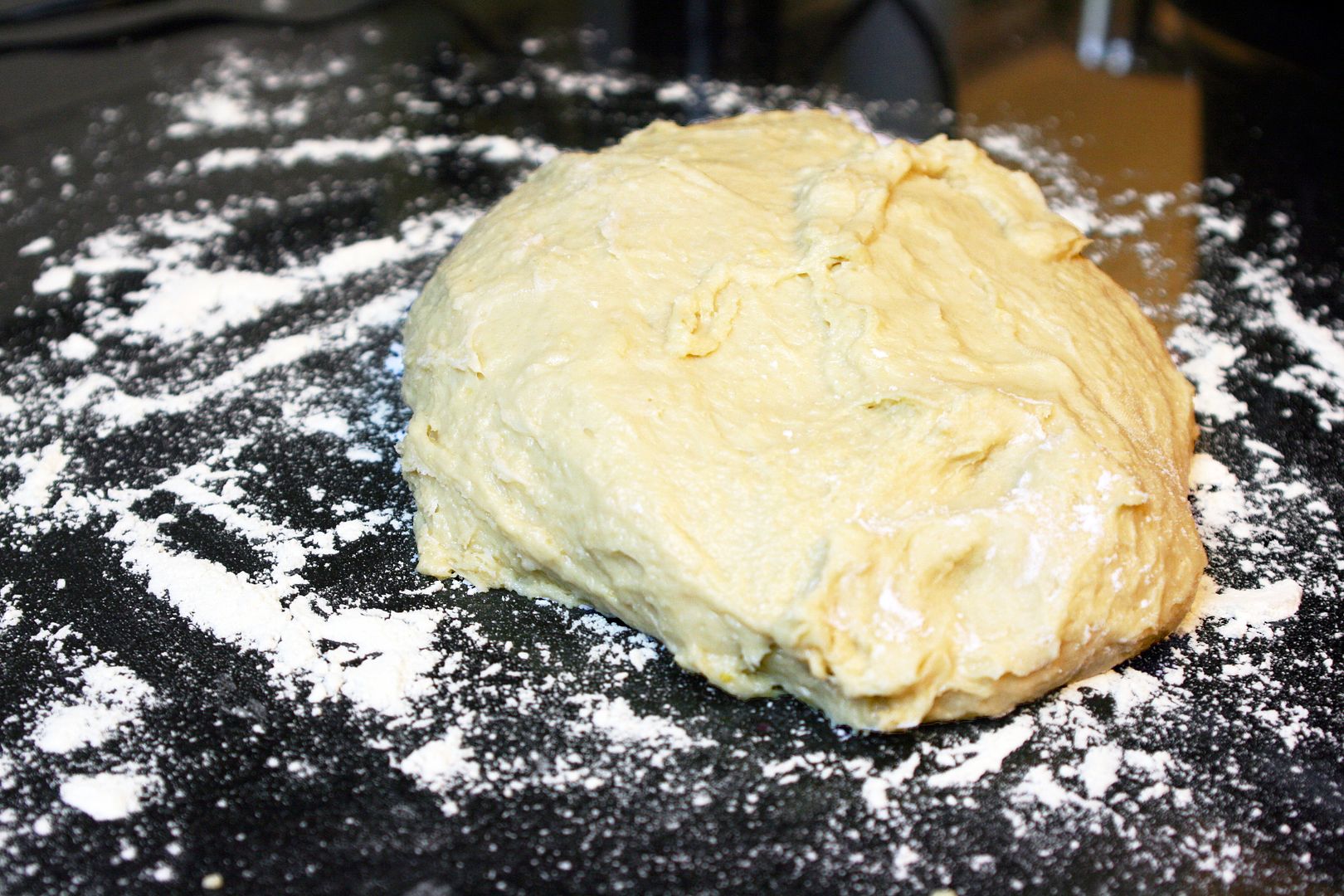 Let's get the dough started. Place flour, yeast, salt, and sugar in mixing bowl. Work butter into dry ingredients using your fingers. Using a dough hook, turn your mixer on low speed. Add the eggs and slowly pour in the milk. Once all the milk has been added, continue mixing for 2 minutes on the lowest speed. Then, turn up to the next speed and mix for an additional 7 minutes. Depending on your mixer, you may need to stop intermittently to make sure it's picking up all the dough from the bottom of the bowl.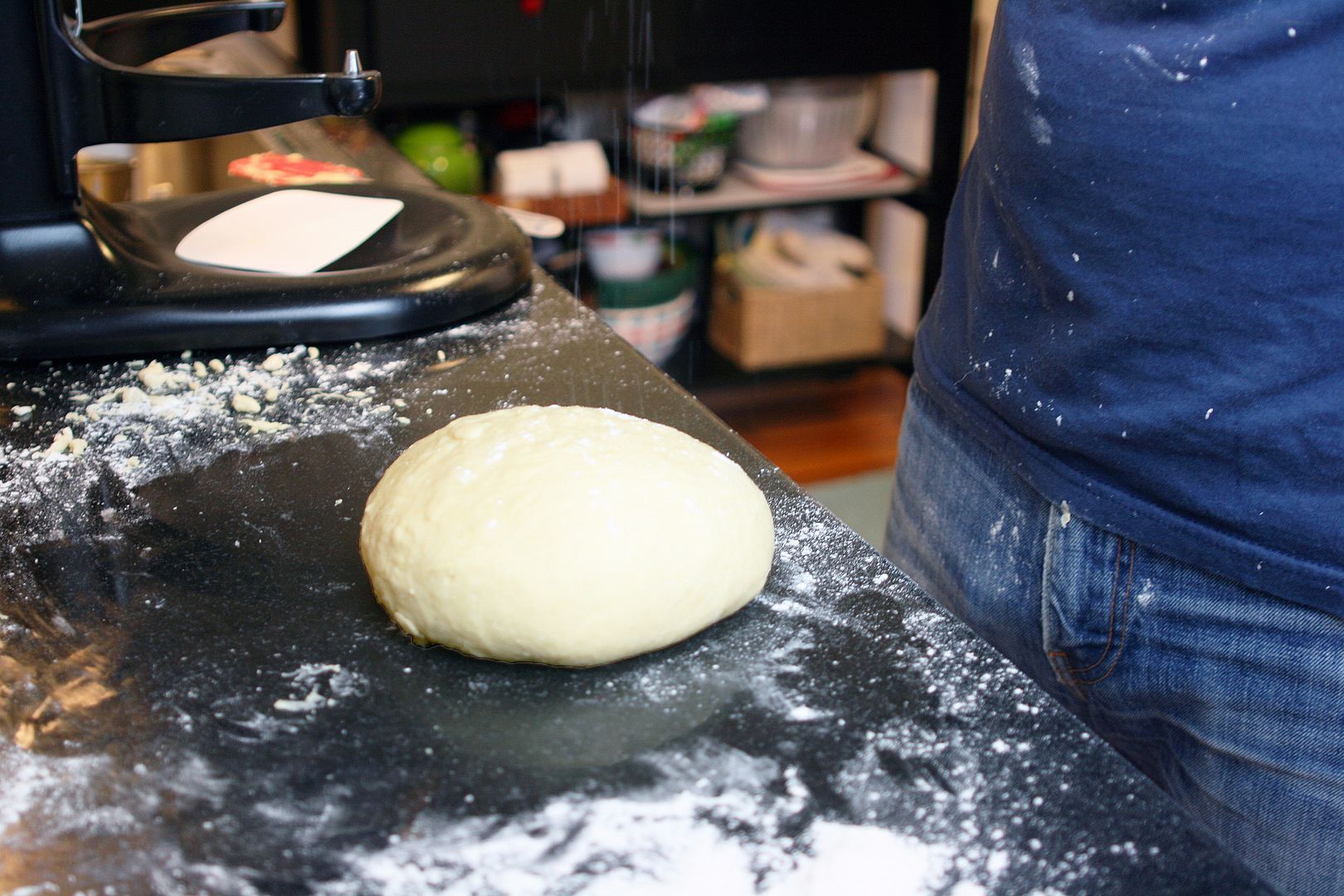 Turn the dough out on a lightly floured counter and form into a ball. Place in a lightly greased bowl and let rest for one hour.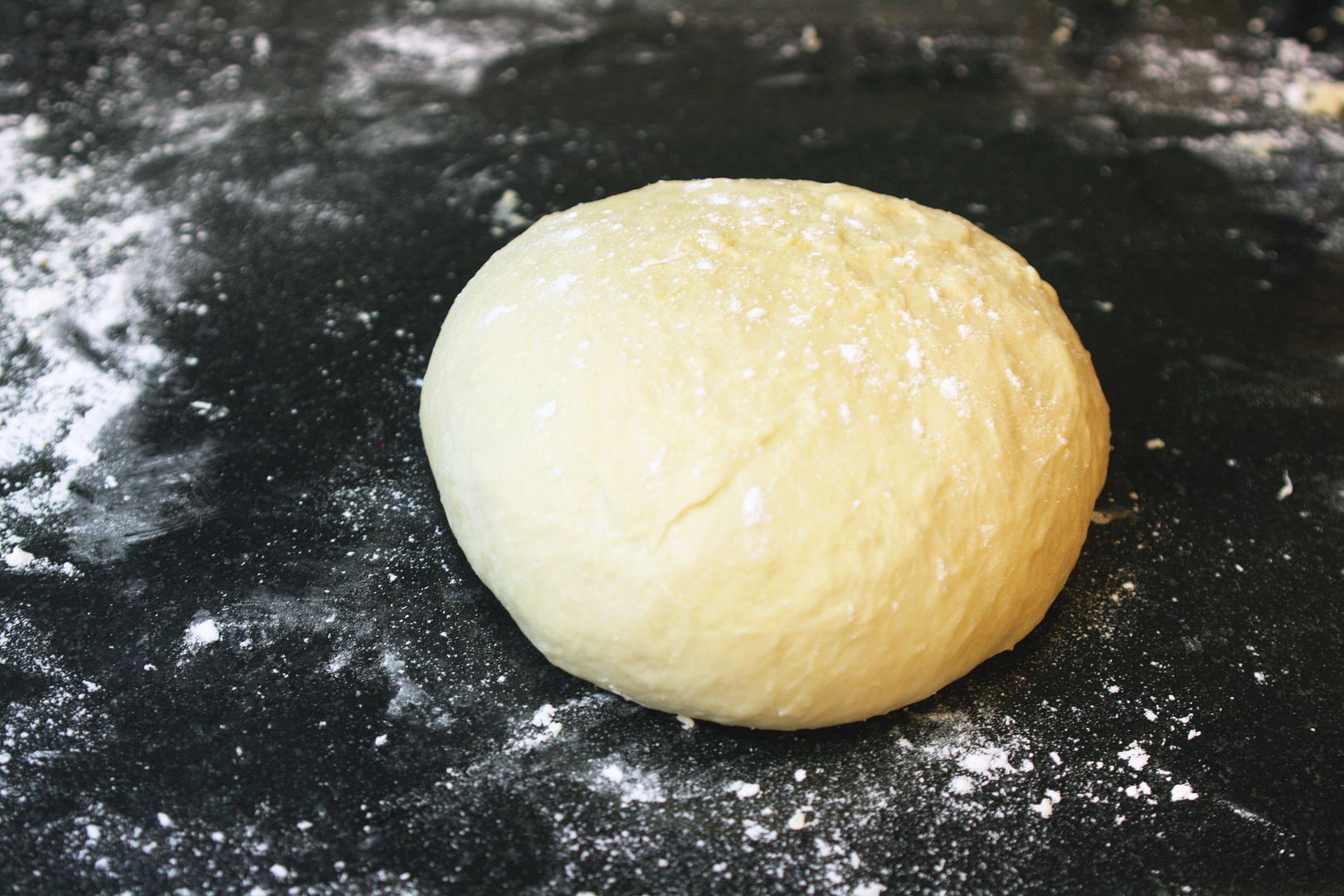 Meanwhile, prepare your bacon by laying it out on paper towels to soak up moisture. Then, make your béchamel. In a heavy saucepan, melt butter over medium low heat until slightly bubbly. Remove from heat and stir in flour until all the butter is absorbed and is the consistency of a paste that pulls away from the pan cleanly. Return to heat and slowly add milk, while constantly whisking the mixture. Season with salt, pepper, and freshly grated nutmeg to taste and cook for another two minutes. Set aside.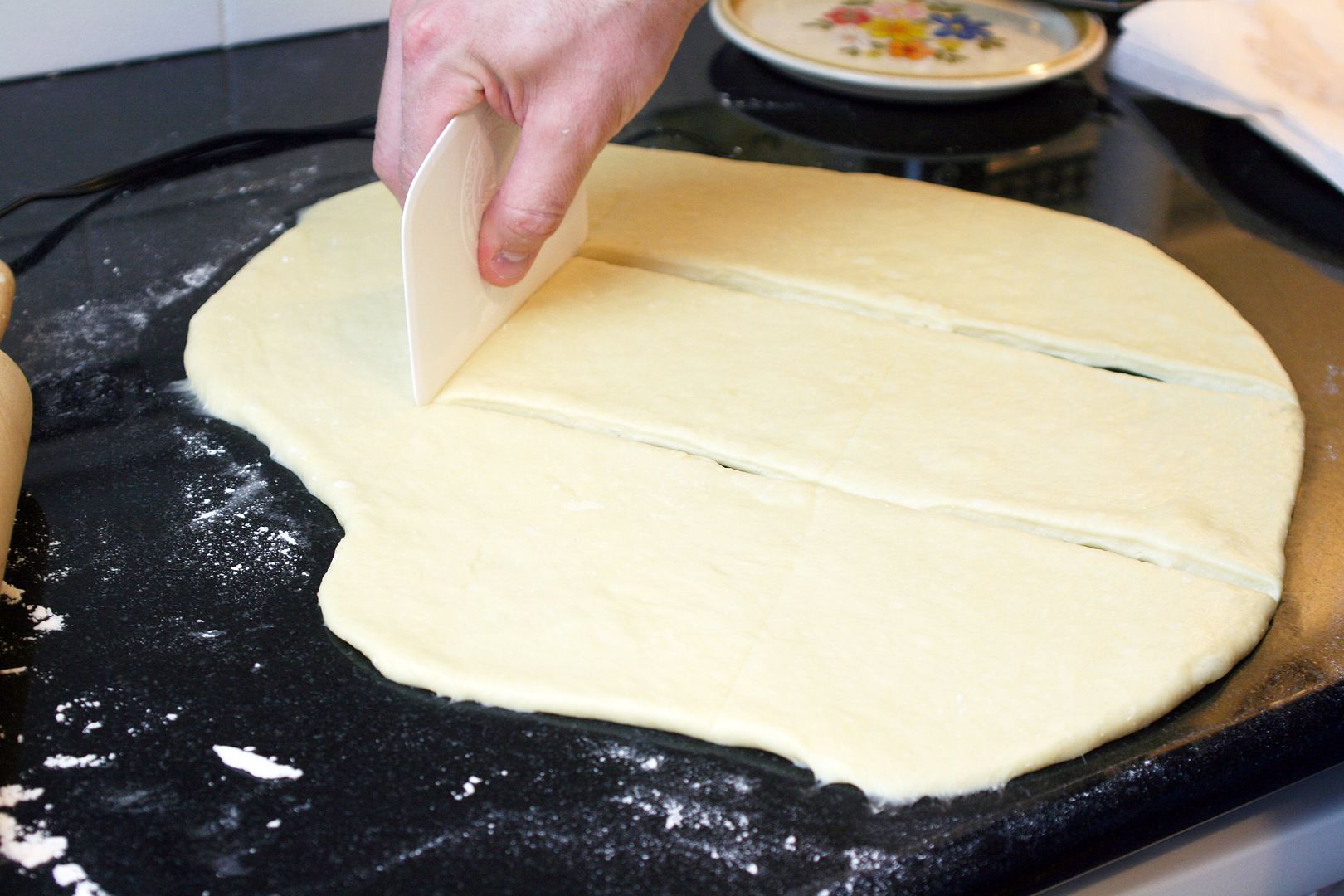 After the dough has rested, roll out on floured surface with rolling pin to about 1/4 inch thick. Cut into 5 x 5 inch squares. Spoon 1 T of béchamel onto each square, and fold two opposite corners inward into the béchamel.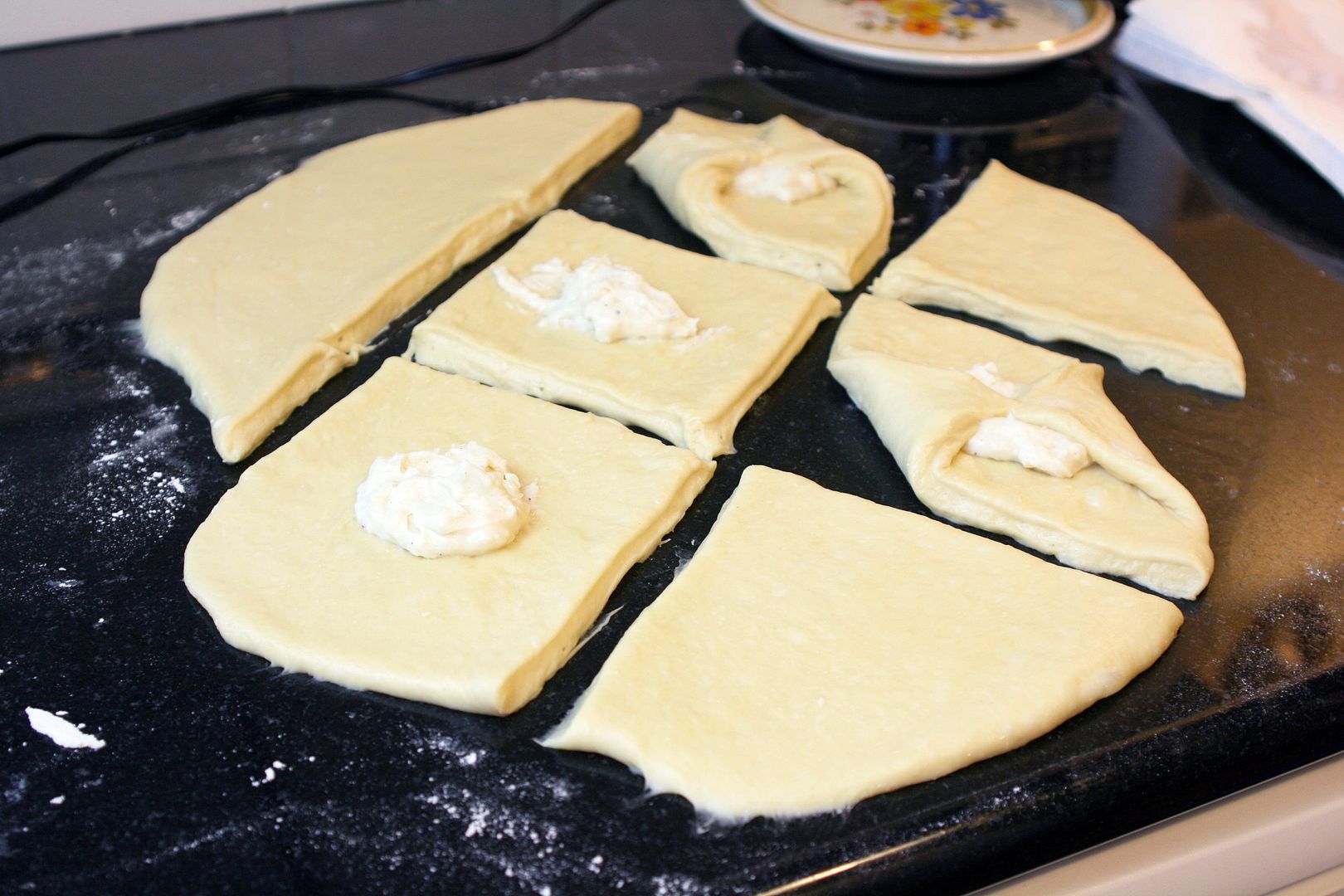 Place one strip of bacon lengthwise on each pastry, pleating folds into it, so it fits on the dough. Transfer pastries to baking sheets or baking stones and cover with wax paper and a lint-free towel. Let rise for 45 minutes. Meanwhile, prepare the egg wash, grate the Gruyère and preheat oven to 400 degrees.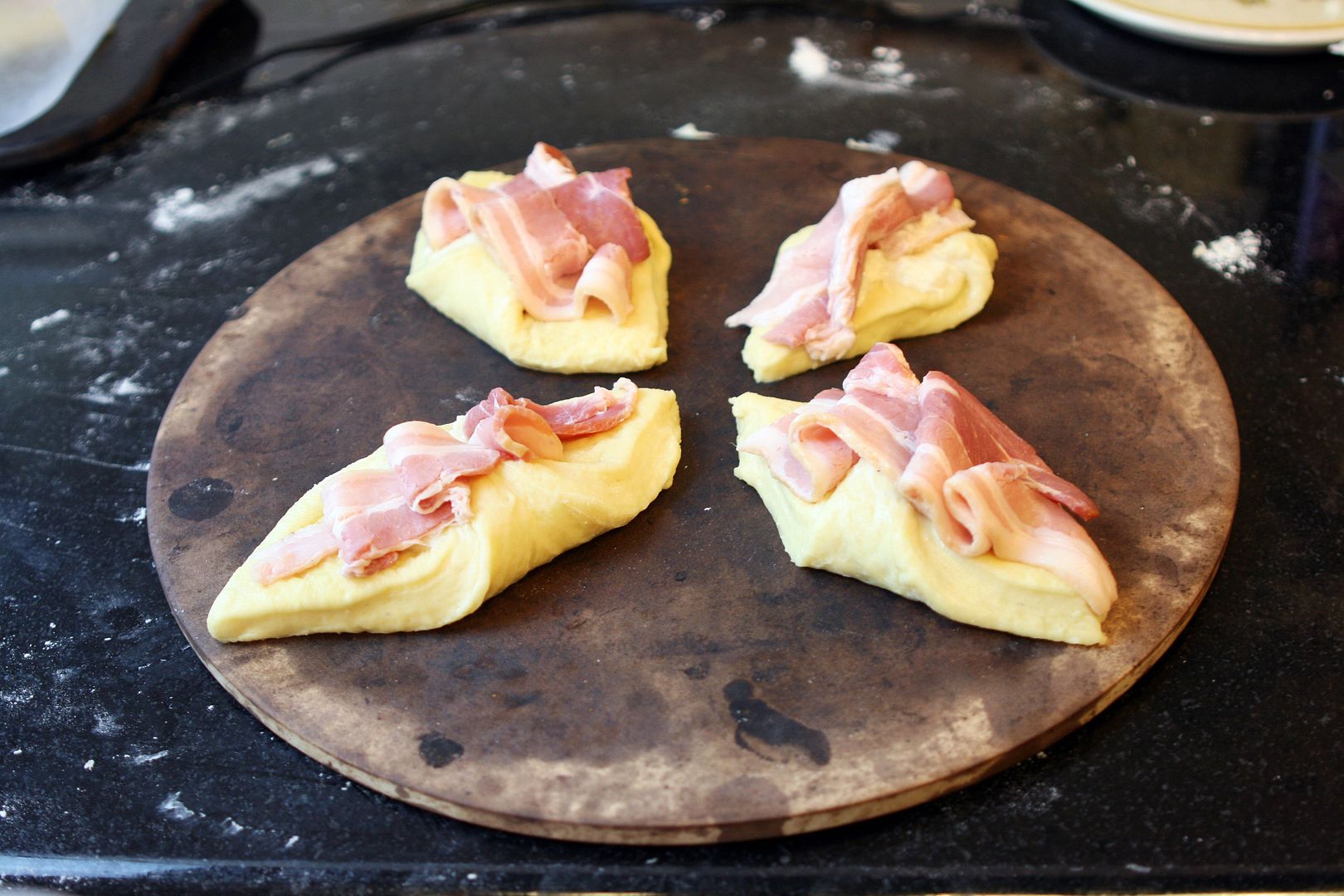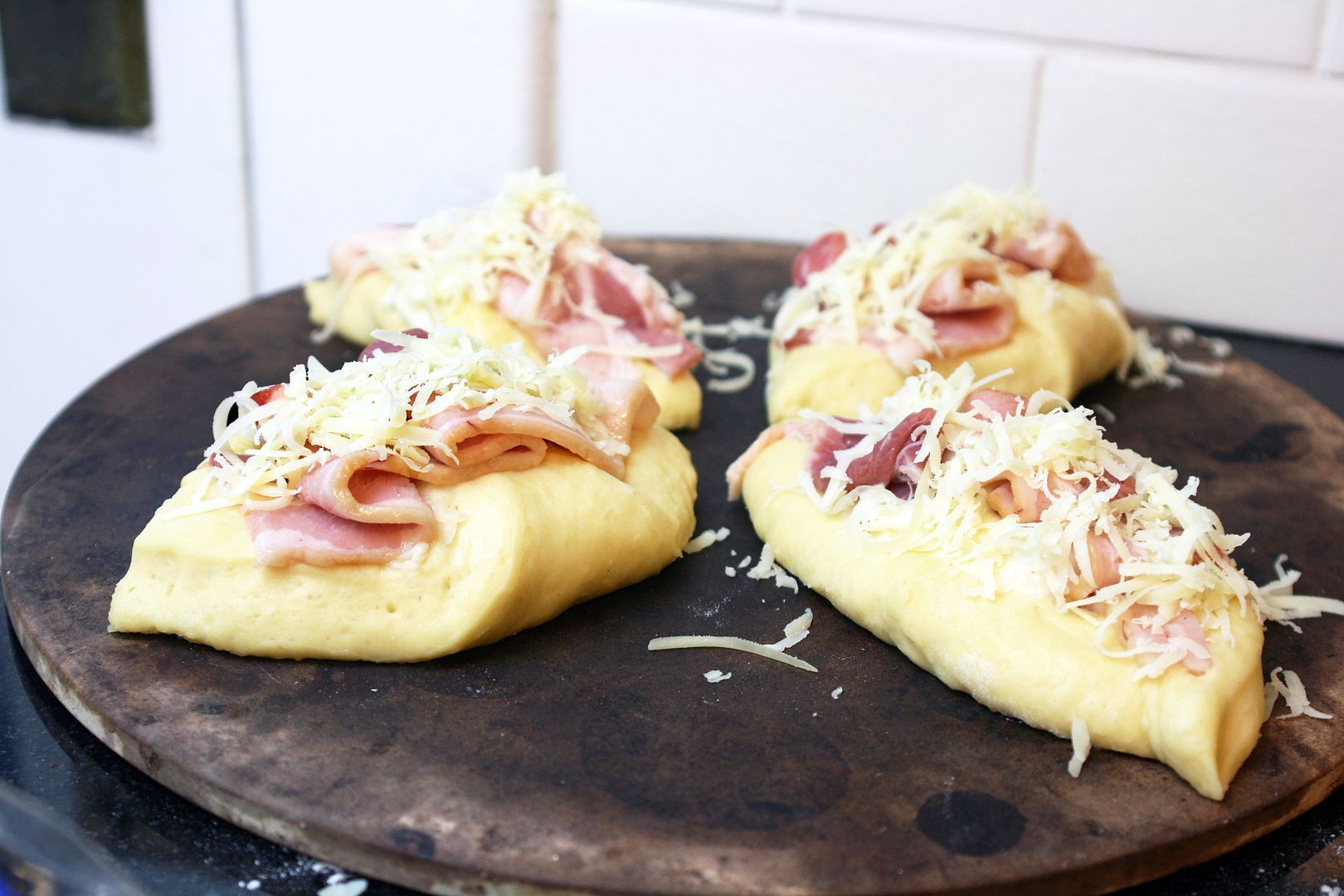 Once the pastries have risen, brush exposed dough with egg wash and sprinkle with cheese. Transfer baking sheets to oven and bake for 15 minutes or until golden brown. Serve while they're warm.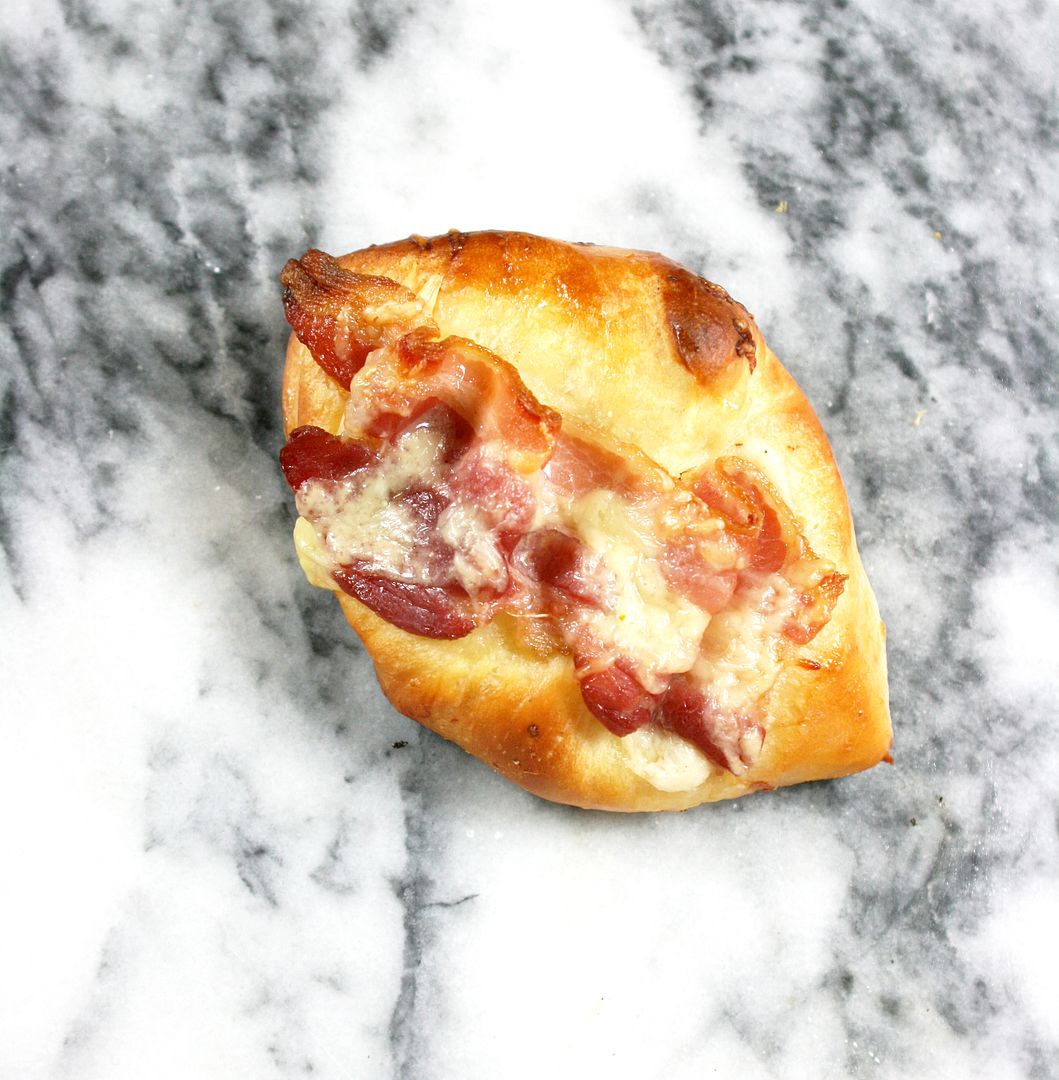 If you're making these in the morning, you can make and refrigerate the dough ahead of time, and make the béchamel in advance and store. We took these on a weekend trip over the holidays and just let the dough sit out in the morning, rolled them out and assembled them and we were done much more quickly. If this totally intimidates you, you could probably cheat and use puff pastry or crescent roll dough and simply follow the directions from the béchamel step on, but I won't guarantee it would be as good as this homemade sweet dough.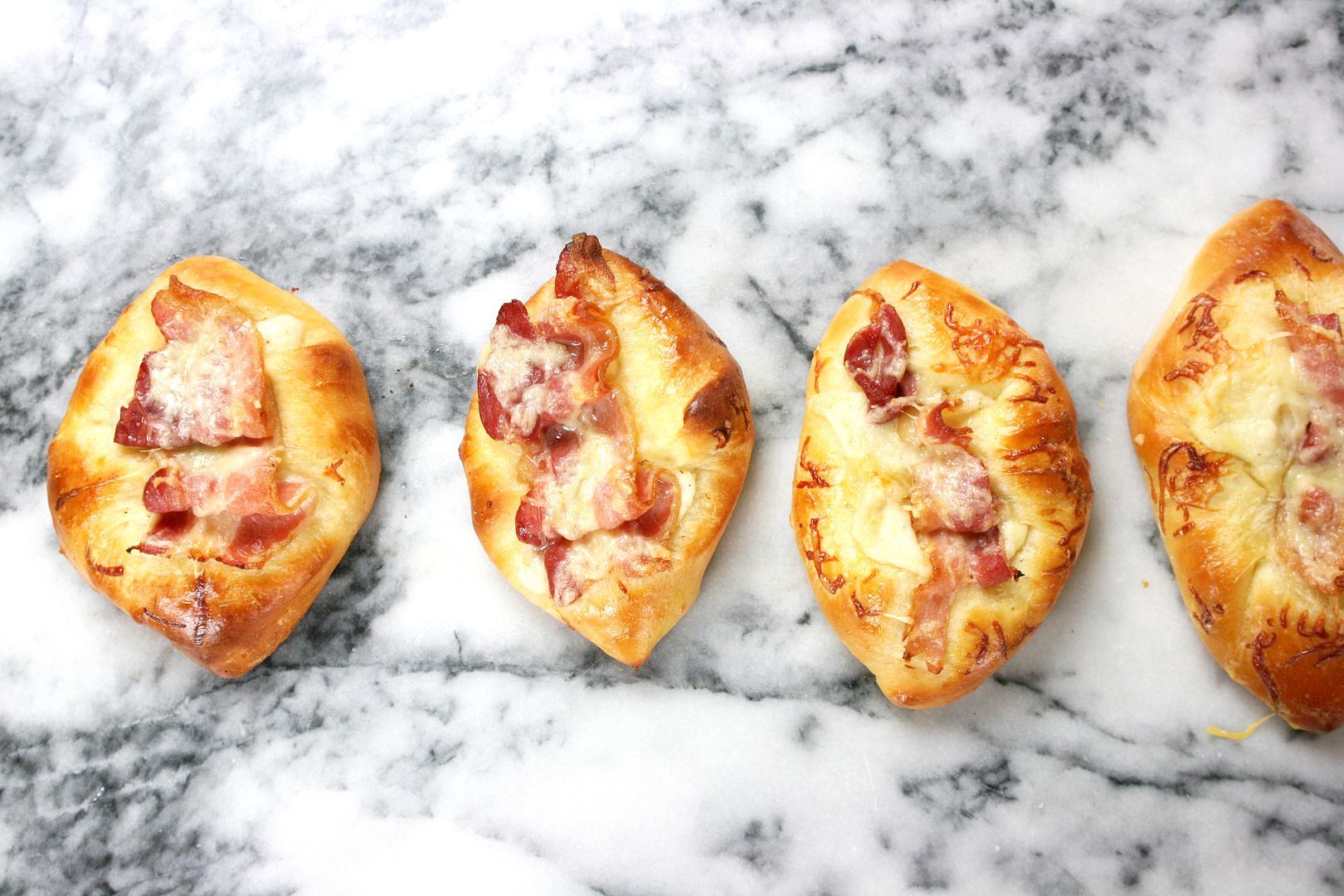 Hope you enjoy! There really isn't a better smell than these pastries in the oven, so that alone should be enough to prompt you to try these out. ;)