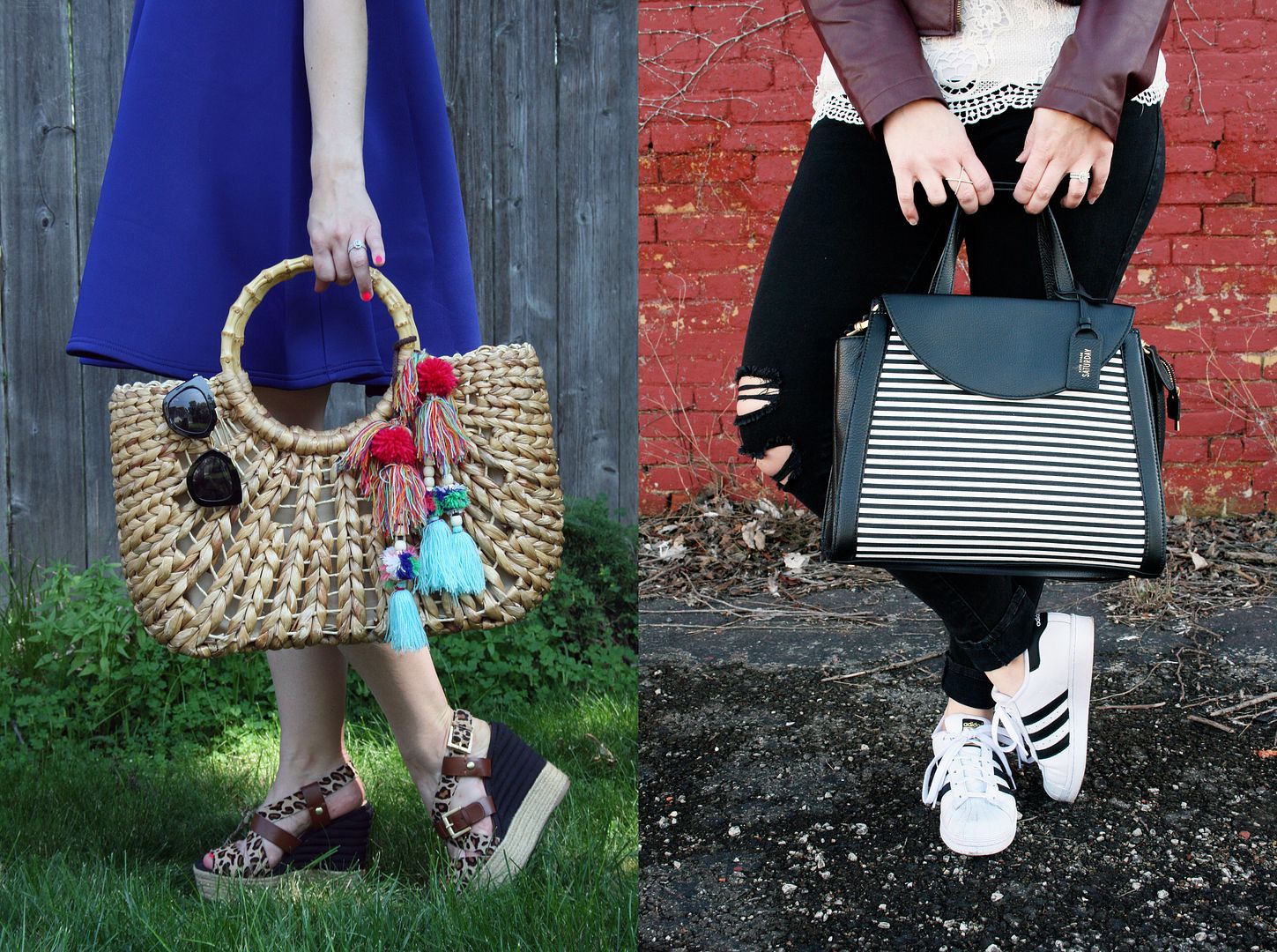 As you have probably deduced by now, I love bags. Big bags, small bags, any color, I.LOVE.BAGS! This love of mine goes way back, to when I was just a wee Mod Circus babe. That's right, I've been carrying some sort of bag since I was old enough to walk (literally). When I was small, I'd like to buy old lady handbags at garage sales and carry them around with all of my worldly possessions. I'd also carry backpacks, for those days when I toddled off to one of my two grandmother's houses to spend the day. My grandma still likes to tell the story of how I literally fell over backward from the weight of all of the stuff in my backpack as I was leaving her house. Let's be real though, it wasn't like I was carrying gold coins. Oh no, my treasures were pictures of my family, my blankie, an old pair of glasses, several books, and other various knick knacks.
Baby me with one of my many purses.
Please notice the bag to the left. That was a great bag.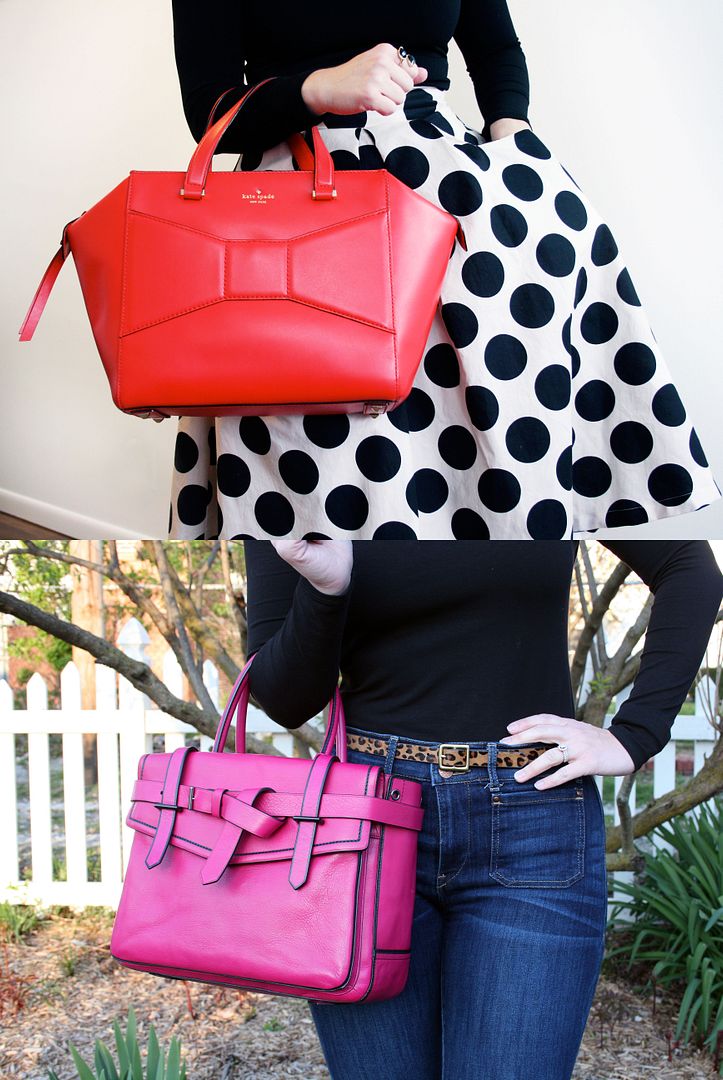 I've been known to pull a muscle or two out of whack from lugging my stuff around, so as I've gotten older, I've made a conscious decision to keep my bags organized so as not to cause myself bodily harm. Plus, it makes it a whole heck of alot easier to switch out my bags each day (or every other day) when everything is organized and neatly placed. A few years ago, I received
this
purse organizer as a gift for Christmas. My life has not been the same since! This makes it super easy to switch out the bag I carry daily. I'm almost always pressed for time in the mornings, so believe me when I say, this method literally makes it possible to switch out your bag in 30 seconds or less.
Below, I've provided details on how I organize my purse to make it super simple to change my bag daily.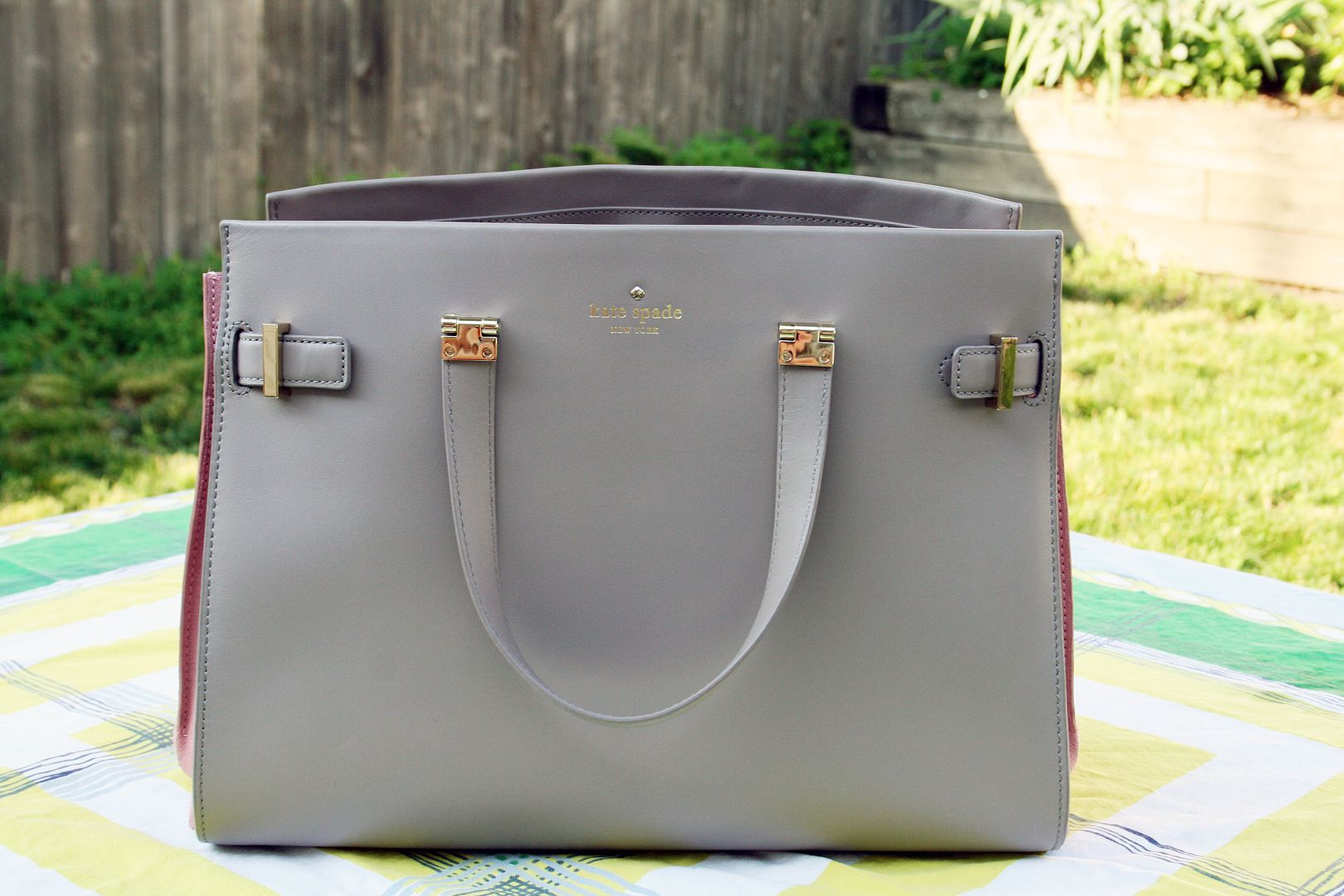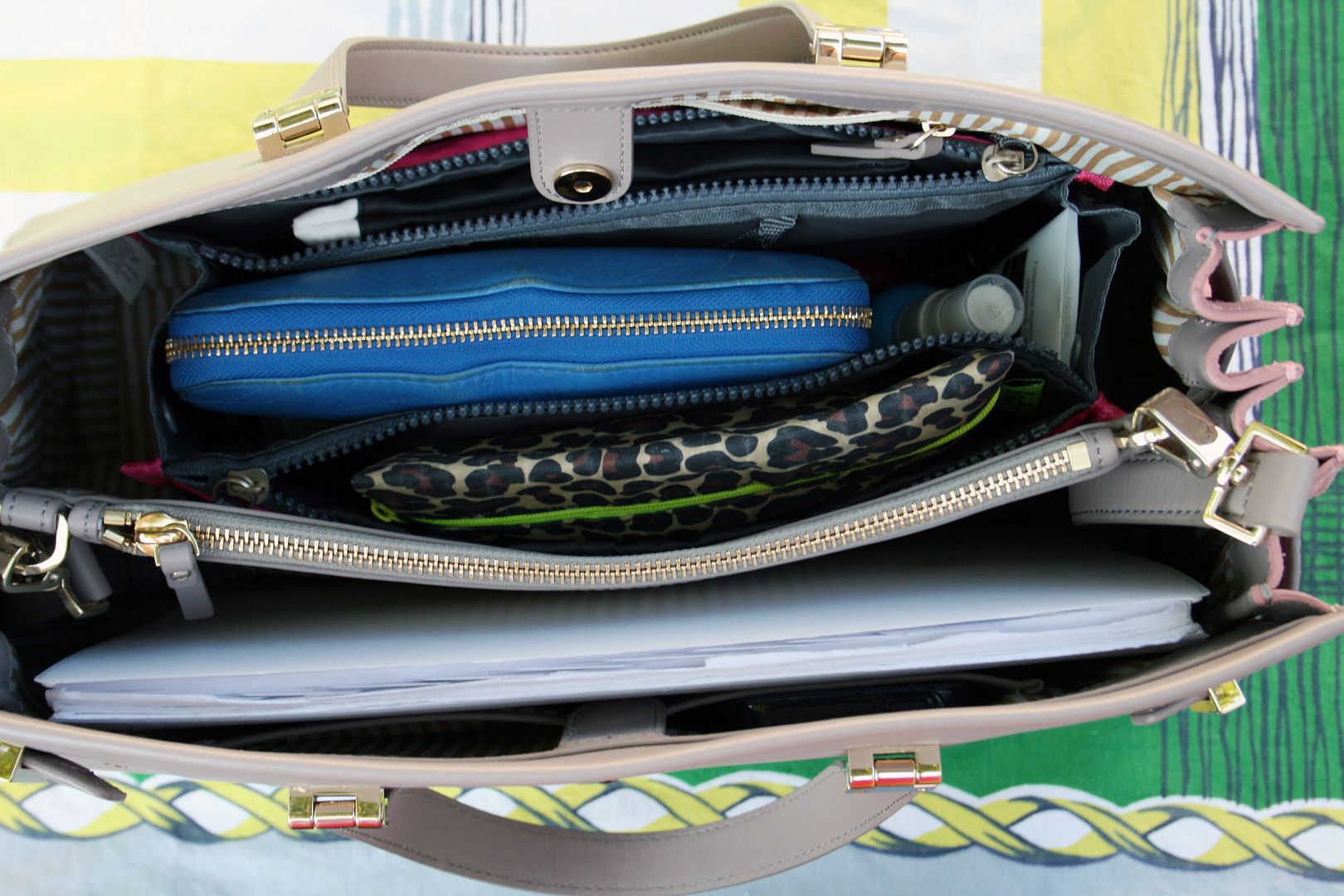 I use
this purse organizer
to keep all of my little necessities in one place. Depending on the day, I might also have an extra small makeup bag that I throw in my purse, if I need a touch up after the gym or before any evening activities.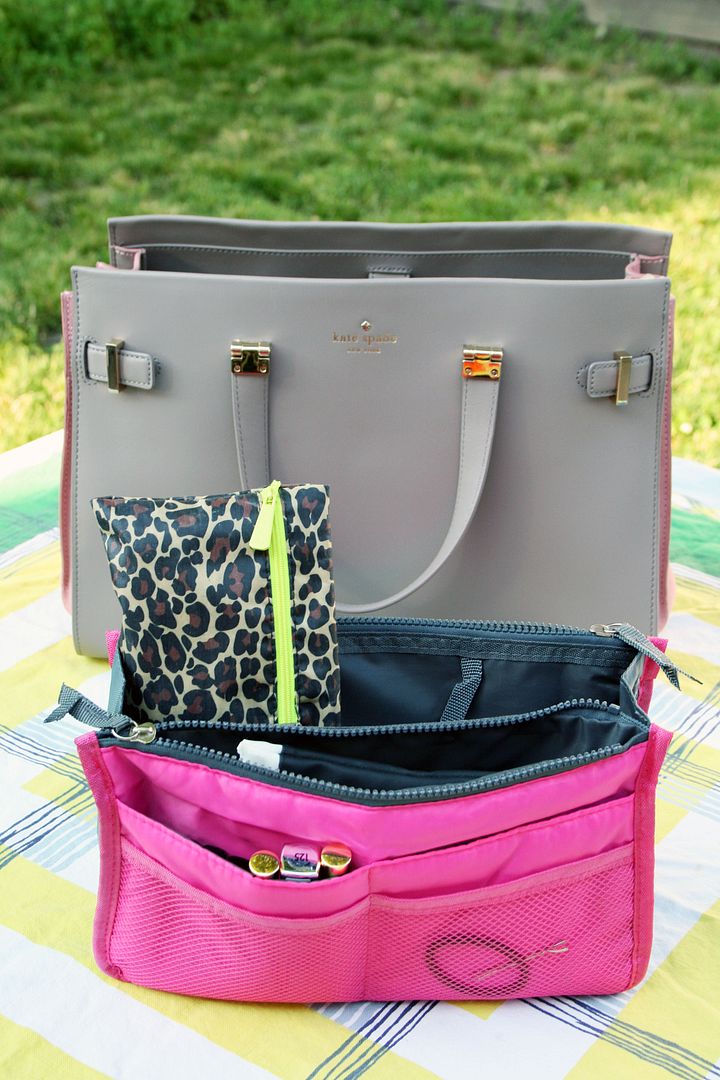 What I like about this purse organizer is that it's expandable. You can make it bigger or smaller depending on what you need to carry and the purse you are carrying it in. It also have a billion pockets on it and in it. The pockets make organizing all of your bits and bobs super easy. Plus, it makes finding what you need very efficient. Just last weekend, I asked my husband to grab my eye drops out of my purse for me. He gave me a worried look and peeked in to start rooting around. After a few seconds, I just stuck my hand in and plucked out the eye drops without even looking. He was absolutely amazed! All because I knew which pocket it was in (and sheer luck that I stuck my hand in the right place, shhh don't tell him).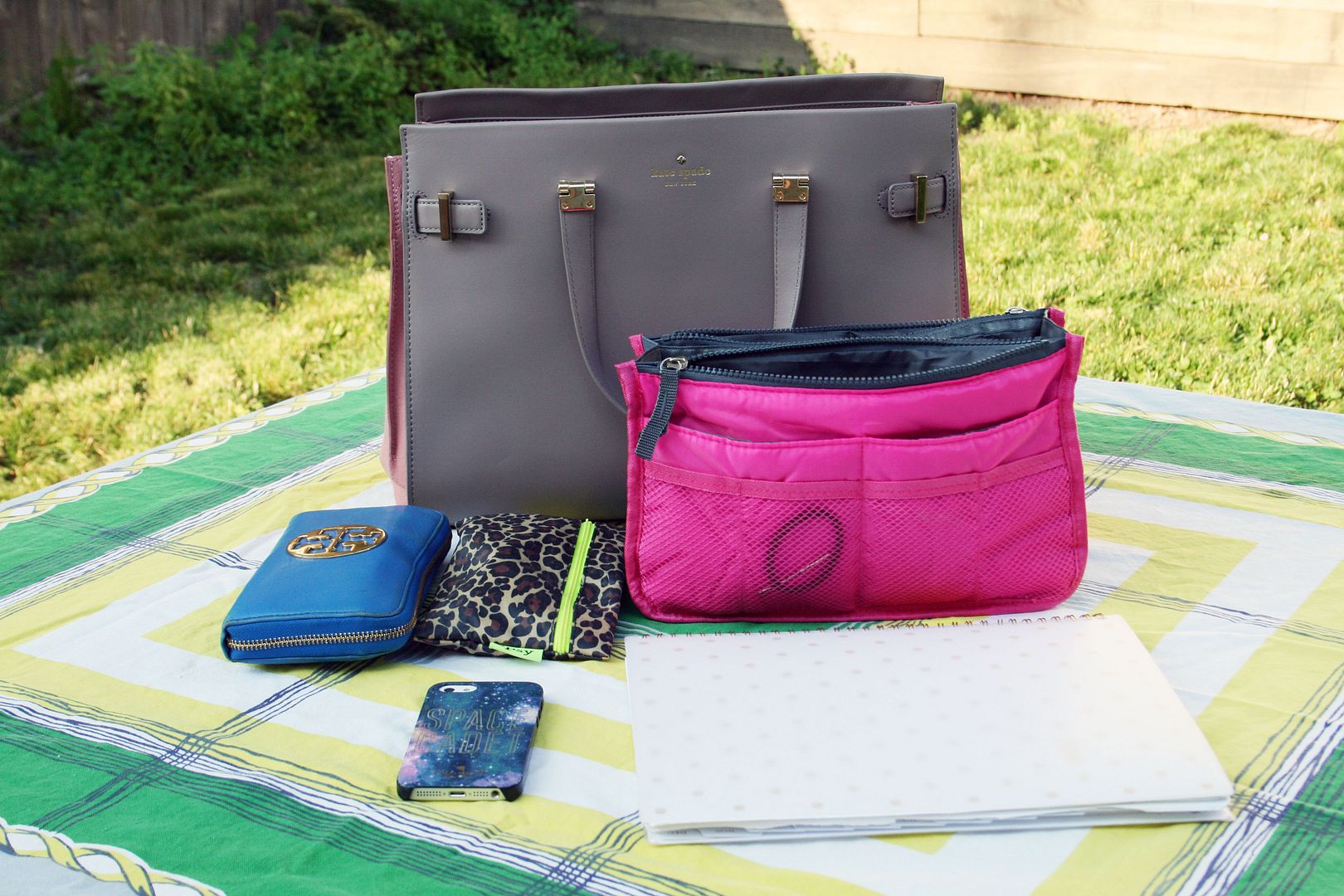 In this purse, I put the makeup bag, as well as my wallet, in the organizer to save on space. I also carry a day planner with me. I know, super old school. I just really like having a hard copy of my calendar with me. I'm an old lady and like writing things down.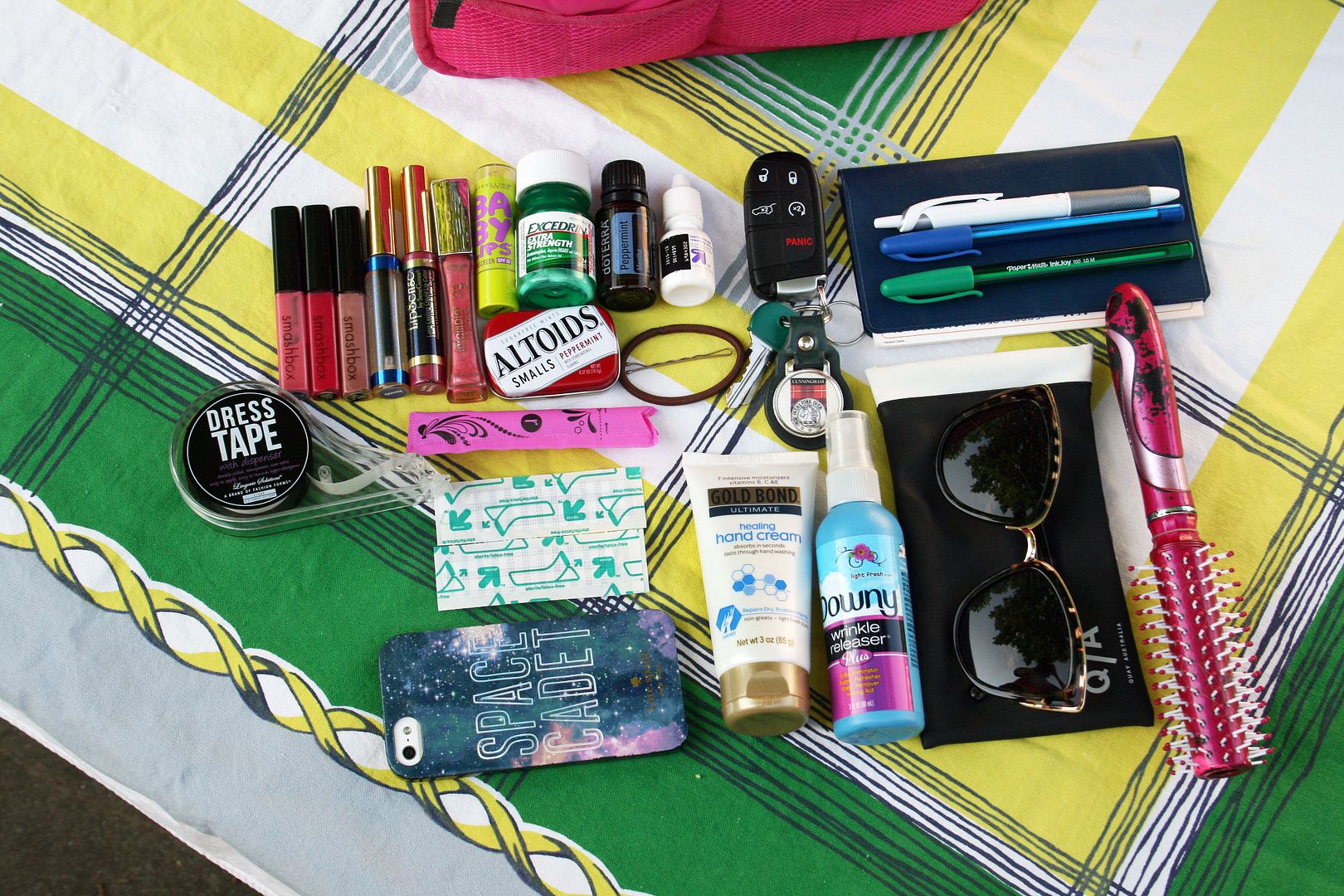 Here is everything that was packed away into my purse organizer. You're probably thinking, that's a lot of lip gloss! Pro tip: you can never have too many lip colors with you. I also like to carry a couple of band-aids, a hair tie and bobby pin, feminine products, double sided tape for any wardrobe malfunctions, pain reliever, mints, peppermint essential oil, eye drops, my check book, pens, wrinkle releaser, hand cream, a brush, sunglasses and of course my car keys and cell phone. Keep in mind, this is my day-to-day bag. On the weekends or in the evenings, I rarely carry as much stuff. I also keep the load light if I'm going to be somewhere where I will be walking around all day and carrying a bag.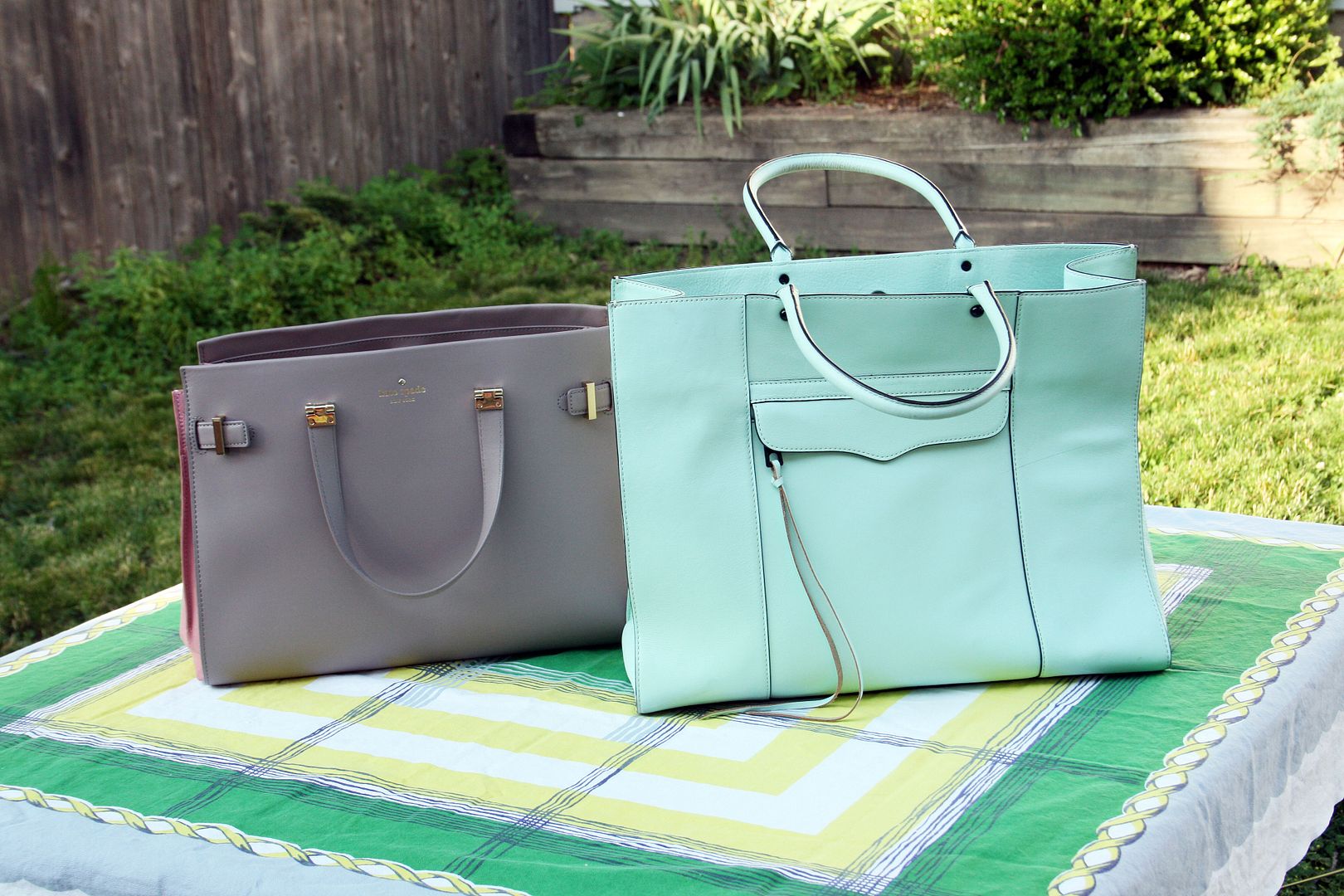 When I'm ready to switch my purse, all I need to do is grab the organizer by the handles, pull it out and place it into the new bag. Next go my wallet and planner. Depending on the structure of the inside of the bag itself, I might put my phone and keys in an inside bag pocket.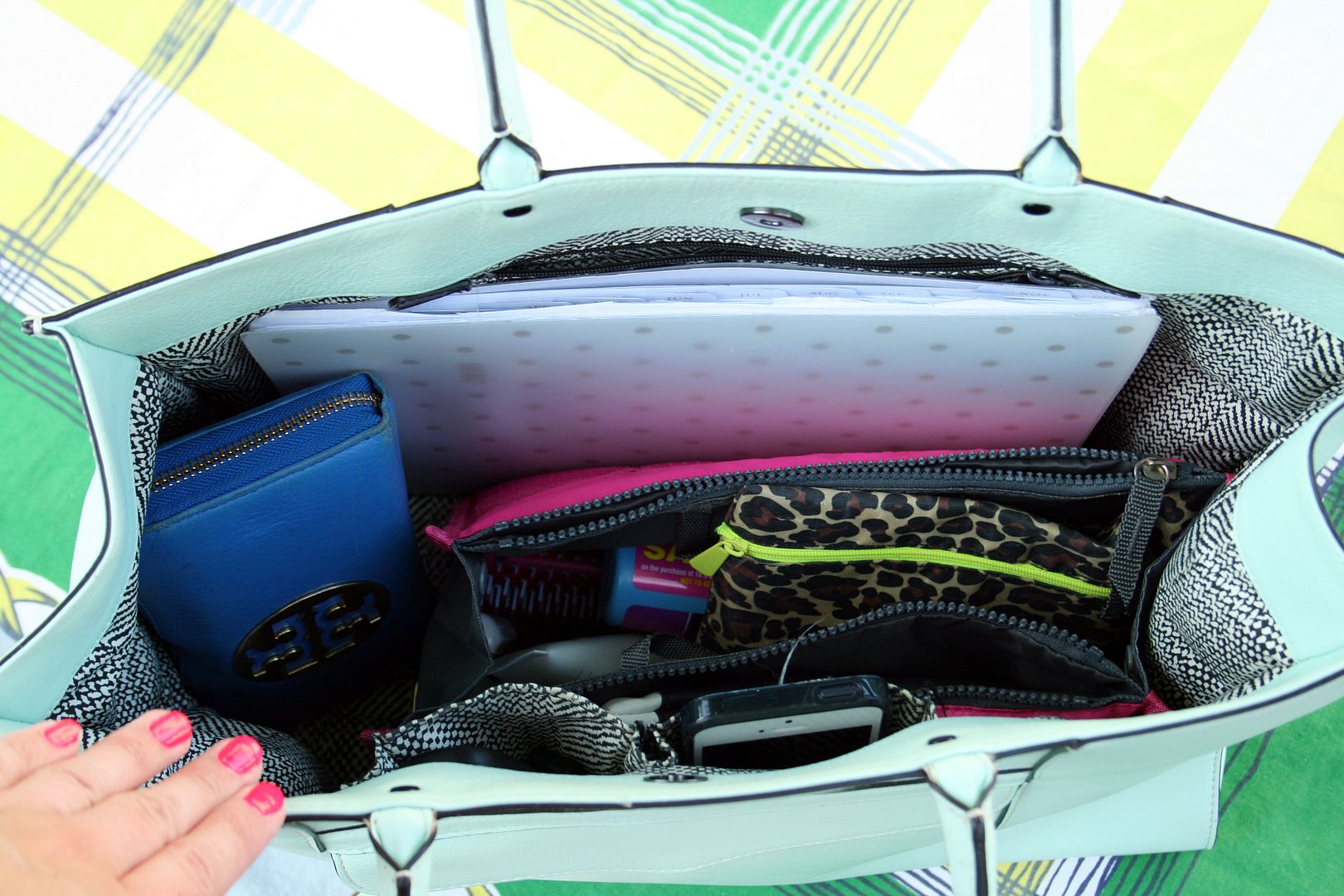 Voila! Ready to head out the door with a fresh bag to match your outfit in seconds flat.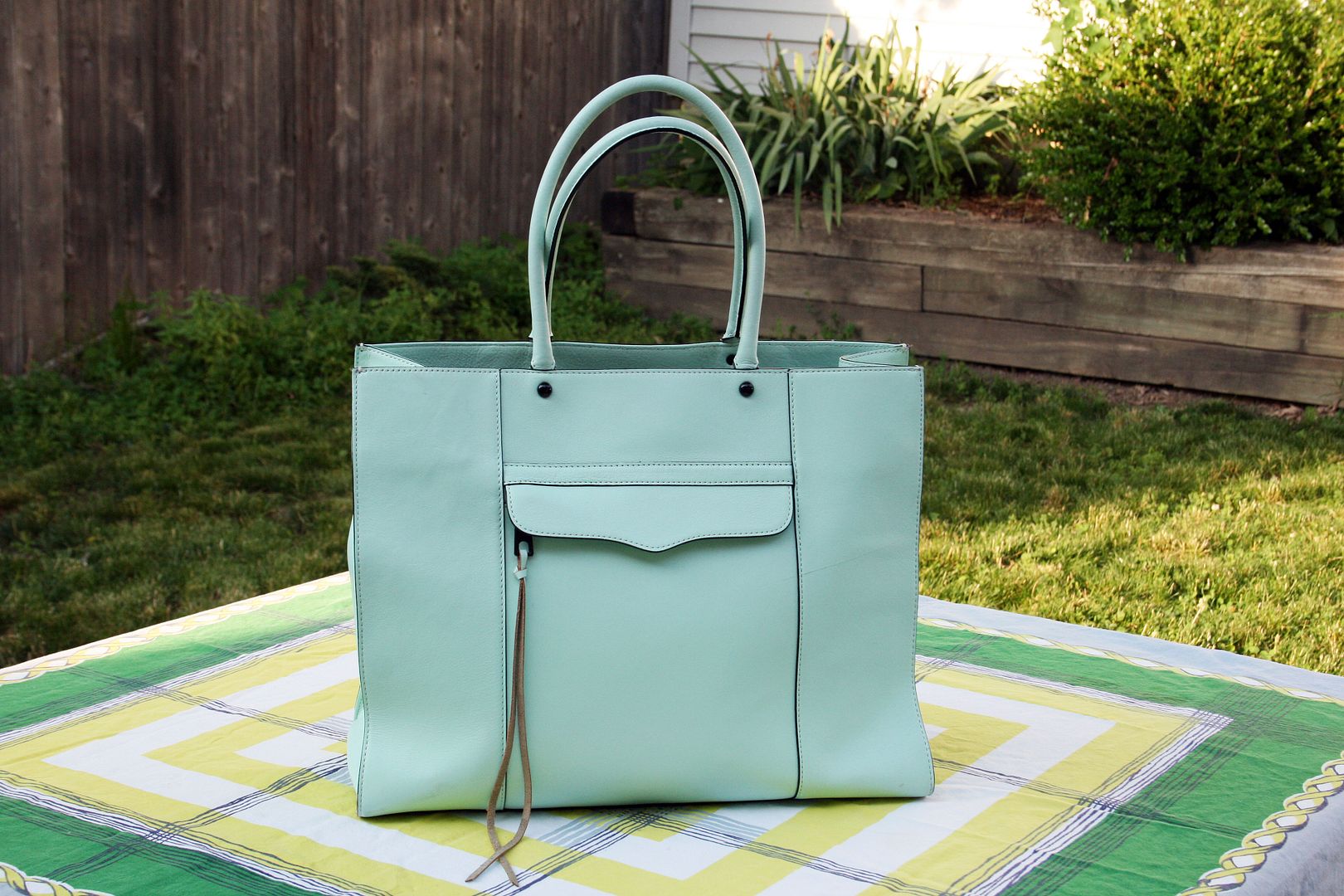 I hope you found this helpful! I'd love to know, what do you carry in your bag?
-Jodi