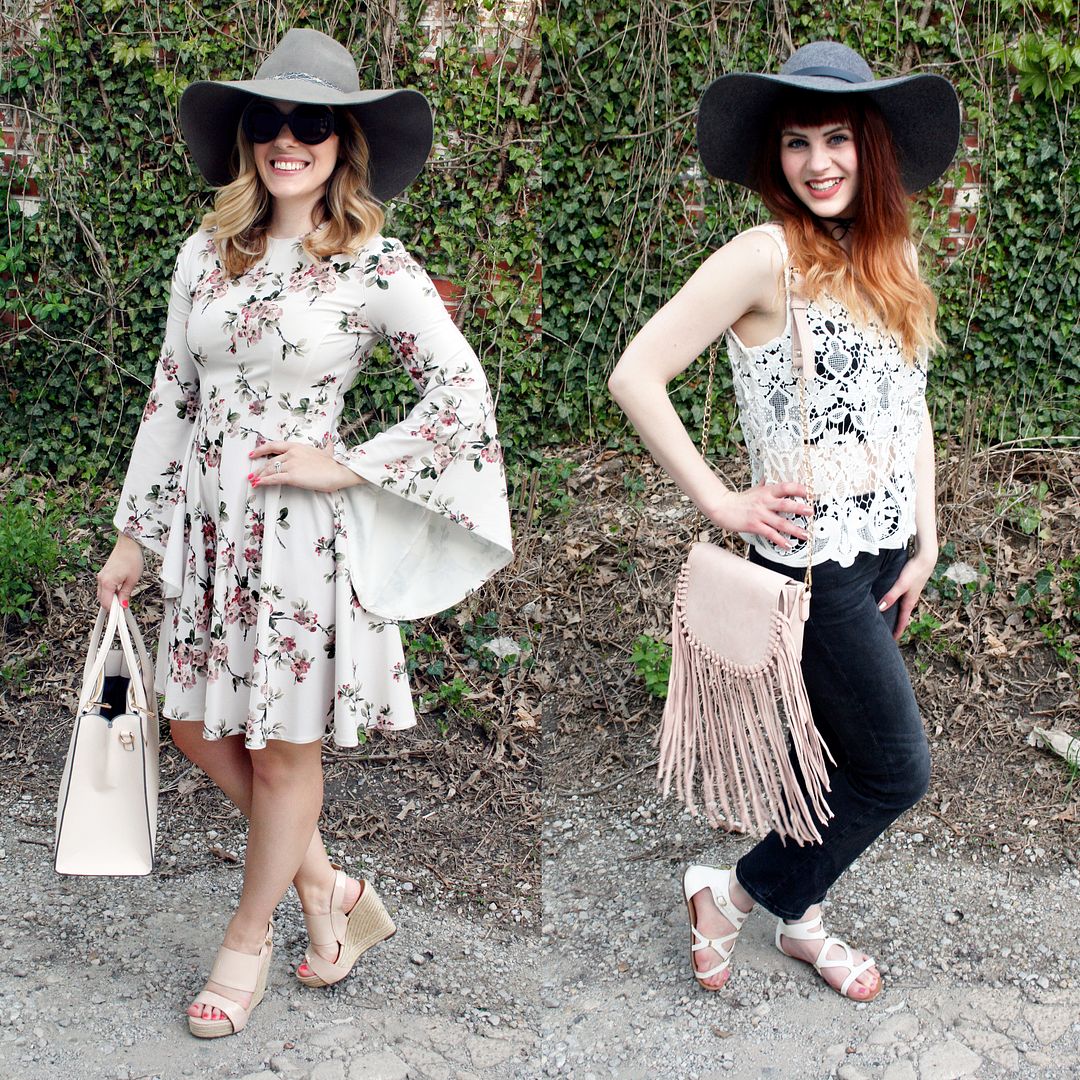 Welcome to our latest installment of Wear it Two Ways! This month, we style a floppy hat for you. There are so many different kinds of floppy hats out there, you really can't go wrong when picking one out. They're perfect for shading your face on sunny days while being a fun statement. Below, we tell you how we styled our hats for spring!
MOLLY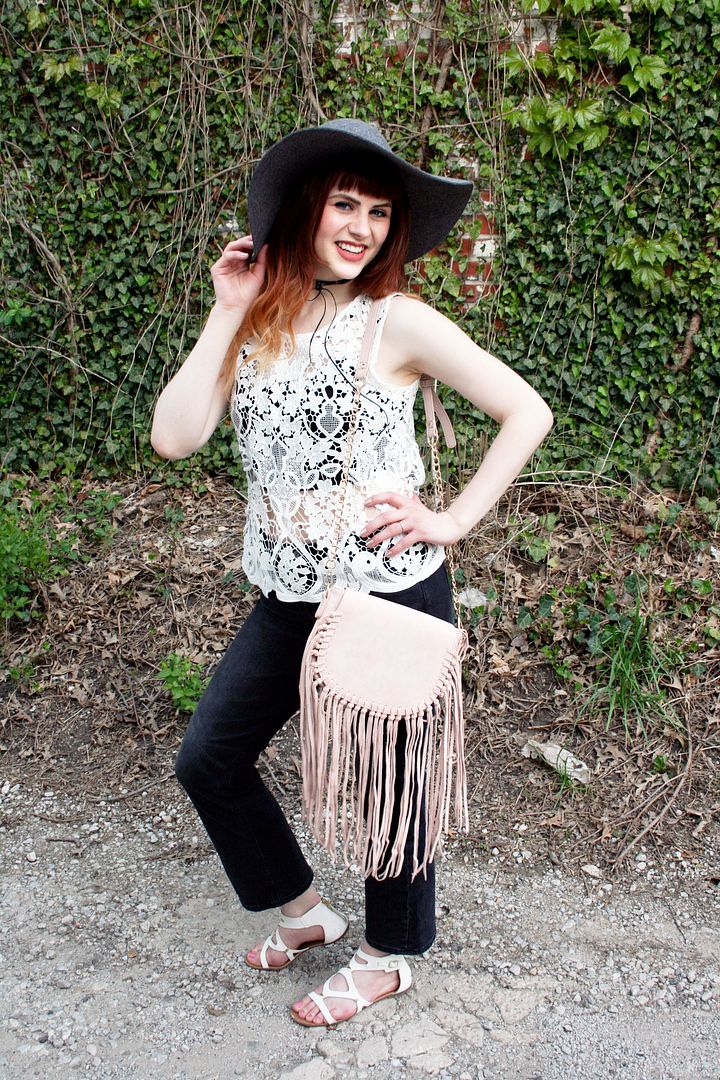 I went for kind of a boho-festival goer meets afternoon garden party vibe. Actually, (Jodi, feel free to disagree here) I think that if we'd said, OK, let's both go for a "boho-festival goer meets afternoon garden party vibe" for this shoot, we'd both be spot on. That's what I (and we hope you!) love about the Wear it 2 Ways features: that we both come up with something totally different, even when styling the same item.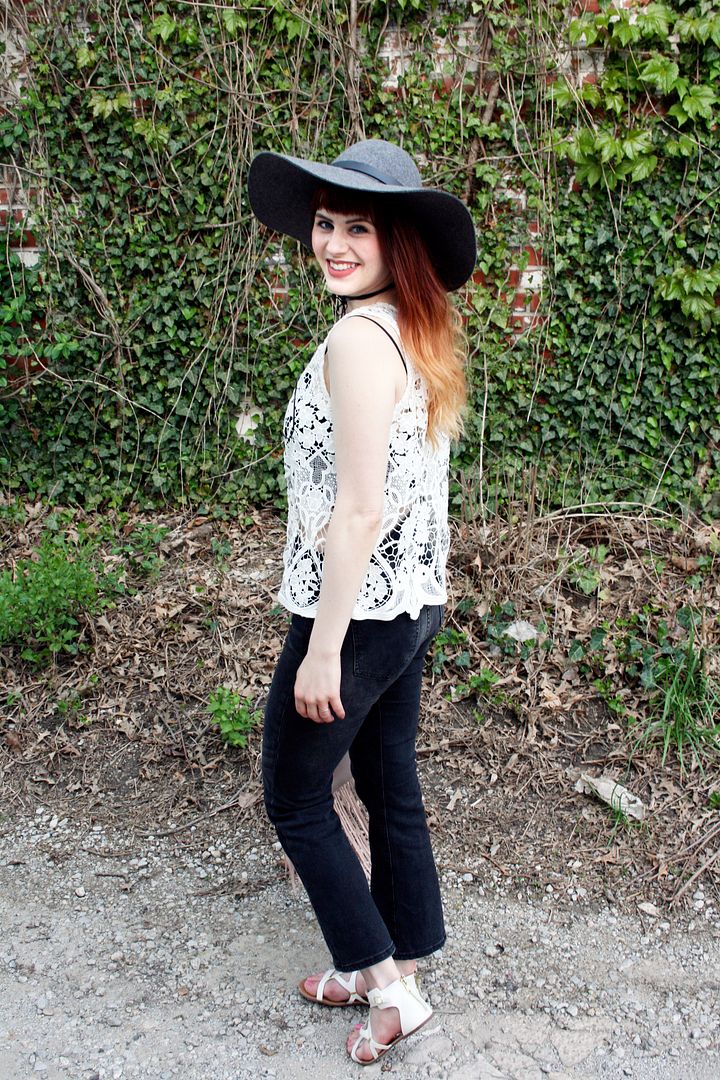 Pairing my gray wool hat with a thick crocheted lace top made for a fun and interesting mix of materials. I love pairing a strappy bralette under semi-sheer tops because it keep you breezy without really being too revealing. You can always substitute a cami for a more conservative look. Because a lot was going on texture-wise, I kept the color palette to black and white, with a pop of blush pink.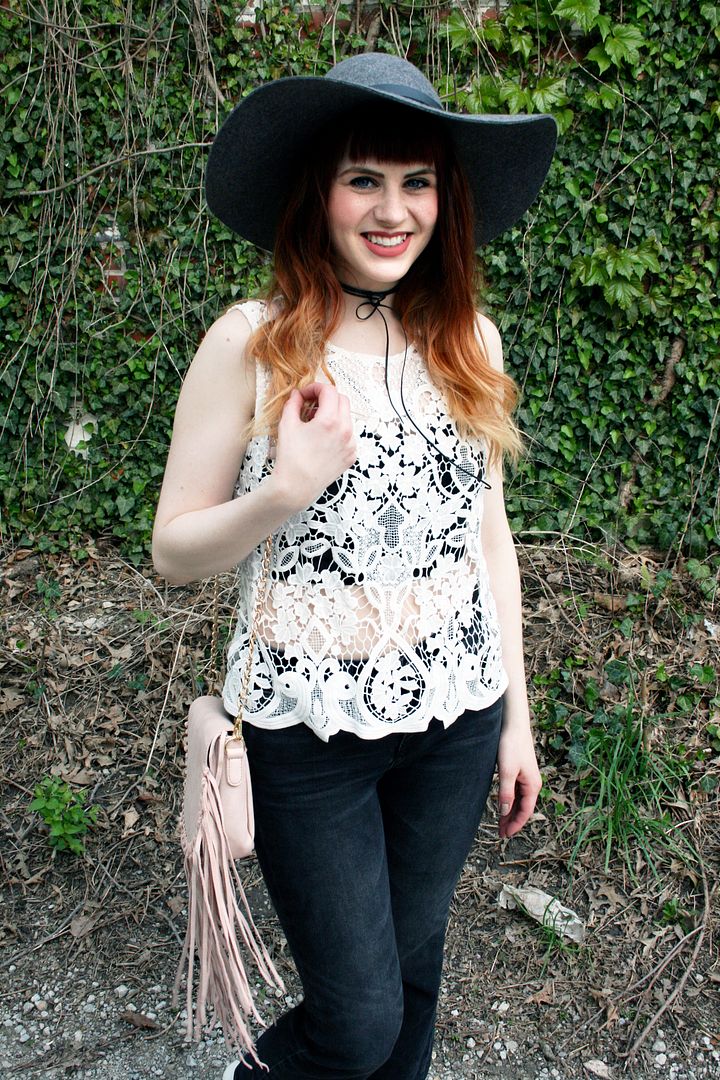 Cropped flares are a fun spin-off of bell bottoms that we're starting to see everywhere and this lovely fringe purse helps amp up that '70s boho vibe.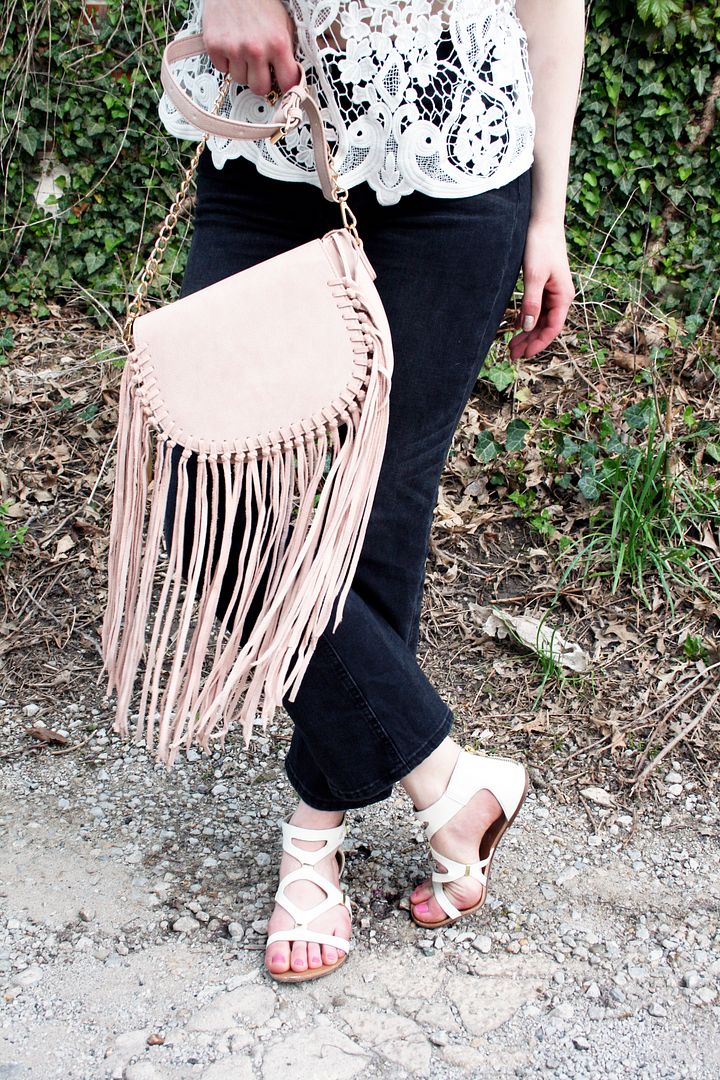 A bow choker necklace and gladiator sandals are simple basics that are perfectly on trend this season. I'm ready to listen to tunes in the garden all day while my floppy hat keeps me nice and shaded!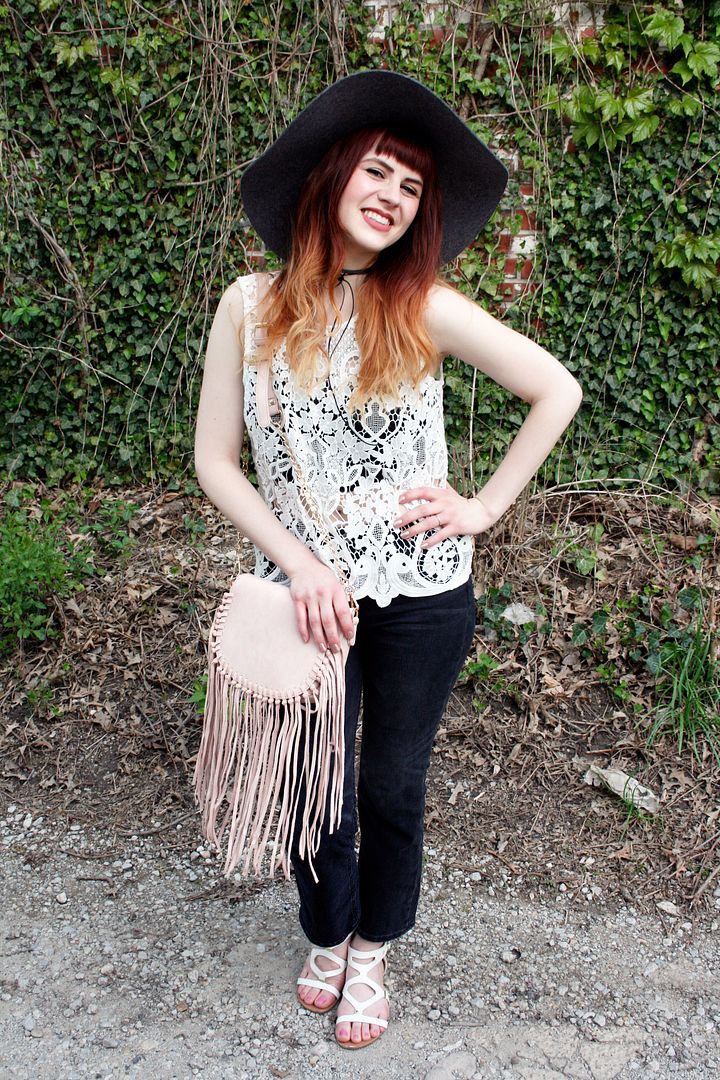 Molly's Outfit Details: Floppy Hat:
H&M
, Bandeau: Forever 21, Lace Shirt:
TJ Maxx
, Cropped Flares:
H&M
, Choker: Hobby Lobby DIY, Sandals: Target (
similar
), Purse: TJ Maxx (
similar
), Matte Lip Color: Modcloth (
similar
)
JODI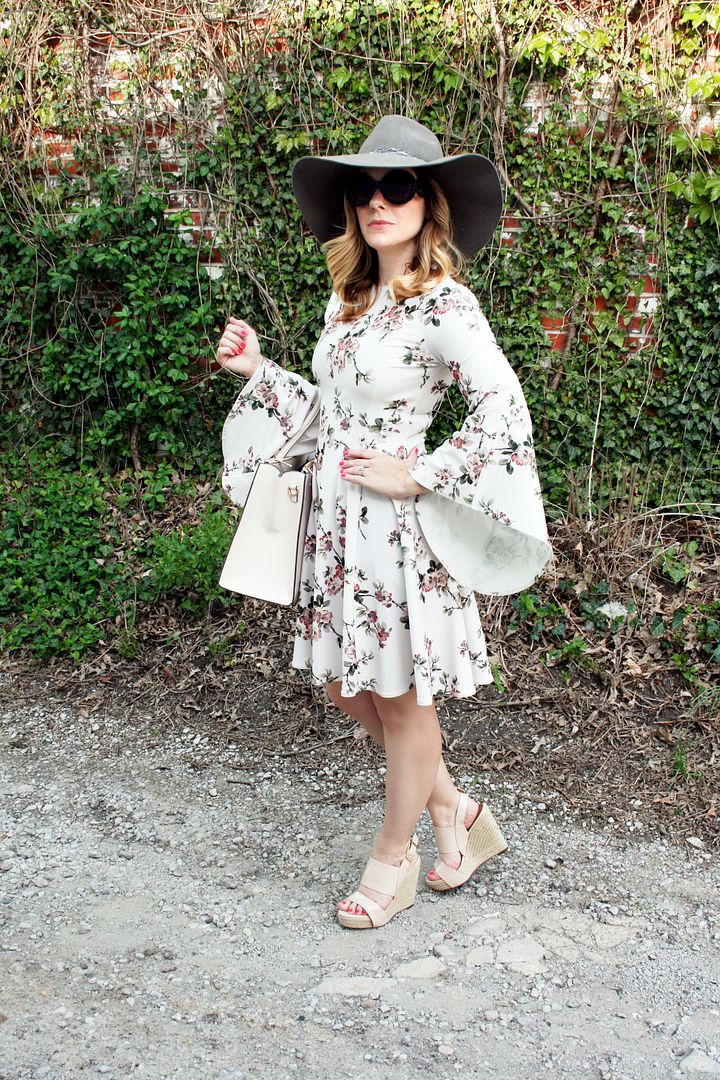 As Molly said above, and that I am in complete agreement with, we went for a boho-festival goer meets afternoon garden party vibe for this month's W2W, and unintentionally I might add! It's funny how similar, yet dissimilar we can be at times!
Funny story about my hat. I was visiting dear friends in Central Lake, Michigan a few summers ago and we paid a visit to the newest antique/vintage shop that had popped up recently in the town. The shop had a ton of really cool and unique flea market finds and as we were on our way out the door, I decided to pick up a hat and try it on. I loved the way it looked, so I checked for a price tag. Low and behold, it was a Badgely Mischka hat for $15! I couldn't believe it. On top of that, it actually fit my head! You see, I have a huge noggin and a lot of hats don't fit properly on said noggin. Anyway, I scurried up to the front to pay for it and have been wearing it proudly ever since!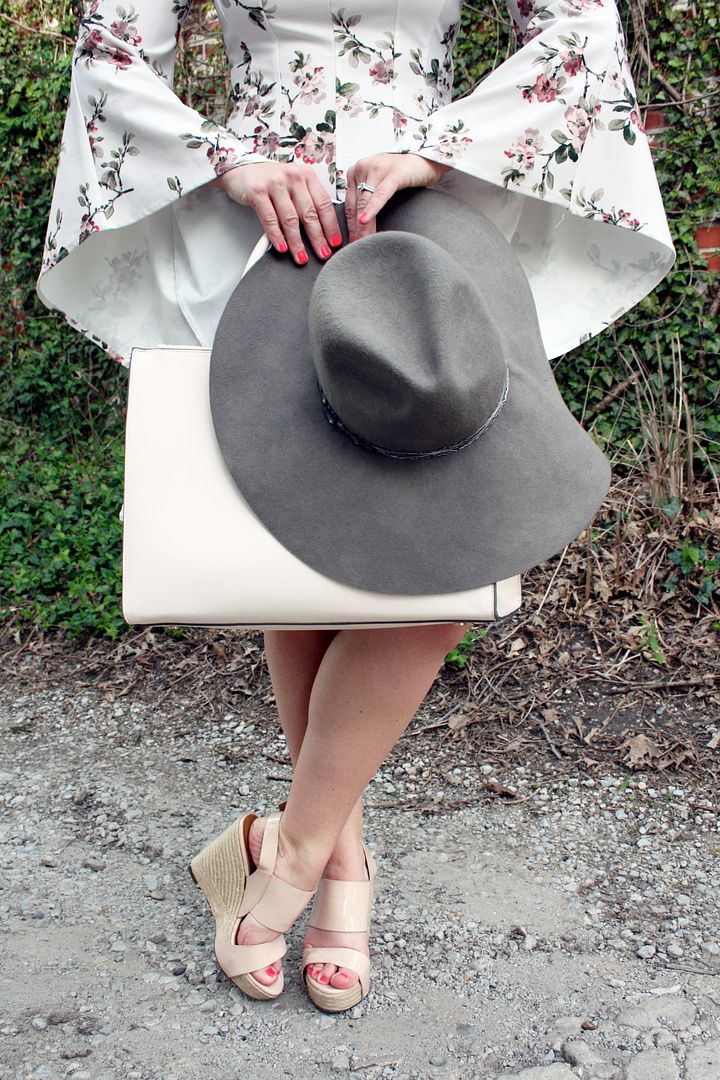 This bell sleeved dress that I recently purchased is a perfect match for my lucky find hat. The bell sleeves really add to the whole 70's theme of the hat. It's a great material too, that really stretches, but also hugs in just the right places. It almost feels like a yoga pant dress. Is that a thing? It is now.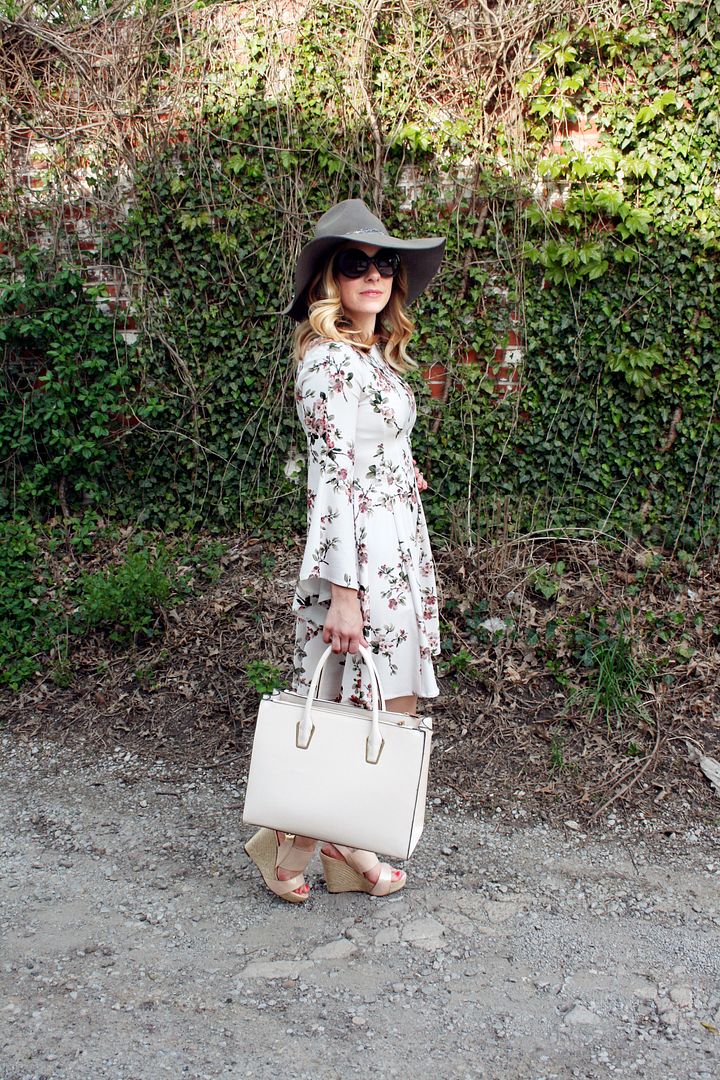 To finish off the look, I added this pale blush pink
bag
and neutral wedges to keep things classy. Because who says you can't be classy at a boho-festival afternoon garden party?