As you may remember from
this post
a few weeks ago, I'm moving to Kansas City at the beginning of June. My husband and I are so excited, but it's bittersweet. Our house is one thing we really wish we could take with us. We've poured tons of time and literal blood, sweat, and tears into renovating our 1915 bungalow for the three years we've lived there, and we've had to move up the timeline on a lot of those projects before we go. This will be the first of a few posts of the final farewell tour of a house we've put so much love into. See our entryway makeover from last summer
here
.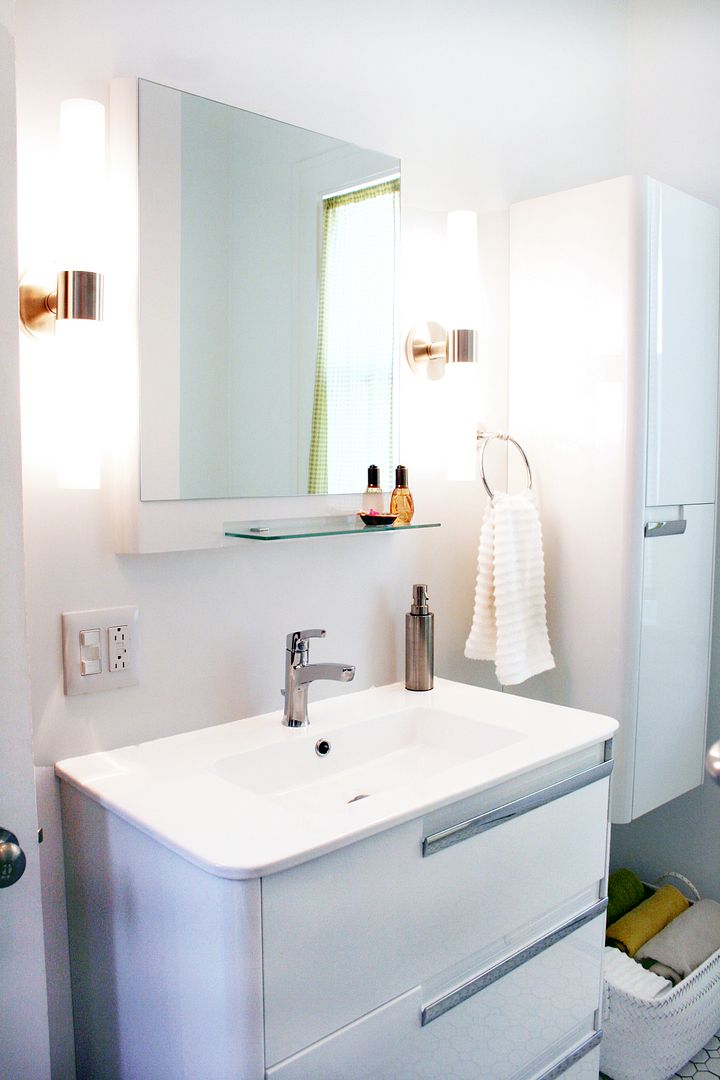 Is it weird that a mostly white bathroom is one of my very favorite rooms we've overhauled? We knew by the time we were working on this room that we'd likely be selling the house, so we made design choices with that in mind and tried not to do anything too stylized or outlandish. We still got vintage-inspired tile we loved, a retro-patterned frosted glass shower door, and a glossy white mid-century modern inspired vanity and linen cabinet. Looking back, I don't think I'd change a thing even if we'd planned to stay for 10 more years.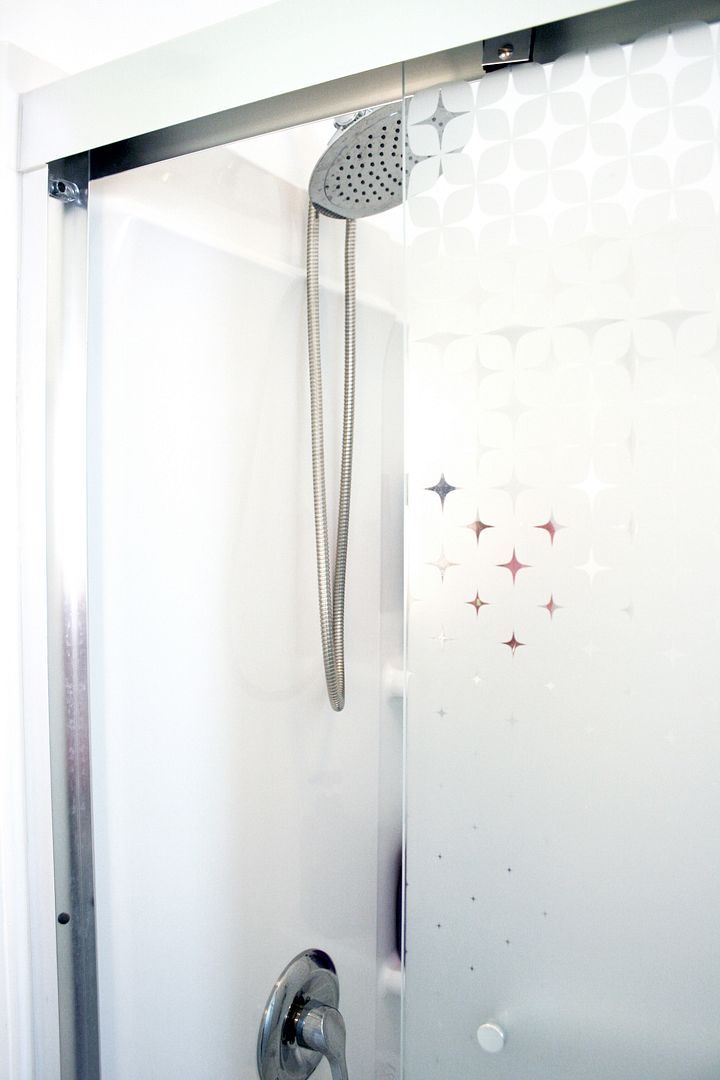 To see how far we've come, let's go back to how the room looked before. There was no bathtub, and the room was covered in heavy yellow wallpaper. It came complete with a marbled vanity that was, let's just say, not new.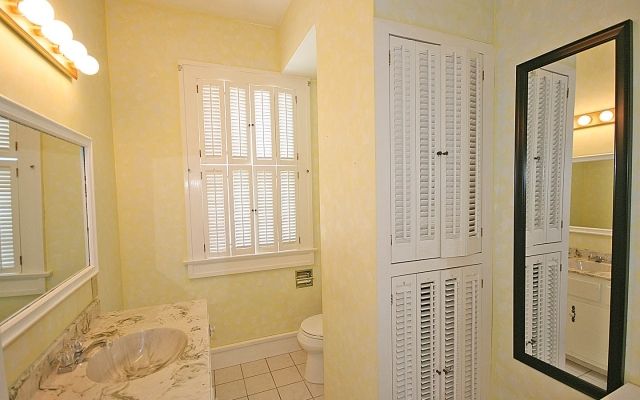 We basically took the room down to the plaster and started from scratch. Though we added a bathtub, everything else stayed in essentially the same place, so we didn't have to redo existing plumbing. (Let the record state every time I say we, I mean my husband and father-in-law. I don't enter the picture until the priming, painting and caulking phase.)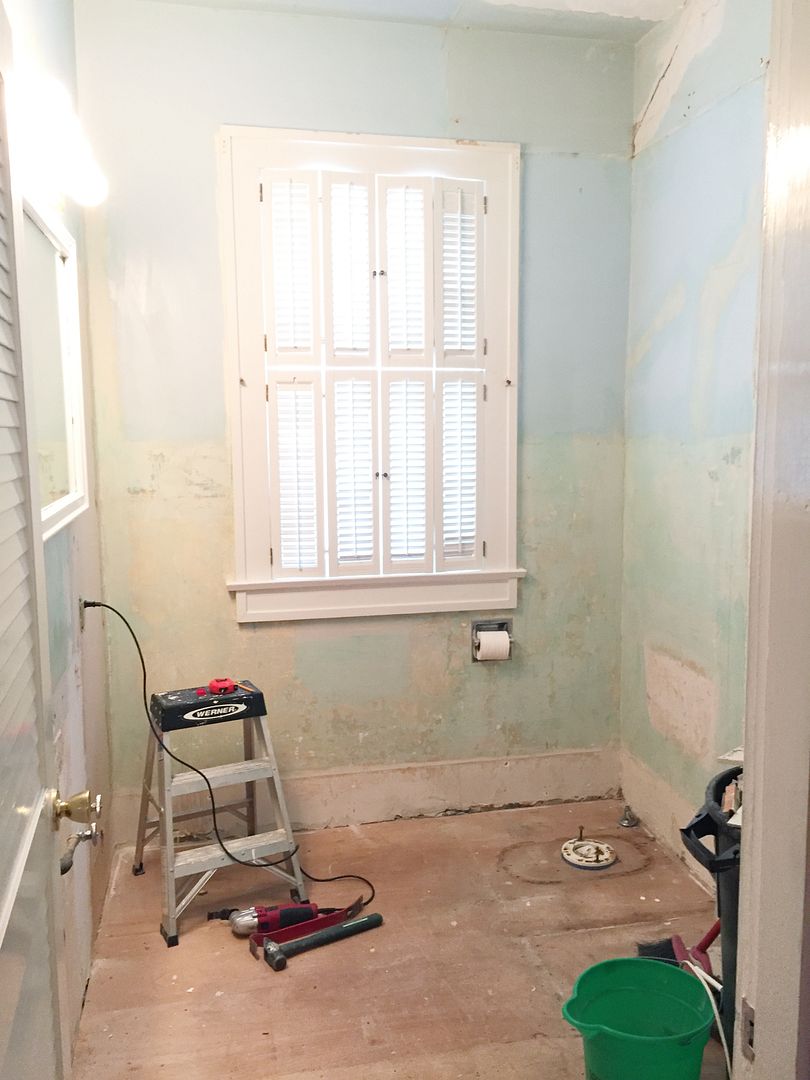 Above is a shot down to the bare bones. Below, you can see many steps later with nice new mildew-resistant drywall, and the tub installed. Our pup, Reese, obviously has to inspect between each step to make sure we're up to code.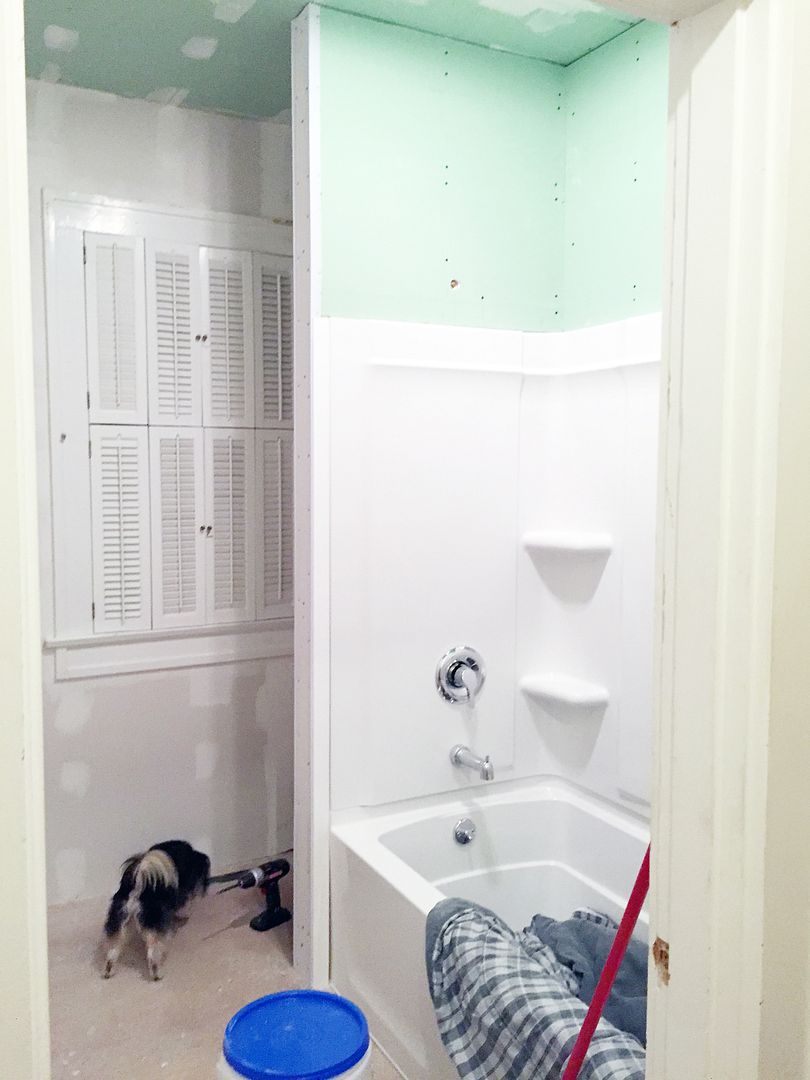 Below is a shot after we'd painted everything in crisp white and tiled the floor. I can finally say I've helped at this point! On HGTV, this would have happened in about 2 minutes. This took us about two weeks.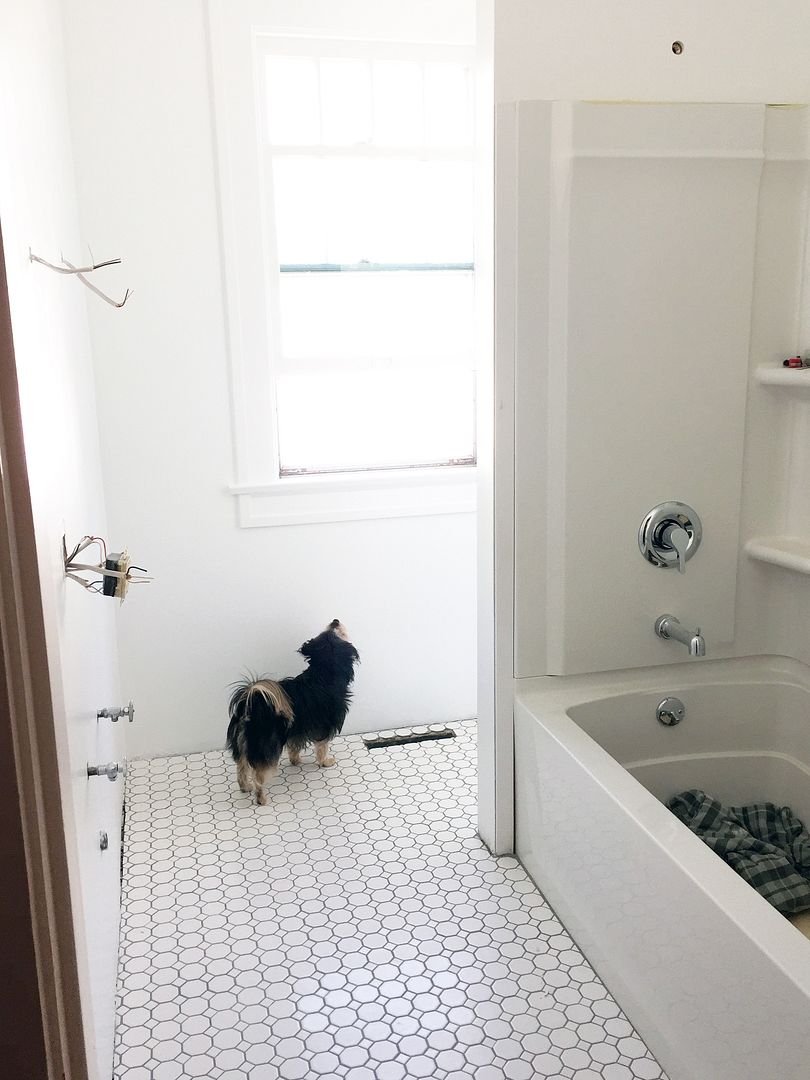 Last, we installed baseboards, the vanity, linen unit, shower doors, and toilet. Ta da! A fresh and clean full bath with a sleek and modern flair. I love that pure white doesn't have to be boring or basic.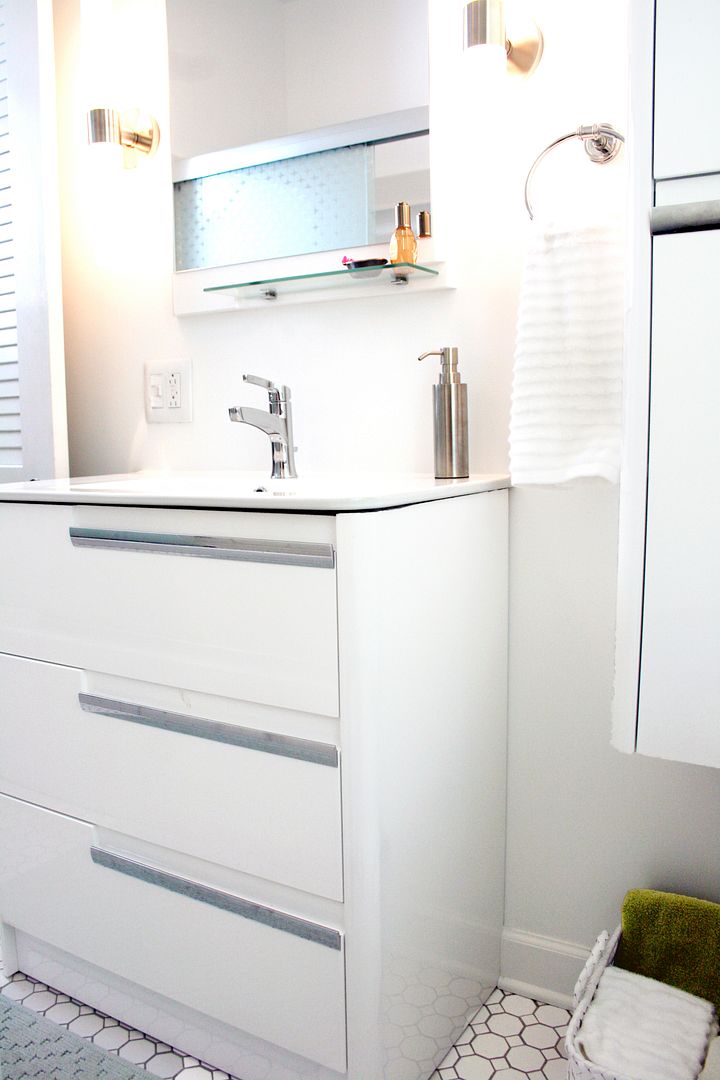 I really love the vanity and coordinating pieces we got from Menard's and I feel like they set the tone for the style. It's a mix of Ikea simplicity and mid-century modern character. Also, the drawers and linen unit doors are slow-close, which is a total luxury I'd like everywhere I go.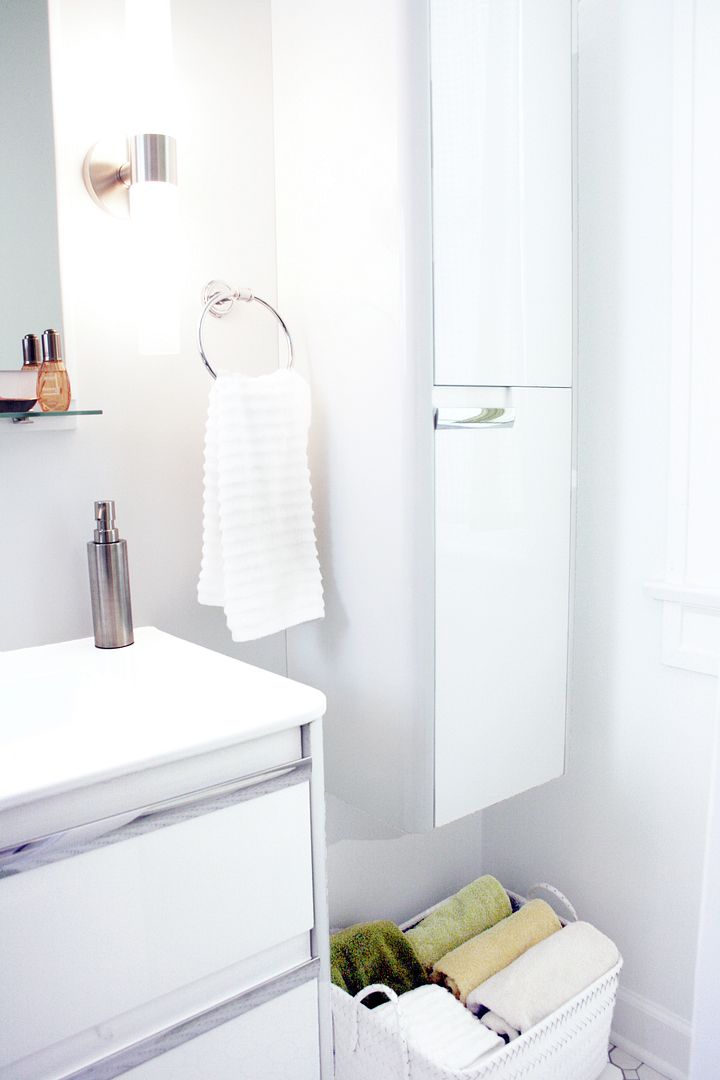 I would not recommend undertaking any renovation like this unless you had people with solid knowledge working on it. We're so lucky that we did! We learned a ton in the process, but I'll leave it up to my husband if he's ever up for doing it again in the future : ).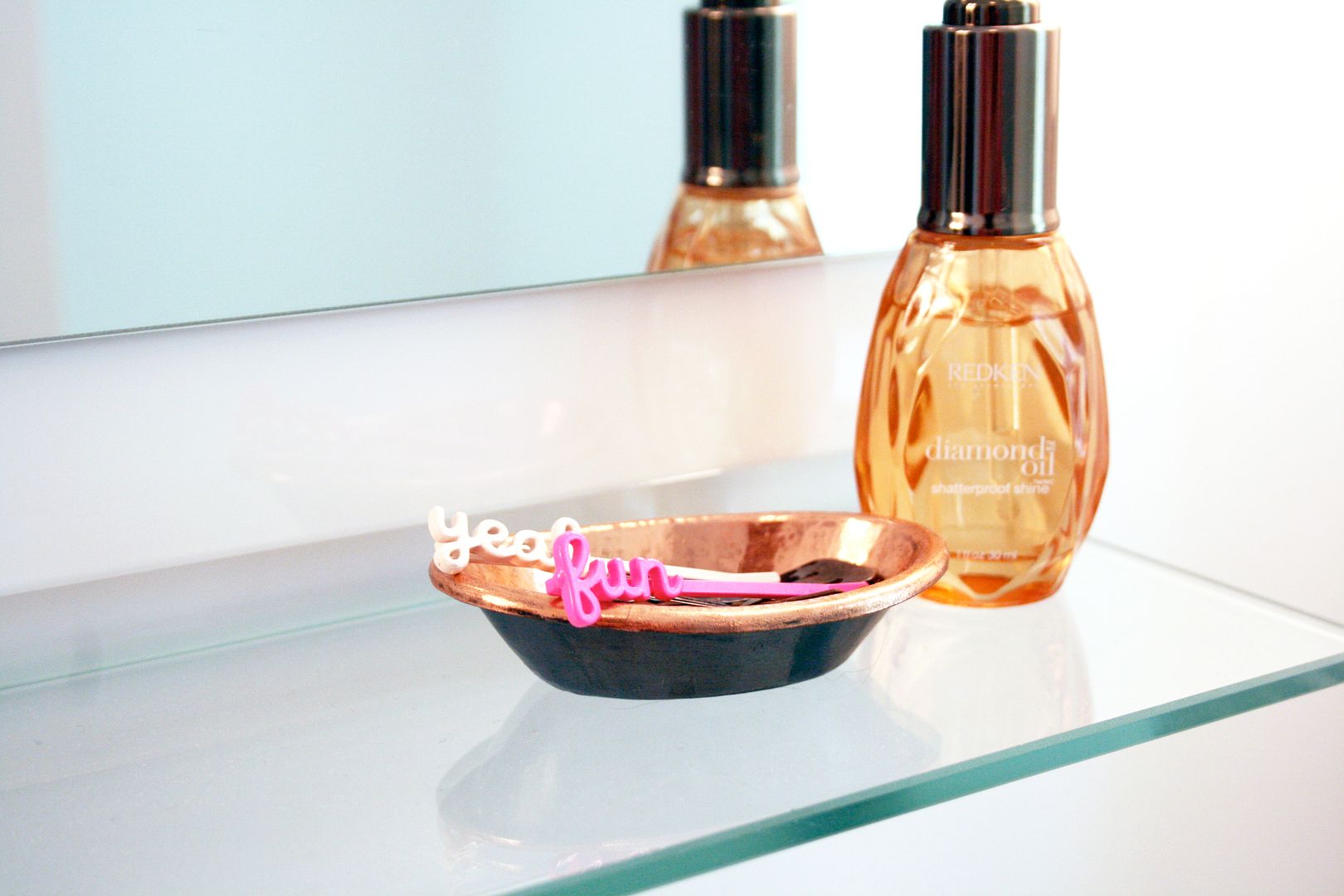 Thanks for stopping by! More rooms to come soon!
-Molly