We don't know about you, but in the Midwest, April showers are more than just a cute saying. While rain is a great thing, we're mostly just ready for those May flowers at this point. Unfortunately, on rainy days, you can't just snuggle in your PJs and listen to gentle rain falling (and if you do, please let us know how we can get that gig), so we've rounded up a couple of ideas for how to look put-together on dreary days.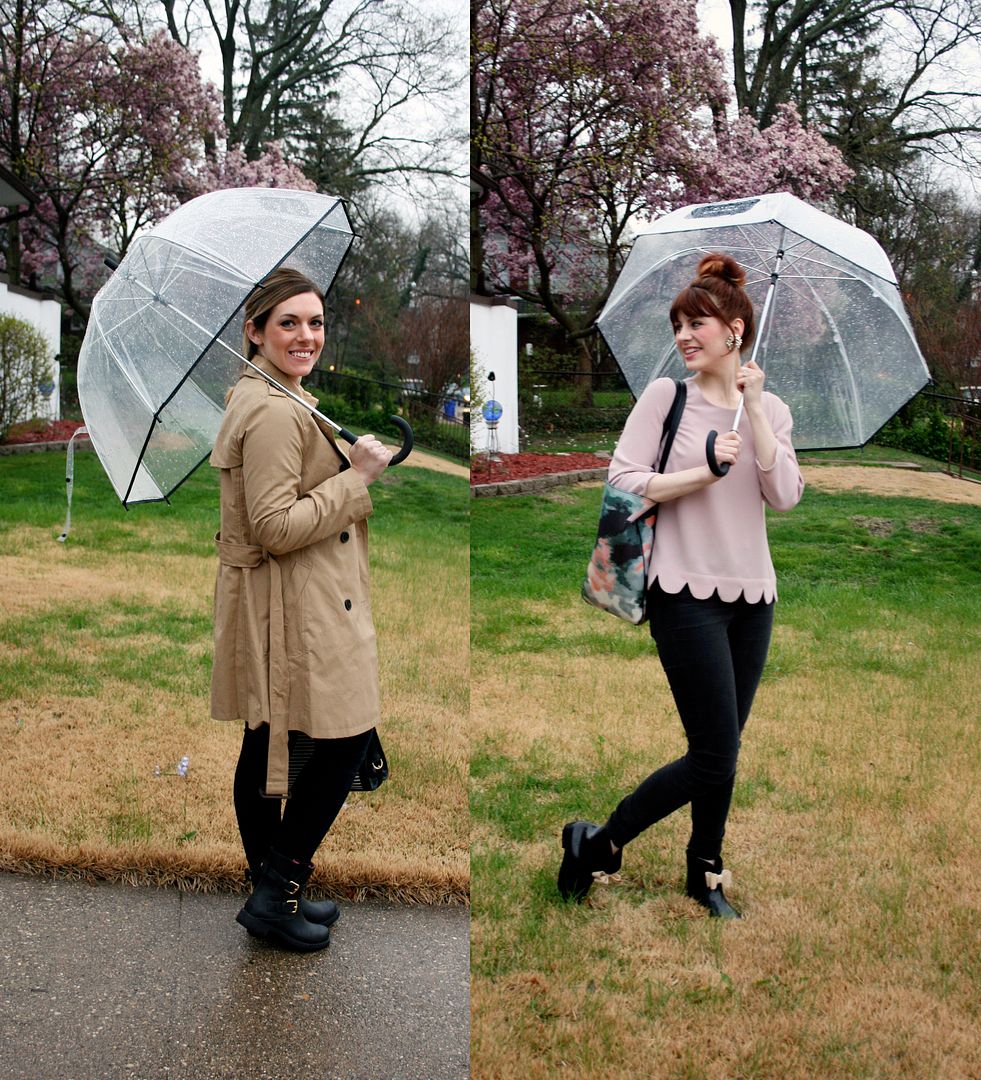 MOLLY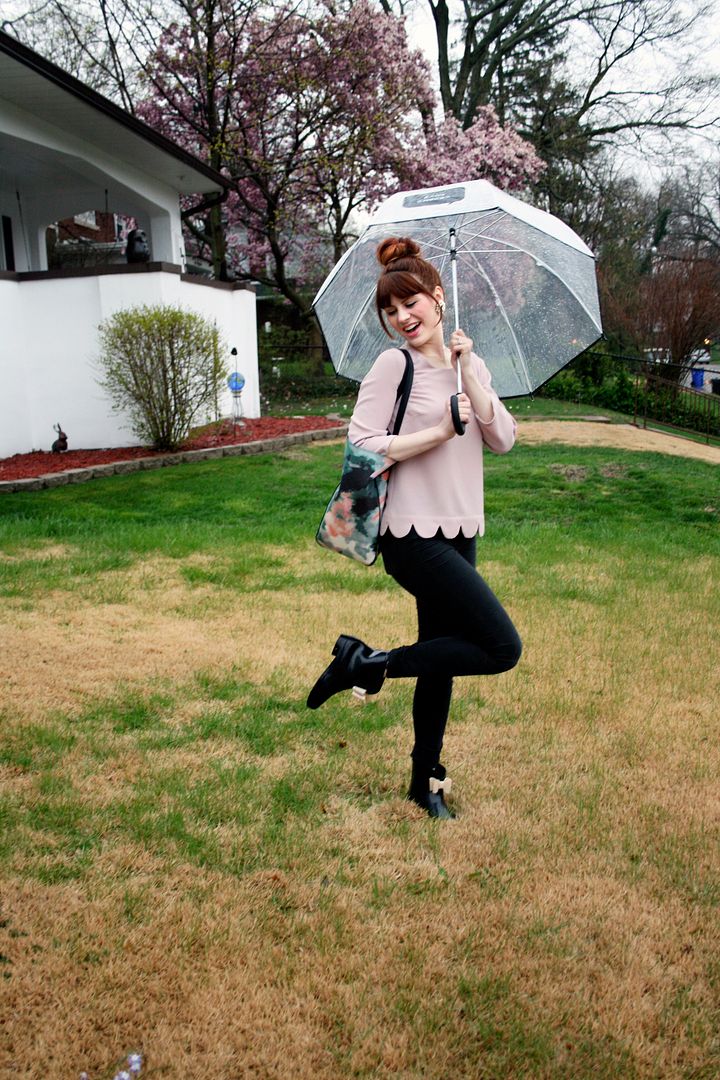 The most important item for me is footwear that keeps my feet dry. I absolutely love these rain booties complete with cute bows. They're black and off-white, so there's not much they don't match. They're a fun, stylish take on rain boots that aren't big and clunky, and they're honestly one of the most comfortable pairs of shoes I own. I took these on a trip to Scotland and walked all day long sightseeing, and my feet didn't hurt at the end of the day.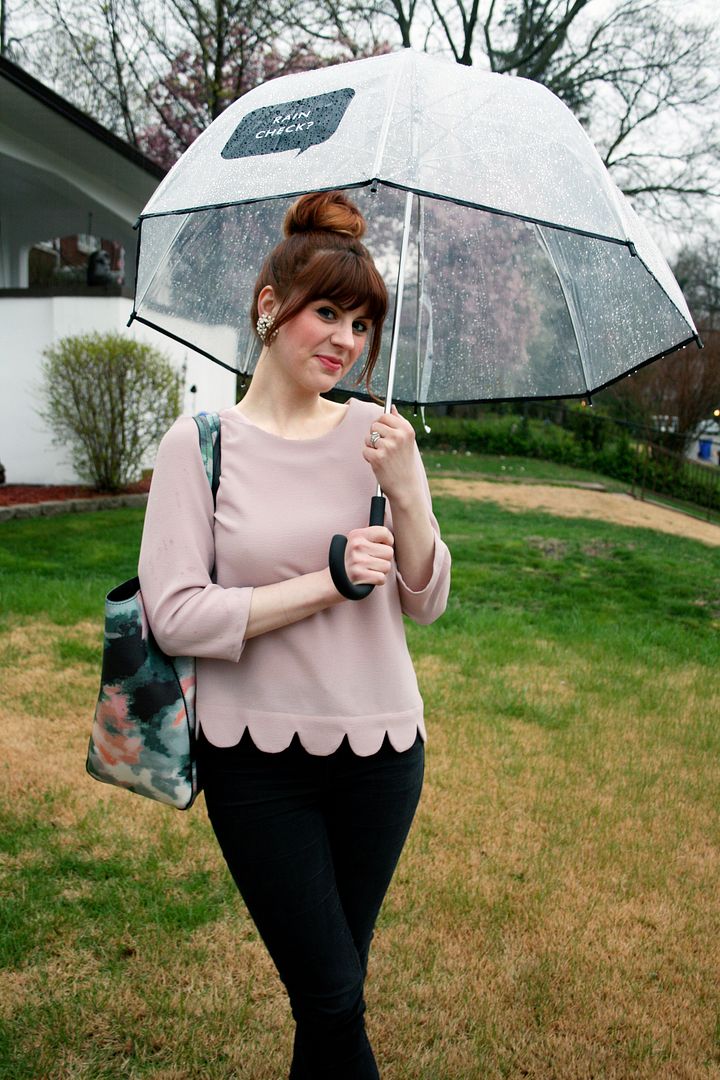 On rainy days, I really try to avoid tight-fitting clothing, so if it does rain sideways and I get soaked, I don't have any clingy shirt issues. I also try to make sure to wear my hair up, because no matter how I style it down, I will without a doubt look like a drowned rat by the end of the day. A high bun is great, because it's all contained and frizz-free.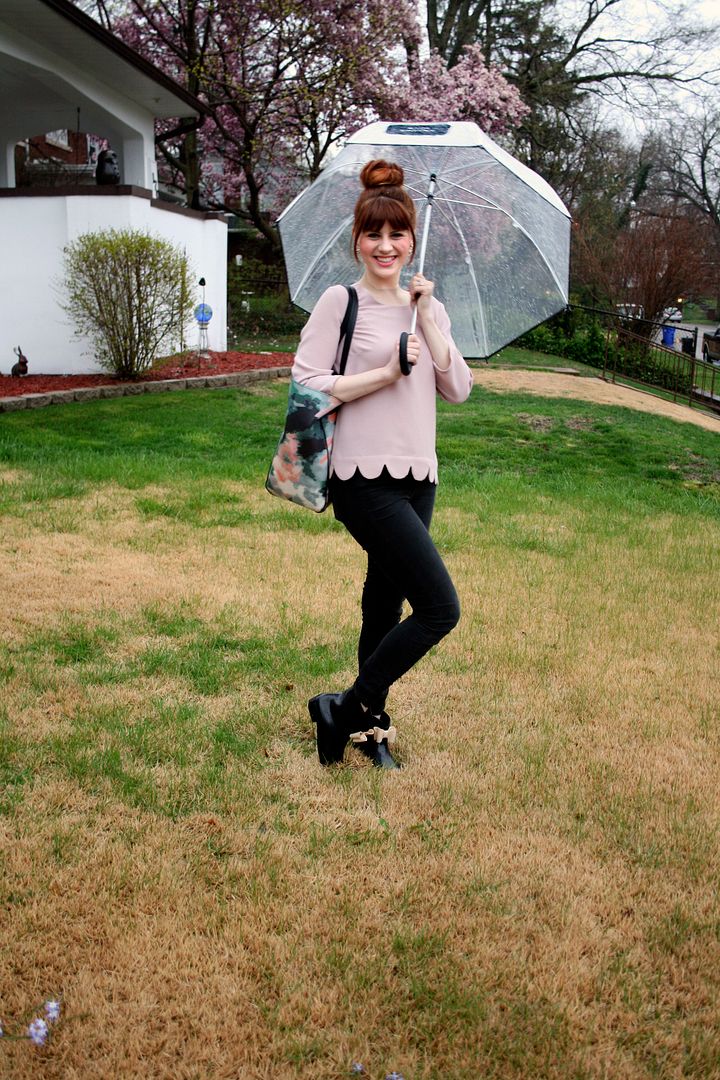 This scalloped lavender top is a great way to keep warm-ish in the cool rain, but still look polished and springy. I love the retro-whimsical quality of scalloped edges, so I went with a baby pink lip and giant white floral vintage earrings to play up the retro vibe. An oversized watercolor print tote seemed fitting for the rain, and will easily keep all my belongings dry.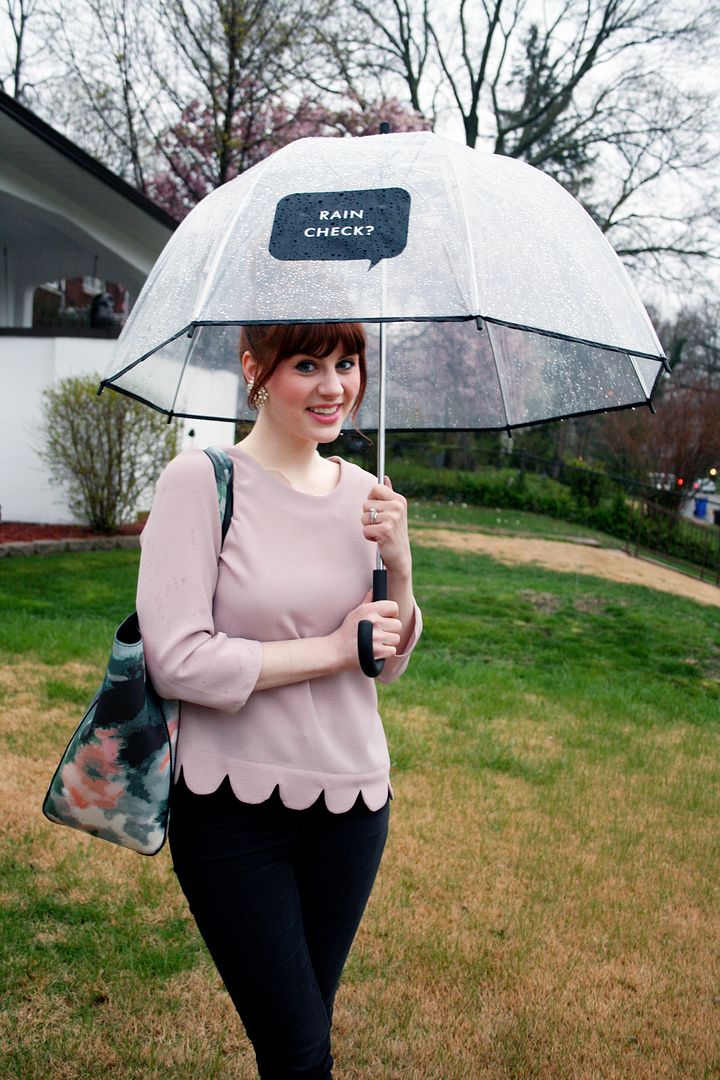 Finally, the most important finishing touch: an umbrella! I snagged this Kate Spade umbrella last year, and just love it. It's clear, so it matches anything you'd be wearing. It's also super curved, rather than more flat on the top, which may not be great for sharing, but keeps more of you dry. Plus, how cute is that simple "Rain Check" graphic? So, so cute.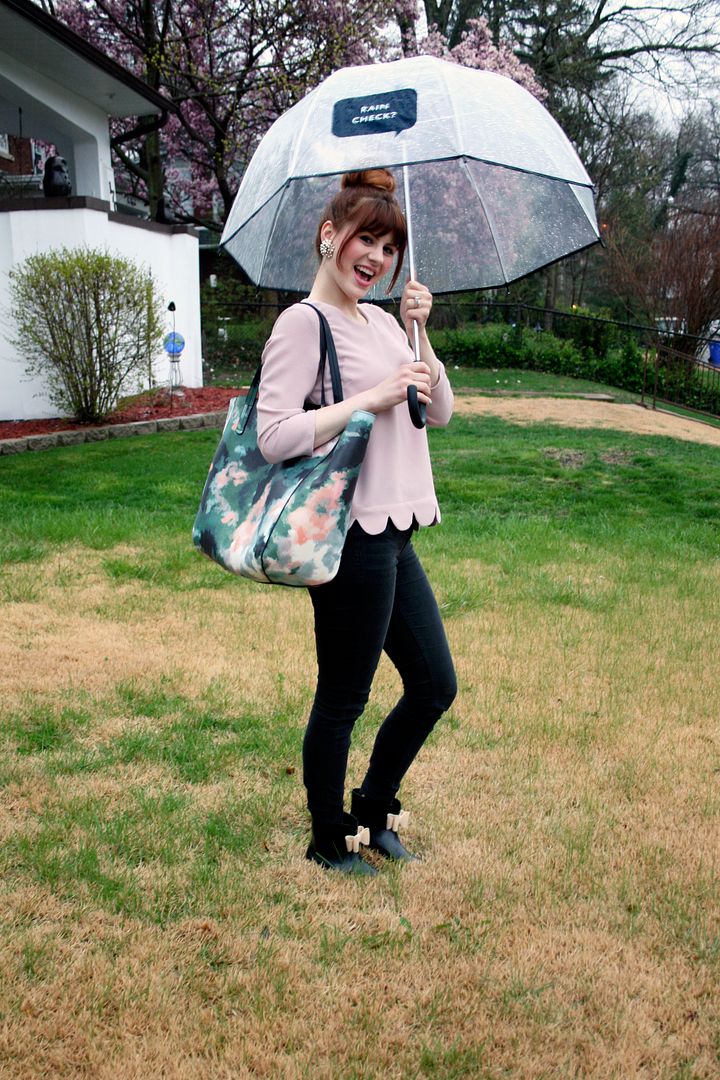 JODI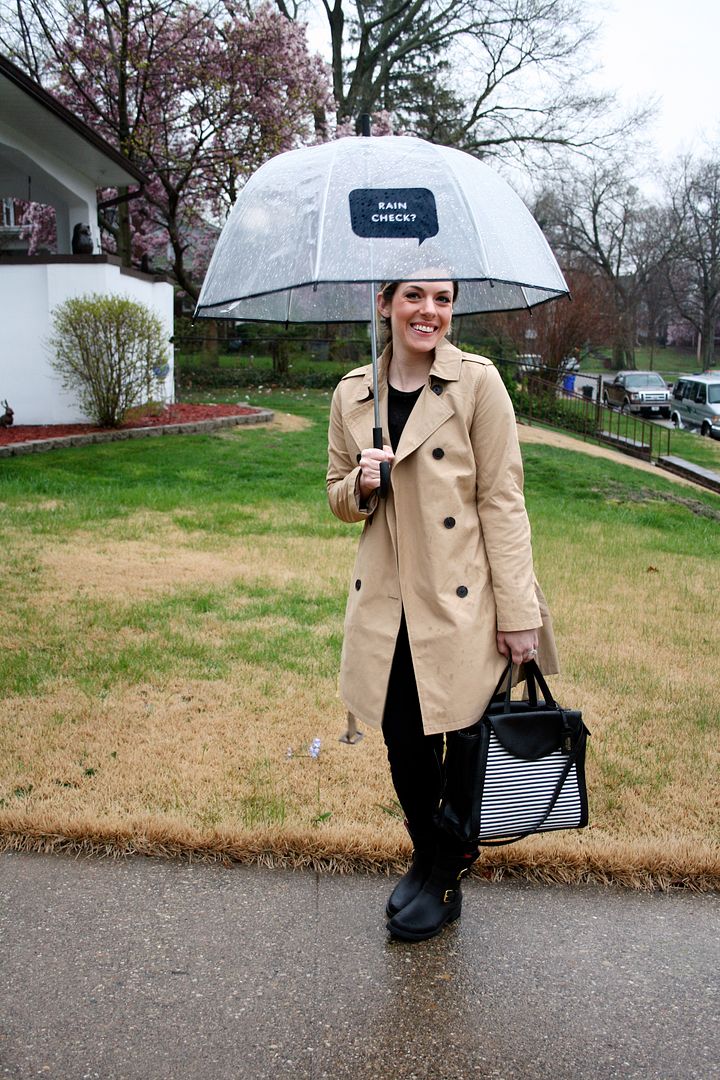 Dressing for rainy weather can be a real struggle. I don't know about you, but all I want to do on a rainy day is curl up with a blanket and read a good book. However, most of us have to actually get out in that rainy mess, and why not look good while doing it?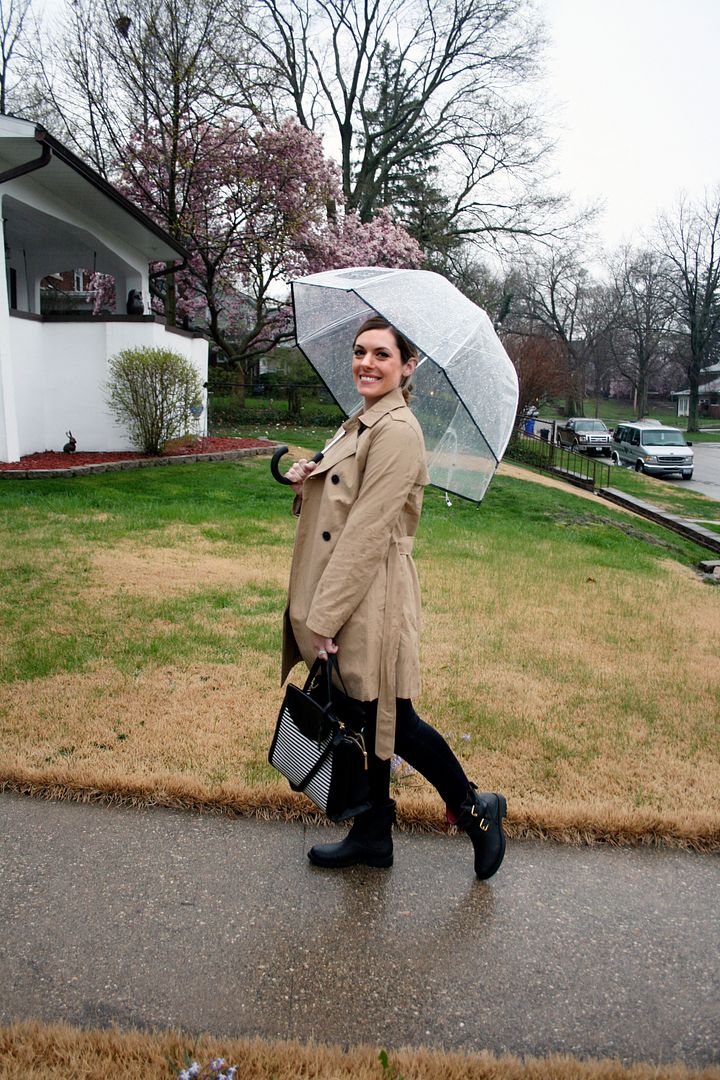 I'm a sucker for a good trench coat. My fashion bucket list includes owning a legit Burberry trench, but alas, at the moment I have champagne tastes on a PBR budget, so Old Navy came to my rescue. Don't get me wrong, I love me some Old Navy! We go way back. They are my go to place for cute coats and they did not let me down this year. I even snagged this trench during one of their sales, so I consider that a win! Plus, I can wear it to work and still look professional, even if I am a soggy mess.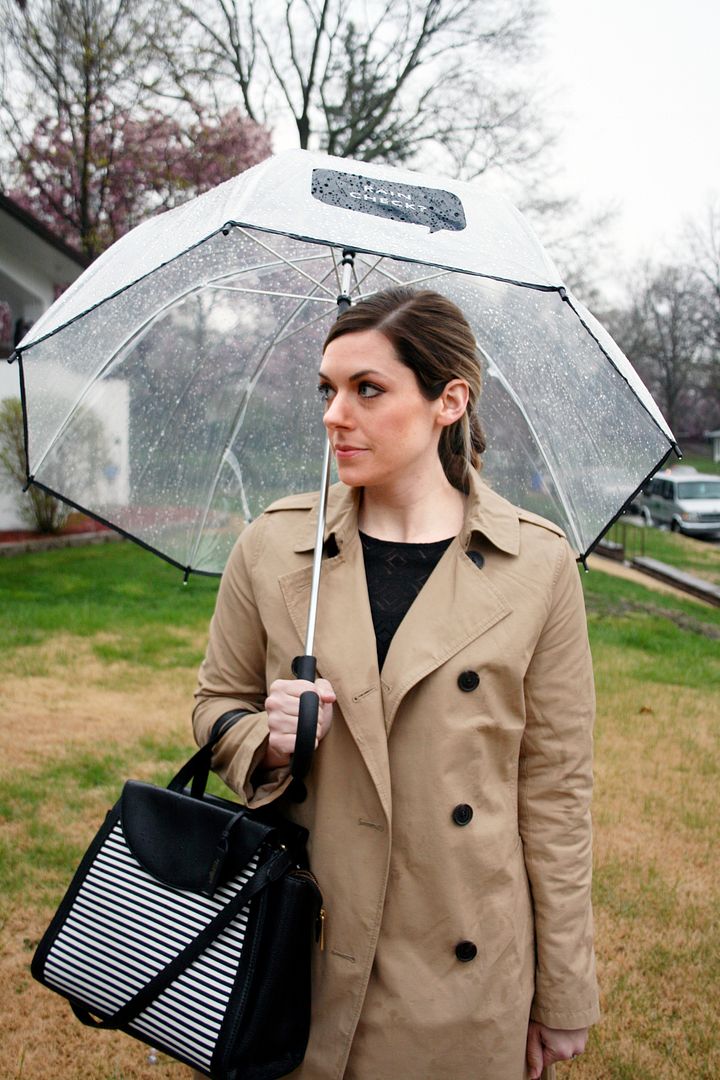 Since rainy days often put me in a dark mood, I kept the rest of my outfit moody to match. Plus, water stains don't show as well on dark clothing. I also borrowed this super cute umbrella from Molly, but I might just need to get one for myself because it is too cute!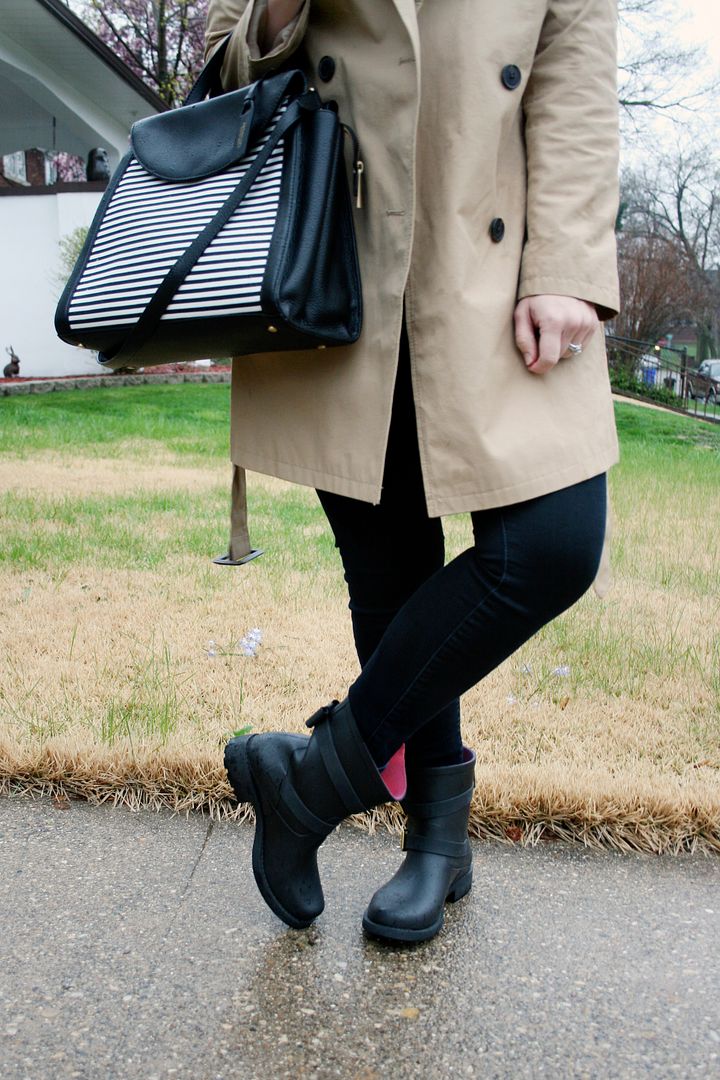 These Kate Spade biker boots are made of the same material as rain boots, but they also have a little bow on the back and a pink lining. I basically had to have them as soon as I saw them. I've gotten a lot of wear out of them through the winter and now in rainy weather. I definitely consider them to be a closet staple. It almost makes me wish for more rain...almost.