Apparently we're on a faux leather kick here at Mod Circus. Last month, our Wear it Two Ways feature was
Faux Leather Pants
, and this month, we're styling up their slightly-warmer-weather cousin, the faux leather skirt. Faux leather is a very versatile way to add a little edge into an otherwise normal outfit. Plus, it's workplace and weekend appropriate, which is always a win-win in our book!
MOLLY
In recently sorting through my closet, I've found that a ridiculous amount of my clothes are black and white. From polka dots, to stripes, to all varieties of patterns. It really has the most timeless combination there is. I'm anything but mad about it. Sometimes, it's fun just to keep it all black and white to focus on the drama of the pattern.
My A-line leather skirt could be styled in many different ways, but I thought it would be the perfect statement piece for a fun '60s mod vibe. This black and white striped turtleneck has been a staple in my wardrobe over the last few months and it has the perfect classic style to bring retro to the present day.
Obviously, over-the-knee boots, reminiscent of go-go boots were in order for this ensemble. A black bow purse and rose gold watch add a feminine vibe while still being subtle and giving the spotlight to the top and skirt.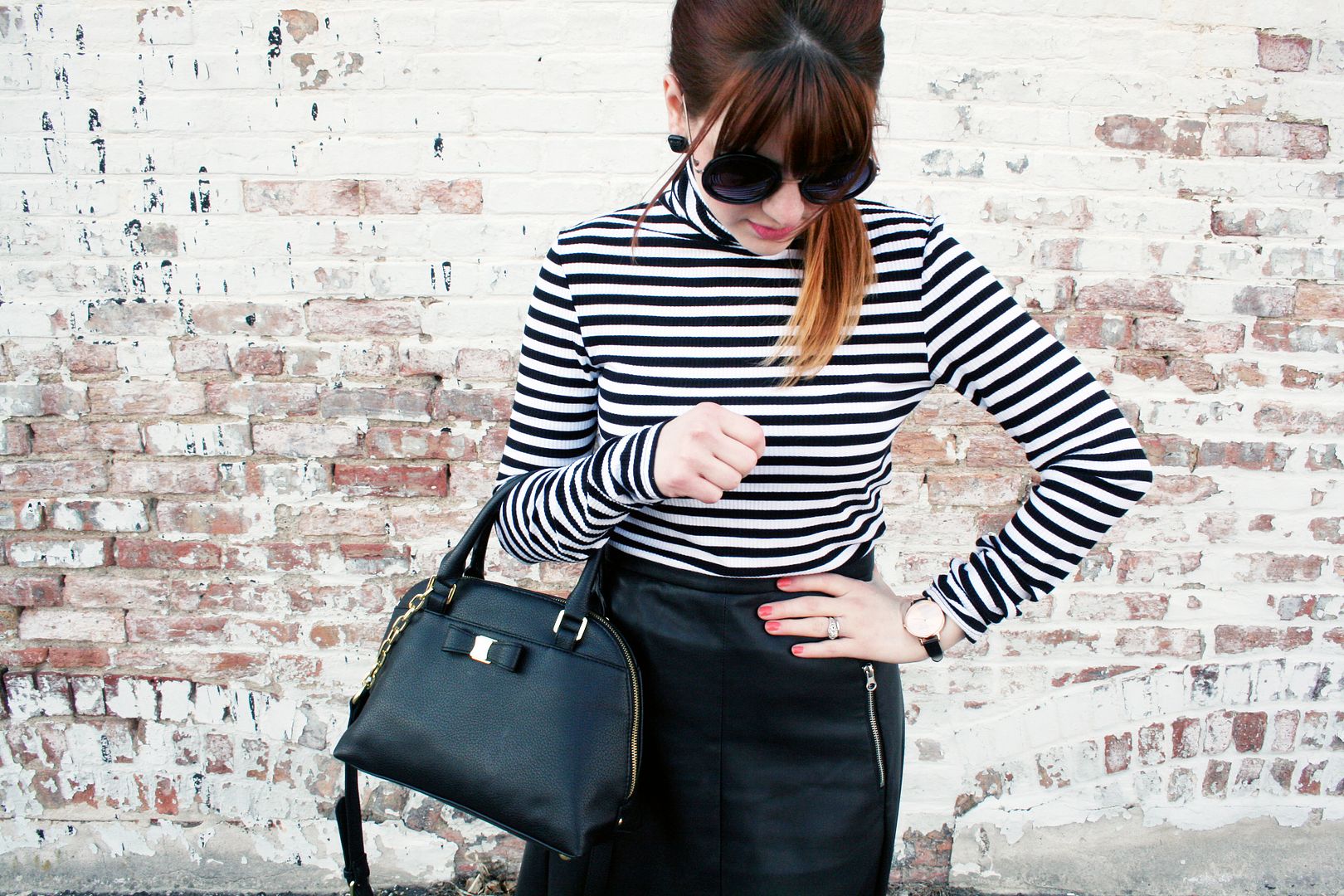 Round sunnies and a
baby beehive updo
with large stud earrings help cement the mod vibe for a throwback look that still stays fresh.
Molly's Outfit Details: Turtleneck: H&M (
similar
), Skirt: H&M, Purse:
Target
, Over-the-knee boots: Forever 21, Sunglasses:
Modcloth
, Watch:
Modcloth
, Earrings: Kohl's
JODI
I always love a little leather touch here and there. It's a great way to elevate your outfit and take it to the next level. It also goes with almost anything. In short, it's a pretty badass statement material.
In my endless quest to pair this leather skirt with everything in my closet, I stumbled across this top from Zara that I got ages ago. I've always had trouble finding the perfect way to style it. It's not quite right with jeans and its shape is a little too boxy to wear untucked. Enter, the faux leather skirt.
It's a perfect partner to this top. Finally, I've found the best way to wear this shirt after so many years of trying. This shirt itself is pretty great too, with it's gold epaulets and blue camo, so I'm so happy I can actually wear it loud and proud now.
These leopard print heels balance out the look nicely by acting as a neutral to the busy top half. I kept the rest of my accessories sleek and structured as well to keep things in check. It's a fine line between military chic and camo hot mess.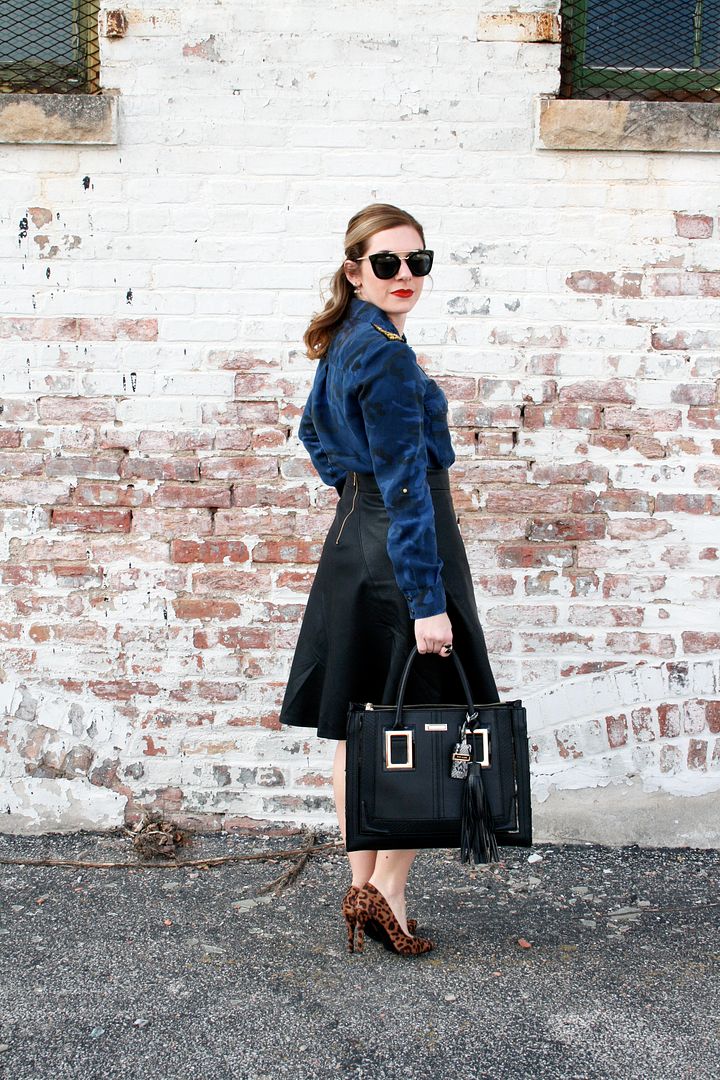 Jodi's Outfit Details: Faux leather skirt: The Limited, Top: Zara, Heels:
Target
, Bag: River Island, Sunglasses:
Nasty Gal
, Earrings: Chloe + Isabel