We're currently in that weird time of year where it's mostly cold but spring is the light at the end of the increasingly shorter tunnel. The time when we know there's a possibility we could have to wear a swimsuit in like three months so we should probably stop wearing only gigantic sweaters and eating comfort foods and get our lives together. (Just me? Bueller? Bueller?)
Enter this chicken and sweet potato curry soup: the perfect fit for the downward slope of winter. The curry, ginger, and spices provide the warm, filling, hearty feeling, while crunchy onions and peas keep it fresh, and cilantro and lime brighten it up. It's a whole wonderful mix of flavor and texture that help it feel a little more like spring. It's based on
this recipe
from Bon Appetit, which has tons of other great recipes for this, and any time of year. Now let's get to it!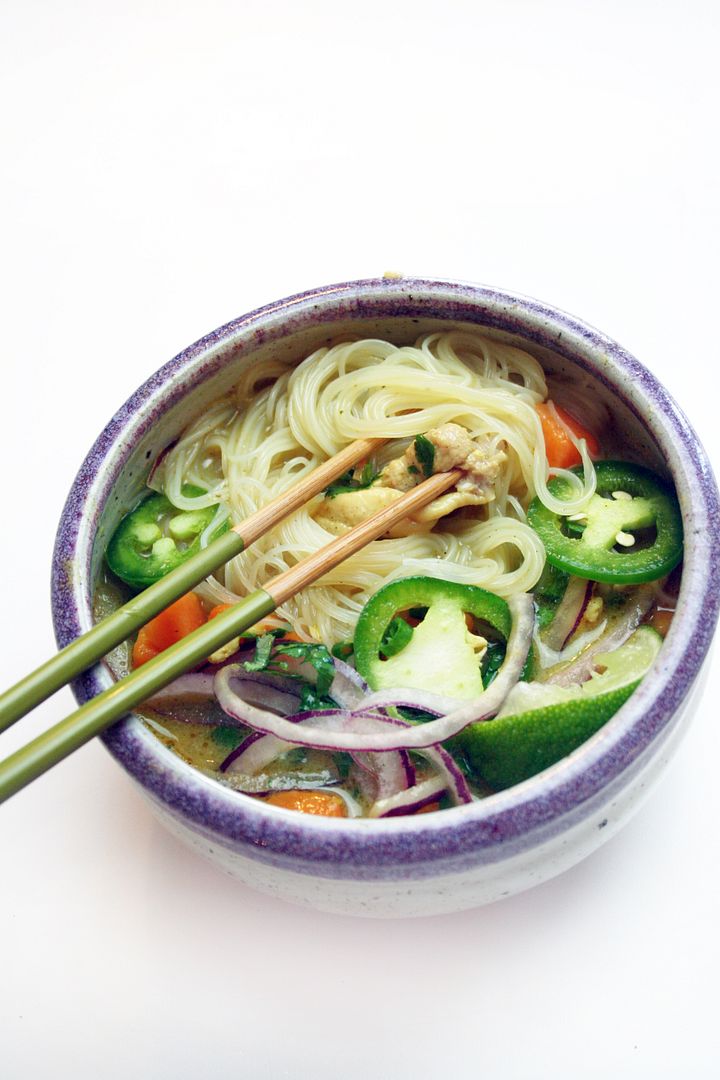 You'll need:
2 T vegetable oil
3
tablespoons
chopped shallots
3
garlic cloves, chopped
2

T

minced peeled fresh ginger
2

T

Thai yellow curry paste
2

T

curry powder
1

tsp. Sriracha

sauce
2
cans unsweetened coconut milk, divided
5
cups
low-salt chicken broth
1 1/2
T
fish sauce
2
teaspoons
sugar
3
cups
snow peas, trimmed
2
cups sweet potato, cut into 1/2 i
nch cubes
1 lb.
dried rice vermicelli noodles
3/4 pound
skinless boneless chicken thighs, thinly sliced
1/2
cup
thinly sliced red onion
1/4
cup
thinly sliced green onions
1/4
cup
chopped fresh cilantro
2 red jalapeños, thinly sliced with seeds
1

lime, cut into 6 wedges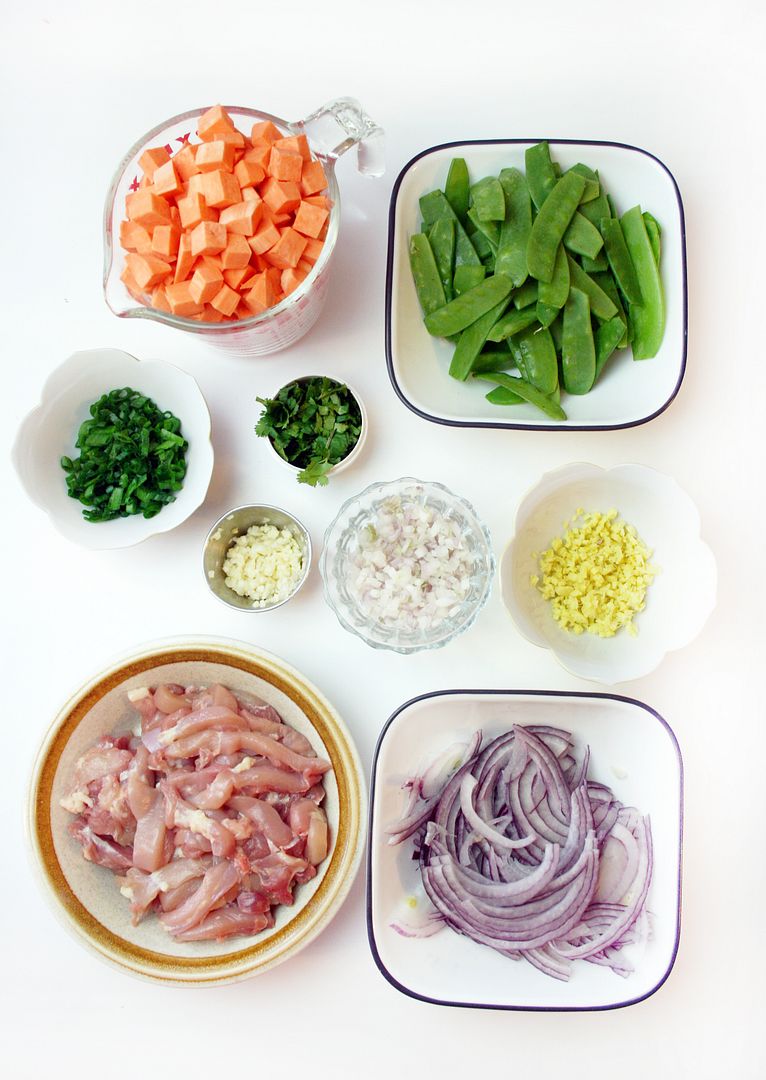 Heat oil in heavy large saucepan over medium heat. Add shallots, garlic, and ginger; stir until fragrant, about 1 minute. Reduce heat to medium-low. Stir in curry paste, curry powder, and chili paste. Add 1/2 cup coconut milk (scooped from thick liquid at top of can). Stir until thick and fragrant, about 2 minutes. Add remaining coconut milk, broth, fish sauce, and sugar; bring broth to boil. Keep warm.
Cook snow peas in large pot of boiling salted water until bright green, about 20 seconds. Using strainer, remove peas from pot; rinse under cold water to cool. Place peas in medium bowl. Bring water in same pot back to boil. Add sweet potato and cook until tender, about 7 minutes. Using strainer, remove sweet potato from pot and rinse under cold water to cool. Place in small bowl. Bring water in same pot back to boil and cook noodles until just tender but still firm to bite, about 6 minutes. Drain and rinse.
Bring broth to simmer. Add chicken; simmer until chicken is cooked through, about 10 minutes. Add sweet potato; stir to heat through, about 1 minute.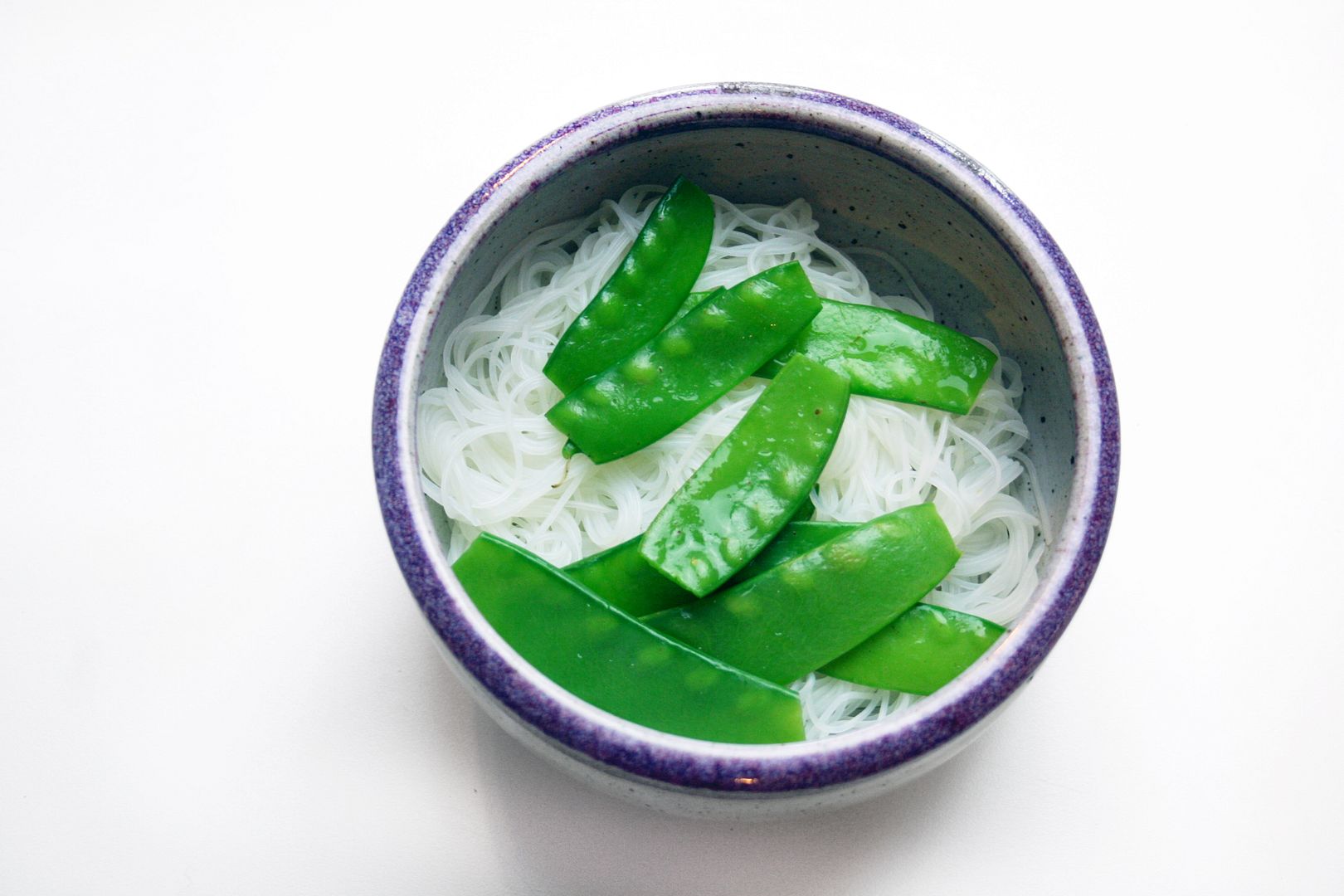 To serve while hot: divide noodles among bowls. Divide snow peas and hot soup among bowls. Scatter red onion, green onions, cilantro, and jalapeños over soup. Garnish with lime wedges and serve.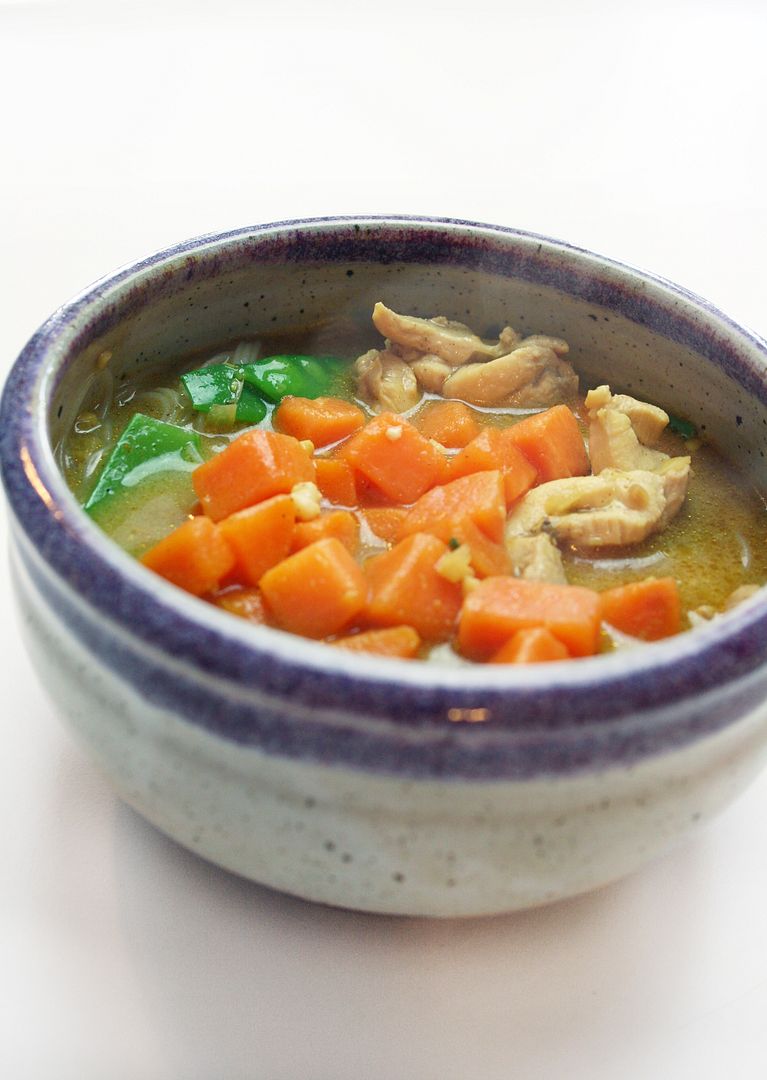 Hope you enjoy this comfort-foody, spring-like dish as much as I did! What are your favorite things to cook up as you usher winter out?