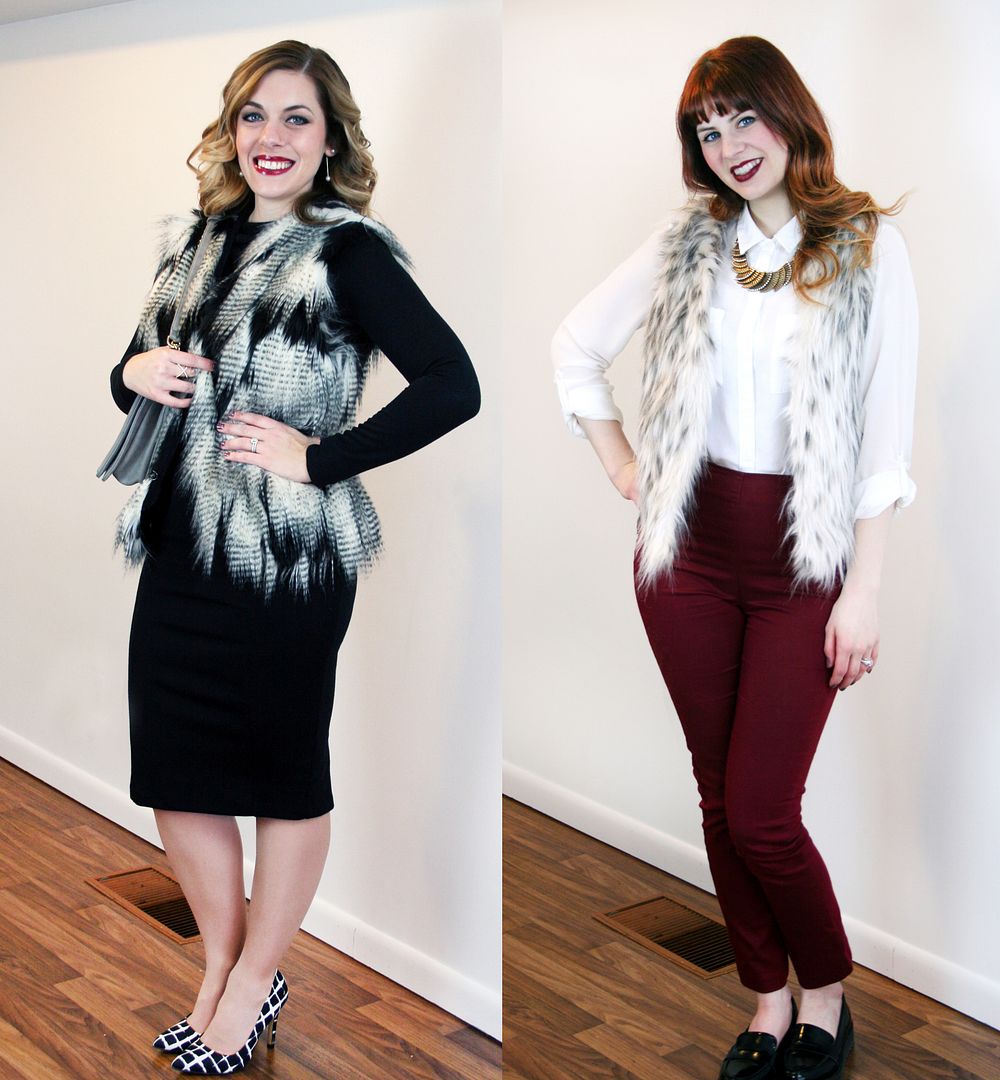 Faux fur vests became trendy last year, but they are still as much in fashion now as they were a year ago (if not more so). Part of the reason they are so trendy is because they are so darn versatile! You can wear a faux fur vest with just about any ensemble you can imagine. Heck, they'd probably even look fabulous over pajamas or a hoodie! We picked two looks to show you here, but you'll probably see them again and again in the future.
Jodi
I chose a dress to wear with my fur vest. I got this vest for Christmas last year and have worn it numerous ways, but this is probably my favorite. Since a fur vest can be a little of the bulky side and not exactly form flattering, I kept the rest of my look pared down and fitted.
The simple black dress allows the fur vest to be the focal point of the whole look as well. I also kept my accessories on the neutral side to not be too over the top. I've talked about this bag before, but it goes with so many things, you will definitely be seeing it a lot more in the future.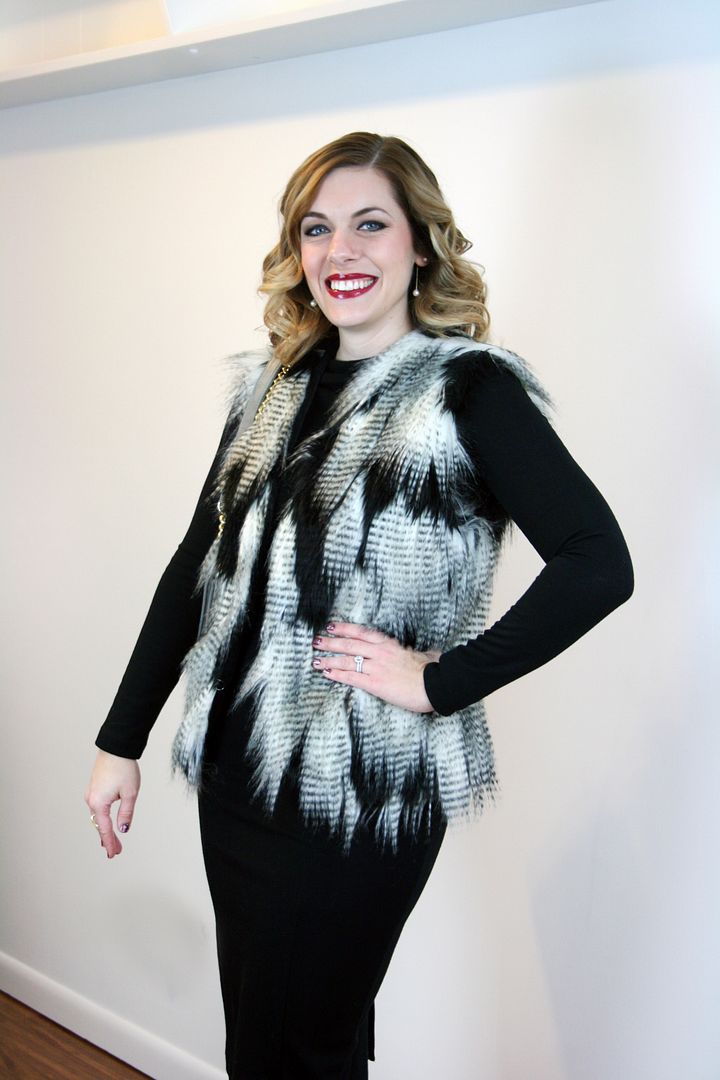 When we were shooting these photos, we decided I looked like someone who would be at an art gallery opening. All I need is a glass of champagne and a small dog. Oh wait, what's that?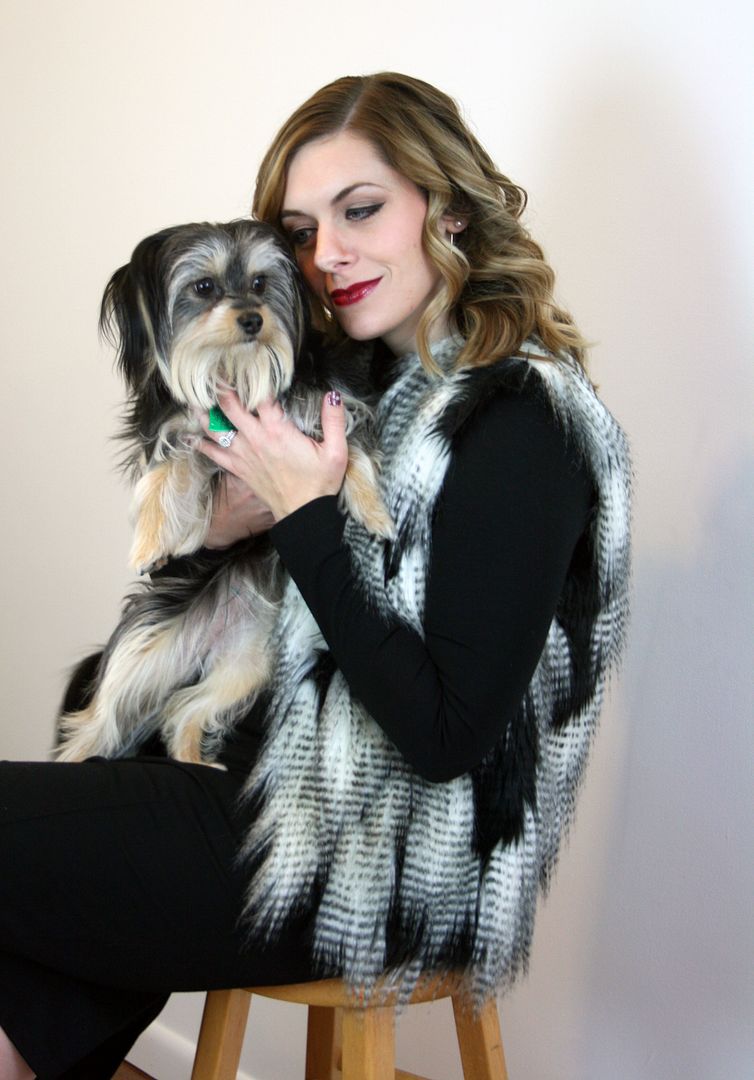 A small dog found me! I'm not sure where my vest ends and she begins. Reese is the ultimate fur vest fashionista.
Outfit details: Fur vest: Forever 21, Dress: ASOS, Heels: Adam Lippes for Target, Purse: BCBG, Earrings: Target, Dog: Reese Heise
Molly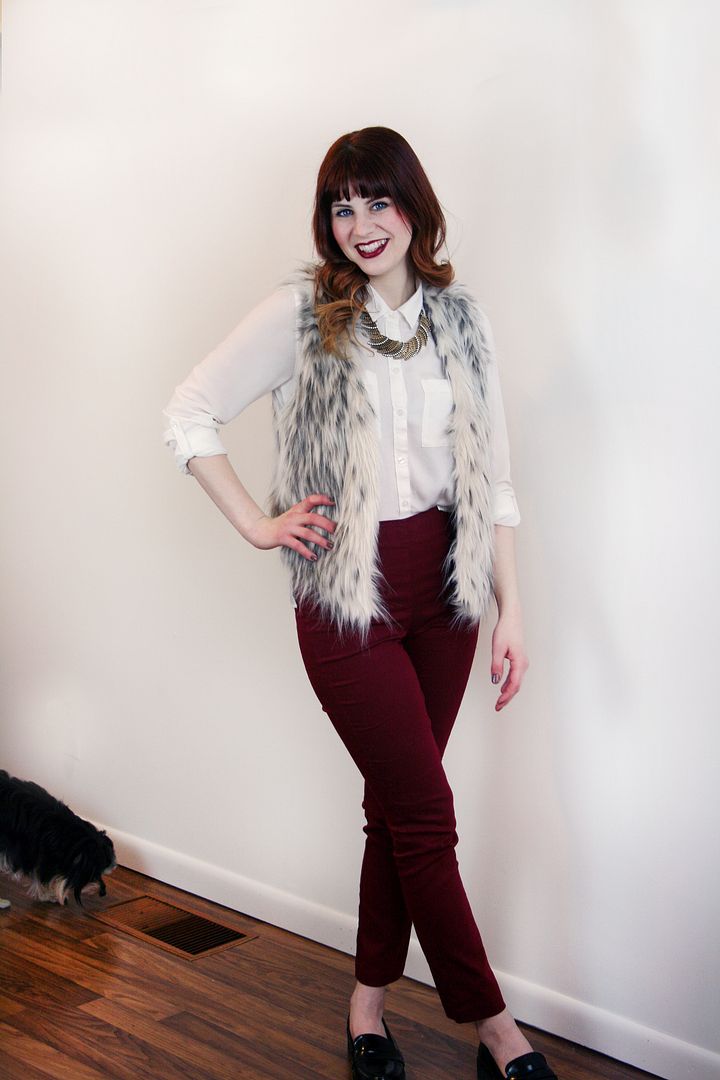 I'm loving my faux fur vest this season. It's reminiscent of old-world luxury, but it's fun and modern. The best part? It's warm during these cold days! (Oh hey, Reese investigating in the corner.)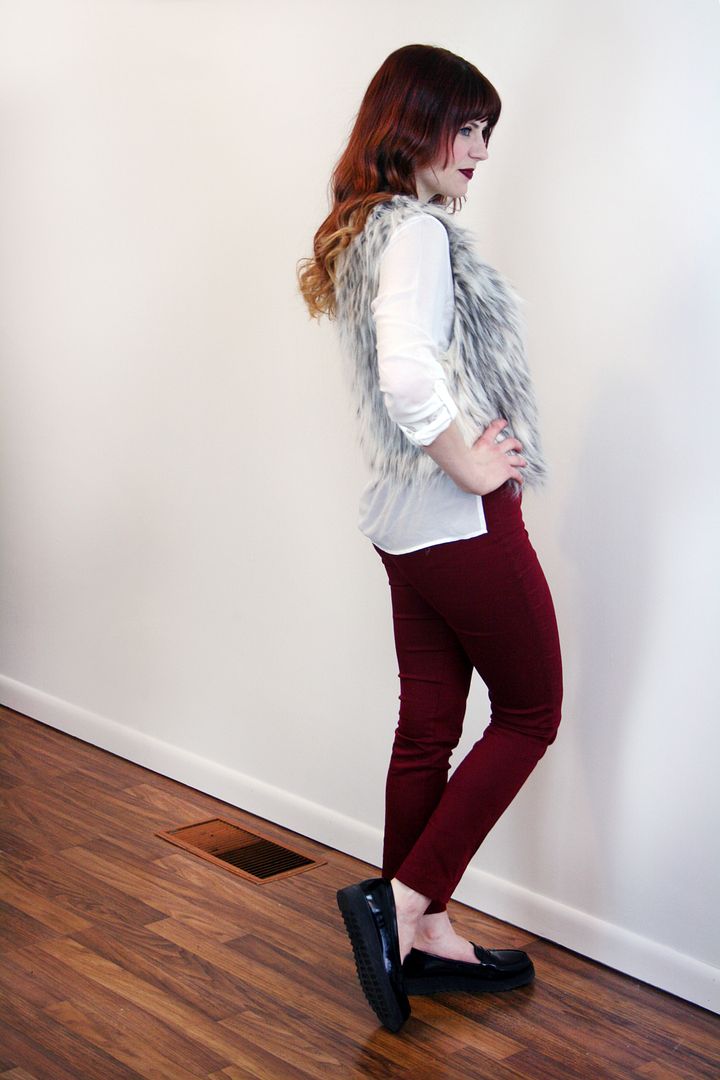 I also paired mine with a more structured outfit to contrast its organic nature: a white button down shirt and maroon trousers kept the look polished, and a gold art-deco-inspired fan necklace to reinforce the vintage look. A dark lip helped give the look a fun and dramatic edge.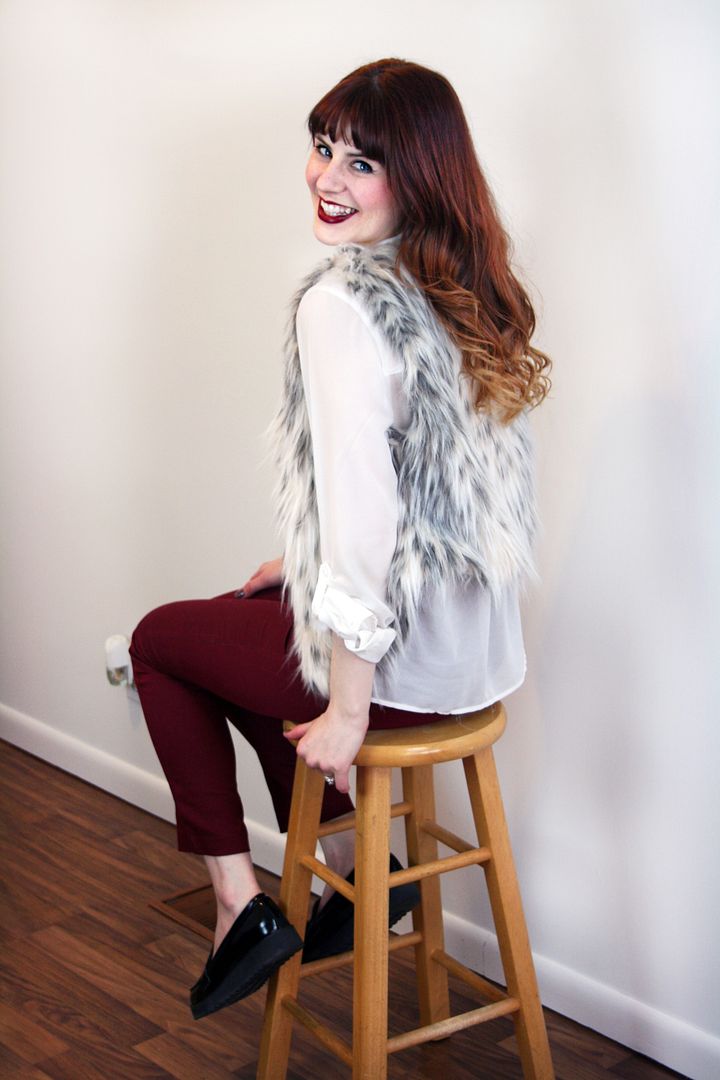 I finished off the look with these flatform oxfords I just can't get enough of. They're the perfect marriage of dressy and trendy.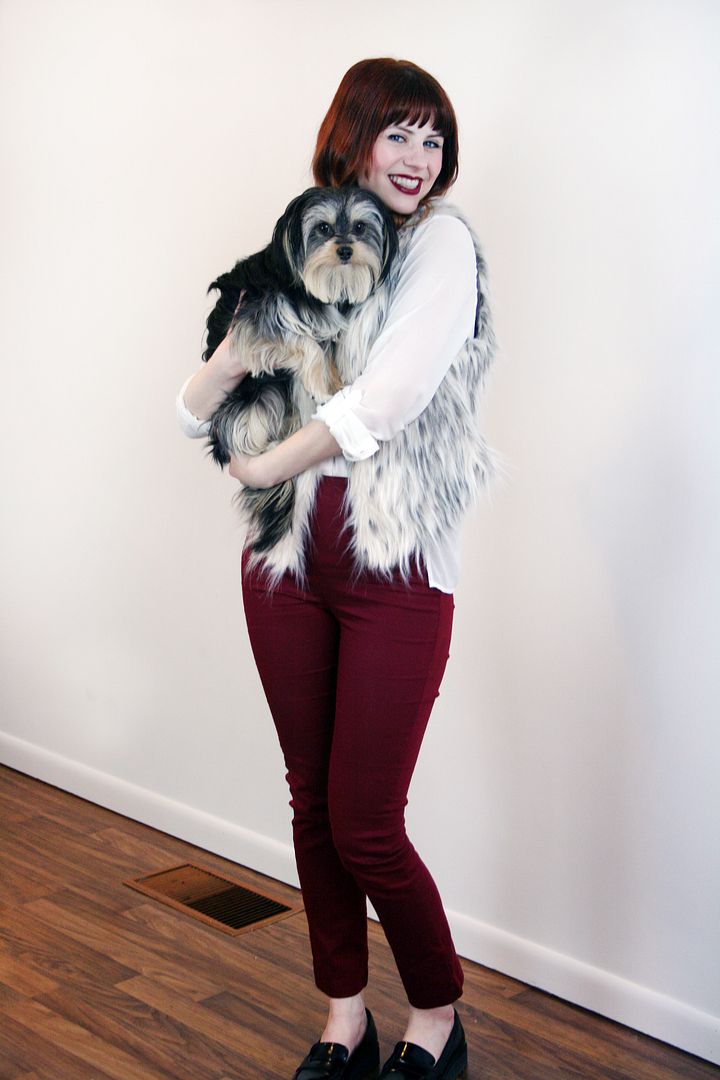 I obviously also had to get a shot with my little gal who rocks fur everyday ;)
Molly's Outfit Details: Fur Vest: TJ Maxx, Top: TJ Maxx, Trousers: H&M, Necklace: H&M (
similar
), Oxfords: Target