New Year's Eve is an especially fun holiday when you can bust out things you wouldn't normally wear. Gobs of glitter and sequins? Sure! Fun party dress? Yup! Sleek formal gown? A-OK! This year, we're really loving sleek black looks where all the pizazz is in the collar. This gives some holiday glitz and means you don't need to go necklace shopping!
MOLLY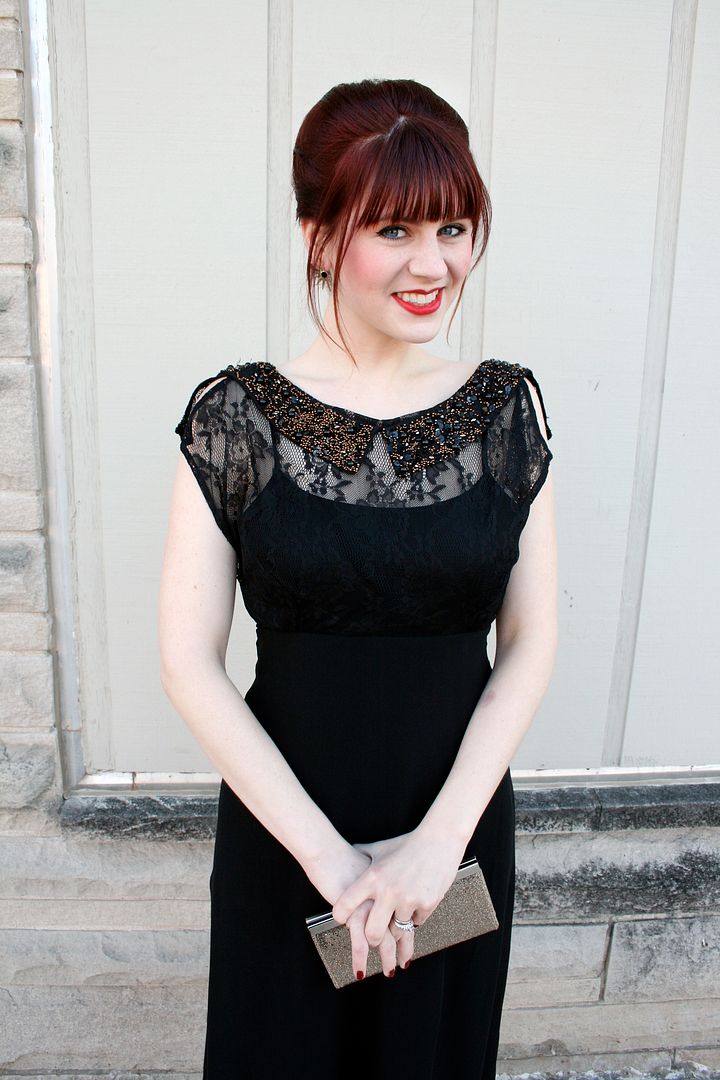 It's no secret that I'm a sucker for retro-looking Peter Pan collars, and when I spotted this dress, I knew it was coming home with me. A fancy-pants dress with beaded snazzy collar? Not even a question. Then, add in this killer low back and contrasting dainty sleeves, and I'm more than sold.
The empire waist cut and sleeves give a nod to the 20s, while the collar is closer to mid-century. Classic black ties together this mash-up of decades in a fun and unexpected way, while still looking put-together.
I played up the retro vibe with a
baby beehive updo
, winged eyeliner, and a classic red lip. Starburst deco earrings help add that vintage flair, too.
Gold t-strap heels and a gold clutch are fun accessories, without drawing too much attention away from the dress. Clutches are inexpensive ways to take your look up a notch, especially if you look like you got them just for the ensemble!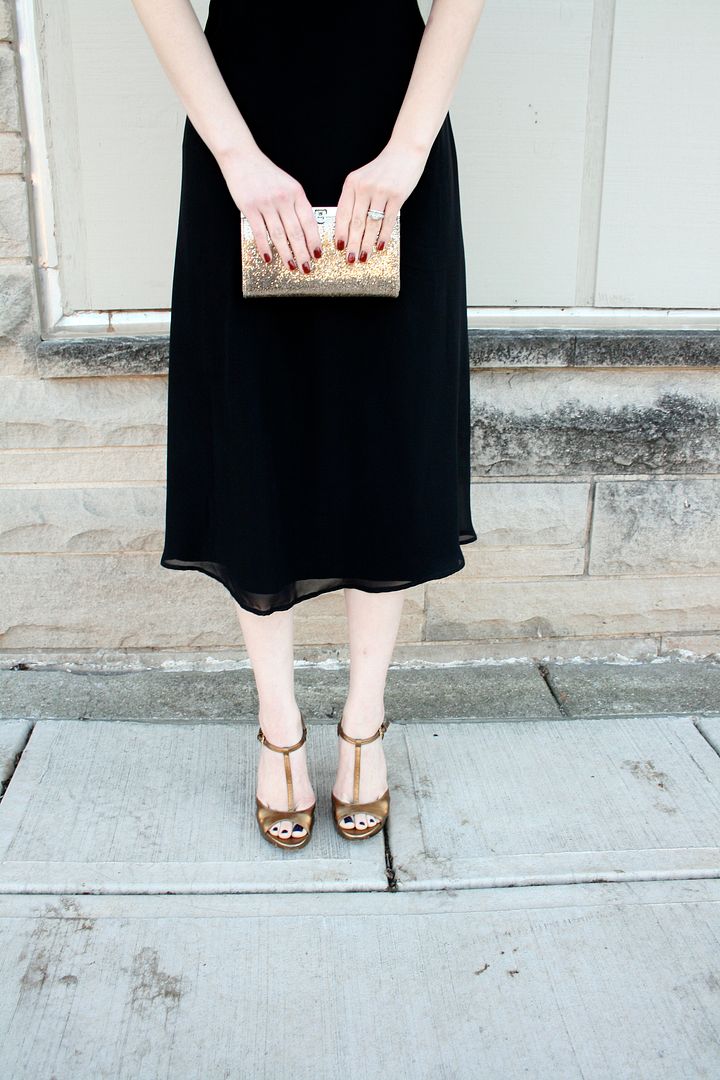 Molly's Outfit Details: Dress: Urban Outfitters, Shoes, Zara, Earrings: Modcloth, Clutch: Target (
similar
)
JODI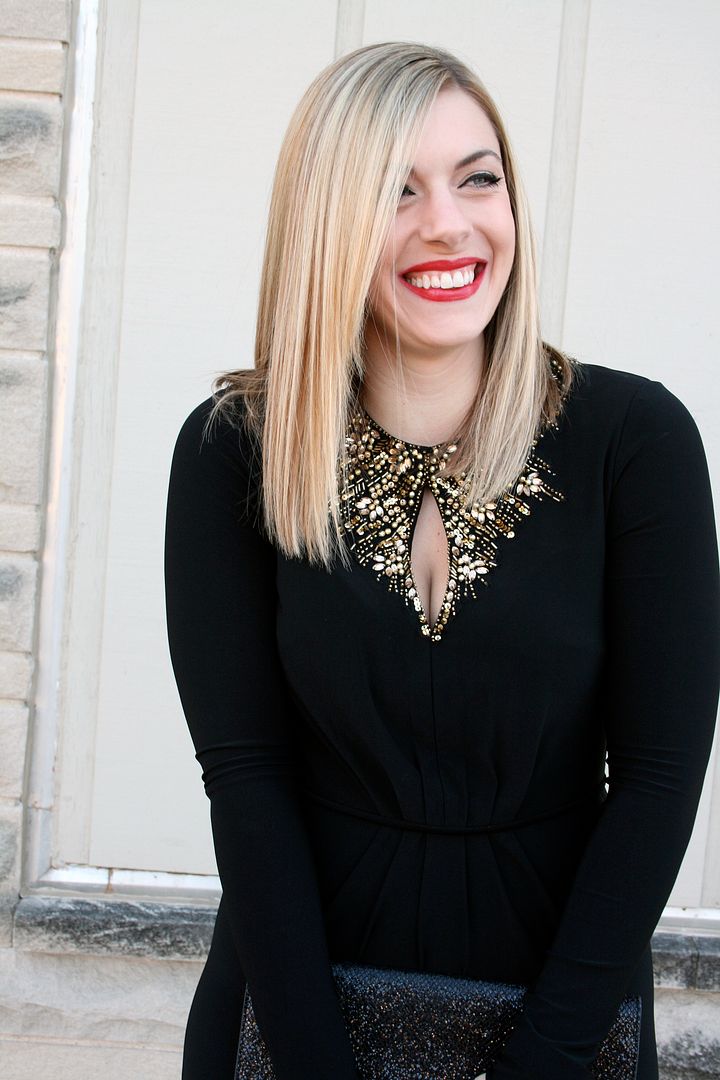 I really adore old Hollywood glamour and this dress really embodies that. From the sleek black cut to the subtle train in the back, it's perfect for dressing up and feeling like royalty.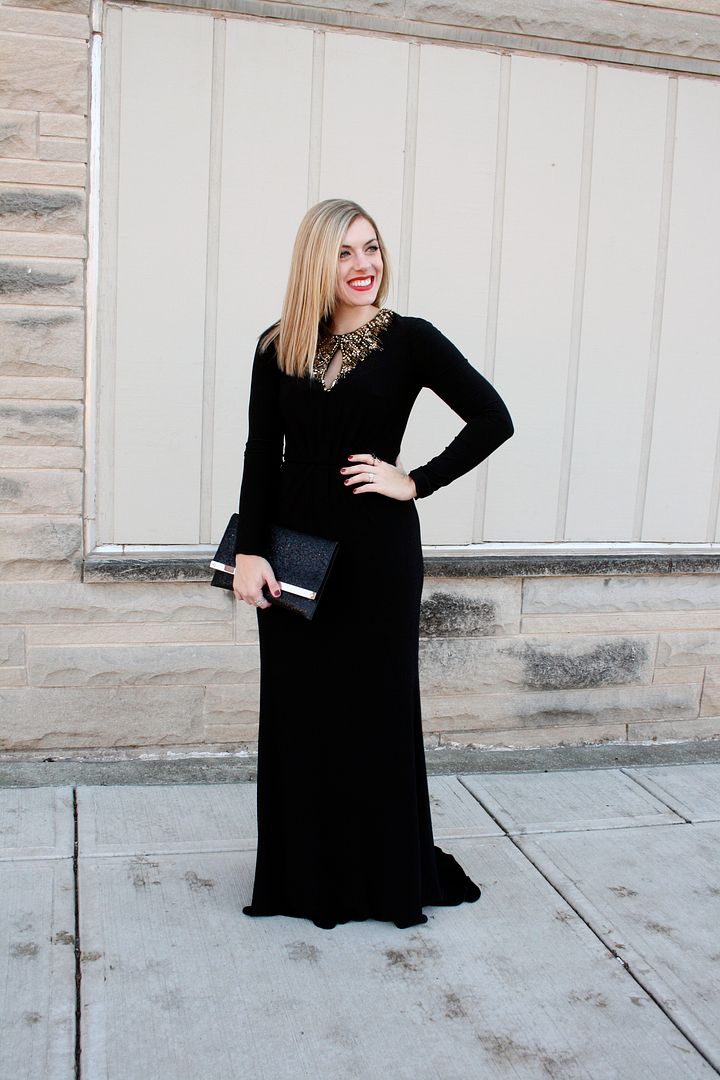 The neckline on this dress was what initially drew me in. It's classic and sleek with just enough pizazz to keep it from being too plain. Plus, it's super easy to accessorize when you don't have to find a necklace to go with it. Just throw on dainty earrings and a ring and you're set.
As I said, old Hollywood glamour is my M.O. and nothing says starlet like a train on a dress and a red lip. I wish all of my dresses could have a train. I bet people would get real sick of stepping on it after a while though. Perhaps I could hire a footman to carry it for me? Too much?
This sparkly black clutch is perfect for just about anything. I've worn it with casual outfits and dressy outfits. Plus, it's perfect for NYE, when a little extra sparkle is the theme of the night. We hope that whatever you get up to while welcoming in the New Year, you'll have a little extra glitz and glamour as part of your night. It's a great way to start off 2016!
Jodi's Outfit Details: Dress: JS Boutique, Heels: BCBG, Clutch: T.J. Maxx