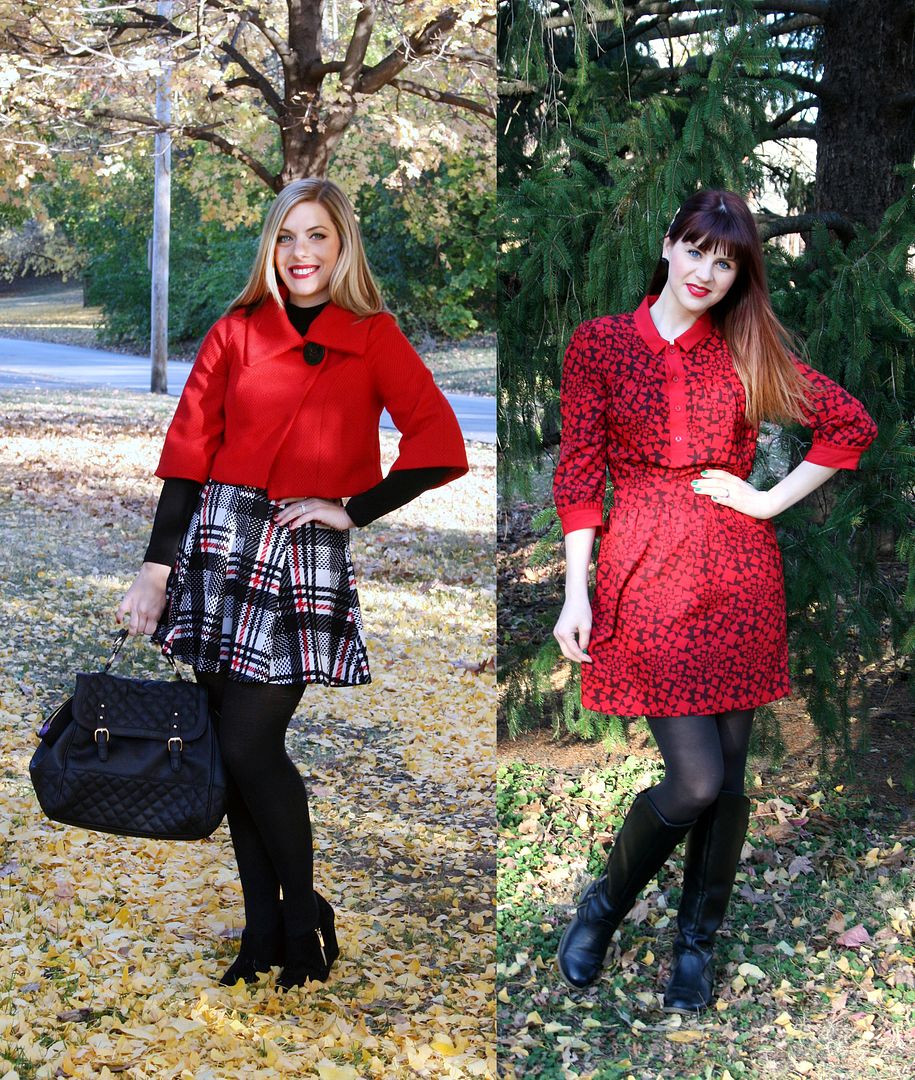 This time of year can be tricky when trying to figure out what to wear to various events on your social calendar. One such event is your annual family holiday dinner. Everyone's family is different, so what you wear might vary depending on what type of dinner you have planned. If you're anything like us, your family tends to dress up a little for their dinners. Below we have styled two different looks that are both dressy, cute and allow for a little extra stretch to fit in all of those holiday calories!
Molly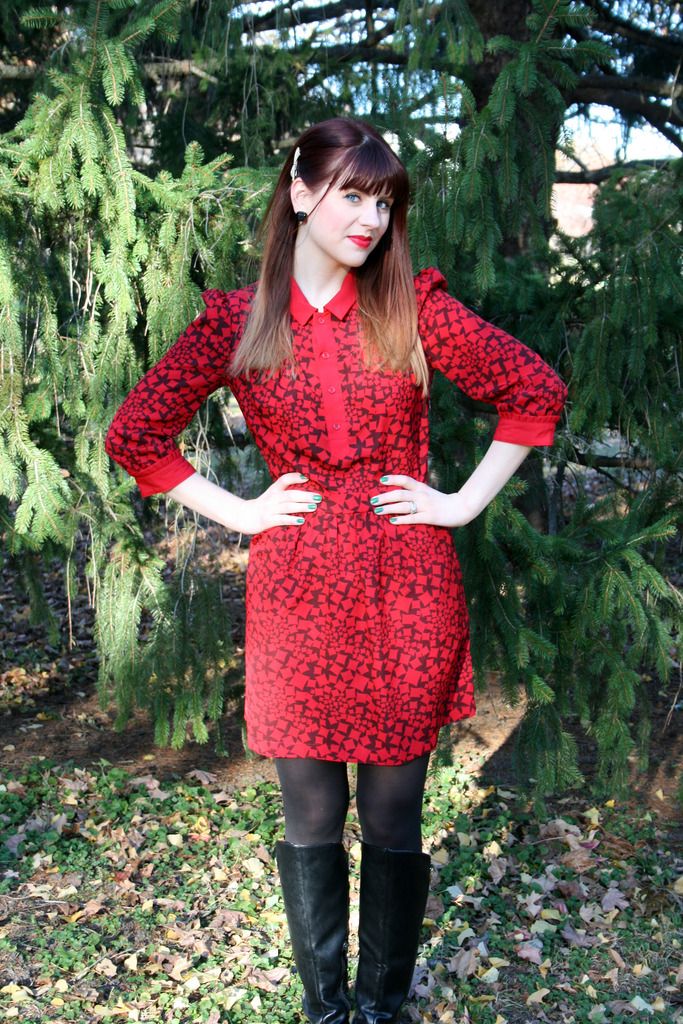 For the upcoming Thanksgiving holiday, my husband and I will travel to his parent's house, a little over an hour away. So, not only do I want to look put-together, but I need something that's comfortable for a car trip and that will continue to be comfy all day.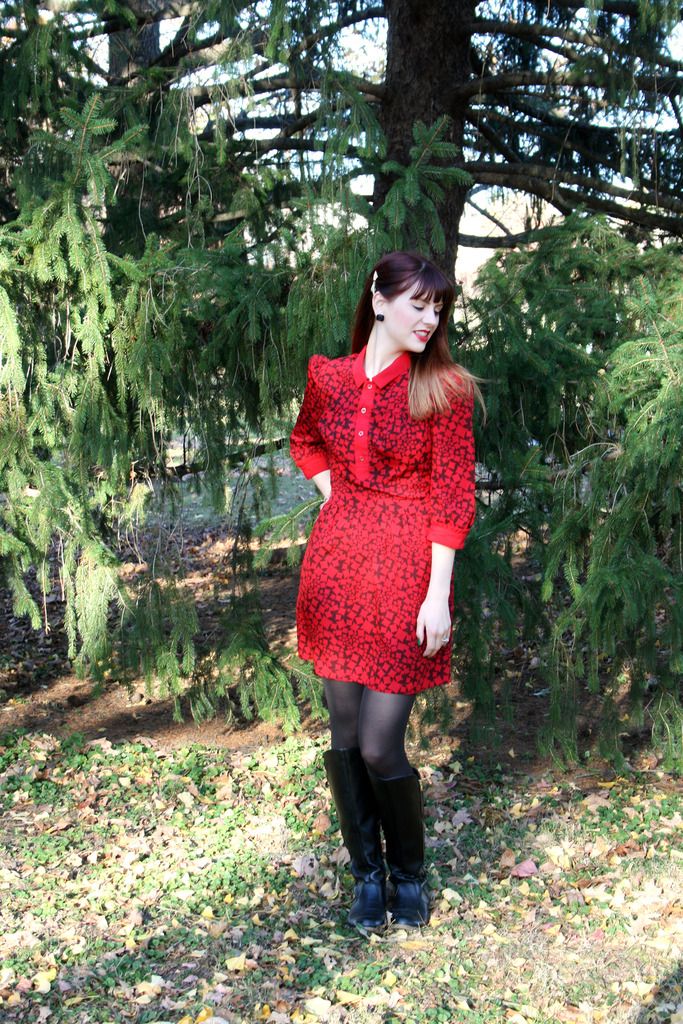 It seems like every year, Christmas is creeping up earlier and earlier, but I guess I'm traditional in the fact that Thanksgiving marks the beginning of the holiday season for me. So, a festive red dress and green nails are a fun change from the muted maroons and autumn colors I've been living in the last couple of months. That makes this outfit perfect for holiday dinners later in the season, too!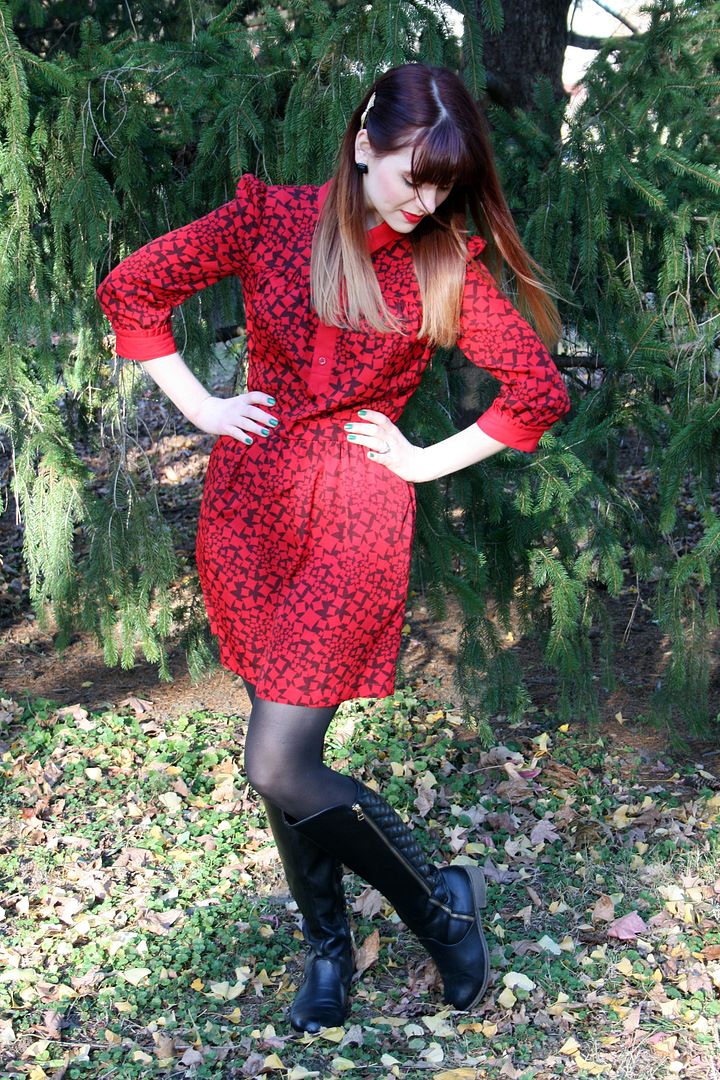 Black riding boots can be casual when paired with a sweater and scarf, but here the shiny black boots polish off this dressy look nicely. Plus, they're super warm and comfortable! Important items to check off the list for this ensemble.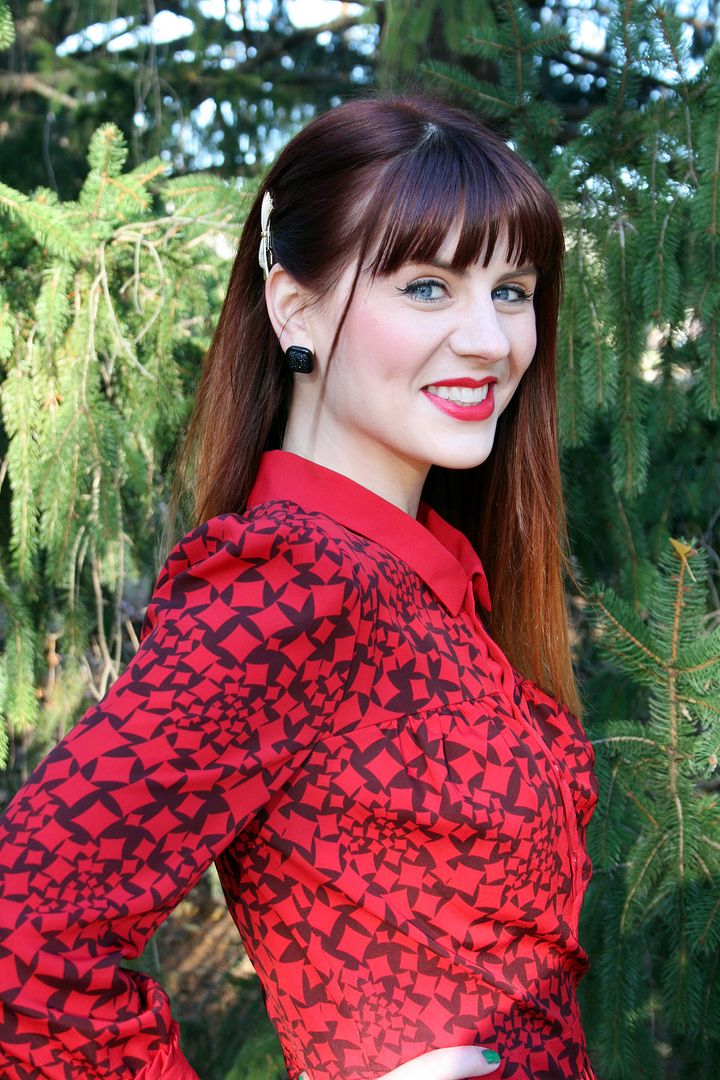 Retro-inpired earrings, red lips and a vintage hair barrette help add a fun throwback flair to the look. Mmm, all ready to load up on turkey and potatoes now!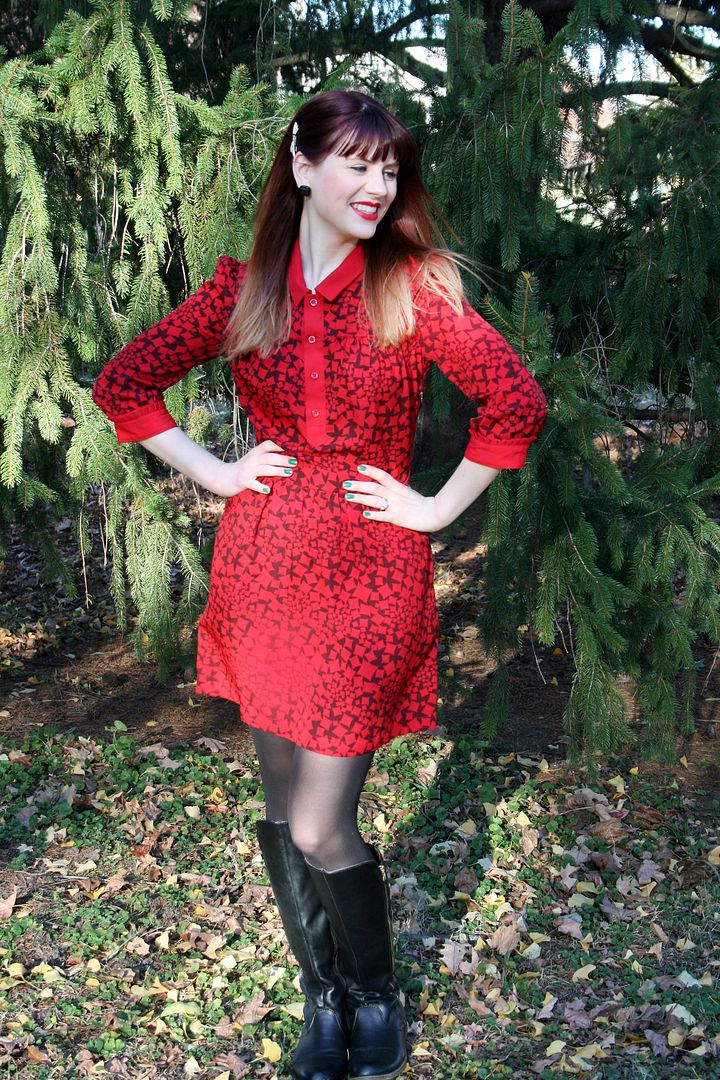 Jodi
My holidays have always been split up between two houses ever since I was little. My husband also has the same situation, so now we have four different houses to visit during the holidays. This calls for an outfit that is equal parts comfortable and cute.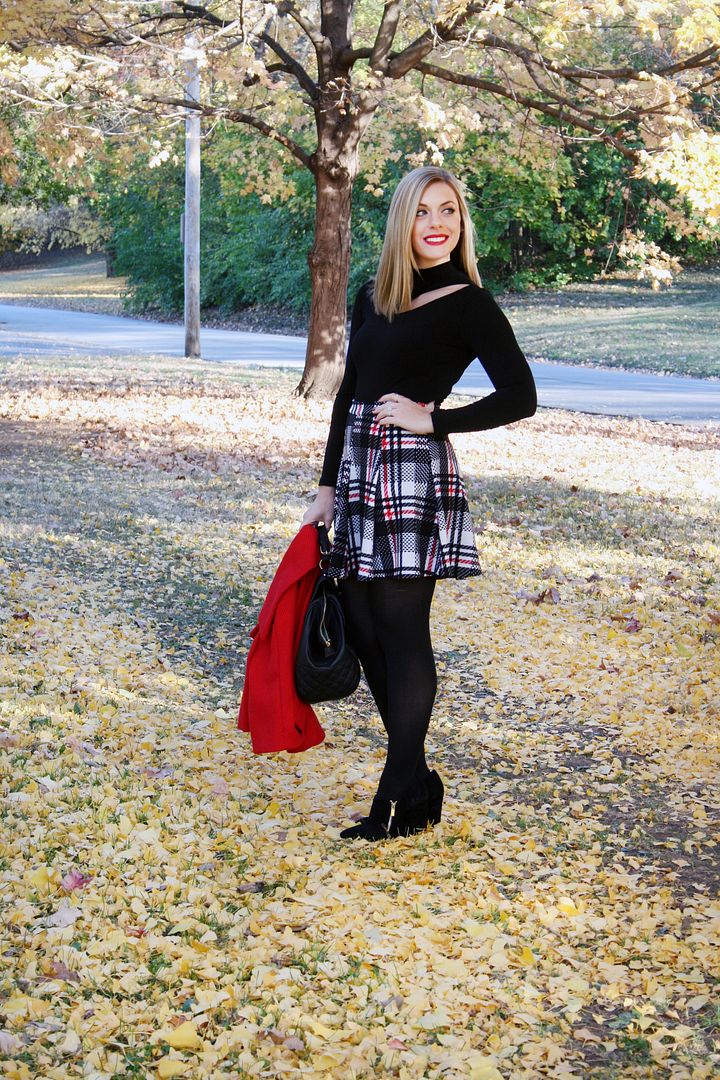 This year, I've put together a festive plaid skirt and tights with a stretchy modern turtleneck. This skirt is made of a comfortable material which is perfect for spending time in the car traveling to our destinations.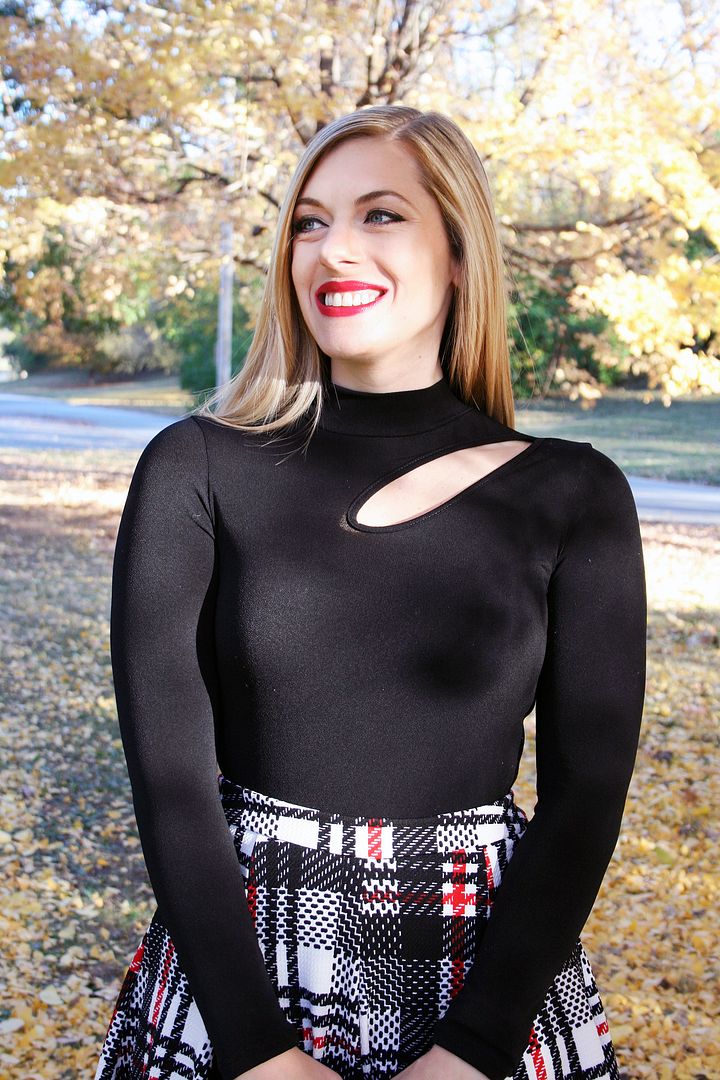 The top I'm wearing is super stretchy, which is great for fitting in all of those dinners! In reality, we just eat a little bit at each place, but I am a sucker for mashed potatoes and fancy myself a potato connoisseur, so it's hard to pass them up throughout the day! I just make sure my clothes are stretchy to accommodate.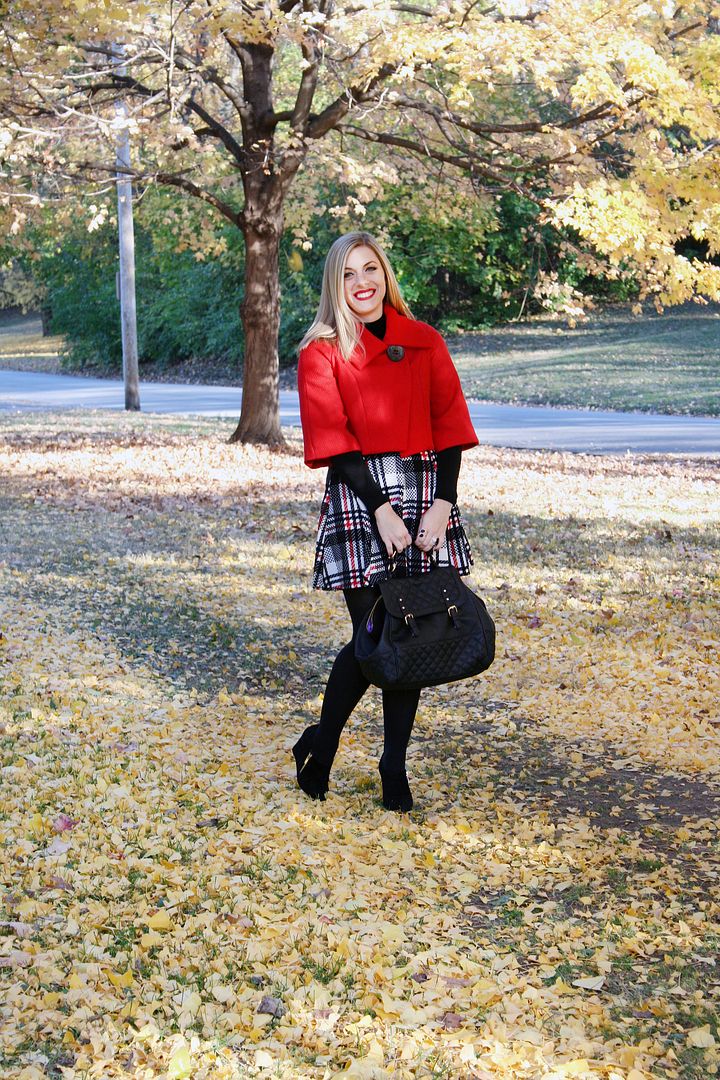 I also threw this little red jacket on to add some extra warmth. It's easy to get on and off, so it won't be a hassle to manage going from place to place. Plus, it's super cute with it's big button and cropped fit.
I finish the whole look off with a nice big bag that is perfect for storing all of my necessities for the holidays (like a travel set of sweatpants) and these sleek black wedges.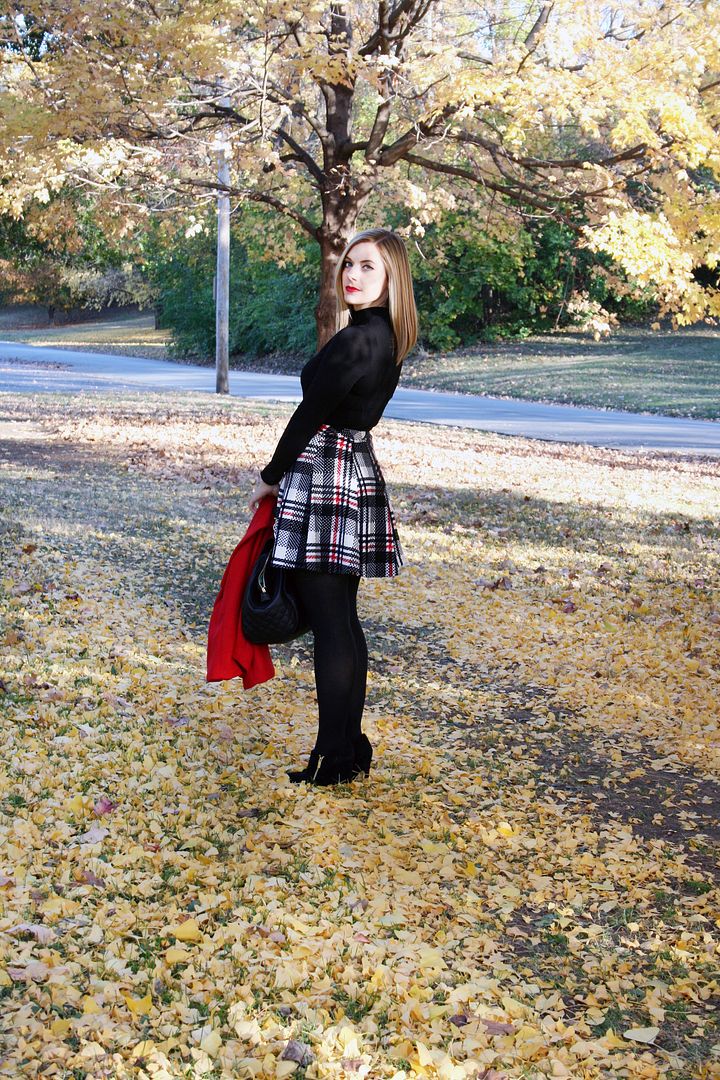 Hope your family dinners are filled with lots of happiness and good food!
Molly's Outfit Details: Dress: Urban Outfitters, Boots: DSW (
similar
), Tights: Target, Barrette: Vintage
Jodi Outfit Details: Skirt: Lush, Top: Modcloth, Jacket: Coffee Shop, Shoes: Jessica Simpson, Bag: Lulu's