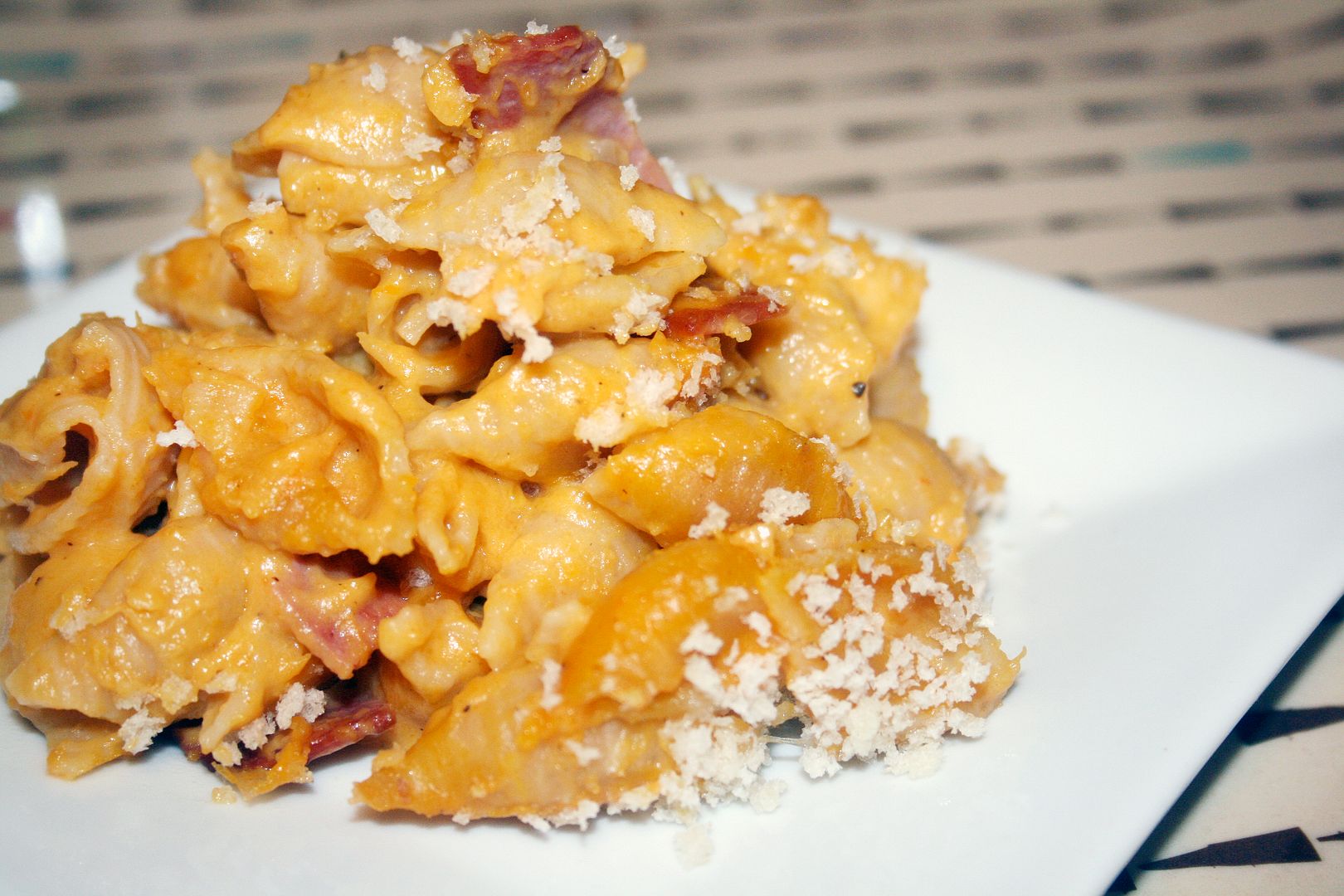 With Thanksgiving coming up, we're getting all excited about turkey and potatoes, but sometimes it's fun to spice up the sides a bit. I just can't get enough squash in the fall, and this is a fun twist on a classic everyone loves. So, try this out for your family dinner this year and see if this just isn't the best way they've ever had squash.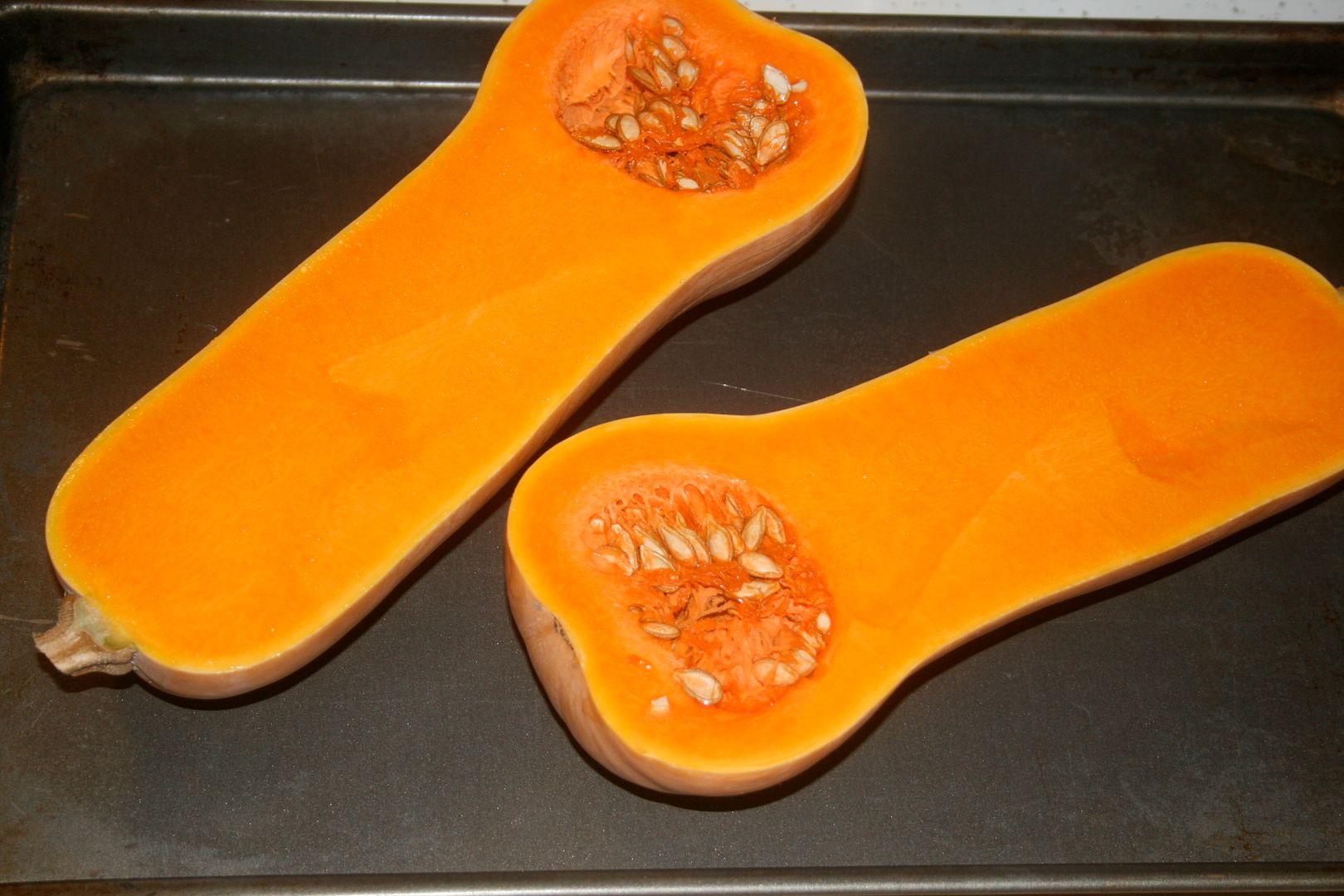 Though I personally love the mix of sweet and savory dishes, my husband doesn't quite as much, so I did my best to minimize the inherent sweetness of the butternut squash by also adding its much less sweet cousin, the pumpkin. I threw in onions and bacon too (because when should you NOT use them, really?), which have sweet undertones that don't clash with the squash, but make the dish heartier and more savory. And, if I do say so myself, (and I do) I really knocked this one out of the park. Holy squashcheesygoodness.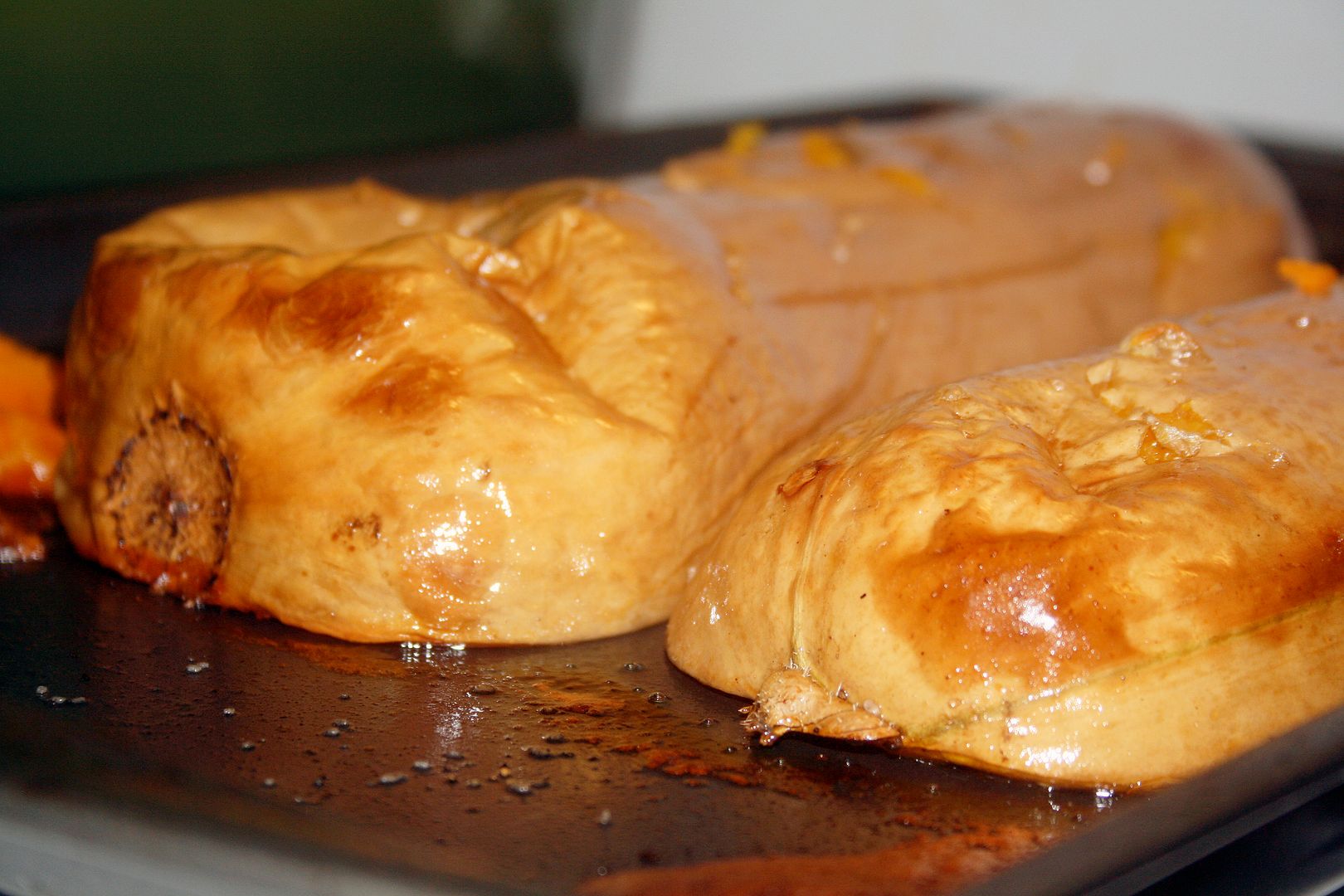 This is so creamy and cheesy, you don't even realize all the vitamins it's packed with. Vegetables are tricky like that. Enough chatting, let's get to it!
You'll need:
1 small butternut squash
1/2 cup pumpkin puree
6 strips bacon
1/2 onion, finely diced
1 1/2 cup sharp cheddar cheese*
3/4 cup grated Monterey Jack cheese*
3/4 cup Parmesan cheese*
2 2/3 cup milk (2% or whole)
2 T butter
3 T flour
1/3 cup Panko breadcrumbs
1 15-oz box pasta shells**
Extra virgin olive oil
salt
pepper
*Any cheese you may have on hand would work, as long as you end up with 3 cups total, but it would be best with a mix of mild and sharp cheeses.
**In my experience, shells hold onto hearty sauces better than macaroni, which why the title is "mac and cheese" not the full "macaroni and cheese." Like when fast food places use "beef-y" or "chick-n" so as not to mislead you into thinking it's real beef or chicken. This is "mac," not actual macaroni and now you can't turn me in for misleading you. ;)
Preheat oven to 375 degrees. Slice butternut squash vertically with a large knife. A good trick for ease of cutting is to microwave the squash for 30 seconds before slicing. Spoon out seeds and pulp and discard. Lightly coat with olive oil and season well with salt and pepper. Place skin side up on a large baking sheet and bake for 35-45 minutes, or until the center is tender. Once it has cooled enough to handle, scoop out squash process in food processor until smooth and creamy. Set aside 2 cups of puree for recipe (if any remains, eat as a side dish with another meal—yum!) Reduce oven temperature to 350 degrees.
While squash is roasting, prepare pasta according to directions on box and set aside. Cook bacon in a small pan, crumble and set aside. Then, in the same pan, sauté onions over medium-low heat with a sprinkle of salt and pepper using 1 T of the bacon grease to cook them in. Set aside.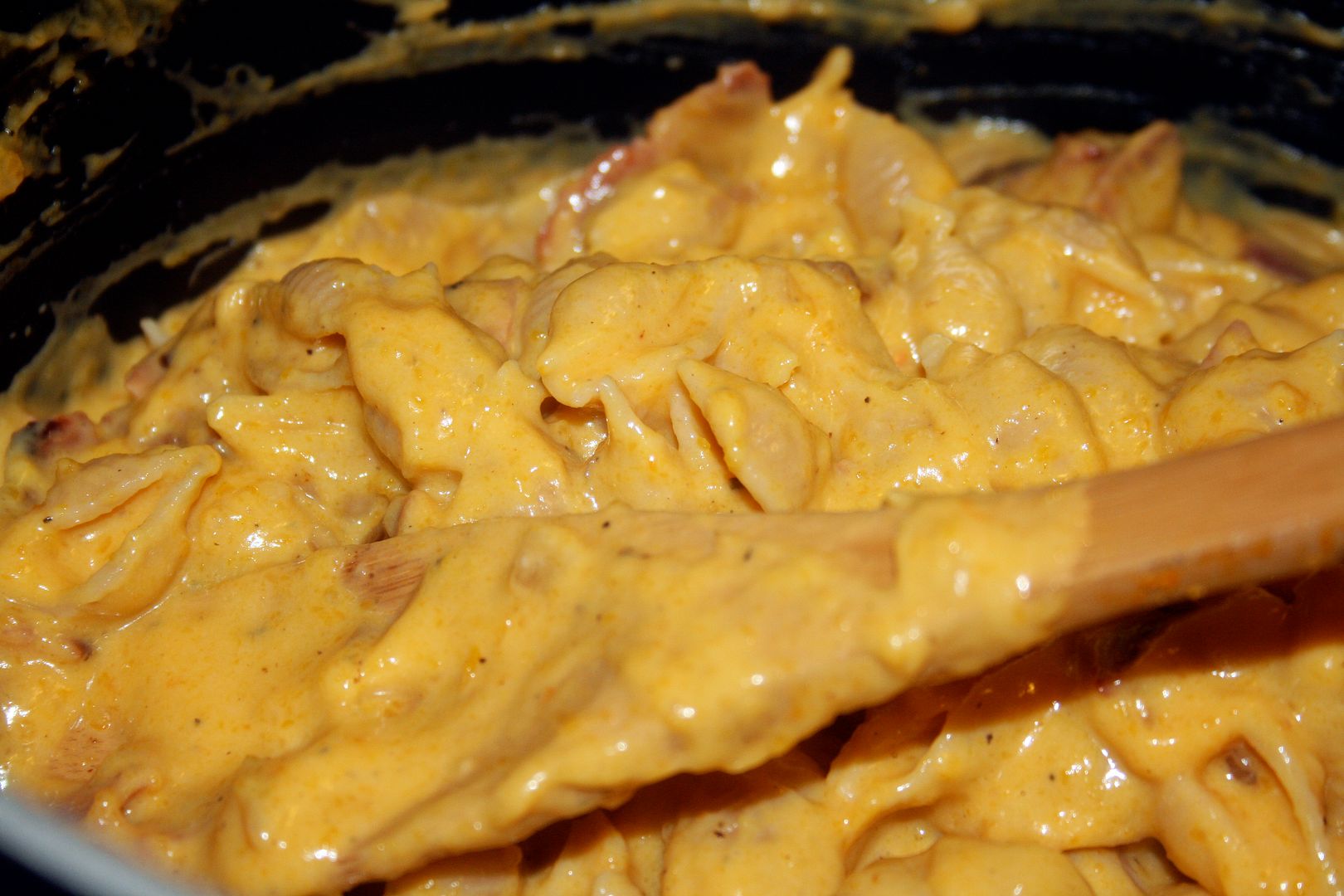 Then, it's time to get the roux going! Heat butter over medium heat in a heavy saucepan. Slowly whisk in flour until slightly browned and fragrant, about a minute and a half. Then, slowly stir in the milk in 4 or 5 increments, combining until completely smooth each time. Once all milk is added, turn heat to high and continue to whisk for about two more minutes until sauce thickens. Add all cheeses, reserving 3/4 cup cheese mixture for the top. Once cheese is melted, stir in both pumpkin and squash puree, onions and bacon. Salt and pepper to taste, then pour over cooked pasta and stir to combine.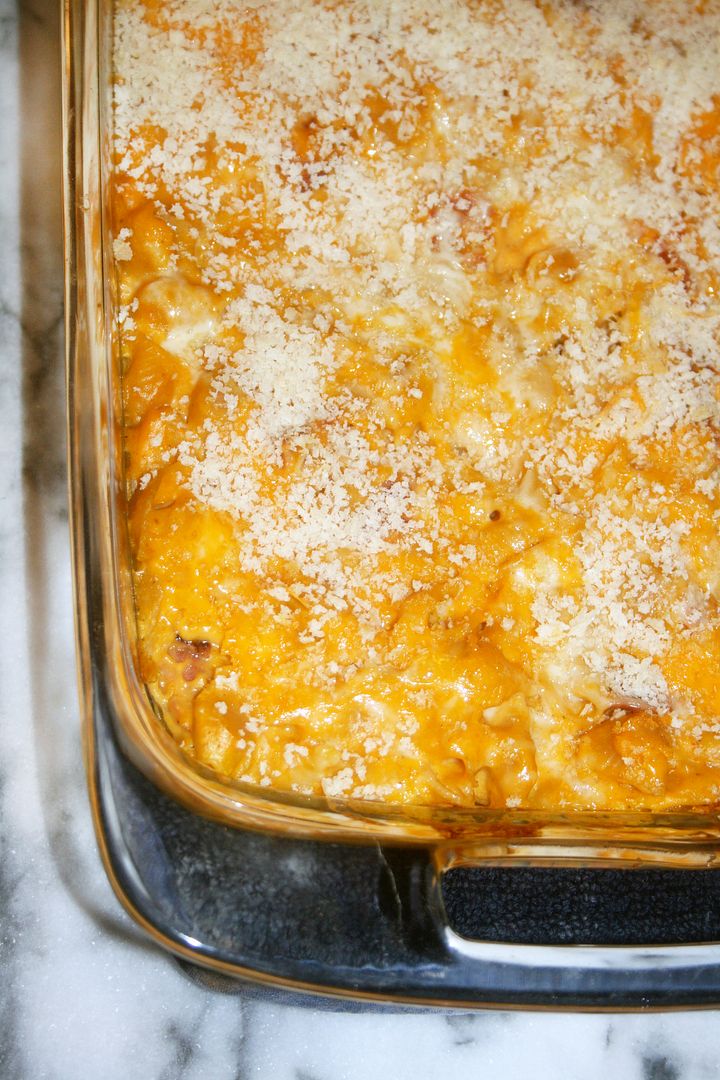 Transfer into 9X13 baking dish and top with remaining cheese and breadcrumbs. Bake for 20-30 minutes until cheese is melted and center is very warm.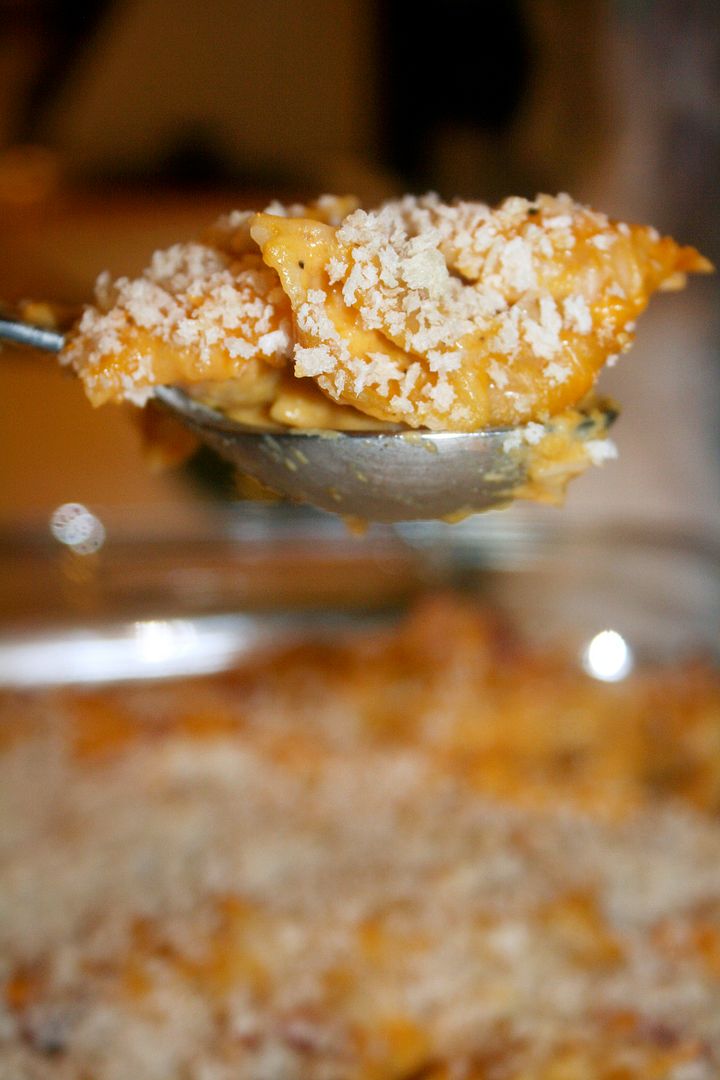 Now enjoy the amazingly creamy, cheesy, vibrantly-colored mess of deliciousness that also happens to be good for you. Which, of course, is always justification for an extra helping.
-Molly