Halloween is right around the corner now! If you don't have your costume ideas cemented by this point, surely you're at least looking for ideas, right? I thought I'd share one of my favorite couples costumes my husband and I wore a few years ago: Suzy and Sam from Moonrise Kingdom. It's a somewhat obscure reference if you aren't familiar with Wes Anderson flicks, but it's a really cute and not too corny idea if you're looking for something a little different.
If you haven't seen Moonrise Kingdom (which you should!), the story is set in the mid-sixties and follows Suzy Bishop and Sam Shukusky, two misfit twelve-year-olds on the island of New Penzance, who run away to be with each other. (The photo below is from the movie, check out more
here
.)
My husband and I saw the movie in theaters, and the man who could give a flying flip about Halloween leaned over and said that we should be Suzy and Sam for Halloween later that year. I probably yelled "YES" in the movie theater or something from excitement. Throughout the year, I kept my eye out for costumes items, but I didn't find much. With less than a couple of weeks to go until Halloween, I finally had to get pretty serious in my search only to find out there were no pink dresses, saddle oxford shoes or coonskin hats where we live or that could ship in time at a reasonable price. Believe me, I looked everywhere. This meant sewing and improvising and sewing more. Yep, I sewed a coonskin hat out of furry fabric! Something I never thought I would do in my life.
I made the dress I wore and it was the first time I'd made something from a pattern and not from deconstructing other clothes or using existing pieces as a guide. Talk about a learning experience. Like when the lady at the fabric store emphasized that I should go by my measurements and not size, which put me at eight sizes larger than I usually wear. So I trusted her, but when I actually put the dress on for the first time, it was like a large tent. I had to improvise and downsize my measurements multiple times, but in the end, it stayed in one piece and it looked like a real dress! That's the idea, I guess.
After a week of work and a lot of pinpricks later, I couldn't be happier that I'd gone for it or more thrilled about how it turned out. Then, a few finishing touches of the binoculars (what Suzy pretends is her magic power), bug earrings Sam fashioned for her (and pierced her ears for), bold blue eyeshadow (purposely with the finesse of a 12-year-old), lots of time with a blowdryer and hairspray to get my short bangs locked into place, and the proper socks and shoes… I was the spitting image of Suzy (apart from being 12 and lopping off my hair, that is).
When it was all said and done, besides our good friends, only a few people we saw that night recognized who we were. My husband was asked if he was Davy Crockett more than once and I was even asked if I was a sexy pilgrim (I cannot make this stuff up, folks). But we loved them and it was worth it for the few people we didn't know who approached us and told us how absolutely perfect the costumes were.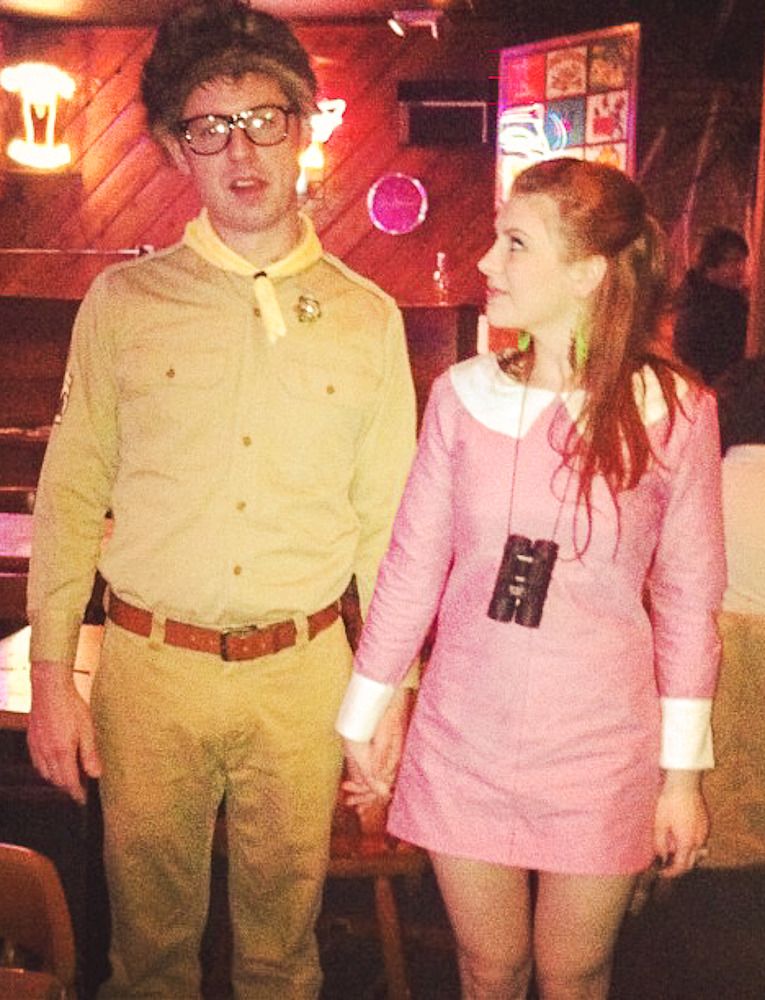 If you're putting together costumes, here are the essentials you'll need for each character (I've linked what pieces I used below).
Suzy:
Pink dress with white collar
Tall white socks
Saddle oxford shoes
Bug Earrings
Binoculars
Optional:
Wicker Bag
Cat stuffed animal
Books
Records
Suitcase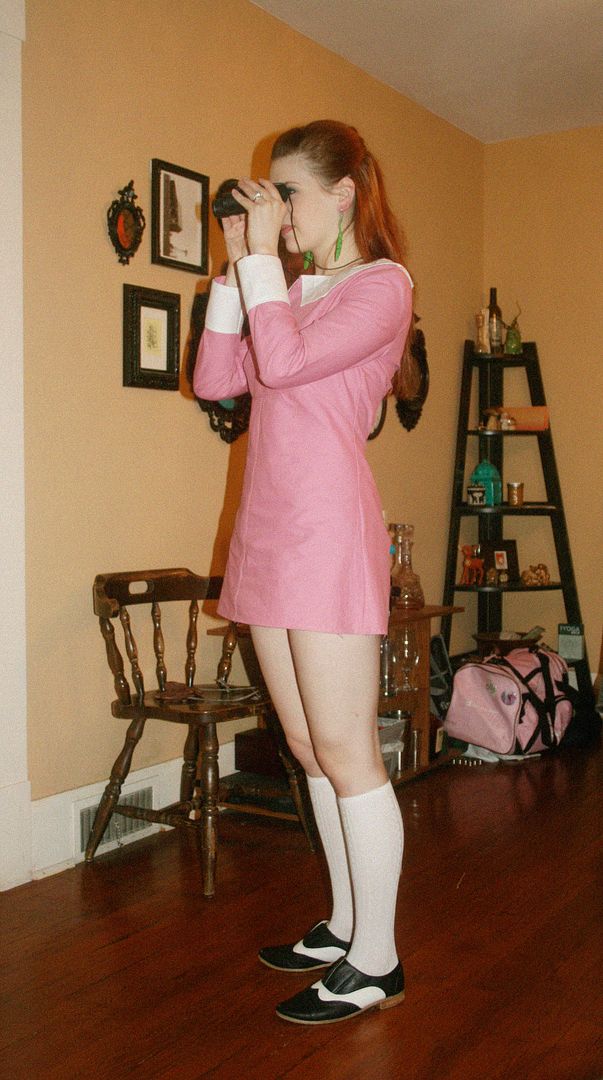 Sam:
Khaki Shirt
Khaki Shorts
Black Glasses
Yellow Bandana
Coonskin Cap
Brooch
Patches
Optional:
Backpack
Pipe
Canteen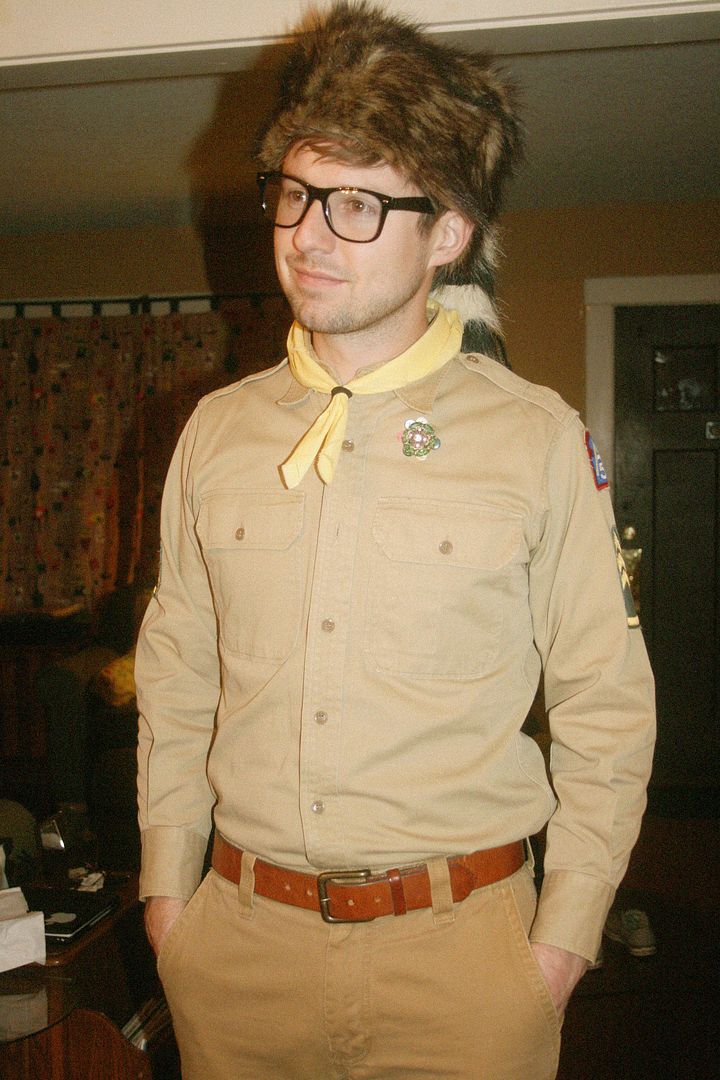 Do you make your own costumes? It's sure a lot of work, but I think it makes them that much more special. What are your Halloween costume ideas for this year or favorites from years past?
On Molly: Dress: Made from
Simplicity pattern 3833
– Dress A (collar and cuffs freehanded) from
JoAnn Fabric
, Earrings: Homemade from plastic bugs, Socks:
Walmart
, Shoes:
Urban Outfitters
On Andy: Coonskin hat: homemade with furry fabric from
Hobby Lobby
, Glasses:
Walmart
, Shirt: His grandfather's from 1951, Brooch: Homemade from vintage jewelry, Pants:
The Gap
, Shoes: ASC