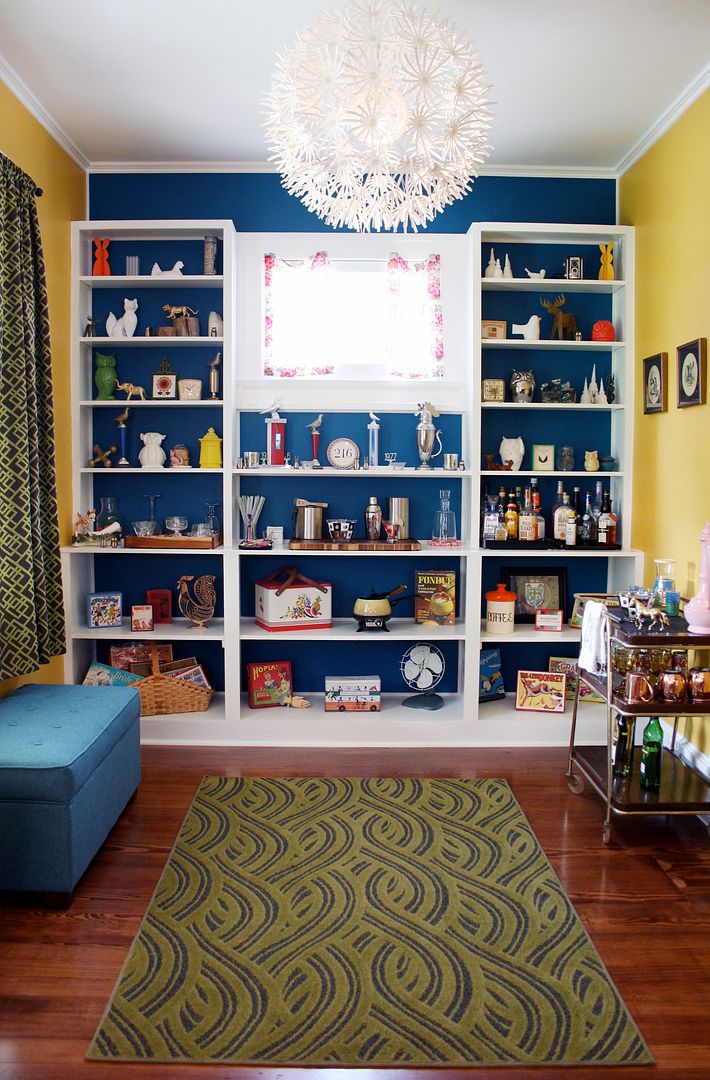 Welcome to my home! Today, I'm giving a little tour of my entryway, which is a retro-kitschy wonderland. Minimalists beware. I figure you might as well hit your guests over the head with your style as soon as they walk in, and I decided to do just that. Our entryway has been so fun to decorate, but it didn't start all ready to go. Let me take you back to the beginning, so you can see how it all began.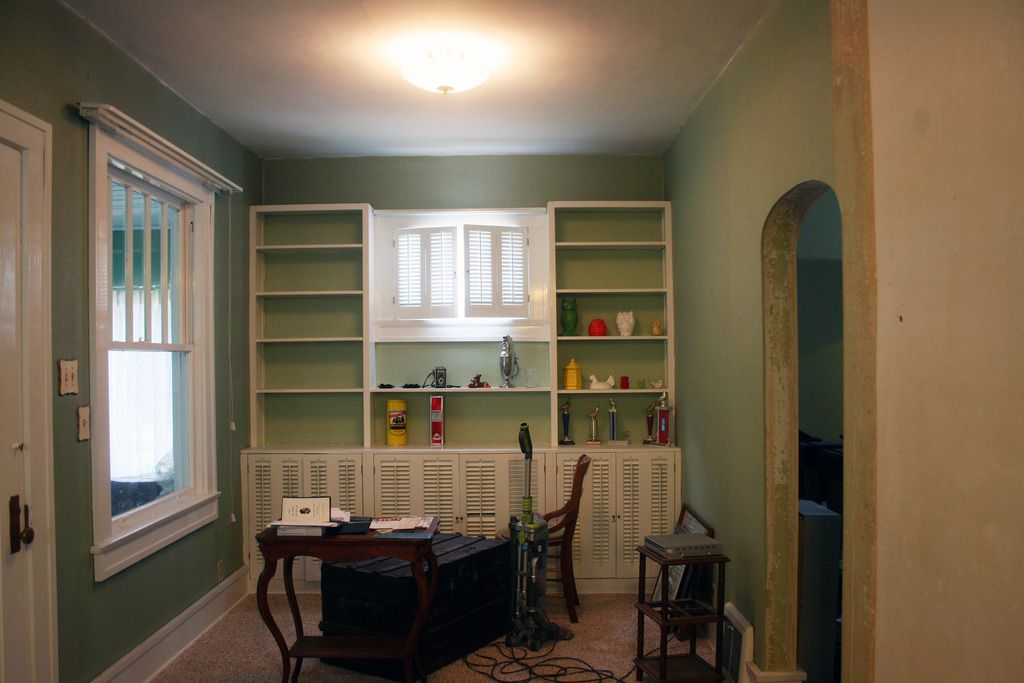 In the event that we've never spoken so you've never asked me what I've been up to lately, I will fill you in: the answer is nearly always "working on home renovations." My husband and I bought a 1915 bungalow about two years ago that hadn't been updated since about the 70s. There was a mint green funeral home vibe in the whole entryway, living room, and dining room. Mint green wallpaper, mint green curtains to the floor, and brand new neutral carpet that had recently replaced mint green. (Yeah, we took up nice new carpet, but look at those floors!) Above is a "before" shot, and below is a "during" shot, after we painted.
(Obviously), I love, love, love vintage and retro style, and that's clearly a heavy influence here, but I tried to bring the décor into this century with crisp clean white woodwork, and bright trendy colors to balance out the burnt orange and avocado palette.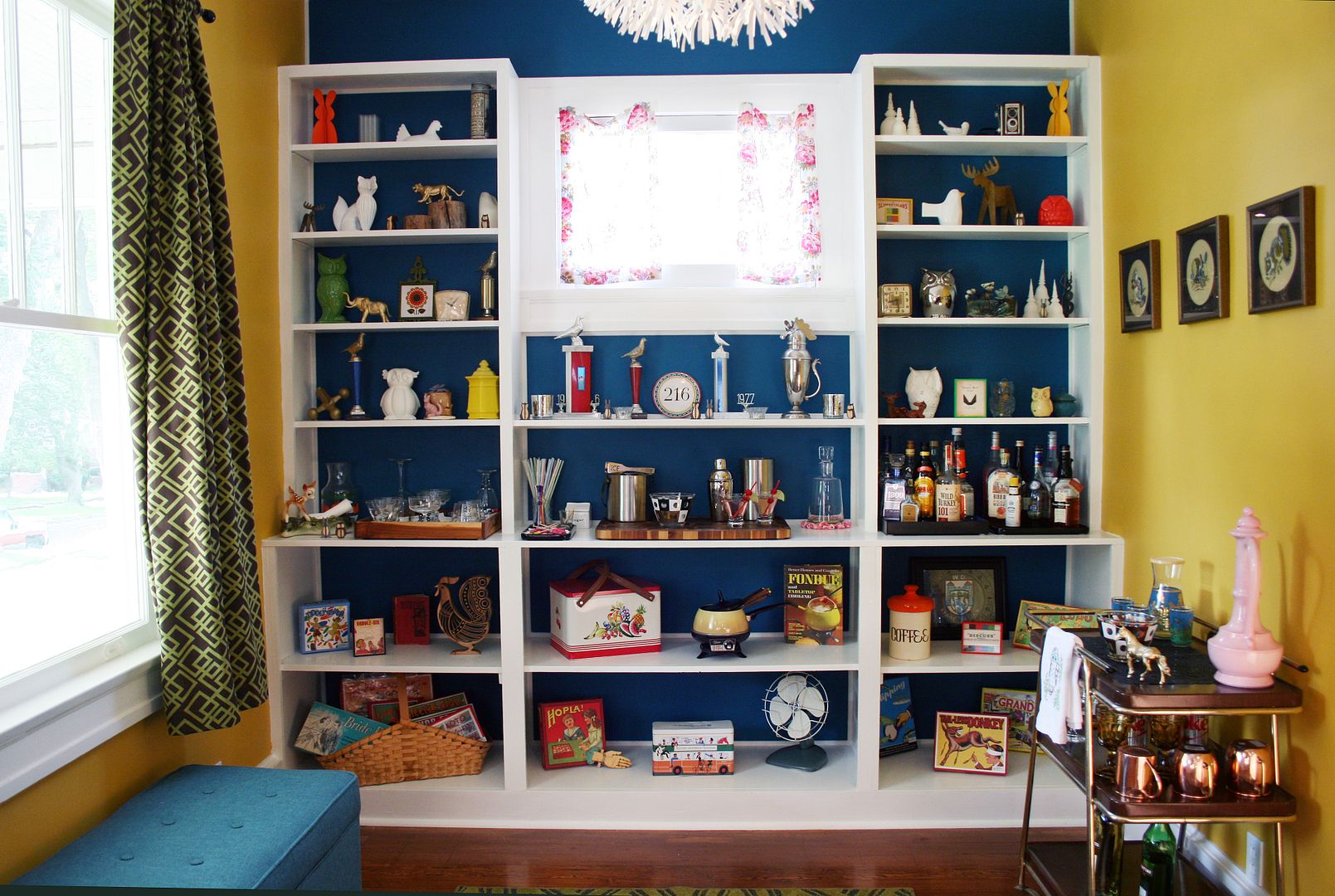 Since the space of the three rooms flowing together is quite large and the ceilings are tall, we went with a bold wall color: a cheery mustard yellow. I love the look of bookcases with area behind the books painted a statement color, so we painted a whole accent wall a dramatic teal. I think it really helps all the knick knacks stand out, too. We trimmed out the wall where it meets the yellow walls, as well as the ceiling to give it a nice finished look.
And then the fun began: collecting all of the pieces to fill the shelves! The vast majority of the items are vintage, and I've just picked them up here and there. All the assorted owls are from TJ Maxx, because I can't go there without buying them. (Gotta fill those shelves, man!) It also doesn't hurt that I work as a graphic designer at a product design company,
Design Ideas
, so I was able to use some of our fun products like little slot-together wooden animals to fill in spaces between the larger items.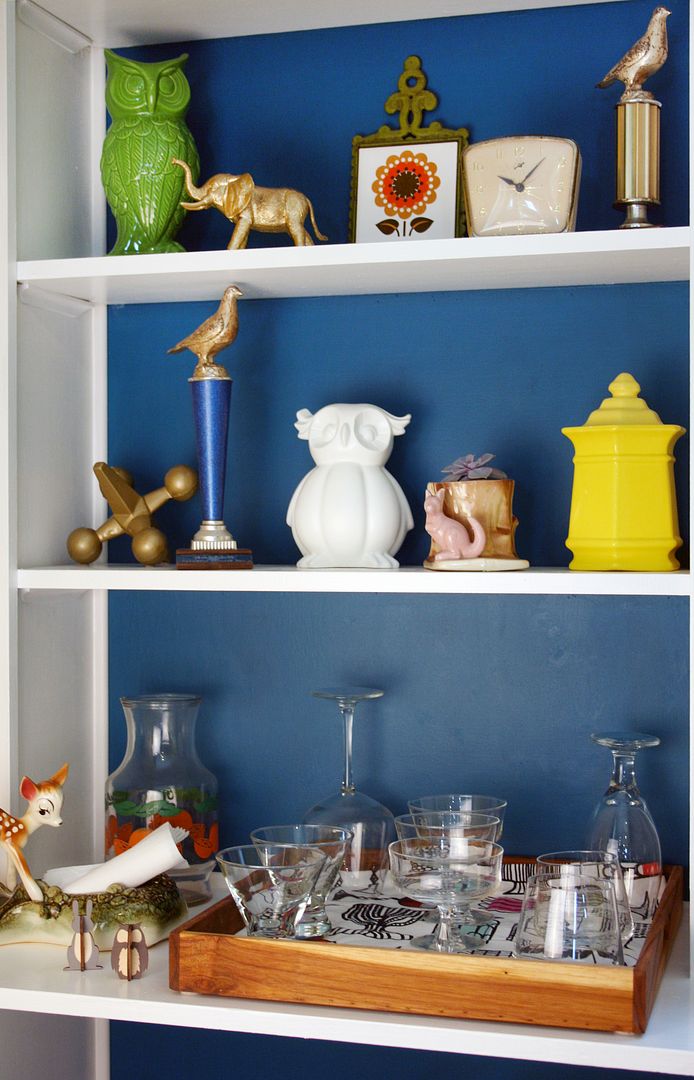 I scored this little tea cart at
Vintage Pop
a few weeks ago, which really helps fill the space under the woodland portraits on the wall that you see right when you walk in. I'm going to pretend it's a bar cart because I don't drink tea, so don't try to tell me any different, OK?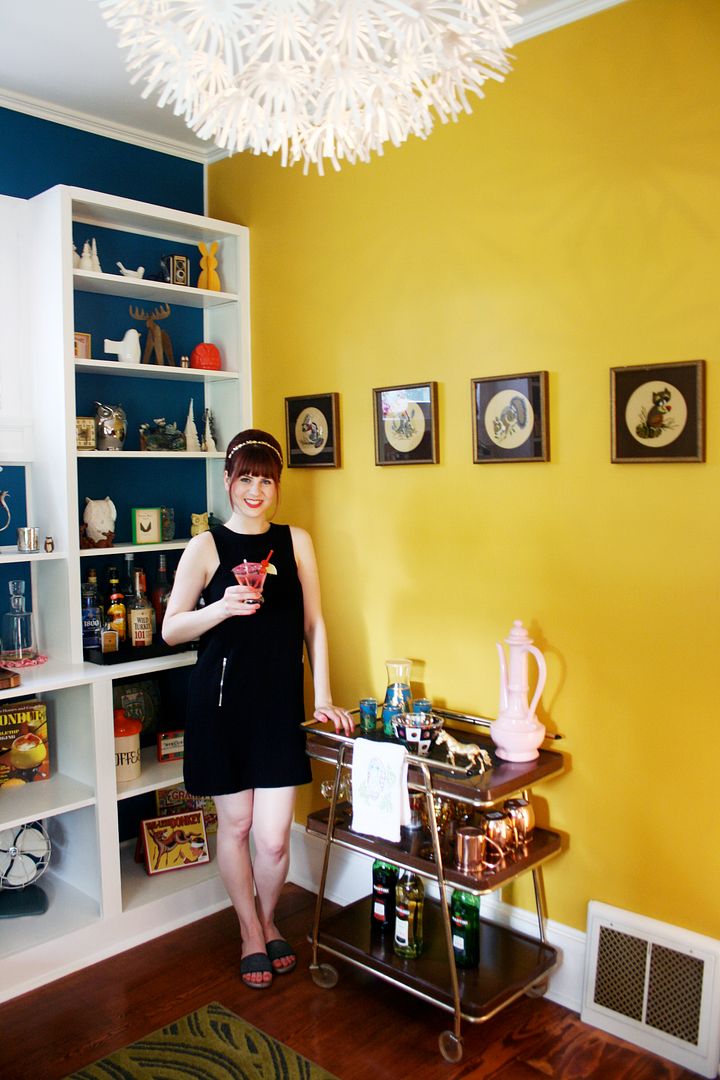 I love how one whole shelf, the one at countertop height, is a little built-in bar filled with liquor, glasses, shakers, etc., but it blends in with the rest of the wall so much that you might not even notice at first glance. But really, what better welcome to a home that a cocktail to start you off?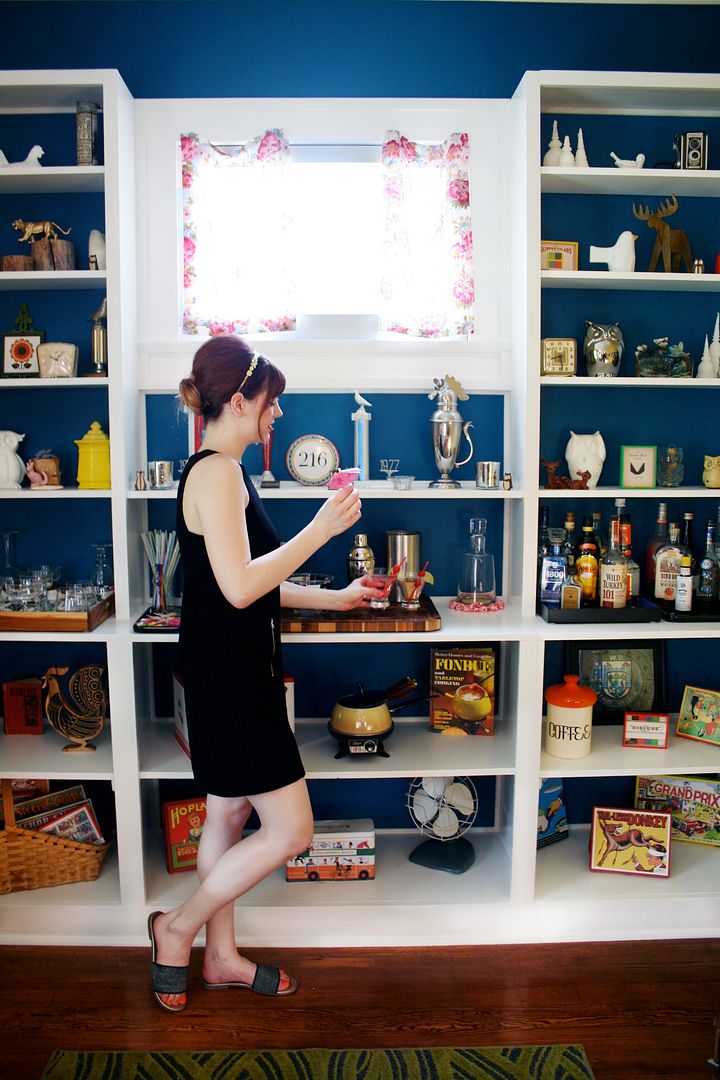 One of my favorite things to do it entertain, and this is really my dream space for just that. A huge shout-out to my husband who lets me have (probably too much) creative freedom and helps build whatever I need to make my crazy decorating schemes work.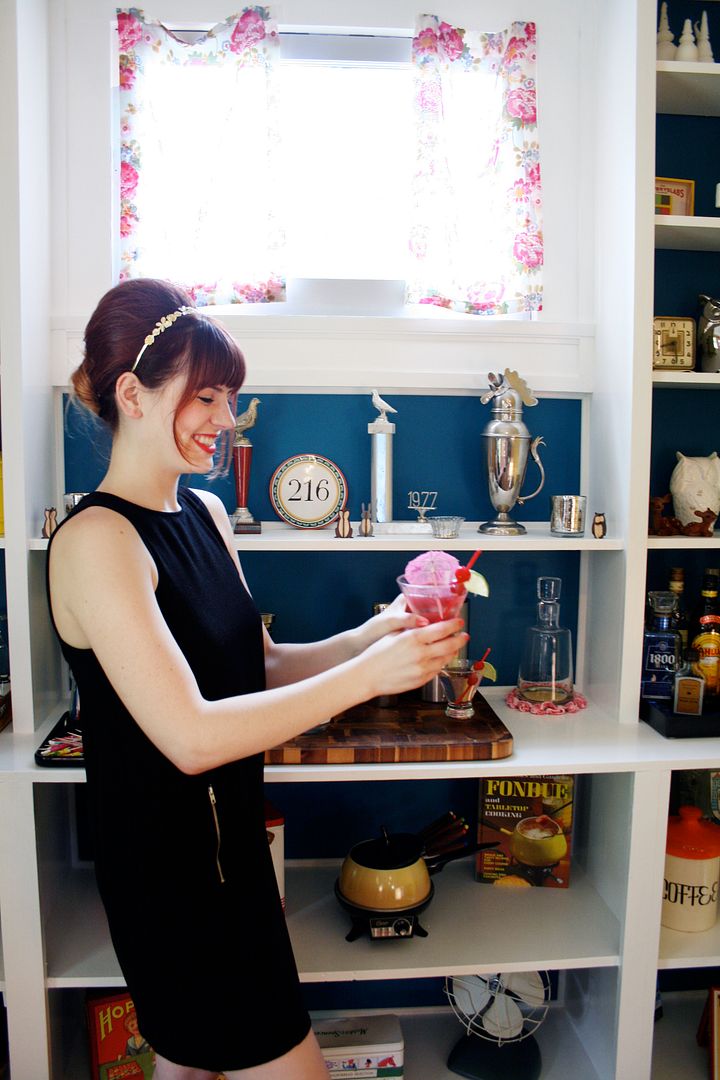 So glad you stopped by. Stay tuned for tours of other rooms!