I love doing other people's hair and makeup. Always have and always will. When I was little, I would wear out all of my dolls by doing their hair over and over. I've basically been practicing my whole life for what I got to do last weekend.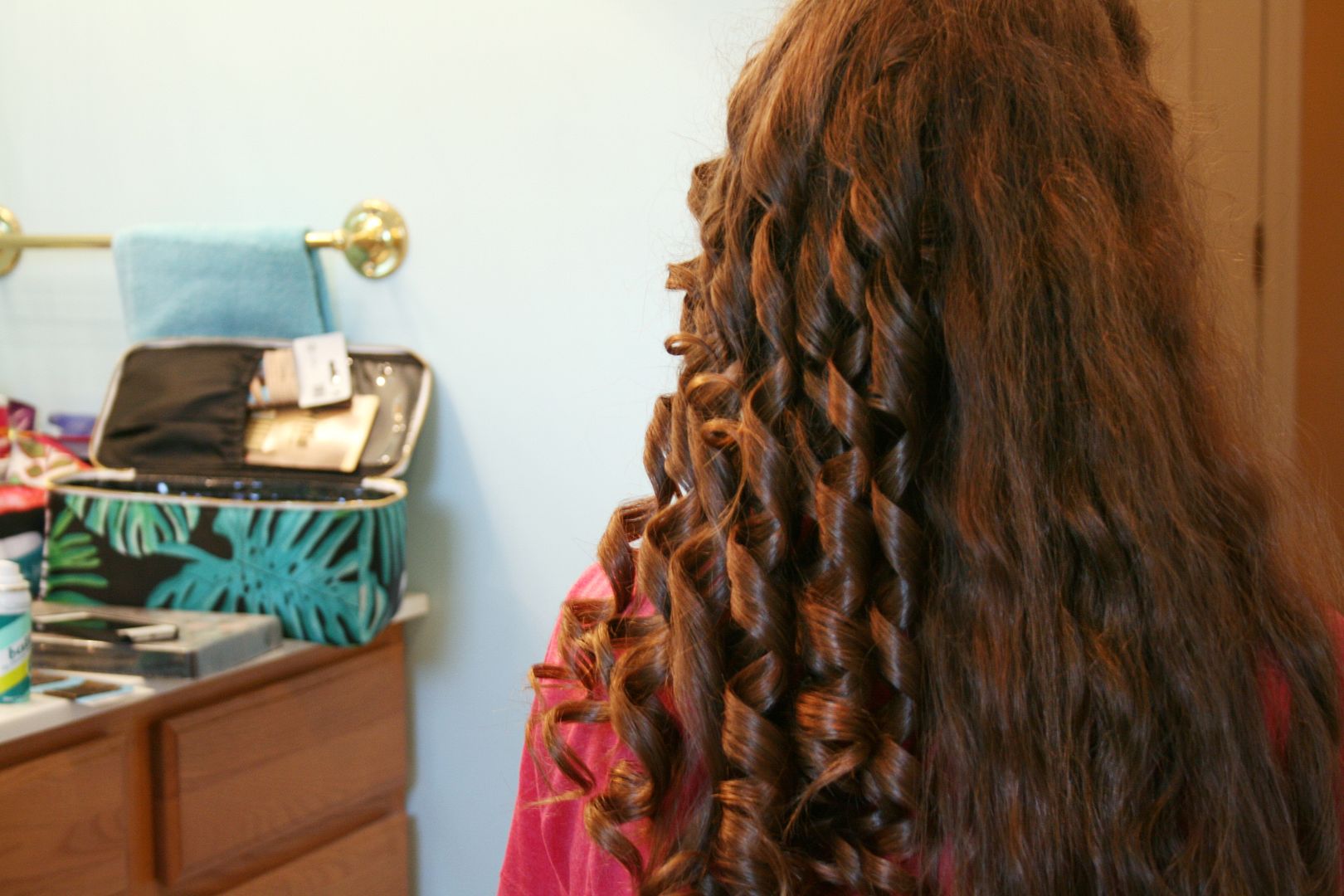 Emma's high school prom was last weekend and she enlisted my help in getting ready. She had a lot of beading on her dress, so she decided an updo would be best with her beautiful naturally curly hair. I started out by spraying a little texturizing spray on her hair and then curling it all around with a 1" curling wand.
Sydney provided much needed sustenance and laughs while we worked. She's our hero!
After I finger combed Emma's hair, I parted it on the side and started a french braid about an inch back from her forehead. Rather than braid it all the way down, I stopped above the ear and twisted it the rest of the way. I loosened up the braid at the top to keep the style from looking too stiff and tight.
Next, I swooped all of the hair over to the side and started twisting and bobby pinning it right behind the ear. I kept it loose and left some curls out to add volume. Once it was pinned in place, I added a few sparkly pins into the braided to give it some sparkle and pulled out some curly pieces around her face to frame it.
Once Emma's hair was perfect, we moved on to makeup. She started by putting her foundation of choice on. I added powder to set it. Then I brushed bronzer into the hollows under her cheekbones and blush on the top. Smashbox Soft Lights Shimmer powder went on top of that to add a little extra shine.
Next we moved on to the eyes. I used shades of silver and navy blue shadow to give her a smokey eye that matched her dress. I used the lighter shades on the inside of her eyes and dark on the crease and underneath her eyes. We finished off with eyeliner and mascara.
Last but certainly not least, I sprayed the crap out of her hair with a heavy duty hairspray so it wouldn't budge.
Molly stepped in and did her magic
lipstick trick
to round out the look. Emma then got dressed, accessorized and was ready to go take pictures!
Thank you Emma for letting us be a part of your special day! We had so much fun!