Don't worry, sugar cookies aren't exclusively for Christmas. Spice up your springtime with some of these kitschy cookies! I mean, really, who wouldn't want their Easter table to have the charm and whimsy of a
1960s bathing cap
? Hopefully no one.
As to not overpower viewers and eaters with too much visual excitement, I toned down some of the cookies, and this made for a nice mix of modern classic meets mod retro fun. Basically the premise of Mod Circus in a nutshell.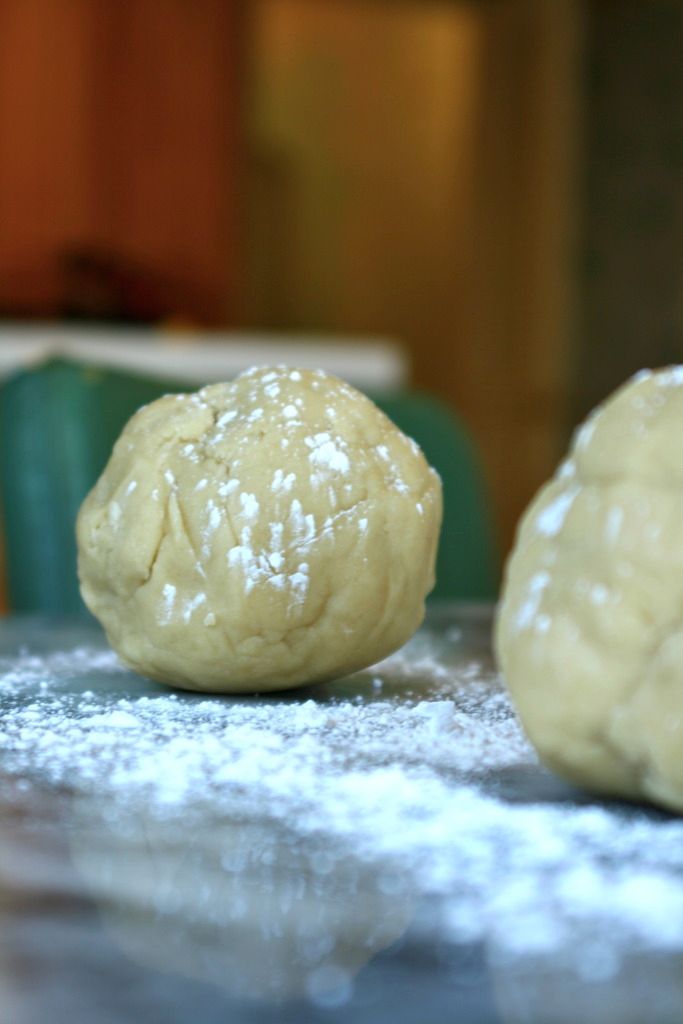 I use
Alton Brown's sugar cookie recipe
because he is the ultimate master of recipes.
Ingredients:
3 cups all-purpose flour
3/4 teaspoon baking powder
1/4 teaspoon salt
1 cup unsalted butter, softened
1 cup sugar
1 egg, beaten
1 tablespoon milk
Powdered sugar, for rolling out dough
For decoration:
Lemonhead JuJu Flowers

White Sugar Pearls

Gold Glitter Sugar

Silver Glitter Sugar

Cookie Icing of your choice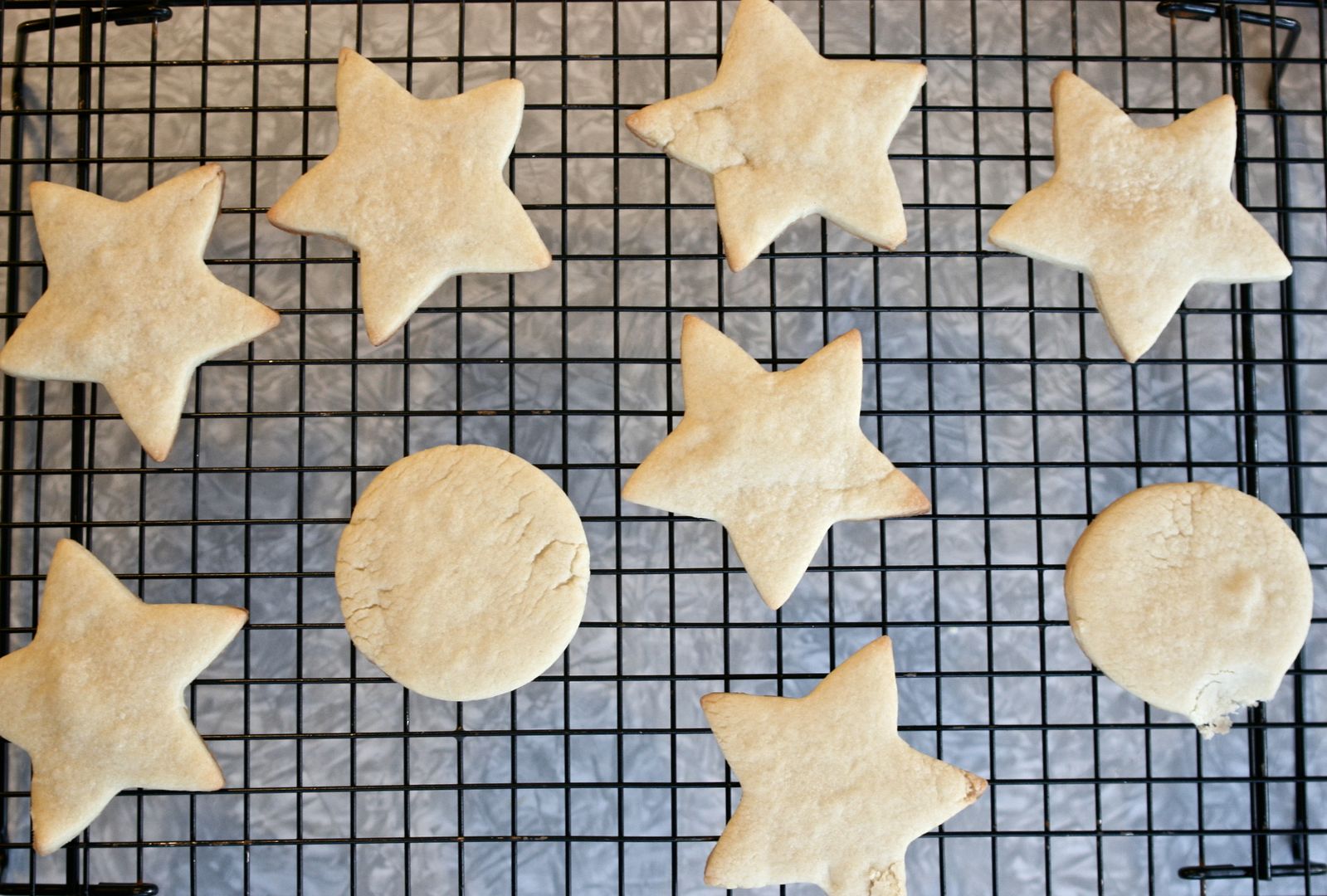 Directions
Sift together flour, baking powder, and salt. Set aside. Place butter and sugar in large bowl of electric stand mixer and beat until light in color. Add egg and milk and beat to combine. Put mixer on low speed, gradually add flour, and beat until mixture pulls away from the side of the bowl. Divide the dough in half, wrap in waxed paper, and refrigerate for 2 hours. (You can also freeze the dough and let thaw for a few days in the refrigerator before using.)
Preheat oven to 375 degrees F.
Sprinkle surface where you will roll out dough with powdered sugar. Remove 1 wrapped pack of dough from refrigerator at a time, sprinkle rolling pin with powdered sugar, and roll out dough to 1/4-inch thick. Move the dough around and check underneath frequently to make sure it is not sticking. If dough has warmed during rolling, place cold cookie sheet on top for 10 minutes to chill. Cut into desired shape, place at least 1-inch apart on greased baking sheet, parchment, or silicone baking mat, and bake for 7 to 9 minutes or until cookies are just beginning to turn brown around the edges, rotating cookie sheet halfway through baking time. Let sit on baking sheet for 2 minutes after removal from oven and then move to complete cooling on wire rack. After cookies cool, decorate with icing, sprinkles and candy.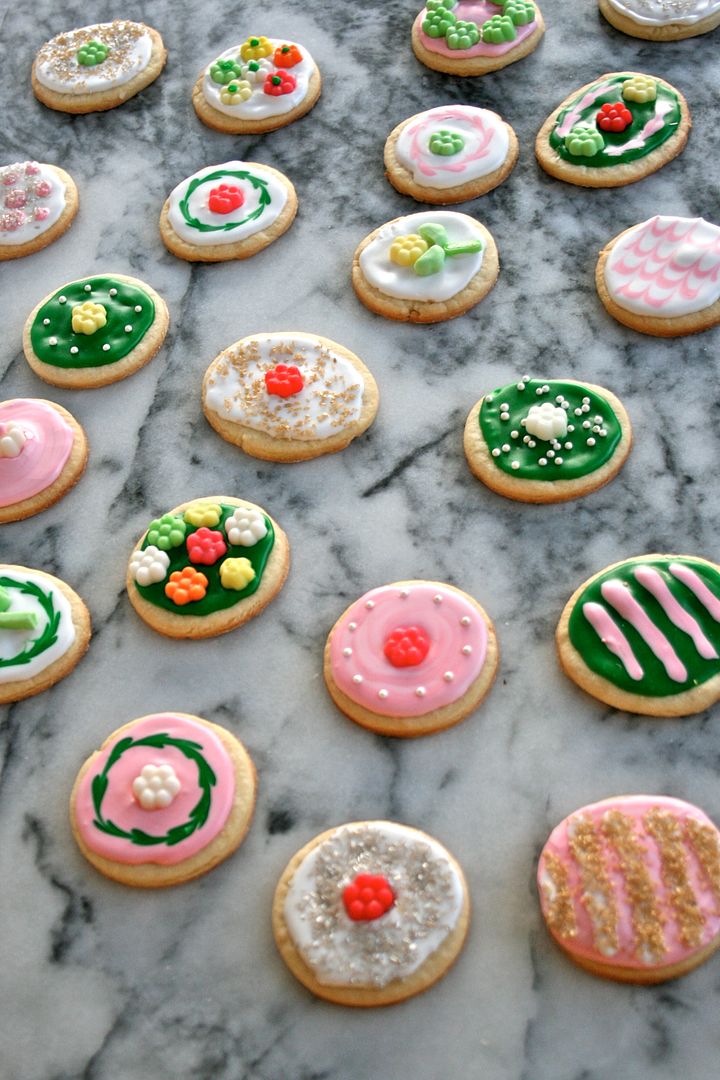 As for decorating, I thought it would be easy to find cookie cutters in the shapes of bunnies, eggs, and other Easter-y shapes, but I did not have any luck initially. When I ran across these
Lemonhead JuJu Flowers
, I changed my course of action right away; I knew they'd help create the perfect springtime look. I sliced them in half longways, so they didn't stick up out of the cookies too far. (Yes, you are required to eat these scraps as you continue to decorate cookies.) Store in airtight container for up to 1 week. This recipe yields about 50 cookies.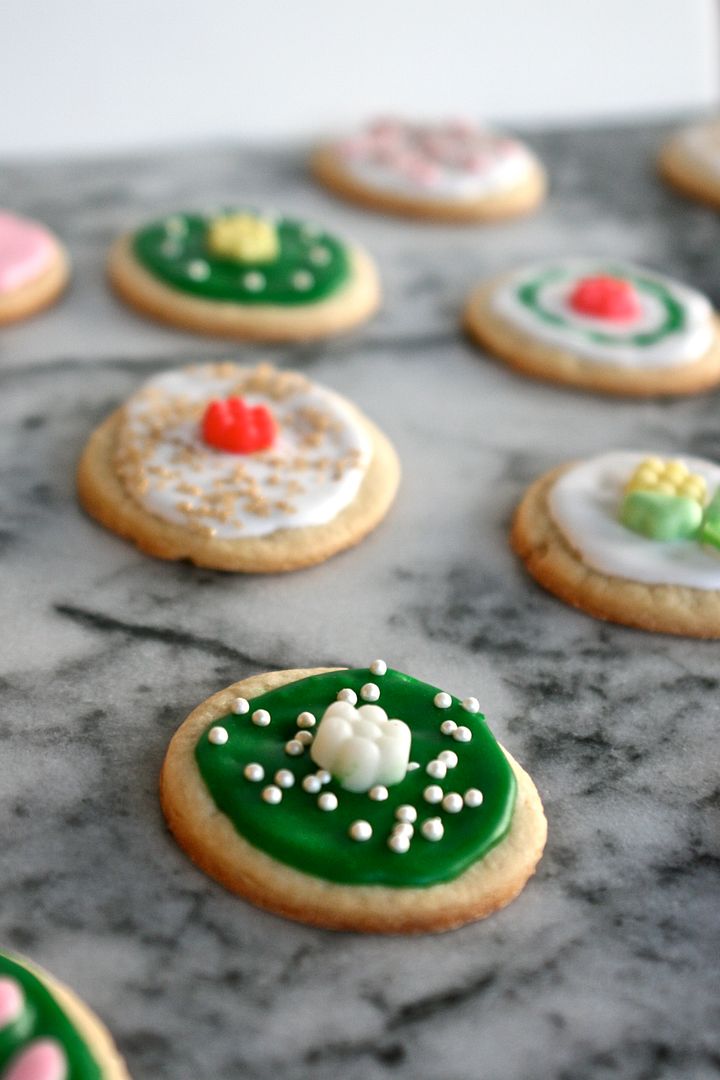 My favorite cookies were little scenes created with these flowers and borders, which are made by dotting icing in a circle, and dragging a toothpick through the dots. But, variety is the spice of life, and I don't think these would be near as fun with the same old thing on every cookie. Who wants one single design when you can have a whole springtime story?
-Molly